Let's cut to the chase. Including restaurant meals in your food choices while you work to lose weight and (hopefully and ideally) manage your weight over the years is downright challenging!
It used to be that restaurant meals were once in a blue moon special occasions. Today Americans, on average, eat at least five restaurant meals each week. What's your count?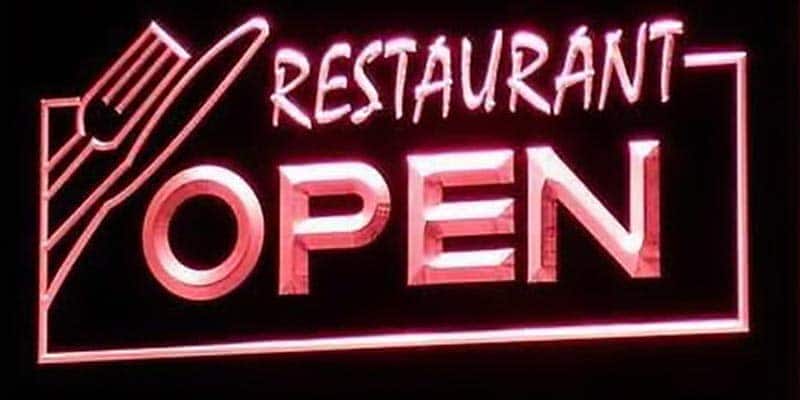 Restaurants meals today range from dining out for pleasure on upscale cuisine, having a business lunch, picking up a quick ethnic meal or pizza to bring home for dinner or an on-the-run breakfast egg sandwich, etc. Today restaurants are ubiquitous and your food options are countless. Both factors make it oh so much harder to be motivated to prepare meals (assemble meals or actually cook) at home.
But health and weight management experts agree. The more you prepare your own food and limit the number of restaurant meals you eat, the fewer calories and healthier you'll eat.
Here are six tips to eat healthier restaurant meals and control your weight.
Tip #1: Take stock of how often you eat restaurant meals.
Next, do an honest assessment of the foods you typically order and (very importantly) the amount of food you eat. To make long-term changes in your eating habits and food choices, you've got to take stock.
With your assessment in hand, ask yourself these key questions:
Am I eating restaurant meals more frequently than I need to?
What restaurant meals can I cut out or manage differently (examples: invite friends over for a home-cooked meal, take a walk with friends instead of meeting for a meal)?
For the restaurant meals I'll continue to eat, how can I change my order to choose healthier meals and eat less food?
Tip #2: Know the pitfalls of restaurant foods and meals.
Chief among them:
Every restaurant meal is a special occasion
Huge portions are a reality and they're hard to control and resist (especially if the food is in front of you)
Use of large amounts of fats, oils, and high-fat ingredients
Scant availability of fruits, vegetables, whole grains and low-fat dairy foods
However, don't despair! The more you're aware of the pitfalls and have strategies to deal with them, the better equipped you'll be to conquer them.
To achieve a successful balance between controlling your weight and enjoying restaurants meals, you've got to believe that YOU CAN learn to eat healthfully in 99 percent of restaurants (and you can!). You've also got to do some mental gymnastics to believe YOU CAN enjoy restaurant meals without treating them as special occasions and opportunities for splurging (and you can!). Yes, occasional splurges can (and should) fit in! Restaurant foods and meals are enjoyable and an important part of the way we engage and socialize today.
Tip #3: Choose restaurants carefully.
When possible, choose restaurants that make it a wee bit easier for you to eat healthfully. Perhaps the menu offers at least a few healthier options or it's easy to take home a second portion or share a few items among dinners. Don't set yourself up for failure.
Tip #4: Preplan your order.
If you know the menu because it's a place you frequent, take a minute before you cross the threshold to think through your order. If you're set on your order, don't even tempt your taste buds by taking a glance at the menu. Be the first in your party to order. Less time to ponder is a plus.
Tip #5: Control portions from the start – when you order.
Research shows that the less food you have placed in front of you, the less food you'll eat. Take this learning to heart and learn to right-size the portions. Doing this is easier today than ever before. Restaurants are increasingly comfortable with diners splitting and/or sharing menu items. Ethnic restaurants, in particular Asian cuisines, make this easier.
Choose restaurants, from fast food to fast casual and others that allow you to order half portions or mixing and matching items like soup or salad and a half sandwich. Restaurants that serve small plates can be a healthy bet if they serve healthier options. If you must order an over-sized meal, ask for a take-home container when you order. When they deliver your meal don't dig in, pack your take home container with your second meal.
Tip #6. Learn to dodge added fat, oil, and high-fat (aka calorie) ingredients and foods.
Dodging the fats in restaurants is a big challenge. Fat adds significant calories without adding any food volume or "bites" (think salad and dressing). Fat is the most saturated form of calories, with 9 calories per gram. Carbohydrate and protein contain half the calories, at 4 calories per gram. Therefore, lowering fat intake even just a little can make a big impact on your calorie tally.
Fat on the menu creeps in as ingredients used in cooking and food preparation—butter, oil, cream, sour cream, mayonnaise—and as ingredients used in dishes such as sausage on pizza, prime rib, and pork belly. Certain preparation methods simply mean drenched in fat, such as deep-fried, smothered, or covered with a cream-based sauce. To put a lid on the fat and calories, limit the fat by making healthier food choices and limiting portions from the start.
Fat creeps in and on "at the table" in several ways. You might be greeted with rolls and butter, chips and salsa, Chinese noodles, or garlic bread. So, even before you order, the fat (and calories) start to tally up. Extra fat may accompany your meal as sour cream, butter, margarine, mayonnaise, salad dressing, and cream for beverages. Limit the sources of fat at the table. And when you can control the added fat, do so, such as ordering salad dressing on the side. Always!
It's by no means easy to change your ways when you eat restaurant meals, but putting these six tips into action will help you lighten your calorie load and impact your overall weight control efforts. Don't try to tackle all of these tips at once. Start with a few tips that seem relatively easy for you to implement. Implement these and achieve success. Next, try a few more. Success breeds success.
And last but not least, enjoy the side benefits of restaurant meals beyond the food. Relish and relax in the time you're taking to socialize. Think about how nice it is not to cook, put away leftovers, or do dishes. Add these up to make it easier to eat healthier restaurant meals.
Good luck with your efforts towards a healthier weight and healthier you in 2017!