I was fortunate enough to attend The American Diabetes Association's 78th Scientific Sessions in Orlando last weekend. It's an enormous conference with over 16,000 diabetes professionals attending, and it's where a lot of new diabetes research and products are announced.
This year, I was most excited about all the new diabetes devices and how they can potentially support our daily lives and diabetes management. I've chosen to give you an overview of the devices that I was the most impressed with and that I think will make a real difference for people living with diabetes:
The implantable Eversense CGM from Senseonics
The Guardian Connect Standalone CGM from Medtronic
The Basal IQ predictive low feature from Tandem
The predictive blood sugar model from One Drop
Implantable Eversense CGM from Senseonics
If you follow Diabetes Strong on Instagram (diabetesstrong_IG), you're probably eager to hear more about this after seeing the Eversense transmitter on my arm.
The Eversense CGM has been available in Europe for 2 years but was just FDA approved on June 22nd. It's the first implantable CGM sensor and it lasts a whopping 90 days (180 days in Europe), so this is truly something new when it comes to available CGM technology.
To use this CGM, you have to get a (tiny) sensor inserted under the skin on your upper arm every 3 months. You then place the transmitter over it with double-sided tape and get your blood sugar readings on your phone (both iOS and Android). A really cool feature is that if you leave your phone behind, the transmitter on your arm will vibrate when you go high/low, so you're never flying completely blind.
The transmitter will last a year and needs to be recharged for 15 minutes every 24-36 hours. A positive side effect of that is that the charging time gives your skin a chance to breathe and you just attach the transmitter again when recharged with a new piece of tape (white or transparent).
The fact that you can remove and re-attach the transmitter whenever you like is also a major benefit. If you don't want to wear the transmitter for a few hours, you simply peel it off and put it back when you feel like it.
The only thing I was disappointed about was the size of the transmitter. It's flatter and smoother than my Dexcom (which is great) but also significantly wider (which isn't great). It also only comes in black (although Pump Peelz already has Eversense transmitter peelz available).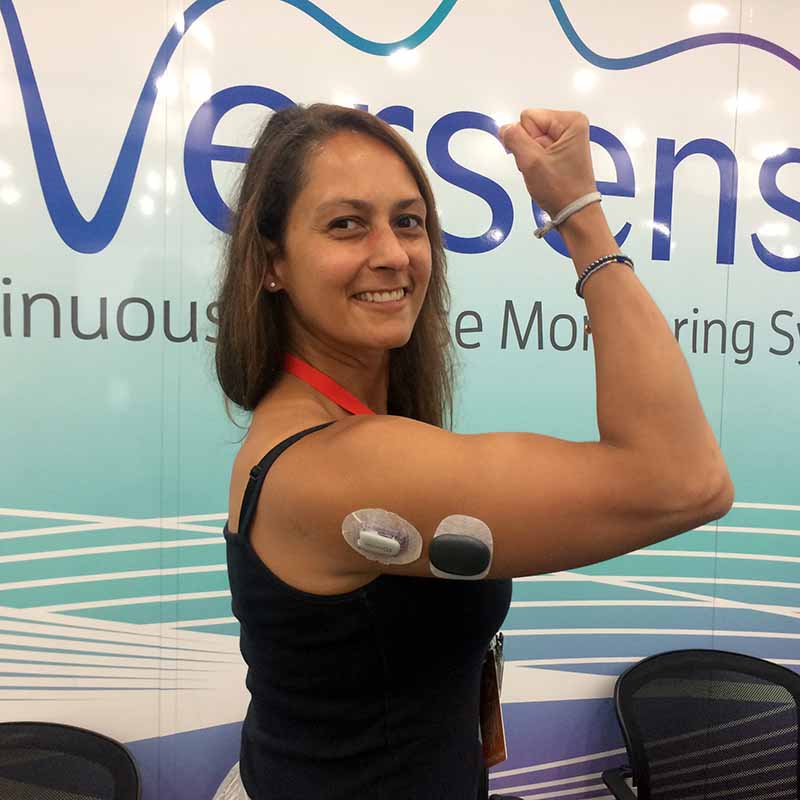 When it comes to accuracy, Senseonics have done several studies showing that the Eversense is on par with the Dexcom G5 but actually even more reliable in the hypoglycemic range, which is where you need the best accuracy.
The sensor has to be inserted by a physician, so if this is something that you are interested in, I suggest you have a chat with your doctor or reach out to the Senseonics team to find a doctor to do the insertion.
As for pricing, I was told that the Eversense will cost about the same per day as the CGM systems currently available.
You can learn more about the Eversense implantable CGM here.
Medtronic MiniMed 670G and Guardian Connect Standalone CGM
Two major announcements came out of the Medtronic camp this year.
On June 21st, Medtronic announced that the 670G system is now also FDA approved for kids 6-13 years old. We've published reviews of the Medtronic MiniMed 670G system on Diabetes Strong in the past, and there's no doubt that this system can be a game changer for a lot of people.
The second announcement was the launch of the Guardian Connect Standalone CGM system. The system features their newest sensor (which should be at least as accurate as the Dexcom G5) in combination with the Sugar.IQ diabetes assistant.
I am REALLY excited that we now have several real alternatives to the Dexcom CGMs for us people who aren't using a pump but want the information from a CGM.
I had the chance to get a download of what the Sugar.IQ diabetes assistant does during the Scientific Sessions and it's quite exciting. This AI-powered app continually analyzes how users' glucose levels respond to food intake, insulin dosages, daily routines, and other factors, to reveal patterns that can help people with diabetes keep their glucose levels in target range. Instead of simply seeing your data on the screen, you get real insights from the system on what's impacting your blood sugars. You can then use those insights to take action and do something about it (Medtronic partnered with IBM Watson Health on that).
I always stress that diabetes isn't random, BUT because we have to deal with so many unknowns, it can seem that way and it can be hard to understand what's going on. I see the Sugar.IQ assistant as a potential helping hand in figuring out the maze of information and, hopefully, make diabetes seem a little less random.
The only real downside to this system is that it currently only works with iOS. They told me that an Android version is in the works but there is no official release date for it.
The system has been commercially available in the US since June 13, 2018, so if this is something for you, I'd suggest reaching out to Medtronic to get the ball rolling.
Basal IQ predictive low feature from Tandem
Tandem diabetes care announced the FDA approval of their t:slim X2™ Insulin Pump with Basal-IQ for users in the US older than 6 years.
This is exciting news because it means that people living with diabetes in the US now have more than one choice (Medtronic has had a similar feature for a while) when it comes to integrated pump systems with predictive basal suspension (the Basal-IQ feature).
The Basal-IQ feature predicts blood sugar level 30 minutes into the future and enables the pump to shut off basal if it predicts that you're about to go low. The system will then resume basal delivery when blood sugars are back in a safe level. That means fewer cases of hypoglycemia, as well as less time having hypoglycemia.
If you already love your Tandem pump and/or your Dexcom CGM, this might be the solution for you since the system is a combination of the Tandem pump and the Dexcom G6 (so no finger sticks required!). If you already have a t:slim X2 Pump, you can upgrade your software and get the Basal-IQ for free (Tandem expects to roll out this offer in August 2018).
A cool new FDA approval classification also means that the system is approved with any new integrated continuous glucose monitoring (iCGM) that comes to market. This means that as long as the new sensors meet the iCGM requirements, they'll work with the system.
The system is not commercially available yet, but Tandem expect to be ready as soon as August 2018.
OneDrop predictive blood sugar model
Another cool announcement during the 2018 Scientific Session was from OneDrop. They announced that they'll be expanding their platform to include predictive alerts for people living with type 2 diabetes. This is important for many reasons; one being that this will be the first non-CGM predictive model available.
The functionality is not yet available, but in the future, you'll get blood sugar predictions for (up to) the next 12 hours when you log into the OneDrop app, and decision support based on those predictions. They told me it will be included in the OneDrop package at no additional costs.
It's an interesting tool because the predictions won't be based on your own blood sugar readings alone, but primarily on the pooled data from the 860K OneDrop users worldwide. They will use the data from millions of blood sugar readings (and a lot of very advanced data modeling) to create a model that can help you – even if you don't have a lot of data points yourself.
During the presentation I attended, it wasn't clear how many fingersticks one should do to get really accurate predictions, but given that you can get as many strips as you want through your OneDrop subscription, hopefully a lack of data won't be an issue. Also, the data presented during the Scientific Session did demonstrate pretty impressive accuracy measures.
This is an exciting new tool which can hopefully support the large type 2 population who're not using insulin. OneDrop promised that next step will be a predictive model for people who do use insulin, but one step at a time.
Aside from the news I have covered here, a lot of scientific papers, research posters, drug news, etc. was presented during the American Diabetes Associations 78th Sessions in Orlando and this overview is of course only a snippet of the exciting things that are happening within the diabetes world. I highly recommend you visit the American Diabetes Associations website for more detailed information.
If you liked this post, please sign up for our newsletter (and get a sign-up bonus) in the form below. We send out a weekly newsletter with the latest posts and recipes from Diabetes Strong.