I've been using the Dario Glucose Monitoring System for a while now and I've been very impressed with the consistent accuracy, size of the device, and how price competitive the solution is.
But there's so much more to the Dario system than just the accuracy and the price, so let me take you through some of the main benefits that really set the Dario system apart from other offerings on the market.
This post is sponsored by Dario Health, but all opinions are my own and are based on my use of the product.
Dario is not just a glucometer, it's a diabetes management solution
The FDA-cleared Dario Blood Glucose Monitoring System is the only glucose monitoring system I know where the glucometer, lancing device, and test strips are all combined into one device. That means no more fumbling around after your test strips or lancing device. They are right there, embedded into the same device as your glucometer.
The entire device is smaller than most glucose meters and easily fits in your pocket or purse.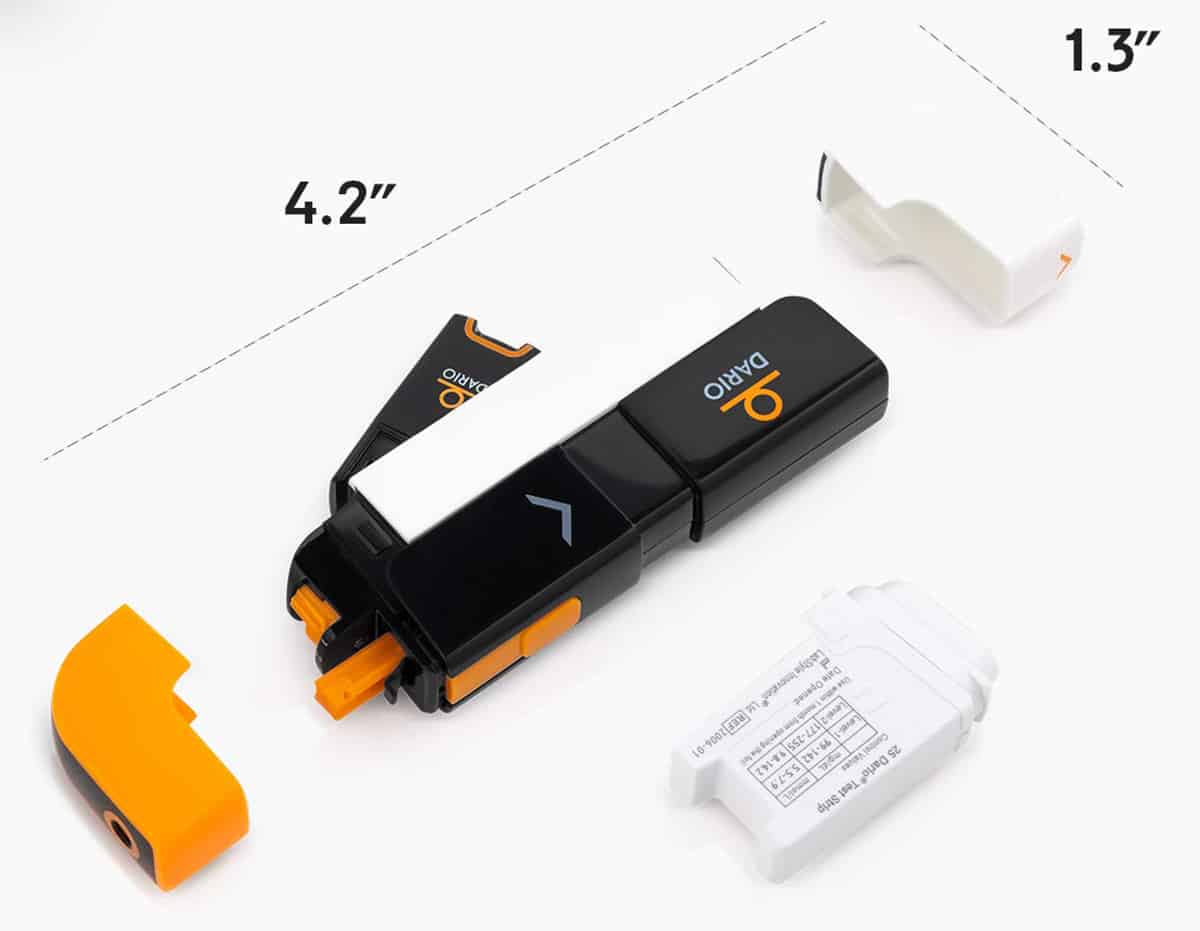 Dario also offers a travel case and a smaller carrying case for when you're just out and about.
The glucometer
The Dario glucometer is the heart of the system and it's a completely different design from any other glucometer available. It's small, only about the size of the tip of my thumb, and works with your smartphone (compatible with iOs and Android).
You simply click it out of the device and plug it into your phone and it automatically links up with the free mobile app so that you're ready to measure your blood sugar in seconds.
Once the app is open, it will prompt you to insert a test strip and apply a small blood drop. The lancing device can be set to penetrate at different depths to give almost painless finger pricks. That also means that you can adjust the depth depending on what finger you're measuring from or how much blood flow you have to your fingers (you might need to use the deeper dept when your fingers are cold).
Once you apply the small blood drop (only 0.3µl),your blood sugar will show up on the screen in the app in only 6 seconds. Brilliant, fast, and highly accurate.
When I first started using the Dario Blood Glucose Monitoring System, I was instantly impressed with how consistently accurate the blood sugar readings are. My previous glucometers would often give me dramatically different reading depending on how much blood I managed to put on the strip. That has not been the case with Dario.
You can see exactly how I use the Dario system in this short video
The MyDario app
Aside from giving you visual cues on when to insert the test strip and blood drop, the MyDario app offers extensive reporting that can help you manage your diabetes. All blood sugar measurements are automatically recorded in the app and you can easily add tags such as activity, carbs, and medications.
And if you need a little support counting your carbs, the app has a built-in database of 500,000 food items. You can also add a photo of your meals to accompany a blood sugar reading.
The app can be set up to send you personalized reminders, alerts, and guidance or you can simply view trends through detailed weekly reports.
The whole Dario system is of course HIPPA/CCPA compliant so you don't have to worry about your data privacy.
I'm a complete data geek (I find my blood sugar patterns fascinating) and one of my favorite parts of the system is this app because it allows me to easily track blood sugar fluctuations and trends. And once you see trends, you can start being more proactive about your diabetes care and work on reducing episodes of hyperglycemia or hypoglycemia (high and low blood sugar).
Not everyone is comfortable adjusting their own diabetes care, which is why it's brilliant that the data stored in the MyDario app can easily be shared with your medical team, caregivers, and family members.
An additional safety and peace of mind functionality is the built-in emergency hypo alert. If enabled, it will share your blood sugar and your GPS location with up to four people by text message. That means that if you measure a low blood sugar and need help, the ones receiving the alert will know what's going on and where to find you.
The Dario coaches
Another great feature of the Dario Glucose Monitoring System is that you can get access to the Dario coaches.
The Dario coaches are health and wellness advisers that offer support and motivation to help manage your condition and stay on track. Your coach will teach you how to use the app so that you get the most out of your system and they can review your health management, talk about your challenges, and support your goal setting.
You'll have access to your coach through the in-app chat or scheduled phone calls
Accuracy and outcomes – Let's talk hard data
Yes, I like the Dario Glucose Monitoring System but it has to also statistically deliver on its promises of improved care, so I looked up some of the scientific studies that have been presented at different conferences such as ADA, ADCES, DTM, and AATD.
I was pleased to see that in these studies, data shows that using the Dario system can reduce A1c and Hypo and Hyperglycemic events, as well as increase in-range measurements.
Data presented at the American Diabetes Association's 78th Scientific Sessions on June 25, 2018, showed the results of 3 different studies on people living with type 2 diabetes.
In the largest study (17,156 people), 19% saw a reduction in high blood sugar episodes and an 11% increase in reading within 70-180 mg/dL. The most significant shift in blood sugar management was seen for the users using the system for a month or more
Another study with 225 people living with type 2 diabetes showed that they experienced a decrease in significantly high blood sugar episodes by 58%
Solutions and pricing
With the Dario Glucose Monitoring System, you only pay for what you need so there are different package options. You don't go through your insurance (although the system is HSA/FSA eligible) but order directly through the Dario app or website.
You can, of course, just order test strips when you need them like I do (100 strips is $59.99), or you can sign up for one of the 3 "diabetes success" plans and get unlimited test strip refills.
What's really cool is that the price is similar to the co-pay I used to pay for my strips through my insurance. So now I'm getting a better product, shipped directly to my door at no extra costs.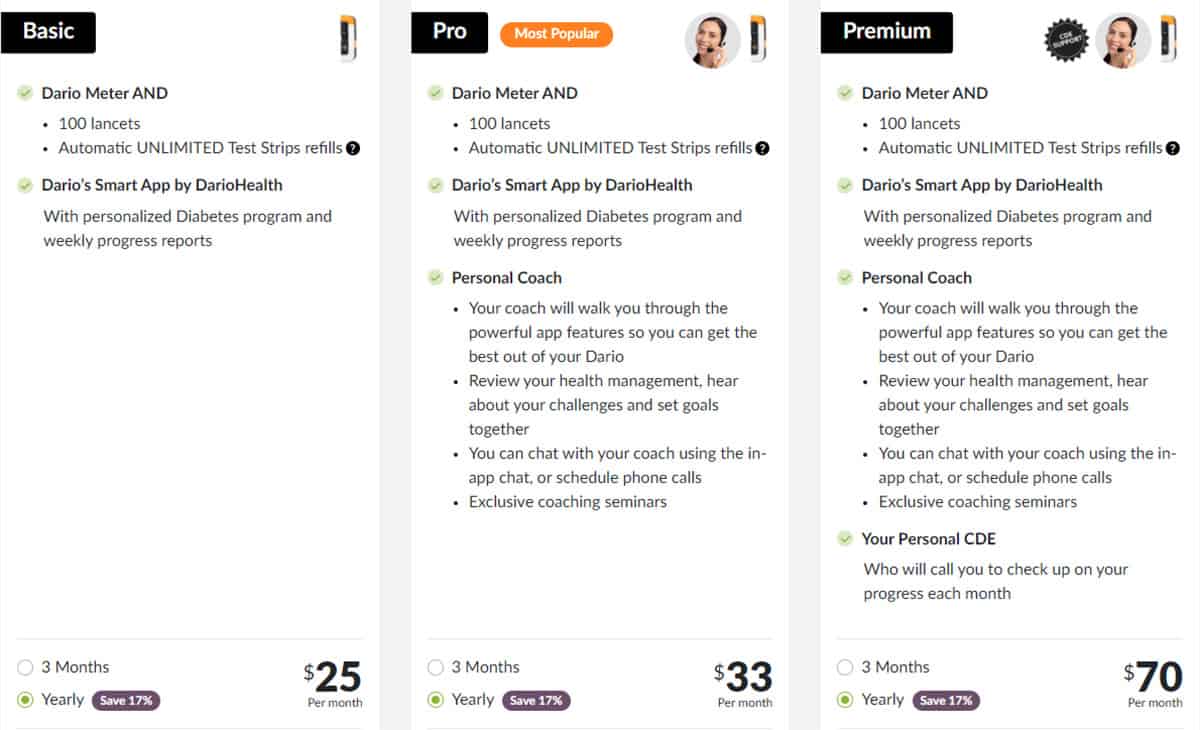 These plans range from $25 to $70 per month. All plans include unlimited test strips, but the Pro and Premium plans also include more hands-on care with access to the Dario coaches and CDEs (Clinical Diabetes Educator).
Because everything is integrated into one system, Dario knows when you're running low on test strips and will automatically send you more strips directly to your mailbox.
So you never have to run out of test strips again!