To a lot of people (me included), the words "fun" and "cardio" are mostly contradictory. You can't have both at the same time 😀 . I enjoy working out and lifting weights, but I VERY rarely do cardio just for the enjoyment of it. It can be therapeutic sometimes, but I mainly use it as a weight management tool. Or at least this was how it used to be!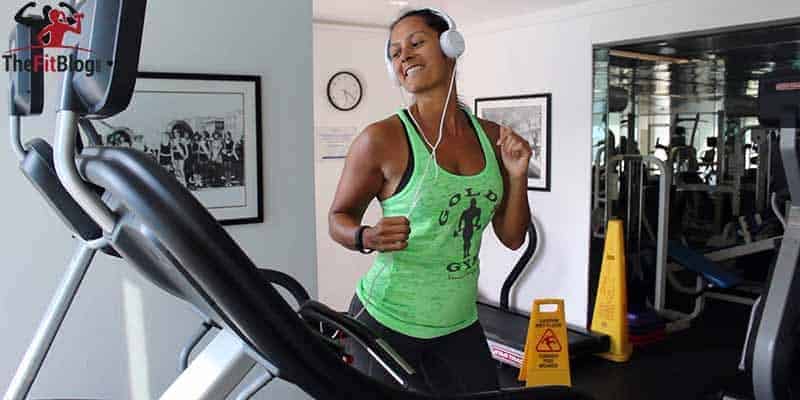 Lately, I have experimented with different types of cardio (like my cardio home workout videos) and you know what? I have actually found that I can enjoy cardio, as long as I do something to make it interesting.
Today, I decided on an early 30 min. cardio session. I usually stick to steady state cardio in the morning, either on the elliptical or walking on the treadmill at an incline, so I got on the treadmill and started to walk.
My intention was to see a show on Netflix, but I had a good tune on my iPod and I just had to boogie. I'm not a dancer (!), but all of the sudden 30 min. had gone by and I enjoyed all of them while keeping my heart rate in the 150-160 range.
Obviously, I have to share this workout with you guys!
My fun cardio workout
You can follow this workout for the full 30 min. or cut it short as you like. I would, however, recommend that you do the full 5 min. warm up. I like to keep the speed fairly slow but the incline high. In this way, both my leg muscles and cardiovascular system get a good workout.
You can check out this short video to see a few of my moves and read my full program below. You can also just choose to freestyle all the way, for an awesome walking/dance workout that will have you sweating buckets with a smile on your face 😀
Circuits
Time
Incline
Speed
Move
Warmup
0:00-0:30
0%
2
Walk
0:30-1:00
5%
2
Walk
1:00-2:00
10%
2
Walk
2:00-5:00
15%
2
Walk
Circuit 1
5:00-5:30
15%
2
2 step chasse forward*
5:30-6:00
15%
2.1
Walk
6:00-6:30
15%
2.1
Sideway skipping to the right
6:30-7:00
15%
2.1
Sideway skipping to the left
7:00-7:30
15%
2.2
Walk
7:30-8:30
15%
2.2
Freestyle 😀
8:30-9:00
15%
2.3
Walk
9:00-9:30
15%
2.3
Slide & tap**
9:30-10:00
15%
2.5
Walk
10:00-20:00
15%
2.1-2.5
Repeat circuit 1 twice
Circuit 2
20:00-21:00
15%
2.7
Walk
21:00-22:00
15%
2.9
Walk (long steps)***
22:00-23:00
15%
3.0
Walk
23:00-24:00
15%
3.3
Walk (long steps)
24:00-25:00
15%
3.5
Walk
Cool down
25:00-27:00
15%
2.2
Walk / freestyle
27:00-29:00
10%
2.0
Walk / freestyle
29:00-30:00
5%
1.9
Walk
*Chasse: Take a short step forward with one foot and immediately bring your other foot forward as well. It's a lot like a small skip, rather than a step.
**Slide & Tap: Take a long step forward, bring the other foot up and gently tap the foot on the treadmill. While you do that, you'll be sliding back to the end of the treadmill. Before sliding off, take a new long step forward.
***Long steps: Step as far forward as you can on each step, almost like if you were doing a lunge.