Halloween is just around the corner, and it can be a scary affair for people with diabetes. From the skimpy outfits (some people clearly consider clothing optional for Halloween) to the scary haunted houses, to the abundance of sugary Halloween candy and treats, it can be pretty scary…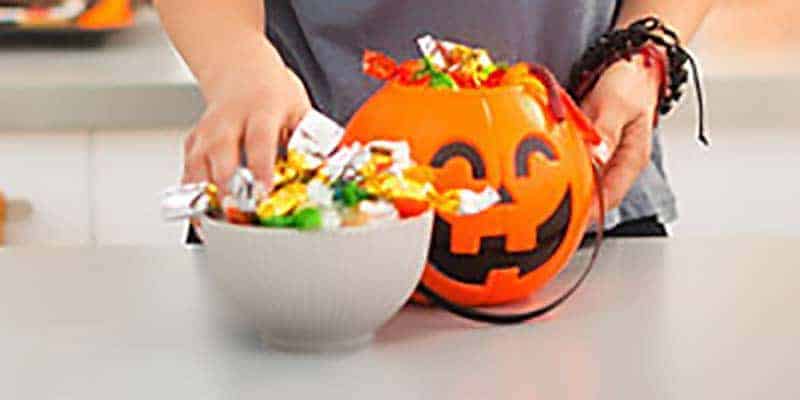 Candy and treats have always been my nemesis. If you have read any of my post on Diabetes Strong before, you probably know that I am a big fan of meal planning. I create a healthy meal plan for the week and (mostly) stick to it, but the overflow of candy everywhere you go during Halloween can throw even the best plan out of the window sometimes.
I don't think I am alone in having a hard time keeping my hands out of the candy bowl when it's right there in front of me 😀
Yes, you should be able to indulge every so often, and there is nothing wrong with a little candy, but I tend to overdo it, or at least struggle to adjust my insulin correctly for all the sugar, leading to crazy blood sugars and serious sugar hangovers. It's just not worth it for me to go sugar-crazy on Halloween candy!
Navigating the candy jungle
When I still worked in corporate America, I remember walking through cubicle land, and every second cubicle would have a huge bowl of candy out during the Halloween week. It was even in the common areas and meeting rooms. I could literally not go get a cup of coffee without being tempted by every type of candy imaginable!
My strategy for this was simply to try to avoid the candy traps. I found a coffee station where I knew there were no candy bowls, and I would even go detours through the cubicle maze to avoid the candy bowls on my way there.
For me, out of sight out of mind works. Well, it works for the most part at least. Some days it doesn't, and on days like those, it's important not to just throw in the towel and eat everything in sight.
When I find myself assaulted by candy on all sides (or just want a few treats without going overboard), I remind myself that the fact that I had one piece of candy doesn't mean I absolutely must taste every other piece as well.
A trick that works for me is to look up the carbs in the candy I decide to eat and dose my insulin for it before I even start eating anything. That way, I feel like I have a plan and I am less likely to eat more candy than I had planned because I already dosed for it.
To make dosing easier, you can use this treat cheat sheets to guide you.
Treat cheat sheet for carb counting
| | | | |
| --- | --- | --- | --- |
| Candy | Calories | Fat (g) | Carbs (g) |
| 3 Musketeers, fun size, 3 bars, 1.6 oz. | 190 | 6 | 24 |
| Almond Joy, snack size, 1 bar, 0.6 oz. | 80 | 4.5 | 10 |
| Baby Ruth, fun size, 2 bars, 1.3 oz. | 170 | 8 | 24 |
| Butterfinger, fun size, 1 bar, 0.75 oz. | 100 | 4 | 15 |
| Heath, snack size, 3 pieces, 1.5 oz. | 230 | 14 | 27 |
| Hershey's miniatures assortment, 5 pcs, 1.5 oz. | 210 | 13 | 25 |
| Kit Kat, snack size, 6 pieces, 1.48 oz. | 210 | 11 | 27 |
| Milky Way, fun size, 2 bars, 1.2 oz. | 150 | 6 | 24 |
| Mounds, snack size, 1 bar, 0.6 oz. | 80 | 4.5 | 10 |
| Nestle's Crunch, fun size, 3 bars, 1.34 oz. | 180 | 9 | 26 |
| PayDay, snack size, 1 bar, 0.7 oz. | 90 | 10 | 24 |
| Reese's PB Cups, snack size, 1 cup, 0.75 oz. | 110 | 6.5 | 12 |
| Reese's Sticks, snack size, 1 stick, 0.6 oz. | 90 | 5 | 10 |
| Snickers, fun size, 2 bars, 1.2 oz. | 160 | 8 | 21 |
| Twix, 3 mini pieces, 1 oz. | 150 | 8 | 20 |
Source: CalorieKing
My list doesn't include everything, but I found a pretty extensive list on JDRFs website that I suggest you check out.
Partying without going overboard
I find parties to be a little easier to handle than work situations. I'm usually busy chatting up a storm, and having fun is a pretty good distraction from the treats around me. Also, since I'm in a social setting, I won't polish off the whole tray of cupcakes or empty the entire candy bowl.
I'll make sure to have a good high protein meal before I leave for the party so I'm not starving when I get there, and I'll plan my meals for the day to allow for 1-2 treats. It can be as easy as cutting some of the carbs and fat from a meal or two so I have room for a little candy and cake at the party.
To summarize, my guidelines for getting through Halloween as a person with diabetes:
Avoid temptations when possible – Out of sight, out of mind
Plan ahead – Eat a good meal before you face temptation
It's ok to eat some candy – Don't feel bad about it as long as you manage your blood sugar as much as possible
Look up the carbs content of your treats so you can dose correctly
Have fun and Happy Halloween to you all!
Suggested next post: How to avoid high morning blood sugars
If you found this guide to diabetes and Halloween useful, please sign up for our newsletter (and get a sign-up bonus) in the form below. We send out a weekly newsletter with the latest posts and recipes from Diabetes Strong.