The idea that you can lose fat on a specific area of your body by performing exercises for that body part (called spot reduction) is one of the most enduring myths in fitness. It's a myth that is constantly being reinforced by fitness and lifestyle magazines (we've all seen the "How to Lose Belly Fat with 10 Easy Exercises"" articles), but, unfortunately, that is just not how our bodies work.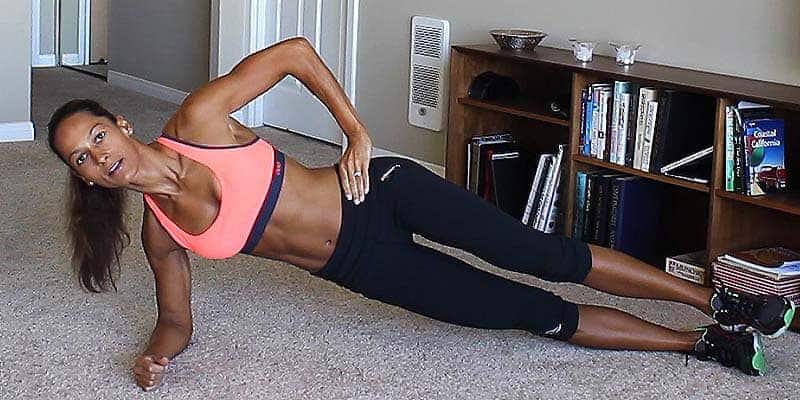 While working a specific muscle will increase the blood flow and fat metabolism of the surrounding fatty tissue, the effect is so small that it won't have any measurable impact on how you look or how much fat you are burning. The truth is, that the way you gain and lose fat is almost completely controlled by your genes. Some people will store fat on their belly and others on their thighs and butt.
If you want to get a feel for how little your muscles and fat are connected, try to grab a little of the fat on your stomach (yes, everyone has some stomach fat no matter how in shape they are) and move it around while you contract your abdominal muscles. Feel how you can move the fat around on top of your muscles? That's because your fat and your muscles are only very loosely connected, which is why a doing a million sit-ups won't help you lose belly fat.
So how do I get a flat stomach?
The only way to lose belly fat (or any other fat) is to lower your overall body fat percentage through healthy nutrition and exercise. It's as simple as that! Use the information in our post about "How to Find Your Daily Calorie Need" to calculate how many calories to eat for a healthy weight loss, and create a meal plan based on that (or you can use a plan from my Meal Plan Library).
When you have your diet on track, get your butt to the gym!
If you are trying to change the proportions of your body (the "I want a flat stomach but I don't want to lose my butt" problem), the only way to do that is to both decrease your body fat percentage AND build the areas you want to be more prominent. Doing sit-ups won't give you a flat stomach, but squats will give you a great booty 😀 .
This is why I put such an emphasis on resistance training in all my workouts. For me, losing weight is primarily something that happens in the kitchen, while building the body I want happens in the weight room at my gym.
As a final note: please don't think I am hating on crunches (well, I do hate them but they are good for you). Crunches won't make you lose belly fat, but they will make your abs look great once you have lost the fat covering them up!
Suggested next post: How to Design a Resistance Training Program