How do you make exercising, healthy nutrition, and stellar diabetes management a lifestyle?
Starting a fitness program, creating a healthy meal plan, or being part of the Fit With Diabetes challenge are all great starting points, but if those new habits don't stick, you'll quickly end up right back where you started.
Start by setting motivating and realistic goals
Let's start at the beginning, setting goals. As we discussed in the post about Goal Setting and Positive Motivation, it's not only extremely important to set realistic and tangible short and long-term goals, it's also really important to adjust and update them every once in a while.
Without clear goals, you can't make a plan. Without a plan, you can't and won't be successful. So if you haven't already, go back and read my goal setting guide, download the Goal Setting Template, and create your own fitness and diabetes management goals! Then make it a lifestyle to update your goals regularly.
Celebrate to motivate
Daniele Hargenrader said it perfectly in her post about sustaining motivation, "There is No Motivation without Celebration" — this is something I urge you to practice. Celebrate the small victories and remember that all progress is a step in the right direction. Try not to compare your progress to others', and focus on your own journey and how far you have come.
Celebration can mean a lot of different things. It could mean a massage, new workout gear, "me time", a nice dinner, something super fancy or something really basic. Whatever makes you happy. By celebrating sub-goals, you keep your motivation high and have a higher likelihood of achieving your big end-goals.
Turn healthy changes into healthy habits
When you have created your goals and plans, and have started celebrating your successes, the real question is how to make this a long-term lifestyle. Nothing happens overnight, and even if you have diligently logged hours in the gym and in the kitchen cooking healthy food, there is still a real chance that you'll slip back into bad habits when stressed or distracted.
Here are a few tricks to making your new lifestyle stick:
Make space for your healthy activities – Schedule your healthy activities (workouts, meal prep, etc.) in your calendar and make them a priority. Don't cancel on your goals!
Plan ahead and be prepared – Create a weekly meal plan or at least think a few days ahead. Prepare meals in advance when possible. If you know you won't have time for a workout, schedule a new time for it right away.
Create a weekly exercise plan – Don't go to the gym without a plan for what to do. Having a plan makes your workout much quicker and more efficient. Research also shows that you are much more likely to actually get to the gym if you have a plan. If you have no plan for what to do at the gym, you won't feel like you missed anything if you don't go.
You can read Ben Tzeel's post about how to create a resistance training program for inspiration.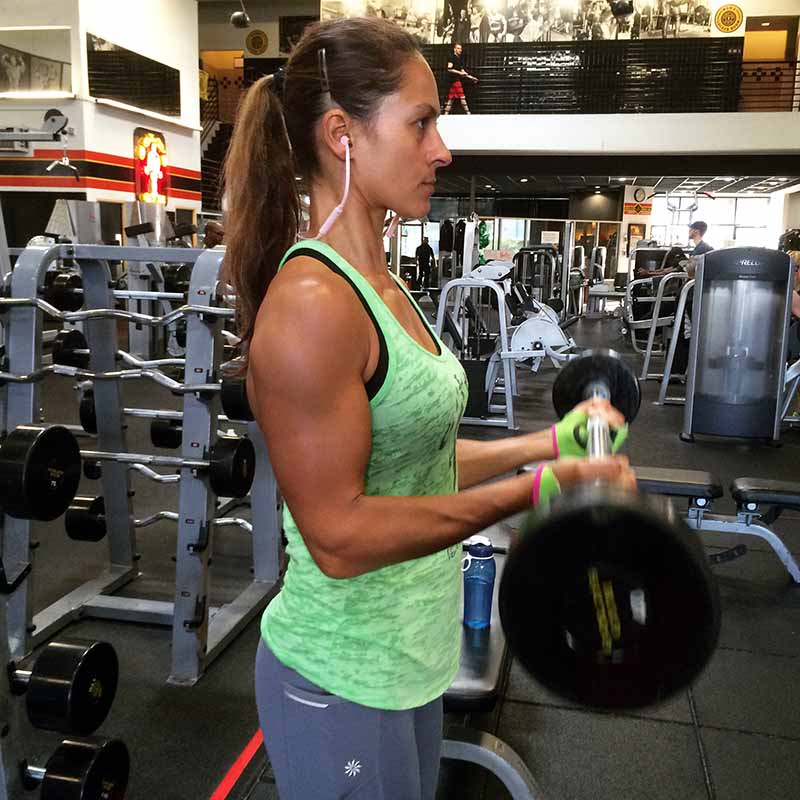 Track what you are doing and learn from it
If you take away only one thing from the Fit With Diabetes challenge, I would like it to be how important it is for your health and diabetes management to track what you are doing and learn from your mistakes and successes.
I strongly recommend that you read (and re-read) How to Prevent Low Blood Sugar during Cardio Workouts and How to Find Your Formula for Insulin and Food Around Workouts. To me, these two posts are among the most important on Diabetes Strong, as they describe the fundamentals of good diabetes management when you exercise.
If you are trying to lose weight, How to Lose Weight when You Live with Diabetes is also a great read.
Accept that you are a work in progress
You will never have perfect diabetes control. This is just a fact of life with diabetes. There is always room for improvement. Don't beat yourself up over mistakes, but try to learn from them instead.
Even though I have had type 1 diabetes for almost 20 years, worked in the diabetes industry my entire career, and make a living from diabetes coaching, my blood sugar is too high while I'm writing this because I under-dosed slightly for my last meal. It's annoying, but the important thing is that I know what I did wrong and hopefully I won't do it again next time.
I also encourage you to include your mental health as a part of your overall health journey. If you're not sure where to start, try reading Mark Heyman's post of how to do mental a "Body Scan", or revisit Ginger Vieira post Diabetes Burnout: Why It Might Not Be What You Think It Is (And How to Work Through It!) if you're struggling with diabetes burnout.
Find your "why"
Once in a while, I'll sit down and write up why I'm doing what I'm doing and what I would like to improve. I try to define why I have the goals I have, and what's most important to me. This process forces me to dig deeper and really think about my own progress and how I can improve as an athlete, trainer, wife, and friend.
I think this exercise is very powerful and ties in well with goal setting and habit creation. It constantly reminds me of the reasons why I'm doing the things I do, amplifying the importance of my goals and motivating me to continue.
And it's OK to conclude that all is good and that you are happy and content with where you are. You don't have to set ambitious goals just to have them. Change can and should come from a positive place, as we discussed in the post on how to set goals.
If you aren't happy with where you are with your diabetes management, health, or exercise, know that there are lots of people who are in the same situation as you or who used to be where you are. Don't be afraid to share your story or ask questions. Our closed Facebook group is a great place to do it. It's only for people who want to be Fit With Diabetes and it's the most awesome and supportive group you could imagine!