This is a post I have been very excited about!
I love learning from people who do extraordinary things with diabetes, so it was amazing to get the chance to interview Kyle Cochran, finalist on previous seasons of American Ninja Warrior, who has been living with Type 1 diabetes since the age of 5.
Kyle is a big proponent of insulin pumps as the first person using one to qualify for American Ninja Warrior, so I took the chance to ask him about why he uses an insulin pump and how it helps him when it comes to exercise.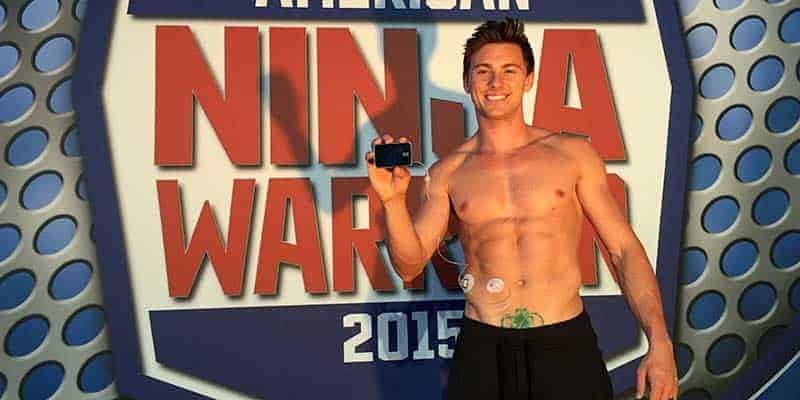 This post was written in collaboration with Tandem Diabetes Care as part of their sponsorship of the Strong With Diabetes Challenge.
Kyle has competed on seasons 4, 5, 6, and 7 of American Ninja Warrior, which features "The world's most difficult obstacle course." He was the first person with diabetes to qualify for the American Ninja Warrior competition.
Kyle decided to start competing on the show to encourage other people with diabetes to live a life without limits. Now he travels the nation as part of Tandem's Live Life in Full Color Speaker Series.
During his presentation, Not Letting Diabetes Stand in His Way since 1993, Kyle shares how his life-long love of competition and use of insulin pump therapy have helped him achieve successes in life.
For those of you who are new to pump therapy, I've included a glossary of terms he uses that are specific to pumping at the end of this post.
Why did you get an insulin pump?
Before I used an insulin pump I spent a lot of time on the sidelines of my sports events checking my blood sugar and correcting for highs or lows.
Getting an insulin pump and using CGM dramatically reduced the time I spent there because now I have my insulin and BG information right with me.
Most people are shocked to find out that I have diabetes now because they rarely see me "managing" it.
What are the top 3 benefits of using an insulin pump when it comes to exercise?
First, in this interview I may pass along suggestions, tips, or information about experiences or approaches to the management of diabetes. However, please note that individual symptoms, situations, circumstances and results may vary. Please consult your physician or qualified healthcare provider regarding your condition and appropriate medical treatment. The information I provide is not intended to be used for medical diagnosis or treatment, or as a substitute for professional medical advice.
Now, back to the question about benefits when it comes to exercise – with the ability to set a Temporary Basal Rate and anticipate exercise, the pump makes it so that if I don't want to eat, I don't have to.
When on injections, I often had to eat before a workout to avoid going low, even when I wasn't hungry. This was always tough because if I was doing a really high-intensity workout, I didn't want a full stomach. Plus, eating to prevent lows is counterproductive when I work on cutting weight for different competitions – I'm trying to burn calories, not add them!
Another benefit is having the tools to prevent overnight lows. Halleluiah! Preventing overnight lows is the holy grail of athletes with diabetes. I can set a Personal Profile on my pump for a decreased amount of basal insulin overnight at EXACTLY the times I see trending lows after an active day. My Dexcom CGM readings helped identify trends in my overnight BGs.
Just as a Temporary Basal Rate can prevent overnight lows, it can also support steady blood sugars during the day. Daytime highs and lows can happen due to exercise-induced hormonal changes and your body's fuel burning for recovery. If you can anticipate those spikes or crashes, you can edit your pump settings to change your:
Temporary Basal rate
Insulin-to-carbohydrate ratio for boluses (adjusting how many units you need per gram of carbs)
Correction factor (the amount of insulin needed to adjust to reach a target BG)
This ensures that you receive more or less insulin as needed, based on your own experience, without having to rethink it. This makes me feel free!
How do you prevent hypoglycemia during exercise?
I set a lower Temporary Basal Rate 30 minutes before I plan to start exercising and lower it again at the start of the workout.
Most of my workouts are anaerobic (resistance training), and anaerobic exercise can actually increase your blood sugar if it's intense enough, so one of the benefits of the temporary basal rate is that it will automatically resume your regular rate after your workout so you avoid a post-workout spike.
What do you do for aerobic (cardio/endurance) workouts?
Since most of my workouts are anaerobic, I asked my friend Blair if she had any tips for cardio workouts. Blair has had diabetes for 17 years, and she's an Ironman triathlete and long distance trail runner.
Her advice is to minimize variables. She says that working out during the morning hours helps her. She attributes this to cortisol that the body naturally produces overnight. It is a natural steroid that makes people with diabetes a bit more resistant to insulin. Its effect is strongest in the morning and wears off throughout the day.
If a workout in the afternoon makes your blood sugar tank, try the same workout in the morning and see what happens. Also, by starting your day with exercise, without meal boluses stacking up throughout the day, you'll have less insulin on board when your sensitivity goes up with aerobic exercise.
For both types of workouts, it's important to eat a good recovery meal and cover it with an appropriate bolus after your workouts so that you are replenished and able to fuel your next workout.
If you've done your research, taken good notes, and set up a Personal Profile on your insulin pump for that workout, your pump will help you do the math.
My BG tends to go high when I do resistance training and then low during the night, how do you adjust your pump for that?
This happens to me sometimes. It's going to be different for every person, but I've had success using a Personal Profile on my pump to increase my Basal Rate before an intense resistance training session. Then I switch back to my normal Personal Profile after exercise.
I also know some people with diabetes who lift heavy weight, and their effort is so great that they give themselves a bolus right before they lift to prevent a spike and fuel their muscles for the exertion.
Dehydration can also cause high blood sugars with exercise, so I make sure I stay hydrated using a low-carb electrolyte powder mixed with water. If I can avoid the need to take a Correction Bolus, I have less insulin on board when it's time for sleep.
What do you do with your pump when you go skiing or do other winter sports?
You can wear your pump! Just be sure to keep it close to your body when it is cold outside to make sure your insulin isn't compromised. Often, this means against your skin, under clothing, or in the inside pocket of a winter coat. I use a SPIbelt under clothes.
Tandem insulin pumps are the only pumps with a temperature alarm that will warn you when the temperature inside the pump has reached a level that may have compromised the insulin in the cartridge.
If your pump detects a temperature outside of the normal operating range, the Temperature Alarm occurs, protecting you from continuing to deliver insulin that may have lost its potency.
Note: Avoid exposure of your pump to temperatures below 40°F (5°C) or above 99°F (37°C). Insulin can freeze at low temperatures or degrade at high temperatures. Insulin that has been exposed to conditions outside of the manufacturer's recommended ranges can affect the safety and performance of the pump.
What do you do with your pump if you do water sports?
I'll generally disconnect it. It's important to make sure you're replacing at least a portion of missed basal insulin if you plan to be disconnected.
My experience is that the physical exertion on top of the insulin in my system helps keep my blood sugar down without the need for much extra insulin as long as I'm swimming to win 😀 . I keep close tabs on my CGM readings to make sure I stay in a safe range.
Tandem pumps are watertight (IPX 7), tested to a depth of three feet for up to 30 minutes. I have peace of mind knowing that my pump is safe in the event of accidental submersion. However, it's not recommended that you shower, bathe, or swim with your pump.
You can read more about insulin pumps and water sport in our post about Surfing with Type 1 Diabetes.
Where can people learn more about the insulin pump you use?
From my team at Tandem! My pump is made by Tandem Diabetes Care and I also work there. We'd love to connect with you and learn more about what you're looking for in an insulin pump and help you determine if a Tandem Pump is right for you. The best way to start the process is to submit our online form, or you can give us a call at 1-877-801-6901. We're looking forward to connecting with you!
Glossary
Basal Rate is a slow continuous delivery of insulin, which keeps BG levels stable between meals and during sleep. It is measured in units per hour (units/hr).
Temporary Basal Rate offers an easy way to immediately meet short-term insulin needs for temporary activities or situations. It is used to increase or decrease the current basal rate for a short period of time to accommodate special situations. 100% is the same basal rate as programmed. 120% means 20% more and 80% means 20% less than the programmed basal rate. On Tandem insulin pumps, Temporary Basal Rates can be set from a minimum of 15 minutes to a maximum of 72 hours in increments of 1 minute. The rate can be set for a minimum of 0% of your current basal rate to a maximum of 250% of your current rate in increments of 1%.
Personal Profile is a personalized group of settings that defines the delivery of basal and bolus insulin within specific time segment throughout a 24 hour period.
Medical Disclaimer: All information provided on Diabetes Strong is based on my own and our expert's personal experience. We are not medical professionals and no adjustments to care should be done without consulting your medical team. If you are new to exercise, haven't exercised in a while, and/or haven't seen your medical team in the last 3 months, it is advised to do so before engaging in any kind of physical activity. You must not rely on the information on Diabetes Strong as an alternative to medical advice from your doctor or other professional healthcare provider. If you have any specific questions about any medical matter, you should consult your doctor or other professional healthcare provider. You should never delay seeking medical advice, disregard medical advice, or discontinue medical treatment because of information on this website.