I recently had the chance to interview Dr. John Burd, the founder of DexCom, about his latest venture Lysulin, a nutritional supplement made to lower glucose toxicity and A1c levels in people with diabetes, prediabetes, and metabolic syndrome.
Dr. Burd has spent most of his career developing products for people with diabetes so I am very excited to learn more about Lysulin!
All statements about the effect of Lysulin in this article are from Dr. Burd. The Diabetes Strong editorial team does not have the medical expertise to endorse or recommend Lysulin. Please visit Lysulin.com and talk to your medical team to learn more about Lysulin.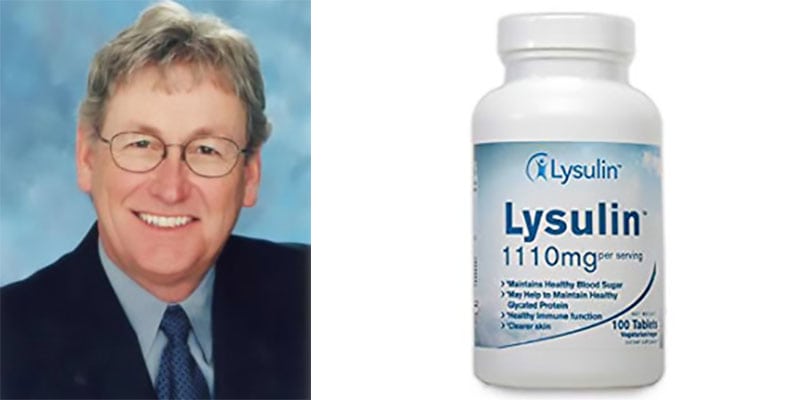 Hi John, can you please tell us a little about yourself?
Hi Diabetes Strong! I am Dr. John Burd, I have a Ph.D. in Biochemistry from the University of Wisconsin, and I have been developing medical products for over 40 years. Because I have many family members who live with diabetes, I have a passion to help people with diabetes to better health and longer lives. My proudest moment was the founding of DexCom, now the leader in continuous glucose monitoring with over 1 million users worldwide.
What exactly is Glucose Toxicity and why is it such a big problem for people with diabetes?
Let me get technical for a brief moment here to explain:
Glucose is toxic, like a poison, because it is a reactive chemical. Glucose reacts with the amino groups found on the amino acids of all proteins. When glucose reacts with these amino groups, the protein is said to be "glycated". These glycated proteins progress through a series of reactions to become Advanced Glycation Endproducts or AGEs. AGEs are believed to be responsible for many (and maybe all) of the disease complications associated with diabetes, such as retinopathy, nephropathy, and neuropathy (which leads to blindness, kidney failure, organ degradation, and amputations.)
The glycation of insulin and the insulin receptors on our cells leads to insulin resistance and then insulin depletion. This logically leads to the observation that, if protein glycation could be slowed or halted, the complications of diabetes would be reduced or stopped and the progression of prediabetes to type 2 diabetes would also be slowed or halted.
Because Lysine has been shown in animal models of diabetes to halt the production of AGEs, it is one of the three primary ingredients in Lysulin. We have clinical studies underway prove that Lysulin can lower A1c levels in people with diabetes which will slow or halt the complications of diabetes.
So what exactly does Lysulin do?
Because Lysulin contains a relatively large dosage of the amino acid lysine, it blocks protein glycation, which I believe is the cause of complications. The lysine in Lysulin reacts with glucose and thus protects your proteins from this reaction. The glycated lysine is then safely excreted in the urine.
Lysulin also contains zinc and vitamin C, both of which have been shown to lower blood glucose, prevent the progression of prediabetes to Type 2 diabetes, and improve insulin resistance.
An added benefit is that these ingredients also improve the lipid profile by lowering triglycerides and cholesterol. In our double-blind placebo-controlled study, we also found that blood pressure was improved.
The combination of zinc and vitamin C with lysine creates the strong results being reported in the lowering of HbA1c for patients with prediabetes and type 2 diabetes, with more promising results expected in trials concluding in the near future.
Our results to date show that Lysulin lowers HbA1c in one month or less in people living with type 2 diabetes, and that the HbA1c lowering with Lysulin is better than most type 2 prescription medicines.
Who can benefit from taking Lysulin?
In addition to the studies showing the improvement in HbA1c in type 2 subjects, we have also had some volunteers with type 1 diabetes who are using a continuous glucose monitor (CGM) try Lysulin with good results.
On our labeling, we suggest that Lysulin is useful for type 2 diabetes, prediabetes, and those at risk of developing diabetes. We did not recommend it for type 1 diabetes because of concerns about hypoglycemia. That is why we are looking for more volunteers with type 1 diabetes to try Lysulin if they are using a CGM with a hypo alarm. I am pleased to report that 4 of the type 1 volunteers saw A1c drops of 0.6% to 1.0 % in just 1 month, with no hypoglycemia reported.
Supplements have a bad reputation in the diabetes community (for good reasons). Why Should people trust Lysulin
I have learned that supplements have a bad reputation because many of them have made unsubstantiated claims in the past. Lysulin is firmly grounded on 25 years of R&D showing that the ingredients in Lysulin can lower blood glucose and glycated protein – the cause of complications. We have double-blind placebo-controlled studies that prove that Lysulin works as well or better than many type 2 oral drugs, with no side effects. The reason that many references on the website bibliography are older is that this information was known and not acted upon until Lysulin. Please email me at [email protected] if you would like the more recent manuscripts.
How exactly do you take Lysulin and where can people get it?
Lysulin is available both as a chewable orange-flavored tablet (it can be chewed or swallowed and requires 2 tablets 3 time a day) and as a liquid which tastes like slightly salty lemonade and requires 1 teaspoon 3 times a day. Both are gluten-free and vegan.
Lysulin is available without a prescription and can be purchased at Lysulin.com. It is also available at Amazon and walmart.com.
Editor's note: Because Lysulin is an over-the-counter supplement (not subject to FDA approval) and has only been available since January 2018, Diabetes Strong highly recommends that you visit Lysulin.com to learn more about the product and talk to your medical team before taking Lysulin.