Managing blood sugars during and after exercise is one of the trickiest situations to tackle as a person living with insulin-dependent diabetes.
In this post, I want to present an approach to managing blood sugars during and after exercise, and show you your options when doing it using an insulin pump.
Let's dive in…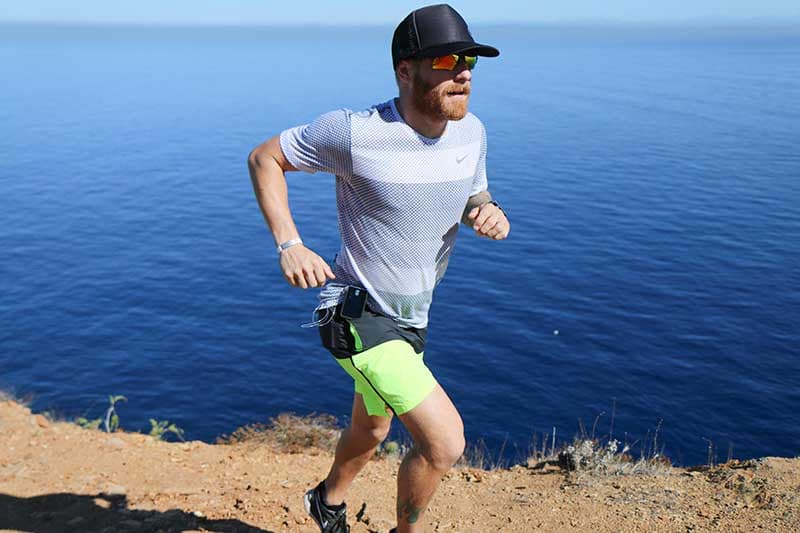 This post was written in collaboration with Tandem Diabetes Care as part of their sponsorship of the Healthy With Diabetes Challenge.
There are two main levers to pull when it comes to managing blood sugars during and after exercise:
1) Carbohydrate consumption and
2) Insulin adjustments
If you engage in recreational exercise a few times a week for less than an hour at a time, I recommend that you try to adjust your insulin rather than add more carbs prior to exercise (unless of course you're hungry or already have low blood sugar).
Insulin adjustments
Recently, some very smart people sat down and reviewed the scientific data on Type 1 diabetes and exercise, wrote up the findings, and published; "Exercise management in type 1 diabetes: a consensus statement" in the May issue of The Lancet.
The reason I'm so excited about this paper is that it jives with my own findings of how to successfully adjust my insulin to manage my blood sugars during and after exercise. It's great to finally have a scientific consensus to back that up.
The paper in the Lancet discusses blood sugar management and exercise for multiple daily injections and pump therapy, so while this post focuses on pump adjustments demonstrated on a Tandem pump (so you can see how it would actually work), you can find more details in the actual paper which is free to download on the Lancet.
Although these are scientific recommendations, it's still HIGHLY recommended that you discuss any changes to your insulin regimen with your medical team.
The key physiological learnings
If you are living with insulin-dependent diabetes, the key physiological learnings from the consensus statement are how different types of exercise most likely will affect blood sugars. This is not different from what I've been writing about for years, but to recap:
Aerobic exercise with constant intensity (like walking or running) tends to decrease blood sugar levels
Anaerobic exercise with intensity varying between rigorous and rest (like resistance training or interval training) tends to increase blood sugars
Mixed types of exercise (aerobic and anaerobic mix) can give a mixed blood sugar response
Exercise can increase the risk of hypoglycemia for 24-48 hours after exercise
This knowledge is essential because it can help determine the appropriate carbohydrate or insulin adjustment strategy to prevent blood sugars out of range during and after exercise. However, please note that how much your blood sugar will be affected is individual so you need to learn your unique response to different kinds of exercise.
You can read more about how to do this in my "How to find your formula" post.
The guidelines below are meant as a starting point that will HAVE to be individualized, optimally in collaboration with your medical team.
Scenarios for insulin adjustments and recommended actions
The consensus statement outlines four different scenarios for exercise and insulin adjustments. I'll go through them one by one before showing you how to actually adjust your pump settings.
Insulin adjustments for fasting aerobic activities longer than 30 min
If you do fasted aerobic exercise, the consensus statement recommends a basal insulin reduction of 50-80% up to 90 minutes before starting your exercise or complete suspension of insulin delivery for a maximum of 60 minutes. Resume normal basal when you stop exercising
Insulin adjustments for fueled aerobic exercise of different intensities:
Follow same basal recommendations as with fasting aerobic activity plus consider reducing your mealtime bolus.
The table below nicely depicts the recommended pre-workout bolus strategies if you have consumed carbohydrates during the last 90 minutes before your workout.
| | | |
| --- | --- | --- |
| | Exercise duration | Bolus reduction |
| | 30 min | 60 min |
| Mild aerobic exercise | -25% | -50% |
| Moderate aerobic exercise | -50% | -75% |
| Heavy aerobic exercise | -75% | NA |
| Intense aerobic or anaerobic exercise | None | NA |
Example: If you have a meal with carbohydrates before your workout and plan to do moderate aerobic exercise for 30 minutes, you would reduce your bolus for that meal by 50%.
Insulin adjustments for anaerobic exercise:
Since your blood sugar will tend to rise during anaerobic exercise, a different strategy for staying in range is needed. Although there is no dosing recommendation for this type of exercise, it is suggested that a basal rate increase can help treat or prevent hyperglycemia (high blood sugars) during and after exercise.
One of the reasons for this increase in blood sugar is that the livers release of glucose can surpass the increase in your insulin sensitivity during anaerobic exercise.
Personally, I eat a small meal and bolus before a resistance training or interval workout to counteract any increase in blood sugars.
Insulin adjustment after workouts:
If you enjoy a meal within 90 minutes of completing your exercise, you might want to consider reducing your bolus ~50% for that meal to prevent hypoglycemia.
When using an insulin pump, you can utilize the option of reducing your basal post-workout to reduce the risk of hypoglycemia in the 24-48 hours after workouts where your insulin sensitivity is roaring.
The paper is mainly focused on how to reduce nighttime hypoglycemia after workouts and recommends reducing your basal insulin overnight by 20% or consume a bedtime snack without insulin.
How to make basal insulin adjustments using an insulin pump
In the examples below, I'm using a Tandem pump and therefore use their wording and settings to describe how it works, but you should be able to find similar settings on most modern insulin pumps.
How to set a temporary basal insulin rate: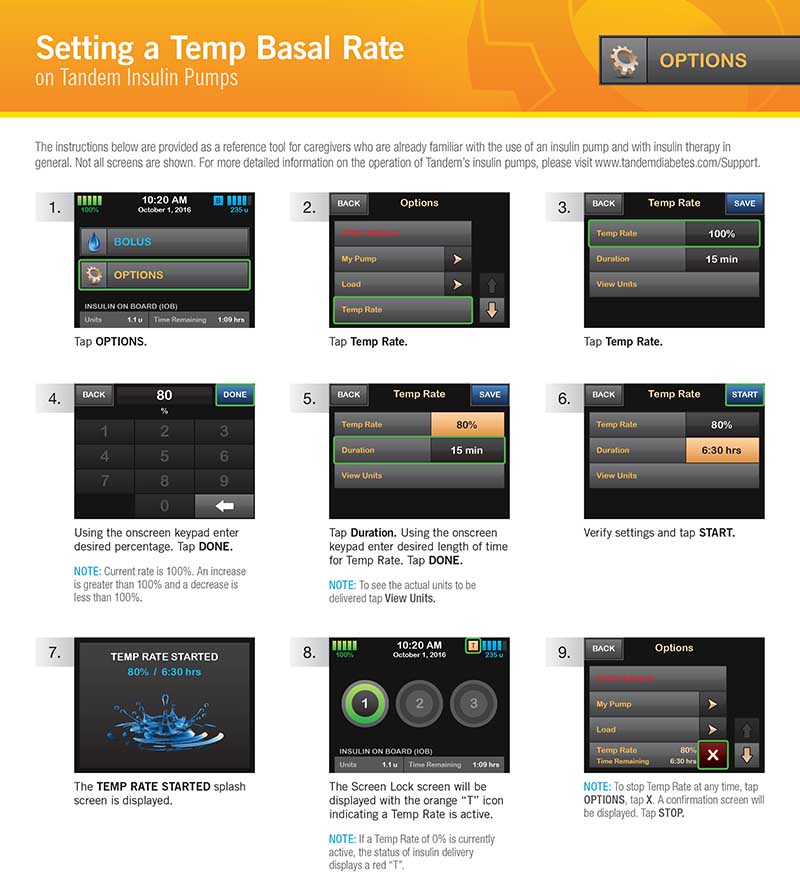 Click here to download the instructions as a PDF
Conclusion
With the consensus statement, we now have clear scientific guidelines for how to adjust insulin around workouts. However, it's important to remember that they are GUIDELINES, not rules.
We all react to insulin and exercise in slightly different ways so we have to find the exact formula that works for us. Please consult with your medical team before making changes to your diabetes management!
Where to Learn More About Insulin Pump Therapy
To learn more about pump therapy, call (877) 801-6901 to speak with an insulin pump specialist or visit: Tandemdiabetes.com.
Medical Disclaimer: All information provided on Diabetes Strong is based on my own and our expert's personal experience. We are not medical professionals and no adjustments to care should be made without consulting your medical team. If you are new to exercise, haven't exercised in a while and/or haven't seen your medical team in the last 3 months, it is advised to do so before engaging in any kind of physical activities. You must not rely on the information on Diabetes Strong as an alternative to medical advice from your doctor or other professional healthcare provider. If you have any specific questions about any medical matter, you should consult your doctor or other professional healthcare provider. You should never delay seeking medical advice, disregard medical advice, or discontinue medical treatment because of information on this website.
From time to time, Tandem Diabetes Care may pass along: suggestions, tips, or information about other Tandem Insulin Pump user experiences or approaches to the management of diabetes. However, please note individual symptoms, situations, circumstances and results may vary. Please consult your physician or qualified health care provider regarding your condition and appropriate medical treatment. Please read this Important Safety Information [https://www.tandemdiabetes.com/important-safety-information] before using a Tandem Diabetes Care product.