A severe heat wave is making it hard to concentrate on anything but cooling down here in Santa Monica. Most days the temperature hit 90 degrees, which is unusual for us beach dwellers. Living by the ocean usually keeps the temperatures a little more pleasant.
The good news is that this means it's time for ICE CREAM! 😀
Luckily, Better Body Foods recently sent us this HUGE box of mixed goodies and asked us to test their ingredients in our recipes. I feel like a kid in a candy store. When I opened the box and saw the big containers of peanut butter powder and Chia seeds, the first thought that came to my mind was to make peanut butter ice cream and jam.
Ice cream isn't exactly the typical healthy fitness food (and the low-calorie ice creams you can buy aren't worth eating), but I have a few tricks up my sleeve. By using fat-free cottage cheese instead of cream and adding peanut butter protein powder, I managed to get the protein per serving up to 21 grams with only 15 grams of carbs and 4 grams of fat. Not bad for a delicious ice cream snack!
Obviously, ice cream takes a little time to make (assuming you don't have access to liquid nitrogen) since you have to freeze it. I simply made the ice cream base in the morning and put it in the freezer. By early afternoon, it was frozen solid.
There is no way you can eat it straight out of the freezer. You would need some sort of power tool to get a spoon in there. Luckily, I have the next best thing 😀 . I used my NutriBullet to blend the ice cream for a few seconds and voilà! The smoothest ice cream ready to eat.
This is an excellent post-workout snack. If you want to dial down the carbohydrates, skip the palm sugar or use an artificial sweetener.
For other healthy, high-protein snacks and shakes recipes, check out our Raspberry & Banana Mousse and Strawberry Banana Shake (shown below).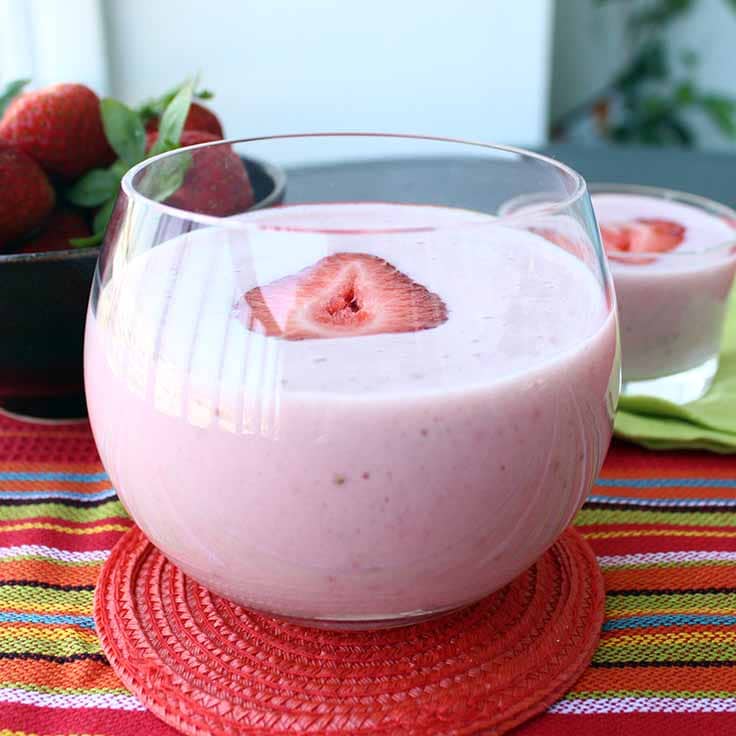 Peanut Butter Ice Cream & Raspberry Jam
Low-carb, low-fat, high-protein peanut butter ice cream. Delicious! The perfect healthy fitness snack for hot summer days or after a good workout.
Ingredients
Ice cream Ingredients:
½

cup

(120 g) fat-free cottage cheese

1

scoop

(30 g) Quest Peanut Butter Protein Powder

2

tbsp.

(12 g) Peanut Butter Powder

½

cup

(110 ml) water
Jam Ingredients:
2

oz.

(56 g) frozen raspberries

2

tsp.

palm sugar

1

tsp.

(13 g) chia seeds

¼

cup

(60 ml) water
Instructions
Blend all of the ice cream ingredients

Place the ice cream mix in a sealed container in the freezer for minimum 2 hours. I used my

Nutribullet

and just put the NutriBullet cup in the freezer with a lid on

Blend the raspberries and mix them with the remaining jam ingredients in a small bowl or Tupperware. Make sure the Chia seeds are well mixed in.

Take out the ice cream (should be frozen solid) and leave on the kitchen counter for 20-30 min

Blend the frozen ice cream to a smooth consistency (again I used the NutriBullet)

Pour the jam over the ice cream and enjoy
Nutrition Facts
Peanut Butter Ice Cream & Raspberry Jam
Amount Per Serving
Calories 185
Calories from Fat 36
% Daily Value*
Total Fat 4g 6%
Total Carbohydrates 15g 5%
Protein 23g 46%
* Percent Daily Values are based on a 2000 calorie diet.