Now that the kickoff for the Fit With Diabetes New Year's Challenge is only two days away, I want to tell you about the awesome prizes you can win throughout the challenge, courtesy of our amazing sponsors.
The prizes are all products that I love and use myself, so I'm super happy that I get to share them with you and give you a chance to win them!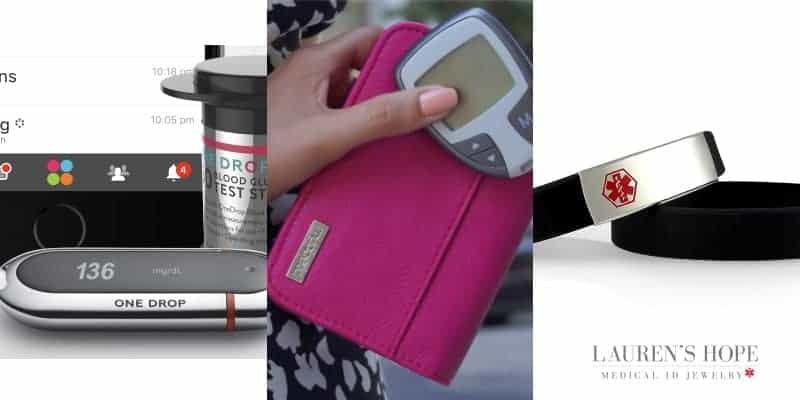 The only thing you have to do to enter any of the weekly prize draws is to sign up for the challenge and be active in the challenge Facebook group or on our Facebook page in the week of the draw (post or comment at least once). I will draw the weekly winners each Saturday.
Our sponsors play a big part in making this challenge happen, so please take a minute to check out their websites and have a look at their great diabetes products.
This post contains affiliate links.
Lauren's Hope
Lauren's Hope creates fashionable medical ID bracelets, necklaces, anklets, charms, and more for men, women, and kids with any and every manner of medical condition. Shop online at Laurenshope.com
The medical ID bracelets from Lauren's Hope have a great story behind them. The original interchangeable medical ID bracelet was made for Lauren, a 13 year old with diabetes who refused to wear medical ID jewelry because, as she said, 'It's ugly and draws attention to my illness'. So Lauren's Hope set out to design a medical alert bracelet that Lauren, and the millions of people like her who avoided medical IDs when they really needed them, would actually enjoy wearing. It was a great idea, and, with more than 400,000 people wearing the bracelets today, they have definitely succeeded!
Lauren's Hope is sponsoring the first week of the challenge and the prize is two $25 gift certificates for Laurenshope.com (I will draw 2 winners)
Myabetic
Myabetic creates diabetes accessories with a fashionable, non-medical appearance so that you can control your diabetes with style. Shop online at http://www.myabetic.com/diabetesstrong (you can use the code DIABETESSTRONG to get 15% off your purchase)
Myabetic is the absolute top end of diabetes accessories. I personally got my hands on a pink Dexcom sleeve, the Dexcom armband (of course I have to sweat in style), and a blush diabetes wallet. Since we look at our diabetes gear pretty much all day, every day, why have it in ugly medical-looking cases? You don't have to – this girl has gone stylish and so can you.
Myabetic is sponsoring the second week of the challenge and their prize is a product of your choice from Myabetic

One Drop
One Drop is a diabetes management platform that aims to revolutionize blood glucose meters with gorgeous hardware, award winning mobile software, powerful data analytics, and a unique subscription model for test strips. You can learn more on OneDrop.Today
I have been testing the One Drop meter and mobile software for the past month and have been very impressed (you can read my One Drop review to learn more).
The meter is both gorgeous and accurate and automatically connects to the One Drop app via Bluetooth, which is super useful. You also get access to 24/7 support from a team of Certified Diabetes Educators, so you can ask questions about your diabetes management at any time. Best of all, you get unlimited test strips sent directly to your door at a fixed monthly rate!
One Drop is sponsoring the third week of the challenge and has generously donated two prizes:
One Drop | Chrome meter, lancing device, lancets (10 ct), test strips (100 ct), and carry case
3 months subscription to the One Drop | Premium plan, which includes unlimited test strips delivered direct to your door and 24/7 on-demand CDE support.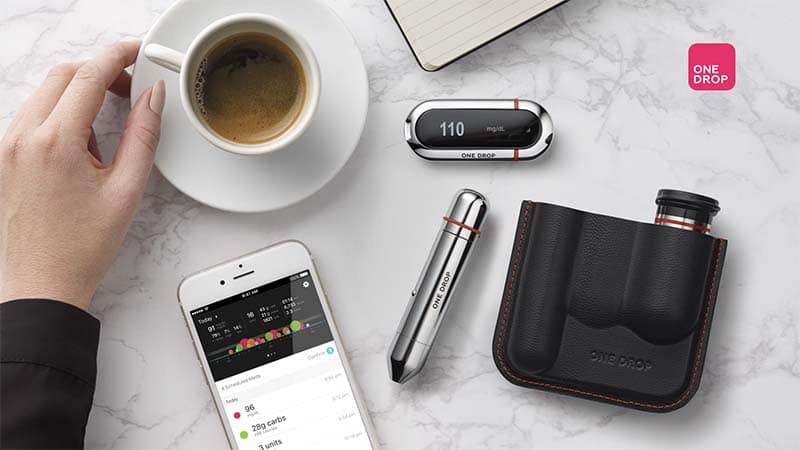 I hope you are as excited about these prizes from our sponsors as I am. I almost wish I could enter the challenge to win them myself 😀
Win a 3-day Fit With Diabetes Retreat with me in Santa Monica
The grand prize in the challenge is a free ticket to my Fit With Diabetes Retreat in Santa Monica, CA from Feb 18-20, 2017. The retreat is three days of workouts, diabetes education, sunshine, and fun!
Each day will have a full program consisting of:
A cardio workout (including hiking in the Malibu Mountains)
A resistance training workout
2 educational session about diabetes management, exercise, nutrition, and other relevant subjects
Plenty of time to hang out, have fun, and talk diabetes with me and a group of like-minded people living with diabetes
Group dinner
Travel to the retreat, hotel, breakfast, and dinner is not included in the prize but we will help you find a good hotel in Santa Monica. You can learn more about the retreat here.
If you cannot make it to the retreat, you can choose to receive 12 weeks of Diabetes Coaching and Online Personal Training instead.
I really look forward to starting the challenge on the 7th and connecting with you in our challenge Facebook group!
See you in the Fit With Diabetes New Year's Challenge and good luck with the sponsor giveaways!