Ahhh Pizza…. The nemesis of most people living with insulin-dependent diabetes. The cheesy, fatty deliciousness combined with bread and sauce is guaranteed to put you on a blood sugar roller coaster for the rest of the day and instantly expand your waistline (at least, that's how it feels).
But now there's a new kid on the block, and that's the Real Good Pizza Co.
They claim that they can give you a gooey, cheesy pepperoni and meatball feast without the blood sugar rollercoaster because their pizzas only have 4 grams of carbs (and 25 grams of protein!). They also claim that their low carb pizza still tastes just as good as regular pizza!
That sounded like a dream come true, so I had to do a Real Good Pizza review!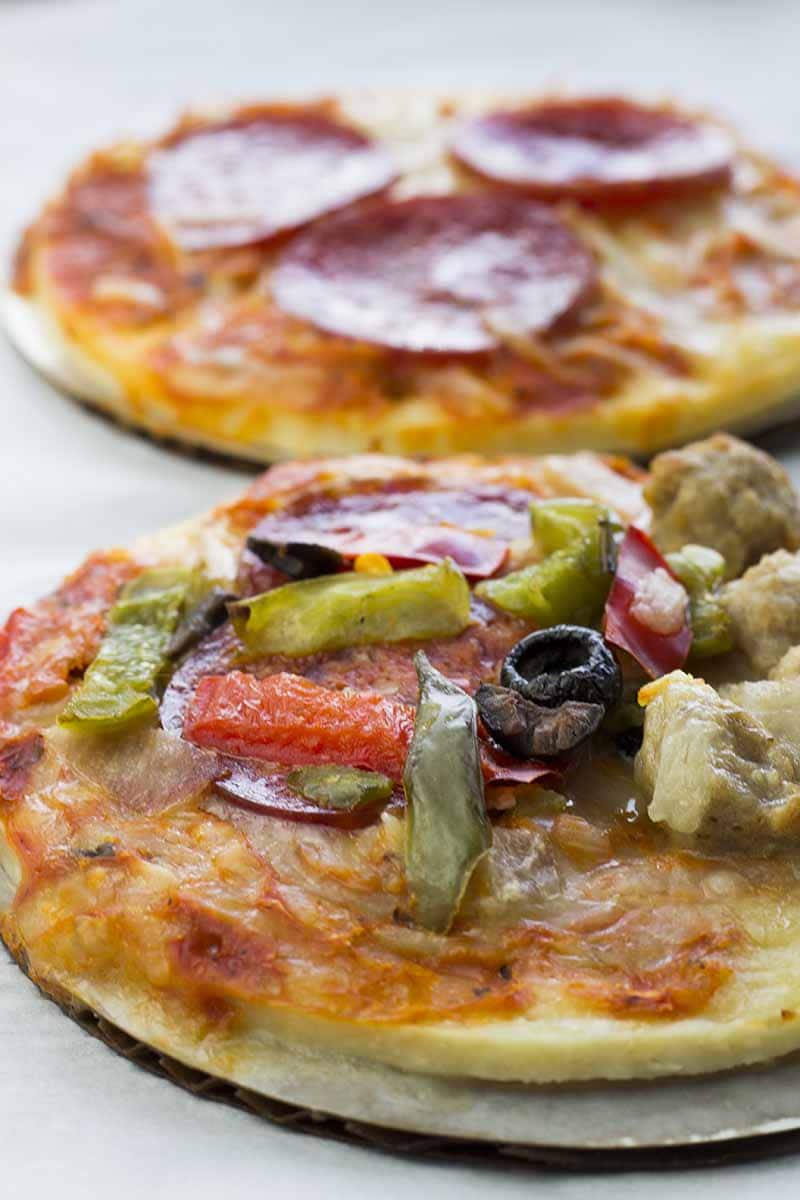 Disclaimer: This is a sponsored post that contains affiliate links. All opinions in this post are my own and are based on my own tests of the product.
How do you make a pizza with only 4 grams of carbs?
Real Good Pizza Co's trick is their low carb pizza crust made of chicken and parmesan cheese. I know that sounds all kinds of weird, but I promise you, it's brilliant! The crust has the consistency of a very firm pizza crust and tastes great.
Because the pizzas are completely grain free, they contain no gluten. They are also made with hormone and antibiotic-free chicken, all natural and non-GMO vegetables, and locally sourced cheeses, which I am a big fan of.
The Real Good Pizza Co sent us a box of Pepperoni pizzas and a box of the Supreme pizzas (Italian sausage, pepperoni, and veggies) and both Tobias and I truly enjoyed both flavors.
Real Good Pizza and my blood sugars
Just to show how little of an impact a Real Good Pizza had on my blood sugar, check out my 6-hour blood sugar graph below. The little square indicated when I had the low carb pizza, accompanied by ½ iu NovoLog and 0.7 IOB, and what happened to my blood sugars for the next 5 hours — which was nothing!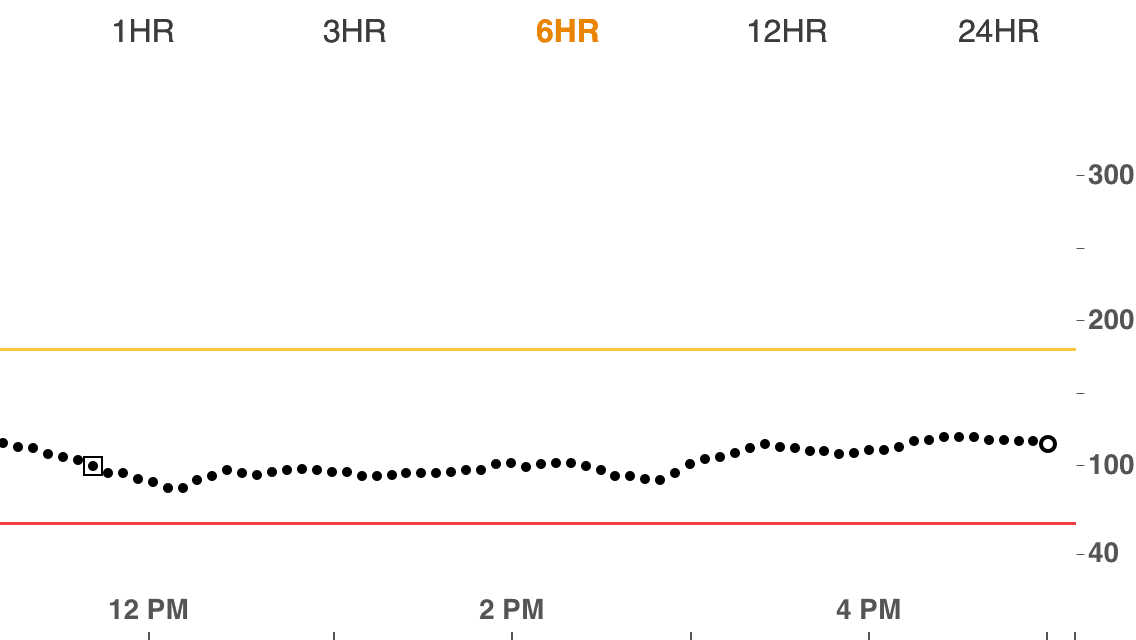 I had a small bump at 3 PM, but that's mainly because I was hungry and had a small snack. If this had been a standard pizza, my sugars would most likely have climbed for hours after eating it, and I definitely wouldn't have flatlined as I did.
Is this the diet pizza we have been dreaming about?
Well, no. While the pizzas pack 25 g of protein and only 4 g of carbs, they do also have 14-16 g of fat and 240-270 calories. It's not a huge pizza either (only 5 inches across), so to me, it's more like a snack. But if you are in the mood for pizza and don't want the nasty blood sugar impact or ton of calories, I think this is an excellent option.
They are also FANTASTIC for people who want to increase their calorie intake with a healthy and tasty snack that has great macronutrients for muscle building.
How to cook the pizzas
The pizzas are frozen when you get them and you can either heat them in the oven or in the microwave. While the microwave is the quick and easy solution, I found that they were much better when I took the time to heat them in the oven (isn't this always the case?).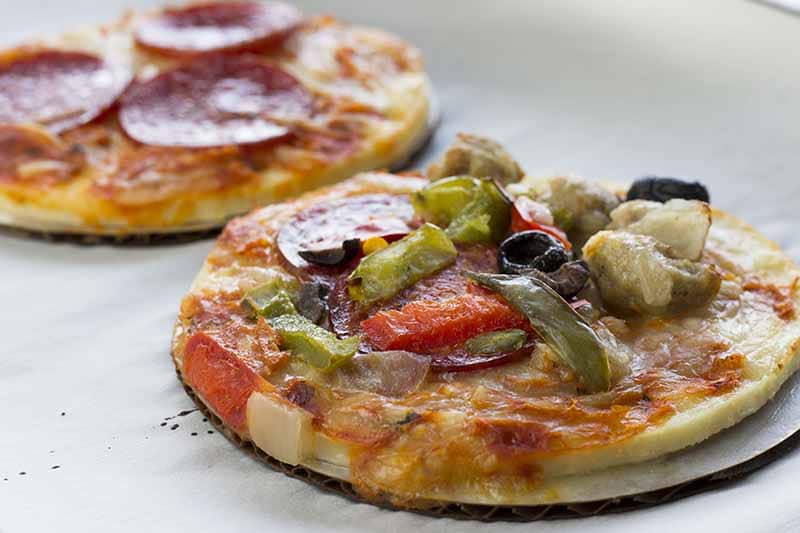 How to get your hands on a low carb pizza
You can get the Real Good Pizzas in more than 500 nutrition specialty stores nationwide (Vitamin Shoppe, Complete Nutrition, Hi-health, etc.) and they will be launching nationwide with Kroger on May 1.
However, the easiest way by far is to buy them directly from their online store. If you use the promo code THEFITBLOG, you will get a 10% discount on your entire purchase.
You have to buy minimum two cases (12 pizzas), but the price is very fair:
2 cases (12 pizzas) = $5.99 per Pizza ($71.88 total)
3 cases (18 pizzas) = $4.99 per Pizza ($89.82 total)
4 cases (24 pizzas) = $4.50 per Pizza ($108.00 total)
Order 5 or more cases = $4.25 per Pizza
Shipping is free to all the 48 continental US states.
So, do I recommend them?
Absolutely! I will definitely have a case of these low carb pizzas in my freezer for when I get the pizza munchies! How can you not love a pizza with only 4 grams of carbs?
I will say however that this is a "you love it or you hate it products". Some people think these pizzas are the best thing since sliced bread and some find them almost inedible. So buy a few to test how you like them before going crazy and filling your entire freezer.
Buy these low carb pizzas here and use the code THEFITBLOG to get 10% off your purchase!