I really enjoy a slice of pizza or bread, but the carb counting and potential blood sugar headache mean that eating pizza is not always worth it for me.
This is why I love that there are now some absolutely terrific low carb pizza options that make pizza night a little easier to maneuver.
I was super excited when Outer Aisle reached out and asked if I'd be up for trying their Cauliflower Pizza Crust as I have been buying their Cauliflower Sandwich Thins for well over a year now at my local Whole Foods market.
So let me walk you through why I love the Outer Aisle cauliflower products, how my blood sugars react after eating them, and where you can get yours.
Disclaimer: This is a sponsored post that contains affiliate links. All opinions in this post are my own and are based on my own tests of the products.
Why I love Outer Aisle Cauliflower products
What I like about the Outer Aisle products is that they are made with 63% fresh cauliflower, whole cage-free eggs, and Parmesan cheese. It's as close as it comes to the way I would make pizza crust myself if I wanted to spend the time.
The cauliflower base means that the blood sugar impact is minimal, and the use of eggs and parmesan as binding agents means that the protein amount is higher than the fats.
That is something I appreciate a lot, as high-fat foods mean that the blood sugar impact is slowed down but that the blood sugar increase can "haunt" you for hours after you've finished your meal.
Another important thing about these products is that they don't actually taste like cauliflower. Don't get me wrong, I like cauliflower, but I don't want my pizza to taste like a head of cauliflower.
How I eat the Outer Aisle products
I came across the Sandwich Thins at my local market when looking for low-carb bread substitutes. What I like about them is that they have only 2 grams of carbs (1 gram of net carb) and 50 calories per Sandwich Thin. They also taste great and the texture kinda reminds me of tortillas.
That means that they are great for scooping up a hot bowl of chili (how I've primarily been enjoying them) and are the perfect fit for taco night.
I don't really eat sandwiches that often, but could also see them being great for that, as well as mini pizzas.
And talking about pizza, the Outer Aisle Pizza Crusts are made from the same base ingredients but are a little thicker and sturdier. They have to be able to hold all of the pizza toppings after all.
A pizza crust has 120 calories and 4 grams of carbs (3 grams of net carbs), so basically nothing.
The Outer Aisle products are really easy to prepare. I bake the Sandwich Thins under the broiler for a few minutes on each side until they get golden brown and firm up a bit.
The pizza I pre-bake at 425º degrees for 8 minutes then add my toppings and bake until the cheese is bubbly. Then I let it sit for a little bit to let the crust firm up. If you have a pizza stone, you probably don't need to pre-bake it at all.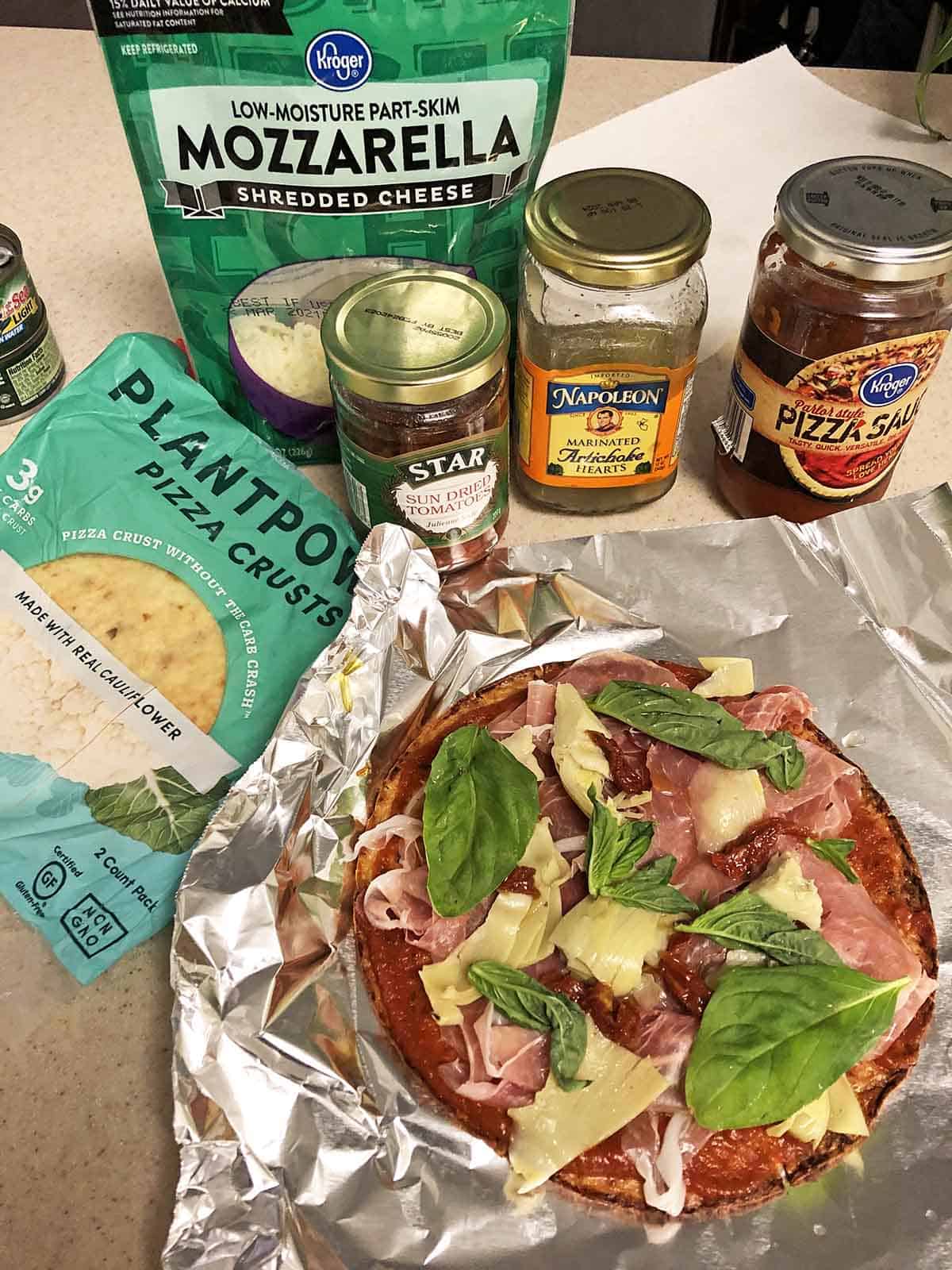 How Outer Aisle products impact my blood sugar
Since these products have so few carbs, you might not need any insulin at all. However, I am fairly sensitive to anything I eat so I do need to inject insulin even for a small amount of carbohydrates. I also load my pizzas high, so I have to take insulin for the sauce and cheese as well.
But these products are so gentle on my blood sugars! Let me share my blood sugar experiment from the last time I enjoyed one of the Outer Aisle Pizza crusts.
I was going to one of my girlfriend's house, and asked her if she wanted me to bring sushi or cauliflower pizza crusts and toppings. She opted for the pizza…which tells you how good this stuff is.
Since I was at her house, and I guess slightly distracted with making the pizzas and catching up, I forgot to pre-bolus (dose 10-15 min before eating) and just took my insulin shot right before we sat down to eat.
We ate at 8 PM and as you can see from the graph below, there was no blood sugar spike after I ate. And that was even without a pre-bolus!
I use MyFitnessPal to track my food and calculate my carb, protein, and fat intake. I bolus not just for the carbs but for protein as well. The pizza had 10 grams of carbs (3 from the pizza, and the rest from the pizza sauce and cheese) and 27 grams of protein, so I took 1 unit of rapid-acting insulin for the carbs and 0.5 units for the protein and that clearly worked out perfectly.
How much insulin you need of course depends on your individual insulin and carb sensitivities but I think it's safe to say that this product won't spike blood sugars and it's low enough in total carbohydrates that it should work for most people living with diabetes, regardless of whether they manage with insulin or not.
Where to get it and pricing
Outer Aisle can be found in many stores across the US (Sprouts, Kroger Family Stores, Albertsons, Whole Foods, Meijer, Wegman's, etc.). They have a convenient store finder where you can look up stores near you that carry the products.
You can also order it online and get it sent directly to your doorstep.
Prices online are $6.99 for 6 Sandwich Thins and $6.95 for 2 pizza crust (if bought through Instacart).
Some online stores only sell 4 packs at a time, but they freeze really well for up to six months, so you don't have to worry about them going bad or needing to eat 24 sandwich thins very quickly.
If you would like to order online, you can order from their website here. Use the code DIABETESSTRONG at checkout to take 10% off your order.