Regardless of what type of diabetes you live with and how it's managed, you should be keeping an eye on your blood sugars with either a glucose meter or a Continuous Glucose Monitor (CGM).
But the hard truth is that getting your diabetes supplies can be a real headache.
Nobody wants to spend time on the phone with their device supplier or insurance company or trying to reach their medical team to get the right prescriptions. But we have to, right….?
As it turns out, we don't. You can get a company to handle all of this for you with no additional fees.
It only requires a single phone call (the call took me exactly 12 minutes), and they take it from there. Neat!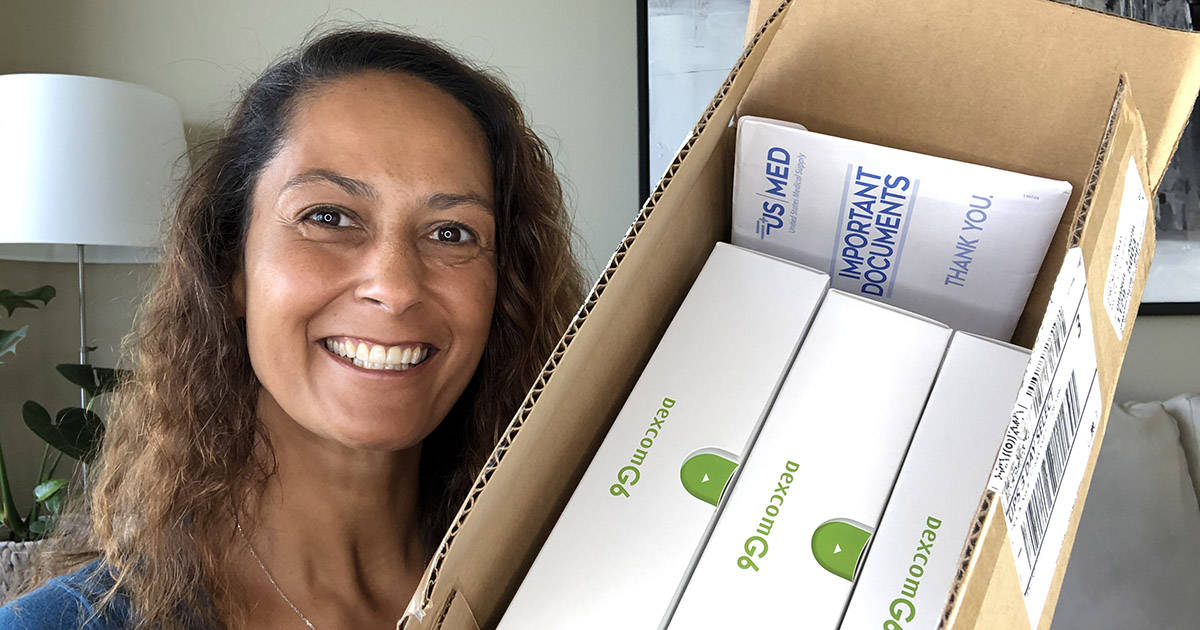 This post is sponsored by US MED, but all opinions are my own and are based on my use of the service.
How does US MED make diabetes management easier?
US MED is a white-glove medical supply provider of high-quality diabetes products, such as Continuous Glucose Monitors (CGM), glucose meters, test strips, and insulin pumps.
White-glove service means that they take care of everything for you. Once you give them your information, they contact your doctor to get a prescription, they contact your insurance company (including Medicare and Medicaid) to secure payment, and they send you 90 days of supplies directly to your door with priority UPS shipping.
You'll receive automatic reminders when it's time to reorder to ensure you get your shipment every 90 days, and it doesn't require any additional phone calls or wasted time.
And a really neat benefit of using a medical supply provider such as US MED is that you don't even have to know if your insurance pays for the device you want. US MED will look into that for you if you contact them through their website or call 1-877-840-8218.
Products delivered by US MED
Continuous glucose monitors and supplies
FreeStyle Libre System
FreeStyle Libre2
Dexcom G6
Diabetic testing supplies
True Metrix Air Glucose Meter
True Metrix Go Glucose Meter
Prodigy Voice Glucose Meter
Prodigy Autocode Glucose Meter
Prodigy Pocket Glucose Meter
Embrace Glucose Meter
Insulin Pumps
Insulet OmniPod®
Insulet OmniPod® DASH
Tandem® t:slim X2®
Other devices
Sleep apnea – CPAP and nebulizers
Catheter supplies
Getting started with US MED
Once I decided to get my CGM supplies from US MED, I went on their website and filled out their new customer intake form (or you can call them directly at 1-877-840-8218).
The next day, I received a phone call from my dedicated case manager, Antera. I don't think I've ever communicated with a diabetes supply company where I got the direct number and name of my contact, so that was a nice touch.
The call with Antera took exactly 12 minutes, and all she needed was some basic personal information, my prescribing doctor's name, the products I needed, and my insurance information.
After we hung up, I received an email that welcomed me to US MED and walked me through setting up an account in their system so I can keep track of my orders online. I continued to receive emails with updates, such as when they had received the prescription from my doctor and had confirmed my coverage eligibility with the insurance company.
There was only one little snag with my insurance company giving US MED incorrect information about my deductible. But my representative cleared that up with the insurance company after we had a brief 2-minute chat.
Once the insurance coverage was sorted out, they charged me my co-pay (which was, interestingly enough, $10 cheaper per CGM sensor than what I've been paying while getting my CGM directly from the manufacturer.) Exactly one week after that initial call with Antera, I received an email that my 90-day CGM supplies were on their way.
A 90-day supply is six sensors and one transmitter, slightly different from how I've received supplies in the past. In the past, I was ordering transmitters every six months and my sensors monthly.
Not only am I saving money on my CGM supplies, but I'm also saving time because I don't have to reorder monthly! With US MED, I'm only reordering four times a year.
In addition to getting my supplies every 90 days now, I like the convenience of the auto-reorder reminders. I'll get a text and email when it's time to reorder, then all I have to do is send them a text back, and my next order will be on its way. It's quite easy and slightly cheaper.
What are the costs associated with using US MED?
US MED is contracted with over 500+ private insurance companies and Medicare, so you'll need to check with them to be sure insurance covers your supplies. Most customers have minimal out-of-pocket expenses. The good news is that the extra levels of service they provide (insurance processing, physician coordination, 90-day supplies, UPS shipping, reorder reminders) are all FREE!
My experience was that using US MED was slightly cheaper than getting my CGM directly from the manufacturer.
So far, I have been very satisfied with US MED. You visit their website or complete their new customer intake form for a free benefits check to determine if US MED is a good option for you (you can also call them directly at 1-877-840-8218).