Have you ever struggled with finding healthy replacements for your favorite calorie-laden restaurant meals that not only taste like their unhealthy counterparts but are actually more satisfying and delicious? Well, here is Fried Cauliflower Rice & Shrimp to the rescue!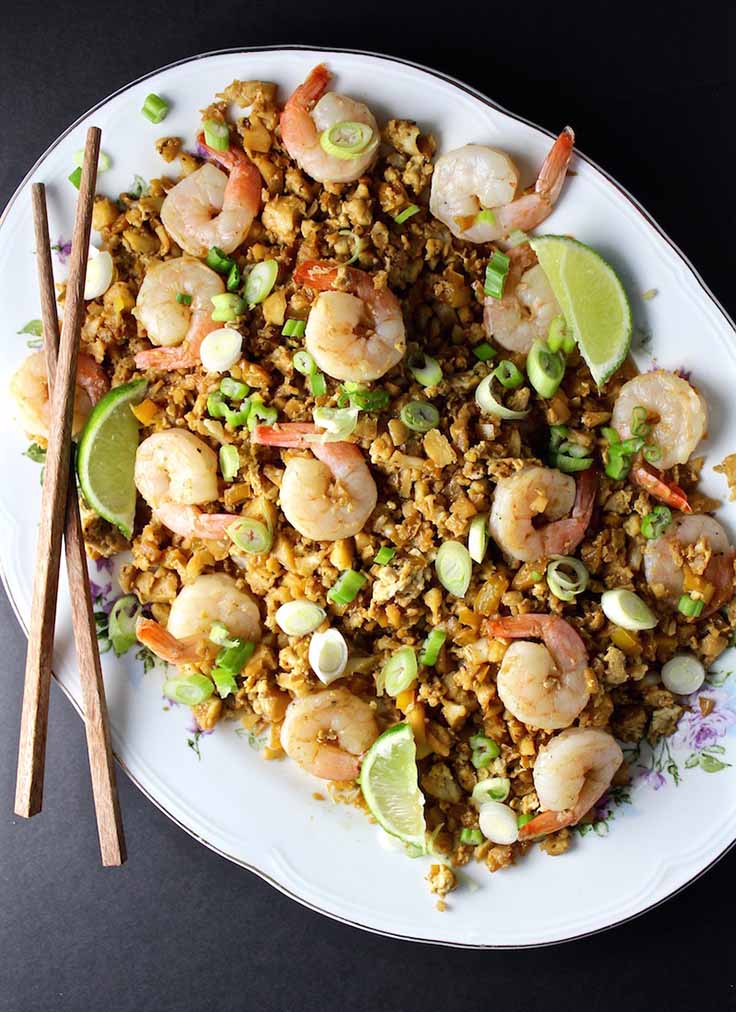 I'm sure you've heard of the recent buzz over cauliflower being the new "it" food capable of replacing things like mashed potatoes and rice. I certainly did my share of eye-rolling, even though roasted cauliflower is by far my favorite vegetable dish. Cauliflower replace mashed potatoes? Oh please, yeah right, and I bet I can make monkeys fly out of my butt too!
That all changed though when I started a "clean eating" plan and I couldn't eat mashed potatoes. It was day two and my body was saying, "Wow, I feel awesome not eating sugar and carb-loaded foods", but my mind was saying "Carbs, carbs, carbs, carbs, carbs, carbs!!"
So instead of blowing my diet on a fleeting craving, I decided to try cauliflower mashed potatoes for the first time….and they were glorious. Yes, I became a believer in the almighty power of cauliflower, so I decided to see if it could really mimic the flavor and texture of rice too. I'm happy to report that it hit the mark on both flavor and texture, hence this recipe for the oh-so-tasty Fried Cauliflower Rice & Shrimp!
Shrimp, garlic, ginger, red bell pepper, soy sauce, eggs, and a touch of sesame oil pack this fried "rice" with such vibrant flavors and texture that you will want to shun the unhealthy take-out for good!
Fried Cauliflower Rice & Shrimp stir-frying tips
All that's required is a little chopping and measuring of a few ingredients, so you will have very few dishes to clean!
If you don't have a wok, no worries! Just use the largest sauté pan you have on hand.
Dry the shrimp really well before stir frying. Excess moisture will keep it from browning.
Keep a plate next to the stove to transfer the shrimp and the fried cauliflower rice.
BEFORE you start cooking, chop all your veggies and aromatics, and measure your ingredients so that everything is ready to go. Stir frying takes just minutes, which means your ingredients can burn easily if you walk away. So STAY PUT!
Stir fry ingredients over medium-high heat for great texture, but keep stirring!
Stir frying often requires a lot of oil because the vegetables can dry out in the pan. Coating the vegetables and shrimp in the oil BEFORE stir frying, allows you to use less oil and ensures your ingredients stay moist.
Wake up your palate with these beautiful ingredients and stay fit and healthy, YEAH!
Bon Appetit Ya'll.
For more healthy cauliflower recipes, try our Vegan Cauliflower Pizza or check out our roundup of the 10 best low-carb cauliflower recipes.
Recipe Card
Fried Cauliflower Rice & Shrimp
This Fried Cauliflower Rice & Shrimp is a healthy low-carb replacement for my favorite rice recipe. It's easy to make and packs a lot of tasty protein!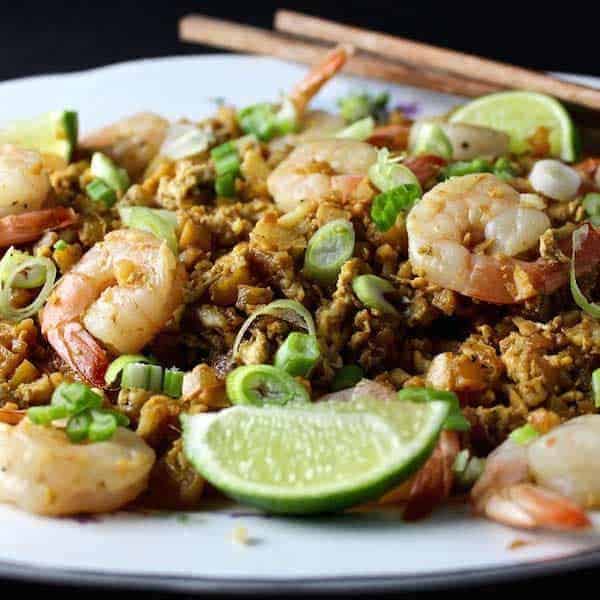 Ingredients
2

cauliflower heads

1

red bell pepper

4

teaspoon

olive oil

1

pound

(450 g) shrimp

(medium or large)

2

eggs

5

cloves

garlic

1½

tablespoon

fresh ginger

¼

cup

(0.6 dl) low sodium soy sauce or gluten-free tamari

¼

cup

(0.6 dl) low sodium chicken broth

1

lime

1

tablespoon

unsweetened coconut milk

(preferably canned)

2

green onions

Drizzle of sesame oil

Salt

(optional)

Cracked pepper
Instructions
Chop the stems off the cauliflower. Chop the cauliflower with a sharp knife until they are about ¼-inch-½-inch pieces. Alternatively, you can grate them with a

box grater

with the large size grate. Or you can pulse them a few times in the food processor. Be sure not to pulverize them, you want them to have crunch and texture.

Slice and finely chop the bell pepper. Mince the garlic and ginger. Chop the white part of the green onions (called scallions), and set aside. Crack 2 eggs in a bowl and scramble, set aside.

Pat the shrimp with paper towels to dry. Season with a touch of salt (unless you are salt sensitive) and freshly cracked pepper. Toss with 2 tsp. olive oil BEFORE stir-frying instead of adding it to the pan. This helps to evenly coat the shrimp so they won't dry out.

Make sure you have all your ingredients chopped, measured and ready to go, as this process goes quickly.

Coat the cauliflower and red bell pepper in the remaining 2 tsp. olive oil in a bowl BEFORE stir frying to evenly distribute and helps reduce the amount of oil needed.

Heat a large skillet or wok over medium high heat. Stir-fry the shrimp for about 2-3 minutes or until they start to turn pink. Just before the tails start to curve, add two minced garlic cloves and sauté for 30 seconds to one minute, making sure it doesn't burn. Squeeze half of a lime over the shrimp. Remove the shrimp and garlic to a plate.

Add the cauliflower and bell pepper for about 3-4 minutes until they start to soften a bit, stirring frequently. Add the remaining garlic cloves and ginger and stir-fry for 1-2 minutes, stirring constantly.

Add the soy sauce, chicken broth, and coconut milk, stirring constantly, and simmer until it thickens a bit, about 1-2 minutes. Add the eggs and cook for 1-2 minutes or until they are scrambled. Remove from the heat and add the shrimp, season with cracked pepper, a squeeze of lime, and scallions. Drizzle a bit of sesame oil on top to finish.

Serve immediately
Nutrition Info Per Serving
Nutrition Facts
Fried Cauliflower Rice & Shrimp
Amount Per Serving
Calories 354
Calories from Fat 185
% Daily Value*
Fat 20.5g32%
Monounsaturated Fat 11.3g
Cholesterol 257mg86%
Sodium 766mg32%
Potassium 989mg28%
Carbohydrates 18.8g6%
Protein 24.2g48%
Vitamin A 1600IU32%
Vitamin C 263.2mg319%
Calcium 150mg15%
Iron 2.3mg13%
Net carbs 11.8g
* Percent Daily Values are based on a 2000 calorie diet.