Socks that are designed for people with neuropathy aim to lower numbness and pain that occurs with nerve damage.
They are designed to improve blood circulation, prevent wounds and blisters from forming, and relieve foot and leg pain.
These socks mainly use compression therapy, but they may have other features, like padding, moisture-wicking fabric, and arch support that can relieve neuropathy symptoms.
We cover options for both compression and non-compression socks below.
We've also included a buying guide with advice on what to look for when shopping for neuropathy socks. It covers why compression therapy can help neuropathy symptoms, as well as tips on wearing compression socks so you can get the most out of your purchase.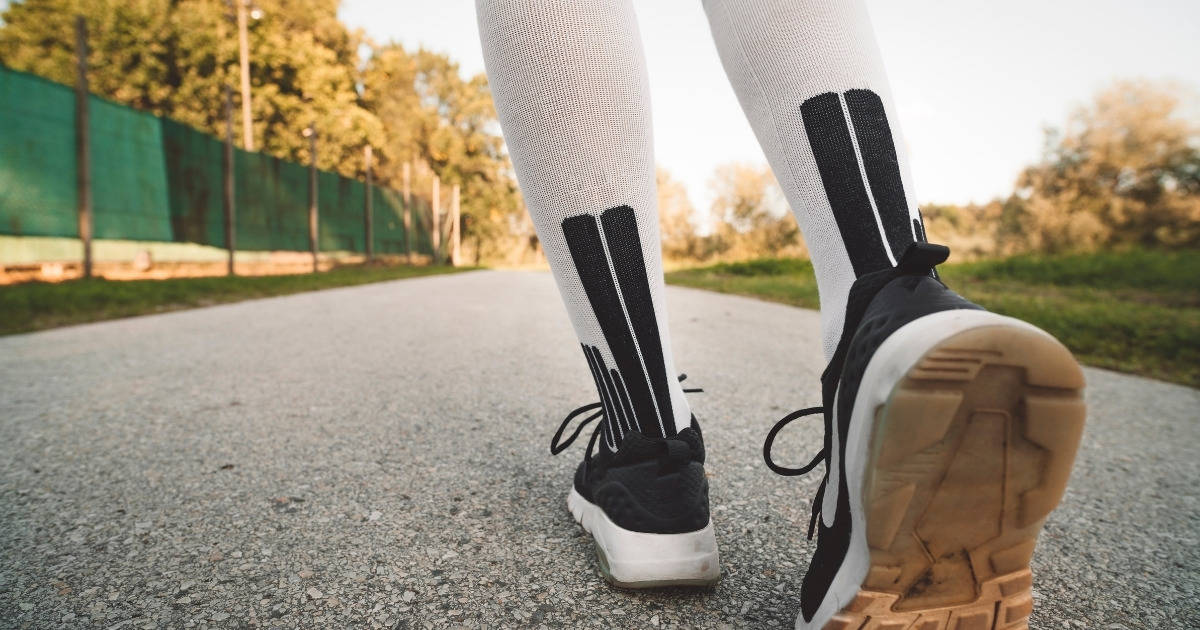 Diabetic neuropathy sock review
We have divided the neuropathy socks below into two categories: Compression socks and socks that have little or no compression.
Compression socks may relieve neuropathy symptoms, but you should always talk to a doctor before purchasing a pair. These socks have various compression levels which may not be right for your condition or current symptoms. 
Socks without compression can be worn at any time to protect your feet and reduce discomfort.
The best compression socks for neuropathy
Our Top Pick
Orthofeet Compression Socks for Neuropathy
This modular 2-part sock system makes putting on & taking off compression socks quick & easy.
You can choose between a moderate compression of 15-20 mmHg and a firmer compression of 20-30 mmHg.
Because the sock and ankle sleeve are separate pieces, you can mix and match colors and compression levels.
The socks are seam-free and made of knitted soft microfiber threads with stretch that easily conform to the contours of your foot and leg.
The extra padding at the heel & ball of the foot provides excellent cushioning & comfort.
Pros:
Modular system - You can choose the colors and compression that's right for you

Comfortable - Seam-free with extra padding

Easy to put on - Especially helpful if you have trouble bending down
Buy on Orthofeet
Powerlix Compression Socks for Neuropathy
These compression socks from Powerlix have a 20-30 mm Hg compression level. This works well for both mild and moderate neuropathy symptoms. The firm compression works well to improve blood flow, lower swelling, and relieve pain.
These socks finish above the calf to focus pressure around the lower leg. They use an anti-slip design around the opening to stop the sock from falling down your leg. This is tight enough to keep the sock up, without leaving compression marks on your skin.
The nylon-spandex fabric blend is lightweight and breathable, helping to absorb sweat and keep the feet dry. The material is flexible enough to pull the sock on and off easily without losing the compression level.
PowerLix also supplies a 1-year replacement guarantee with the socks, so you can put your mind at ease when you buy them.
Pros:
Anti-slip design – Prevents the sock from falling down the leg

Firm compression level – Aids mild and moderate neuropathy symptoms

Lightweight nylon-spandex fabric – Breathable and comfortable to wear
Cons:
Some wearers needed to size up to make sure the sock fit comfortably.
Buy on Amazon
NanoSocks Compression Socks for Women & Men
These unisex socks apply 20-30 mmHg of compression that's designed to work 360° around the feet and ankle, effectively targeting neuropathy symptoms.
The socks are available in three sizes, but they can stretch up to 60% more than their original shape. This accommodates most feet and ankle sizes, all without losing any of the intended compression levels.
NanoSocks' design is open-toe, allowing neuropathy patients to monitor their feet to ensure they're free from injuries.
The socks are available in white and black, though neuropathy patients may want to opt for the white color. This ensures potential bloodstains are visible, meaning the wearer can attend to foot injuries as soon as possible.
The socks are made from a lightweight nylon-spandex blend. This moisture-wicking fabric works with the open-toe design, keeping the socks breathable and comfortable to wear.
Pros:
Firm compression level – Strong pressure helps to increase blood flow and improve neuropathy symptoms

Open-toe design – Lets neuropathy patients monitor their toes for any changes

Stretchability – Accommodates a range of foot sizes and makes the sock easier to put on and take off
Cons:
The socks may roll up when you put shoes on.

No non-slip feature may make socks roll down during the day.
Buy on Amazon
Doctor's Choice Graduated Compression Socks
These graduated compression socks have an over-the-calf design to work on circulation issues in the lower legs. They have a lighter 8-15 mmHg compression level that can relieve pain, fatigue, and swelling.
The socks are made from a soft nylon blend that makes them easy to pull on and off. The fabric also keeps the feet warm, helping blood flow to the feet and legs.
Nylon has synthetic fibers that repel moisture, preventing bacteria from forming and causing infections. The blend also contains zinc, copper, and copper, which prevents odors and inhibits bacteria growth.
The design is seamless around the toes to avoid friction. The socks won't bunch up or rub against your skin, preventing wounds from forming on the feet.
Doctor's Choice has also placed arch support within the sock, helping to keep your feet supported throughout the day.
Pros:
Light compression level – Suitable for milder neuropathy symptoms

Stretchy nylon material – Socks are easy to put on and take off

Seamless design – Prevents friction injuries and calluses from forming
Cons:
A lighter compression level may not relieve more severe neuropathy symptoms
Buy on Amazon
Langov Open Toe Neuropathy Compression Socks
This option from Langov delivers an impressive 20-30 mmHg of compression that's ideal for reducing swelling and relieving pain. As they are so strong, make sure your doctor gives you the all-clear before wearing these compression socks.
These socks are made from a lightweight nylon-spandex blend. This ensures that the socks are breathable, keeping your feet nice and dry as you go about your day. They have non-slip cuffs that prevent the socks from falling down your ankle throughout the day.
The socks are so thin and lightweight, so you can wear them under most shoes and if you prefer, even under your everyday socks. They're very flexible, applying continuous pressure to your feet as you perform different movements.
The compression may be strong, but the fabric is elastic so the socks are easy to wear. The open-toe design is ideal for those with peripheral neuropathy so they can keep examining their toes for any changes.
Additionally, the socks also come with a massage ball that can increase blood flow to the feet, which is a nice bonus.
Pros:
Open-toe design – The toes are visible so patients can keep an eye out for any changes

Strong compression level – Works well to improve blood circulation and relieve neuropathy symptoms

Non-slip cuff – Prevents sock from falling throughout the day
Cons:
A firm compression level can make the socks harder to put on and off.
Buy on Amazon
The best non-compression diabetic neuropathy socks
Best Non-Compression
Apex Foot Copper Cloud Diabetic Socks
The sole of these socks is made of yarn that's infused with copper fibers. This eliminates 99.9% of odor-causing bacteria and fungi and promotes softer, healthier skin.
The rest of the sock is made from moisture-wicking acrylic to keep your feet cool and dry.
The heel and fore-foot are padded and they have a small degree of arch support.
Pros:
Maximum comfort - Seamless design, padded soles, and a non-binding welt

Bronce fibers - anti-bacterial, anti-fungal, and anti-odor
Buy on Apex Foot
BioSoft Padded Bamboo Socks for Diabetic Neuropathy
This is the non-compression sock option from Orthofeet, which was also our number one pick for compression socks.
The socks feature a non-constrictive, seam-free design, excellent moisture wicking system, and soft cushioning interior.
They have padded soles that provide a lot of comfort and protection for your feet.
Because they are made from bamboo fibers, they also have anti-bacterial and anti-odor properties
Pros:
Non-constricting design - Loose-knit and seam-free with a lot of stretch

Comfortable - Very soft material that doesn't irritate the skin

Anto-bacterial, anto-odor, and anti-blister
Cons:
Won't fit in dress shoes because of the padded soles
Buy on Orthofeet
OrthoSleeve Diabetic and Neuropathy Non-Binding Wellness Socks
This option from OrthoSleeve is designed to relieve swelling, sensitivity, and loss of sensation in the feet.
The design places moderate compression around the midfoot, and lighter compression around the toes, ankle, and calf. This fully supports the arch of the foot, encourages blood circulation, and defends against friction.
The socks are seamless to avoid pain felt from rubbing fabric. There's light padding around the toes to relieve any excess pressure on the area. Bamboo is moisture-wicking which helps keep feet dry and free from sweat.
It's also infused with silver ions that are anti-odor and antimicrobial. This is ideal for those with neuropathy, as silver naturally disinfects bacteria. If the wearer encounters food wounds that don't heal, the ions will prevent the injuries from infection.
Pros:
Light compression – Helps to improve blood circulation within the feet and legs

Infused with silver ions – Defends against bacteria to keep your feet healthy and free from infection

Toe padding – Provides support around the toes and the balls of the feet
Cons:
Some users claimed socks ran a size too small
Buy on Amazon
Buying guide
What does peripheral neuropathy mean?
Peripheral neuropathy refers to when the peripheral nerves are damaged. These are found outside the spinal cord and the brain. Peripheral neuropathy can be caused by medical concerns like diabetes, nutritional issues, and hypothyroidism.
Around 8% of individuals over 55 live with peripheral neuropathy, though this percentage rises amongst people with diabetes. Some of the symptoms include numbness, pain, muscle weakness, and burning sensation.
Patients can injure their nerves within their peripheral nervous system in several ways, like disease, trauma, or regressive conditions. One of the first signs is when the nerves in the feet, lower legs, and hands are affected.
Peripheral neuropathy may also cause serious issues, like foot ulcers in diabetes patients, necrosis, or cardiovascular autonomic neuropathy.
High blood sugar in those with diabetes can also cause circulation issues which can interfere with wound healing. Studies have shown that peripheral neuropathy may lead to balance disorders and falls in elderly people.
How to treat peripheral neuropathy
Peripheral neuropathy treatment covers two main classifications. The first process is to treat any underlying conditions that may be responsible for the nerve damage.
The second treatment requires medical professionals to prescribe medication and advise the patient on how to manage their symptoms.
It's important to treat the symptoms of peripheral neuropathy as they may lead to more serious issues later. For instance, loss of sensation in the feet may increase the chance of you experiencing a foot injury, which may get infected later.
Neuropathy socks are a good tool for the second type of treatment. These won't be able to address any underlying causes, but they may relieve some peripheral neuropathy symptoms.
Compression socks may improve blood circulation, relieve pain, and aid the body's healing process.
You can learn more about diagnosing and treating neuropathy in our comprehensive guide Diabetic Neuropathy: Symptoms & Treatment Options
How does compression therapy treat peripheral neuropathy?
Peripheral neuropathy can lead to postural instability, a term that relates to balance issues. Those living with the condition may have a greater chance of falling, which can lead to injuries.
Research has shown that compression socks can improve stability and balance. This includes elderly people, female athletes, and those with a lower joint position awareness (low proprioceptive acuity).
Compression socks can relieve neuropathy issues concerning blood flow, as they are known for their ability to improve blood circulation.
Studies have shown that compression garments can help those living with diabetes and lower extremity edemas. Others have found that these socks can treat specific ulcers normally found on the lower half of the body.
Open wounds that don't heal can increase your risk of infection. This is why healing current wounds or ulcers is important to prevent gangrene.
As a whole, the advantages of compression socks seem to lower the chance of serious issues relating to peripheral neuropathy.
Compression therapy and diabetes
Diabetes is one of the underlying conditions that can cause peripheral neuropathy. Those that have diabetes are at greater risk of complications related to circulation. These include peripheral arterial disease and chronic venous insufficiency.
Compression socks can help ease these symptoms by increasing your blood circulation. However, if you have been diagnosed with peripheral neuropathy, you need to see your doctor before using compression socks.
It varies with each patient, but compression therapy can be unsafe for those with peripheral neuropathy and peripheral arterial disease. Get your doctor's approval before wearing any compression garments.
If your doctor gives you the all-clear, compression socks can improve blood flow to ease pain, numbness, and any other sensations linked with nerve damage.
Things to look out for in neuropathy socks
We've covered why compression socks can help relieve neuropathy symptoms, so here are some things to consider when purchasing a pair.
Remember to contact your doctor before trying compression socks, as they may not be suitable for your condition. Never purchase or try these garments unless your doctor gives you the all-clear.
Anti microbial fabric
Those with peripheral neuropathy are at greater risk of experiencing cuts, ulcers, and abrasions that don't heal completely.
Open wounds like this can become infected and lead to dying tissues. The dead tissues can then produce toxins which can surge into the bloodstream. Gangrene may require amputation and even more seriously, may lead to death.
This is why it's important to find socks that are made from anti-microbial fabric. These will prevent you from encountering germs and bacteria, lowering the chance of infection.
Some of these socks are made from fabric with silver ions attached. The silver naturally disinfects against bacteria. Materials like nylon and spandex also work well to repel moisture, keeping your feet dry and clean as you go about your day.
Compression level
Compression socks are available in various pressure levels. This pressure is measured in millimeters of mercury, just like your blood pressure. Compression socks are usually available in four compression levels.
These are:
8 – 15 mm Hg
This is the lowest compression level which applies the lightest amount of pressure. This level is effective at supporting blood circulation and lowering swelling within the legs. It will also relieve fatigued or painful legs.
15-20 mm Hg
This is a moderate compression grade that's often used in in-flight socks. This pressure level can relieve general swelling, tired legs, ease pain from issues like varicose veins, and lower the risk of deep vein thrombosis.
20-30 mm Hg
This applies to Class 1 compression, which is a strong pressure level. This compression is powerful enough to ease mild to moderate symptoms.
This compression grade is used to ease pain and can lower swelling from medical issues like edema, varicose veins, deep vein thrombosis, and post-sclerotherapy.
30-40 mm Hg
This is the strongest compression sock level. It delivers Class II compression, which is very strong pressure. This level is generally prescribed by medical professionals as they're designed to ease severe conditions.
This pressure level can aid in healing venous stasis ulcers and is used to enhance results post-sclerotherapy.
Your doctor should advise which compression level you should wear as well as the recommended length of the socks. You may need below the knee, thigh-high, or full-length ones depending on your condition.
Comfort level
Peripheral Neurotherapy can cause foot and leg pain, so comfort will be a big factor when choosing compression socks. Opt for pairs with a seamless toe section, as this will prevent the fabric from rubbing on your feet. Friction can lead to calluses and blisters on your feet.
Neuropathy symptoms can cause foot sensitivity, so it's important to choose socks made from a soft material. Smooth materials like bamboo or spandex blends can feel nice against sensitive skin, making the socks comfortable to wear.
You may be able to find socks that have padding around the heels and toes for extra comfort. Choosing pairs with a white sole will make it easier to find any foot injuries, as blood stains will be visible on the socks.
Fit
Compression socks should fit your feet and legs correctly. If they are too tight, they may affect your circulation. Loose-fitting socks can fall and bunch up around your ankles.
The right socks will fit nicely across your calves so they stay up throughout the day, but won't be too tight or firm on your leg.
Those living with diabetes may prefer to opt for open-toe socks, as they make examining your toes for cuts, sores, or color changes easier.
As mentioned above, compression socks are available in various heights. You may need crew socks, below the knee, or thigh-high ones depending on your symptoms.
If your neuropathy symptoms include muscle aches, you may prefer knee-high or over-the-calf socks, as these will apply pressure around the lower leg. Your doctor will be able to tell you which is the best sock length for you.
Technology
Some compression socks have added technology that can help protect your feet.
They are more expensive, but these smart socks have sensors that detect pressure and temperature differences. These can help you detect ulcers so you can treat them immediately.
Tips on wearing compression socks
Wearing compression socks can be hard for some people, particularly those who have limited flexibility or mobility issues. Here are a few tips to help you put on these garments easily.
Start in the morning
It's best to wear your socks when you first get up in the morning. Your feet and legs swell during the day as you carry out various tasks. It will be easier to wear the socks before your legs swell up.
If you normally take showers or have been active in the morning, sit down and elevate your legs for a few minutes. This will help reduce some of the swellings, making it easier to put the socks on.
Get some help
You can find sock aids designed to help you put on the socks. These include metal frames that hold the sock for you or stocking donners that are made from a softer fabric. These devices will help you pull the compression socks up without much effort.
You can also find gloves that can grip the compression socks well, making it easier to pull the socks up.
It's best to buy these aids from a medical supply store. The staff in these places will be able to show you how to use the device so you don't struggle at home.
Method
As you put on the sock, begin from the bottom, then move upwards. Try to reach inside the stocking and pull them slowly up your feet.
If you're struggling, try wearing rubber kitchen gloves. The rubber will help to stay in contact with the sock, so your hands won't slip off of the fabric.
Your shoes matter
Your compression socks may help you manage neuropathy symptoms, but they won't help if your shoes don't fit you correctly. Shoes that are too tight can lead to foot wounds and injuries later down the line.
Make sure your shoes and socks fit you comfortably. Keep examining your feet regularly to make sure they are free from any ulcers, blisters, or calluses.
Have two pairs
Purchase at least two pairs of compression socks so you always have a pair handy. In most cases, compression socks can be hand washed and hung up to dry naturally. As you have two pairs, you'll always have a clean pair ready to wear when necessary.
Frequently asked questions
Get your last-minute questions answered below!
Should you wear compression socks if you have neuropathy?
Compression socks can help patients manage their neuropathy symptoms. These socks apply pressure to assist your feet and ensure blood keeps flowing in the correct direction.
However, compression socks come in various compression levels, so it's important to speak to a doctor before purchasing a pair. They may advise against socks that deliver stronger pressures depending on your condition.
Can compression socks make neuropathy worse?
Compression socks may help neuropathy symptoms, but they may not be suitable for some people. Those with peripheral vascular disease shouldn't wear these socks as the pressure can aggravate the ischemic disease.
Diabetic patients also have a higher risk of experiencing complications as neuropathic numbness stops them from feeling any differences in their feet. Get your doctor's approval before purchasing compression socks, and always keep an eye on your toes. If your toes change color, stop wearing the socks and notify your doctor about the changes.
How do compression socks work for neuropathy?
Compression socks compress the limbs around the legs which temporarily contract dilated veins. This increases the rate of blood flow, which may relieve pain and burning sensations associated with peripheral neuropathy.
The continuous pressure stops blood pooling in the legs and feet, moving blood back up to the heart. Improved blood circulation also prevents blood clots from occurring and can relieve any pain or numbness related to the condition.
What can I do for neuropathy in my feet?
You can manage peripheral neuropathy by taking good care of your feet, particularly if you have diabetes. Examine your feet every day and look out for cuts, calluses, and blisters, no matter how small.
Keeping a healthy lifestyle can relieve neuropathy symptoms too. Regular exercise, like walking a few times a week, can improve muscle strength and alleviate pain.
If you haven't already done so, quit smoking and avoid consuming alcohol. Cigarettes and alcohol can affect blood circulation, increasing your risk of neuropathy complications.
Other products for diabetic neuropathy
Foot massagers can also help with pain relief by improving blood flow and circulation. You can read our guide to the best foot massagers for people with diabetes to learn more.
Topical neuropathy creams can be applied to the feet to deliver quick and effective pain relief. These creams are generally affordable, readily available, and painless to apply.
We have a review of the best diabetic neuropathy creams that explain what to look for.