Warm days, outdoor workouts, and frequent dips in the pool are amazing. Unfortunately, hot summer days and workouts can also mean that your CGM sensor tape starts to peel, which could mean a shorter lifespan for your sensor.
Obviously, nobody wants that, so I've tested different brands of Dexcom patches to see if they were comfortable to wear and could prolong my sensor lifetime.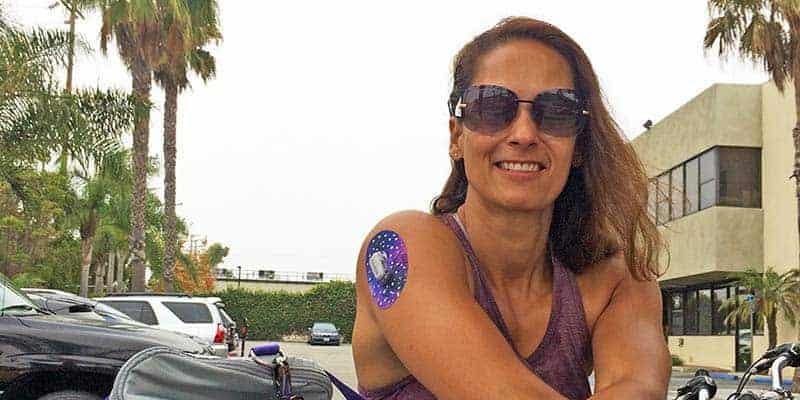 I tested these patches with a Dexcom sensor but most of the brands I tried offer patches for Dexcom, Freestyle Libre, Eversense, and Medtronic, as well as pump and blood glucose meter adhesives.
Since I've only tested a handful of the patches available, feel free to add your favorite CGM tape in the comment below.
I should also mention that many people add an adhesive (like skin glue) to their skin under the tape for the sensor to stick longer. I've never had huge success with the additional adhesive and I didn't wear it with any of the CGM patches I used in this test.
What's important in a CGM patch?
When it comes to picking sensor patches, I value:
How well and how long it sticks to the skin
If it's waterproof and lets my skin breath
Design and color choices
Reasonable pricing
In general, I don't wear a sensor longer than 7-10 days (which is also what the Dexcom G5 and G6 are approved for). The primary reason I only wear the sensor for 7-10 days is that I have fairly sensitive skin and wearing it longer can be an itchy and painful experience.
I know that some of you wear the sensors for much longer than I do, but, unfortunately, I can't tell you how these patches perform if you wear them for more than 10 days.
GrifGrips
This was the first sensor tape I came across when I started wearing my Dexcom and it's by far the most durable of all the patches I've tried. It actually sticks so well to the skin that it can be hard to get off.
I've had to use glue remover (Uni-Solve works well and is also great for removing glue residue) to make removing the patch less uncomfortable. Needless to say, the GrifGrips will easily stay on for 7-10 days.
Most of the grips are made of a material much like sports tape, so it doesn't feel restrictive or stiff and the skin can breathe because you won't sweat under the patch but through it.
You can choose between 5 different adhesive options, so this is a great option if you have sensitive skin or can't tolerate pigments or dyes.
If you want your grip to be colorful, GrifGrips come in a variety of colors and shapes. I haven't tried their multicolored designs, which are made of a different material, so I can't say if they stick as well.
Prices vary by design and volume of patches you purchase. You can get a 10-pack of basic colored oval grips for $10 plus shipping.
You can find all the designs on the GrifGrip website as well as a selection on Amazon. The oval sports tape that I most often pick is $20 for 20-grips on Amazon ($1/patch).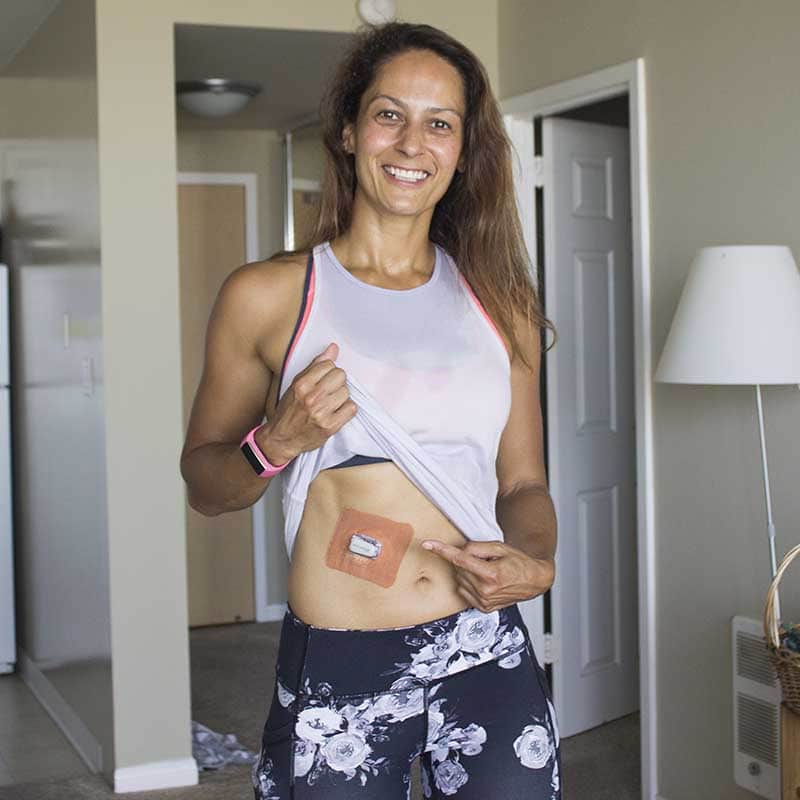 Skin Grip
The Skin Grip CGM patches are very similar to GrifGrips. They are also made of a soft fabric-like material. However, it's a much smaller company and they only offer the oval and round patches in a small variety of different colors, one being "tan". Unfortunately, their definition of tan is not the same as my skin color.
That aside, what really sets Skin Grips apart from GrifGrips is the peel-off paper.
The paper is precut into 4 pieces, so instead of having to peel it all off at once and having to manage a very sticky grip (I've messed up a few grips because they got glued to themselves before I got them on my skin), you can simply loosen up the edges, place the grip over the sensor, and then remove the paper. Simple but brilliant.
You can see how I put on the Skin Grip in this video:
I've found that the material feels slightly lighter than the GrifGrips but sticks just as well. It also doesn't irritate my skin.
Prices are very reasonable, with a 20-pack of patches being $24.99 ($1.25/patch) on Amazon.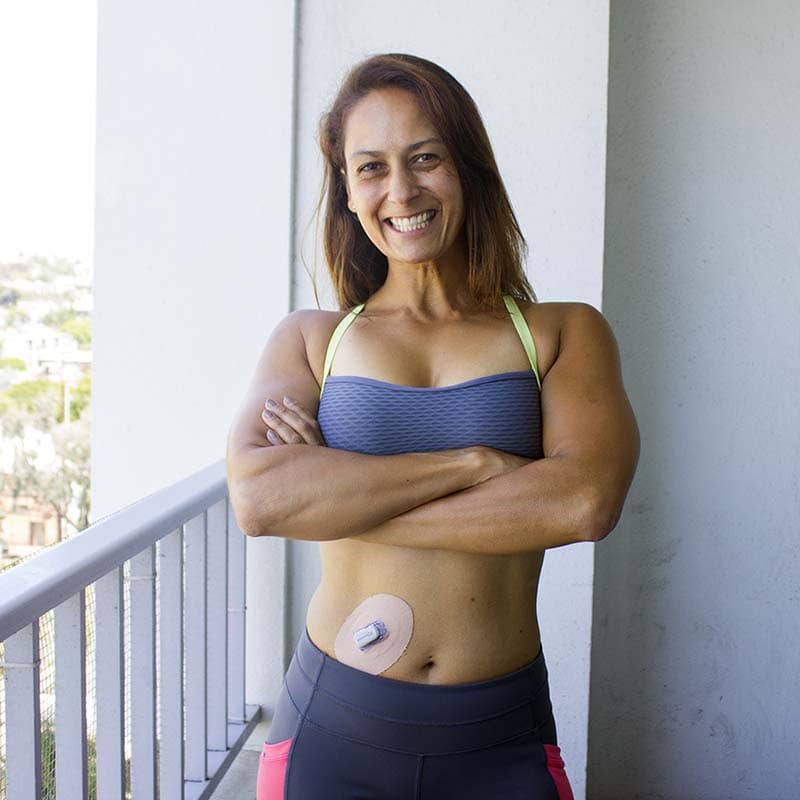 ExpressionMed
These CGM adhesives are fun and colorful, and you can get a broad range of cute designs. They're predominantly oval patches but you can also get a few other fun shapes, including mini tapes that are smaller than most of the patches I've seen.
I tried their owl-shaped and heart-shaped patches (not available anymore), which some might argue cater more to the younger audience (but who cares, I'm young at heart!).
This is definitely for people who aren't shy about showing off their diabetes gear and I really enjoyed wearing them.
The major downside to these grips is that they are printed on material that feels more like paper than sports tape. They felt stiffer than both GrifGrips and Skin Grips and they didn't last me more than a few days. My take is that these CGM patches are a way to beautify the sensors rather than making sure they stick longer.
They are quite a bit more expensive than the patches above with an average patch price of $3/patch when you buy a 5-pack and $4 for a single patch. You can find them on Amazon or the ExpressionMed website.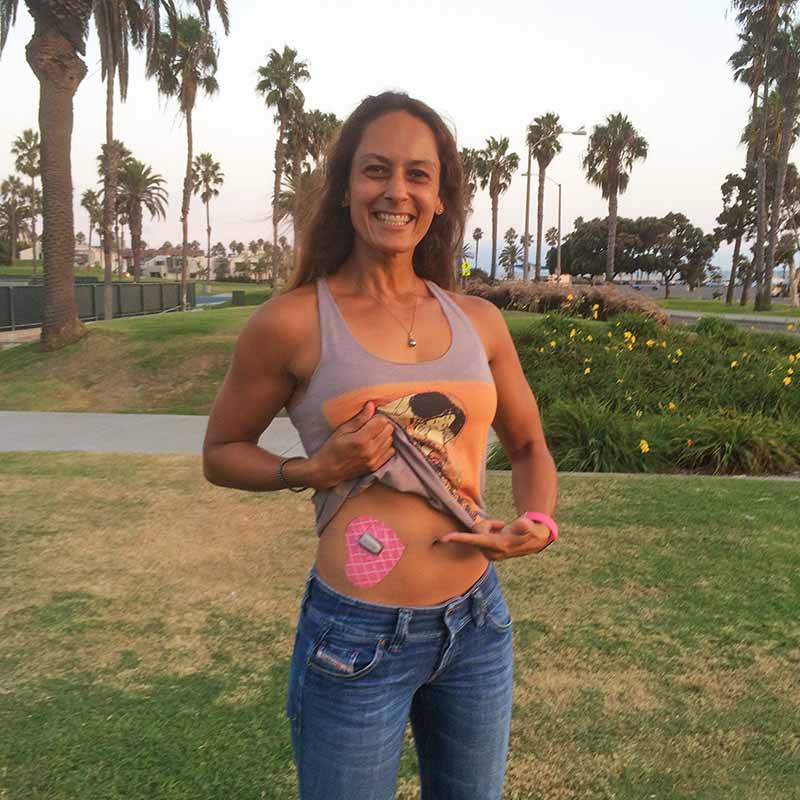 Pump Peelz
Like the ExpressionMed CGM patches, Pump Peelz brings the fun when it comes to designs. They have a larger selection of print designs than any of the other brands but only come in a single oval shape.
Much like ExpressionMed, the prints are on material that feels more like paper than fabric, so they also tend to wrinkle a little and don't last me as long as GrifGrip and Skin Grips.
However, if you're looking for a way to jazz up your CGM for any occasion, you can find it here. They'll even print your own design if that's what you prefer. I wore their American flag when I became a US citizen and thought that was very appropriate.
The designs seem slightly more mature than ExpressionMed. I had a lot of fun wearing them and would definitely buy them again. But mainly to wear in the wintertime because they don't handle heat (and sweat) as well as some of the other patches.
You can buy a single patch for $3.49 or a pack of 5 patches for $12 ($2.4/patch) and you pick as many different designs as you like on their website.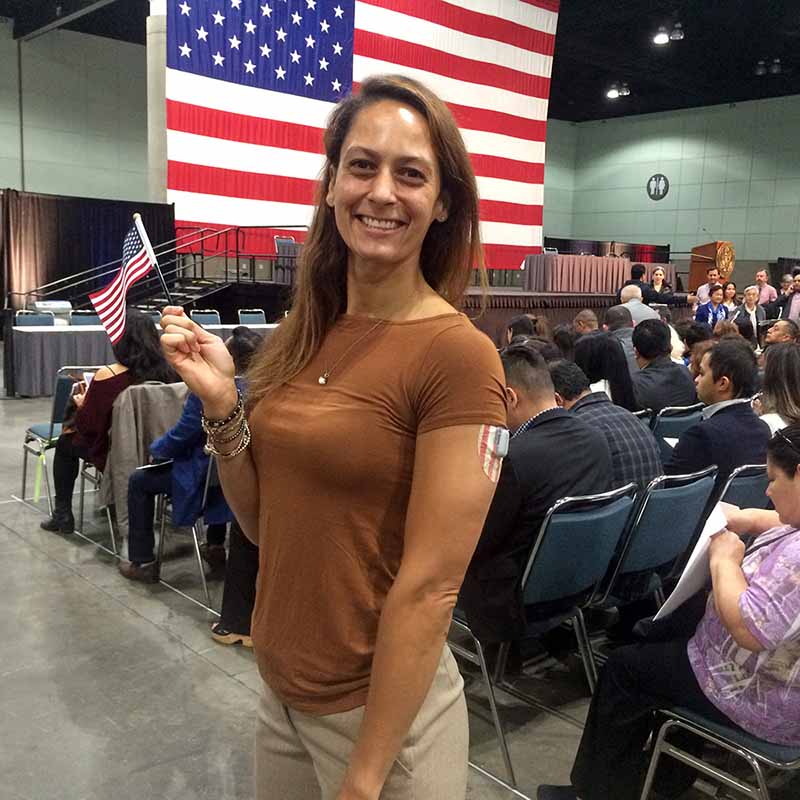 Transparent adhesives
The transparent adhesives like Tegaderm and Flexifix are not really patches but rather medical adhesives/tape.
I can't help getting the feeling that I'm putting office tape on my body whenever I've used them. Since they are made from a plastic material, my skin cannot breathe, and the adhesives usually don't last long since sweat will pool up under the adhesive rather than go through it.
I find that my skin becomes red and irritated very quickly, and the only upside I see to this solution is that it's relatively cheap and see-through.
Flexifix was the last brand I tried and I received a large roll of tape, which can easily be cut into whatever shape you want. That is, of course, an advantage if you don't like the larger CGM patches available (I have written about how to cut the tape here).
If you want to try it out, you can find it on Amazon.
Which Dexcom patch would I recommend?
If the goal is to make the Dexcom sensor stay on longer, and you don't care about colors, shapes, and designs, I'd recommend the Skin Grips. They slightly outperform GrifGrips at the same price, they're easy to apply, and they stick.
Although super fun and cute, the ExpressionMed patches and the Pump Peelz are more a way of beautifying your CGM sensor than a way to truly secure the sensor and prolonging the lifetime. That doesn't mean I won't wear them (I actually really like how fun they are), but, for me, they'll just be more of a winter wearable.
If you are looking for the best combo of practicality and design, I would recommend starting in the GrifGrip store. Their patches work great and they are always coming out with new designs.
UPDATE: Other great Dexcom patches that I've tried after writing this article:
Not Just A Patch – Funky colors and a funky shape for $21.99 for 20 patches
Dexcom's Free Overlay tape – I didn't like this tape but I am adding it as it's free. Just request a tape through the Dexcom app or contact Dexcom through their website.