You have probably seen me wearing a small device on my upper arm in a lot of the pictures on this website. That's my CGM, an instrumental tool in my daily diabetes management. It's a brilliant piece of equipment and I absolutely love it (most of the time).
CGM stands for Continuous Glucose Monitoring. This device makes it possible for me to see my blood glucose readings in (almost) real-time and track historical data. The piece of equipment you see on my arm is a small sensor with an attached transmitter. The CGM then allows me to see my blood sugar levels and how I'm trending on my phone or on the receiver that comes with the CGM.
There are currently three CGM systems available for personal use in the US:
Medtronic Enlite
Dexcom
The implantable Eversense
(there is also the Freestyle Libre, but in the US it's not approved to send continuous data so it's a fingerstick replacement, not a real CGM).
I got my first Medtronic CGM in December 2012 and wore it every day for 18 months before taking a break. I then ordered my first Dexcom system in August 2016, and that has been my go-to since.
There are pros and cons to all CGM systems, but since I've only worn the Medtronic and the Dexcom, I'll give you my opinion on those so you can decide if it's something that would help you manage your diabetes better.
The advantages of continuous glucose monitoring
Information
If you do manual blood sugar measurements and know your body well, you probably think you have a pretty good idea of what your sugars are up to between measurements. Well, you are most likely wrong.
I got a big surprise when I started seeing how my blood sugar actually varied throughout the day, not to mention during the night when I usually don't test. And that's why CGM is such an awesome tool for in-between measurements information.
All of a sudden, I could see how certain foods and activities affected my sugars over the next several hours. That information is golden! Also, being able to catch low sugars before they actually happen has significantly reduced my number of lows, not to mention reduced my consumption of glucose tablets and juice.
Management
What to do with all this new information? Well, it has not only helped me limit hypo events, but I also managed to reduce my A1C level to around 6%. I have always been pretty well-regulated, but have never been this stable before.
Of course, just slapping on a CGM won't manage your diabetes, but the insight from it can.
I learned that if I sleep any later than 8 am before taking my morning insulin, I'll be battling high sugars at least until noon.
I've learned what kind of activities will make my sugars drop FAST (that would be walking), my true insulin sensitivities throughout the day, and that I always need a minimum of ½ unit of active insulin on board before a workout.
It took time and did include a few missteps, but that's life and that's learning. The information made it possible for me to optimize my training, and make it easier for me to stay in a 90-144 mg/dL (~5-8 mmol/l) range when exercising.
Confidence and security
My CGM has enabled me to understand my diabetes better. It has given me more confidence in the way I manage my diabetes and has helped me achieve tangible results.
It's also comforting to know how my sugars are trending. I will even venture out sometimes without bringing all my diabetes gear (!). I also stopped testing 10-12 times a day because I didn't need to — the info was right there on the screen in front of me.
It enabled me to go for a walk or a hardcore gym session without fearing lows and to reach both my fitness and diabetes health goals more efficiently.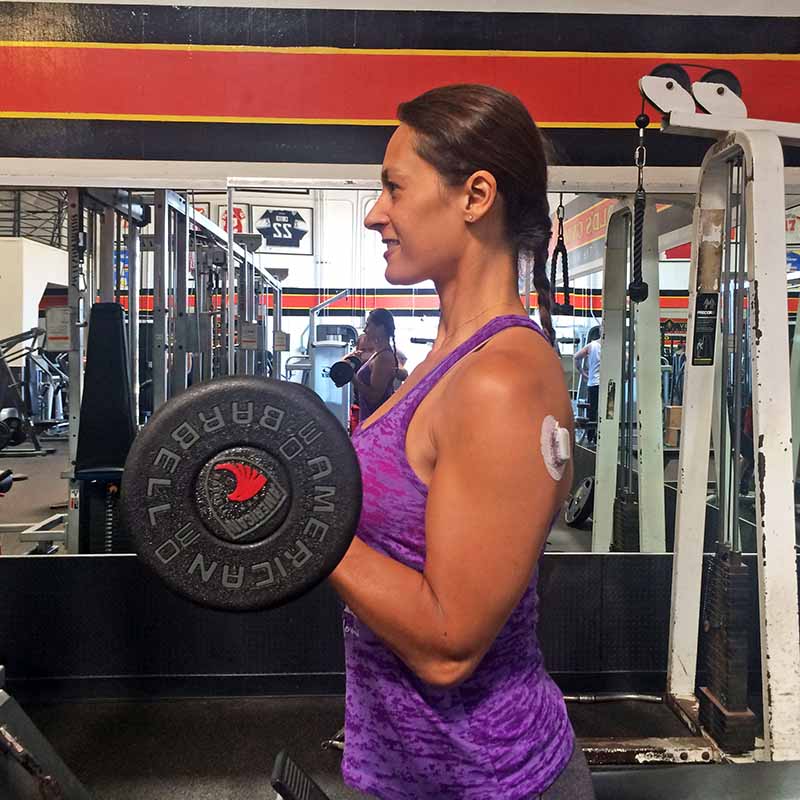 The disadvantages of continuous glucose monitoring
Accuracy
Anybody who has ever worn a CGM knows the frustration of manually testing your blood sugar and seeing that the sensor is way off. The reason behind this is that the technology just isn't perfect yet and the sensor measures your BG based on the interstitial fluid and not the bloodstream.
Aside from the obvious problems, it can also be outright dangerous if you rely solely on the sensor readings, and ignore what your body is telling you. For example, if the CGM warnings are going off telling you that you are at 250 mg/dL (~14 mmol/L), it can be hard not to react.
I have also had to stop workouts because the sensor inaccurately told me that my BG was low or about to get low. Annoying!
Over-reliance
This is actually the main reason why I originally stopped wearing my CGM and why I take breaks once in a while.
I can have a tendency to rely on the readings and recommendations a bit too heavily. For example, if the reading said that my BG was dropping quickly, I would trust it over how I actually feel, and I think that's a big no-no when it comes to diabetes management.
I've gotten a lot better at using the CGM as a data point and not the complete truth, which has made it a far better "partner".
It's attached to your body – Having the CGM sensor attached to my body all the time can be extremely annoying. It not very big and people don't really notice it, but it does leave somewhat unattractive suntan marks and I scar easily.
If I wear it on my stomach it tends to get in the way when working out, so I usually wear it on my upper arm. I find that I get pretty good readings with that placement, the only issue is that it can be a little hard to get a sweaty sports bra off without ripping at the sensor.
Wearing it on my upper arm has led to some pretty cool interactions and conversations with curious people. I don't mind, I see it as an opportunity to educate and advocate. But if it bothers you, then there are plenty of other areas to place the sensor where it's not visible.
I wrote a post about my best CGM tips where I talk more about how to put on the sensor (with a video) and how to make it stay on.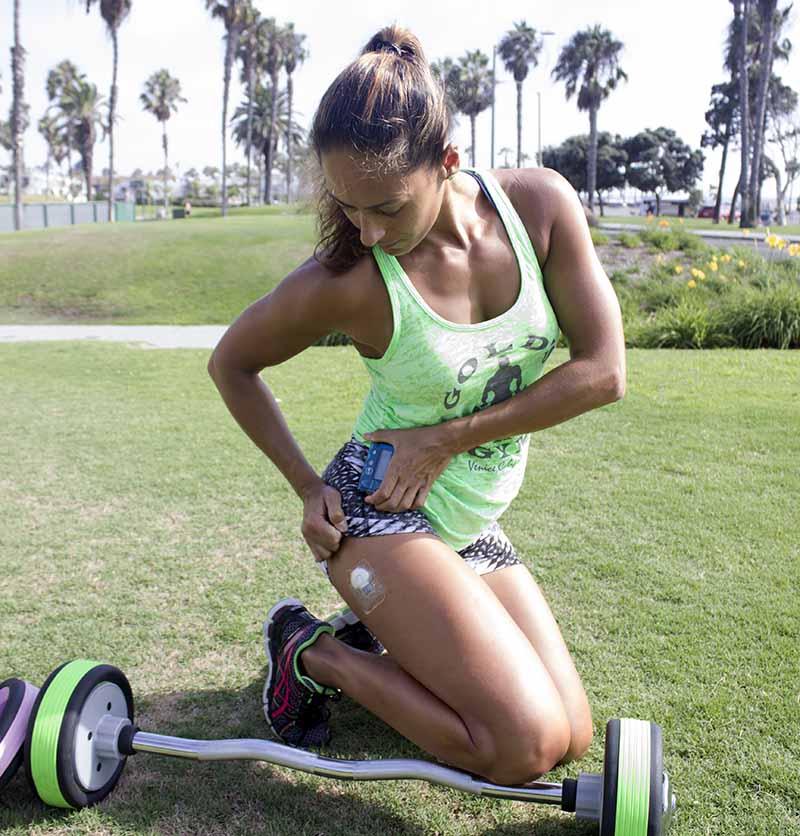 Which CGM to choose
As mentioned, I have only tried the Medtronic and Dexcom CGMs.
I prefer the shape of the Enlite transmitter since it's flatter and doesn't stick out as much as the Dexcom. Being flatter means, for me, that it wouldn't get bumped off or snagged on things. If you have a Medtronic pump, it's almost a no-brainer to get the Enlite, since it's integrated with the pump. That means that you see your blood sugar readings directly on the pump.
And if you have one of the two newest versions of the Medtronic pumps (530/670), they come with the new "artificial pancreas" features where the pump will stop delivering insulin when your blood sugar is low or trending low.
However, if you're on pen therapy (MDI) like I am, the upside to the Enlite starts to diminish. I prefer the Dexcom because it sends the readings directly to my phone, and it's now so accurate that the FDA has approved that you can dose your insulin based on your CGM readings (I still test though — guess I have trust issues).
What I do wish that the Dexcom people would improve are the alarms (high and low) that can't be turned off. I understand that it's a safety feature, but sometimes I'm in a meeting where I can't have it go off and sometimes I just want to sleep and correct in the morning.
My recommendation
Would I recommend CGM to any insulin-dependent diabetic? The answer is a BIG YES, at least until you understand your body and your diabetes better. The CGM will give you knowledge about your diabetes that you have never had before, and if after a while you feel like you no longer need it, you can just stop using it.
The key for me when using my CGM is to get better at listening to both the CGM and my body. It's a great tool, but it's not a substitute for my own thinking and experience. It's a great tool to have in my toolbox but it can't stand alone.