Who's eligible for a Continuous Glucose Monitor (CGM) and how you can get one has changed a lot in the last year.
If you've been denied a CGM in the past, or if you're just looking for a smoother, less time-consuming way to get your diabetes supplies, now is the time to take action.
Let me walk you through the different options and how I get my CGM (and other diabetes supplies).
This post is sponsored by US MED.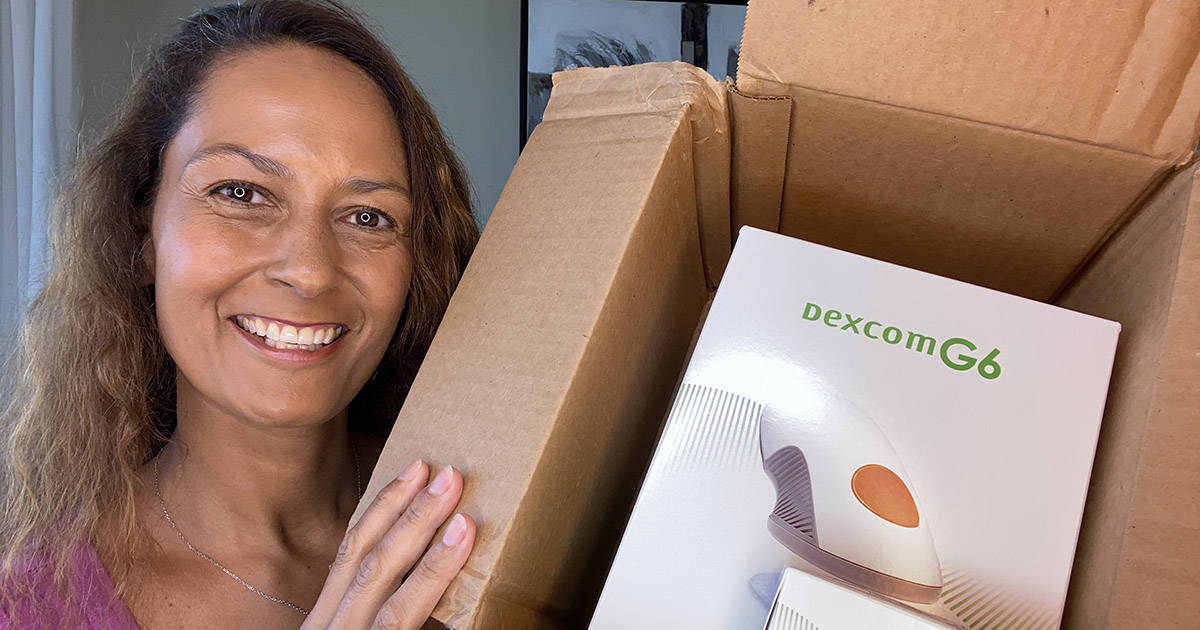 Who's eligible for a CGM and what has changed recently?
I've been living with type 1 diabetes since 1997 and started using the Dexcom Continuous Glucose Monitor about 6 years ago, and I think it has been one of the most powerful improvements to my diabetes management.
The CGM allows me to see my blood sugar readings 24/7 on my phone or a receiver and alerts me if my blood sugars start to go too high or low so I can be proactive in my care.
But not everyone living with diabetes in the US has access to CGM, often because their (private or government) insurance won't cover it. But the good news is that a lot has happened and it has now become easier to be approved for a CGM.
CGM coverage if you have private insurance
Most private insurance plans cover CGM for people living with diabetes, but you'll have to check your insurance benefits to see if that's the case with your plan, which brands it covers, and at what price.
Plan coverage can change from year to year, so if you have been denied coverage in the past, it's worth checking up on your plan benefit annually or choosing a plan that covers CGM during open enrollment (which is usually November through January).
Most people will have some sort of copayment when using a private insurance plan. If you, for example, have a 20% co-pay, that means that you'll pay 20% of the price your insurance plan has negotiated with the CGM manufacturer.
If you use a distributor for your medical supplies, such as US MED  that I'm using, they will contact your insurance company for you, before you even sign up with them, to find out if you're covered and what your co-pay is.
CGM coverage if you have Medicare
Over 62 million people are enrolled in Medicare in the US and about 30% of those people live with diabetes.
There are several criteria a person has to fulfill to be eligible for a CGM through Medicare, but a redundant barrier to coverage was removed recently which should make it easier to get coverage for CGM.
This barrier was removed at the beginning of July 18, 2021, where Medicare eliminated the four-time-daily fingerstick testing requirement for CGM coverage.
So if you have been denied coverage in the past because you didn't manually check your blood sugar four times daily, now is the time to re-apply for CGM coverage.
To be eligible for coverage through Medicare, you still have to fulfill these criteria:
You must live with diabetes
You have to manage your diabetes with multiple (three or more) daily insulin injections (MDI) or an insulin pump
You must require frequent insulin self-adjustment based on the CGM or finger sticks
You must have seen a medical professional in person within 6 months prior to ordering the CGM
You must see the prescribing medical professional in person every 6 months following the initial prescription of the CGM
Your out-of-pocket cost for your CGM will depend on what your Medicare benefit plan looks like. But instead of spending hours on the phone trying to get through to a Medicare representative, another option is to just reach out to US MED and have them run the numbers for you.
It's super easy, just go to USMED.com and you can contact them electronically or give them a call.
CGM coverage if you have Medicaid
Although it's great that most private insurance plans and Medicare now covers CGM for more people living with insulin-dependent diabetes, unfortunately, Medicaid coverage is a bit more sporadic. 
Medicaid is the single largest source of health coverage in the United States, providing health insurance to more than 80 million Americans. 
Medicaid overage differs greatly from state to state which makes it harder to figure out if you're covered, and unfortunately many states do not cover CGMs in their Medicaid programs. 
Anyone living with diabetes under the age of 21 on any Medicaid program qualifies for a CGM, but for anyone older than 21, it becomes a bit more complicated.
20 states (21 in 2022) currently have fairly comprehensive Medicaid coverage of CGM for people living with any type of diabetes, whereas 22 states only have coverage for people living with type 1 diabetes and 7 states have no published coverage.
Who qualifies also differs from state to state with most states requiring prior authorization from a doctor, but you'll have to check with your state's Medicaid program for specific eligibility criteria, or reach out to a distributor such as US MED.
Dexcom doesn't deliver directly to customers anymore, now what?
If you decide to get a CGM, whether it's through your insurance or you decide to go ahead and pay for it yourself, you have different options when it comes to delivery.
Neither of the most frequently used CGM brands, being Dexcom or Freestyle Libre, sell directly to the user. You used to be able to get your CGM directly from Dexcom here in the US, but they discontinued that completely in May 2021.
That means that you have to use a distributor or get your CGM from your local pharmacy (if they carry it). I usually get my diabetes supplies and insulin from my local pharmacy but they don't carry Dexcom so I get my CGM from US MED, which is a distributor.
US MED is an accredited nationwide distributor of CGMs, diabetes testing supplies, insulin pumps, and more. With the change in insurance qualifications criteria, they accept 100s of private insurance providers and Medicare. They also get great reviews on Google and Facebook!
What I like about US MED is that it's so easy to use and very convenient. You simply go to the US MED website and either fill out the online form or call them for a free benefits check. You are then assigned a personal customer service rep, a feature I don't know of any other diabetes supplies companies that have, and that rep takes care of you from there.
Once you decide to get your supplies (which for me is my Dexcom CGM, but again, they also deliver FreeStyle Libre CGM, test strips, and other medical devices), they'll provide free shipping of your 90-day supply directly to your home with UPS.
When it's time to reorder, you can do it easily over text message, the online portal, or over the phone. It only takes seconds!
They'll even give you automatic reorder reminders like text, email, or calls so always remember to reorder your diabetes supplies.
Super easy, and you can always check up on your account by logging into the patient portal. The portal is helpful because it keeps all of your records in one place. You track shipping and see all of your previous orders in a secure online environment.
It also saves you time from having to call in if your personal info has changed, like address, insurance coverage, or physician's name.
So if you're considering a CGM or are looking for a great solution to have your 90-day supplies delivered directly to your door, I suggest you give US MED a call to learn if you qualify for a CGM, what your out-of-pocket costs will be, and to set up your next delivery.