Although you can find a lot of diabetes information online, good diabetes books are still great sources of knowledge.
In this post, I have listed what I consider the best books on diabetes. You can dive into whatever topic you're interested in (books on diabetes management, diabetes diet books, books about exercising with diabetes or maybe something completely different) with the confidence that you are reading a book that's worth your time.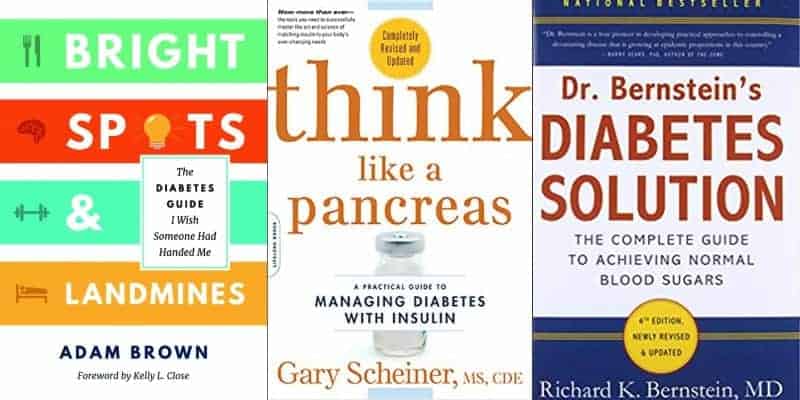 I've added a key to each book title so you quickly can see if it's primarily relevant for people managing their diabetes with insulin (I), diet and exercise (D&E) or for everyone (E). You can click the headlines and titles in the table of content to go directly to the books you are interested in.
Diabetes management
Books on diabetes management have been around for a while and you might even have been given one when you were diagnosed. Some focus on explaining diabetes and blood sugar management, while others, like Dr. Bernstein's diabetes books, lay out a whole paradigm for how to live your life with diabetes.
Think Like a pancreas – Gary Scheiner (I)
When it comes to books on diabetes management, "Think Like a Pancreas" is probably one of the most read and referenced books out there. Gary Scheiner sets out to teach you how to self-manage your diabetes, see patterns in your diabetes, and to a larger degree be pro-active. Gary's background as a diabetes educator and person living with diabetes shines through and you'll find no blame or finger-pointing in this book – only solid advice.
Sugar Surfing – Stephen W. Ponder and Kevin L. McMahon (I)
Sugar surfing is based on the concept that our diabetes management should be individualized, and it teaches how to manage diabetes in a dynamic way following a course of self-experimentation. Dr. Ponder is an endocrinologist and lives with diabetes himself so he gets it! The book teaches you how to utilize the available diabetes technology (CGM and insulin pumps) in your self-management.
Dr. Bernstein's Diabetes Solution – Richard K. Bernstein (E)
Although I don't follow Dr. Bernstein's approach myself, his book is among the most influential diabetes books for anyone wishing to support their diabetes management by following a low carb diet.
Dr. Bernstein gives actionable advice on how to manage your diabetes utilizing a low carb diet and exercise, based on his own experience as a person living with diabetes as well as his medical background.
Bright Spots & Landmines – Adam Brown (I)
Adam Brown (Managing Editor of Diatribe) shares his best tips for tackling food, mindset, exercise, and sleep. Since diabetes is a full-time job and can be emotionally and physically demanding, his aim is to give you the tools to make the daily diabetes decisions that matter and focus less on those decisions that are less important.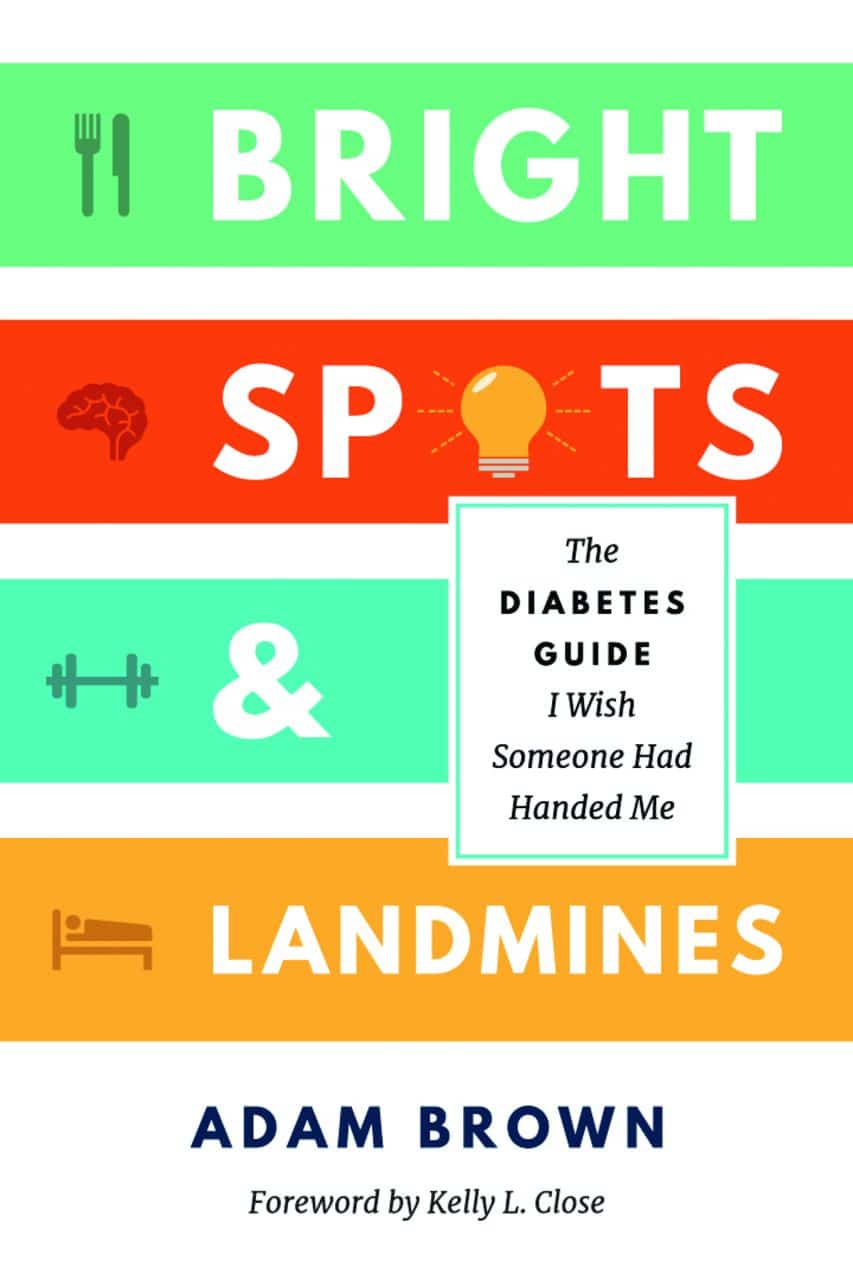 Pregnancy with Type 1 Diabetes – Ginger Vieira and Jennifer Smith (I)
Ginger Vieira and Jennifer Smith, CDE & RD, guide you through preparing for pregnancy – from conception to birth and through the challenges of managing your blood sugars during postpartum. It's the only book on the market today dedicated entirely to pregnancy with type 1 diabetes (that I know of) and Ginger's own experience as a mother living with diabetes shines through.
Diabetes and food
Diabetes management and food can be complex and sometimes overwhelming. Although I don't believe there is any such thing as a "diabetic diet" you have to follow, the books listed here can be considered diabetes diet books in the sense that they seek to educate on how to make sensible choices and manage blood sugars accordingly when enjoying a meal.
The Ultimate Guide to Accurate Carb Counting – Gary Scheiner (I)
Managing blood sugar with insulin requires knowledge of a lot of factors, and the amount of carbs you consume is one of the key factors to take into account. Just like Gary's diabetes management book "Think Like a Pancreas", "The Ultimate Guide to Accurate Carb Counting" is written to give you the background knowledge and tools to be successful on your own.
Eat Out, Eat Well – Hope Warshaw (E)
Eating out can be challenging when you try to make carb or calorie-conscious choices. It's often not clear exactly what's in a restaurant meal and most people tend to underestimate the calories (and carbs) in restaurant food. In "Eat Out, Eat Well" Hope Warshaw uses her experience as a dietitian and diabetes educator to empower you to make more informed choices. The book contains lists of common restaurant food and tools for estimating what's in the food you order.
Diabetes Meal Planning Made Easy – Hope Warshaw (D&E)
This is a more traditional diabetes diet book, also written by Hope Warshaw, RD, CDE, BC-ADM. This book is primarily focused on people living with prediabetes as well as type 2 diabetes, but everyone who'd like to learn how to read nutrition labels and how to plan, shop, and cook nutritious meals can find useful information here.
The Pocket Carbohydrate Counter Guide for Diabetes – Shelby Kinnaird (E)
When you have a strategy for counting carbohydrates, you don't need to consult lists of nutritional information every time you sit down to eat. Shelby (aka The Diabetic Foodie) makes it easy to manage diabetes in your daily life with simple nutritional strategies to accurately count carbs and maintain normal blood sugar levels.
Diabetes and exercise
Exercise is healthy for everybody, but the benefits of exercise are even more evident for people living with diabetes. Not only can exercise lower blood sugars right now, but it can also improve insulin sensitivity and help maintain a healthy weight in the long term.
However, if you're not used to exercising, where do you start? And how do you manage blood sugars during and after exercise? The books below answer these questions and a lot more. They can help you get started exercising and give you the knowledge to exercise safely and effectively with diabetes.
Fit With Diabetes – Christel Oerum (I)
This e-book is a collection of all the most important articles on exercise and diabetes that you'll find here on Diabetes Strong (plus additional workout and meal plans).
You'll learn my tools and methodologies for exercising and managing blood sugars. This knowledge will help you limit blood sugar fluctuations during and after exercise and aid you in reaching and maintaining your fitness and health goal.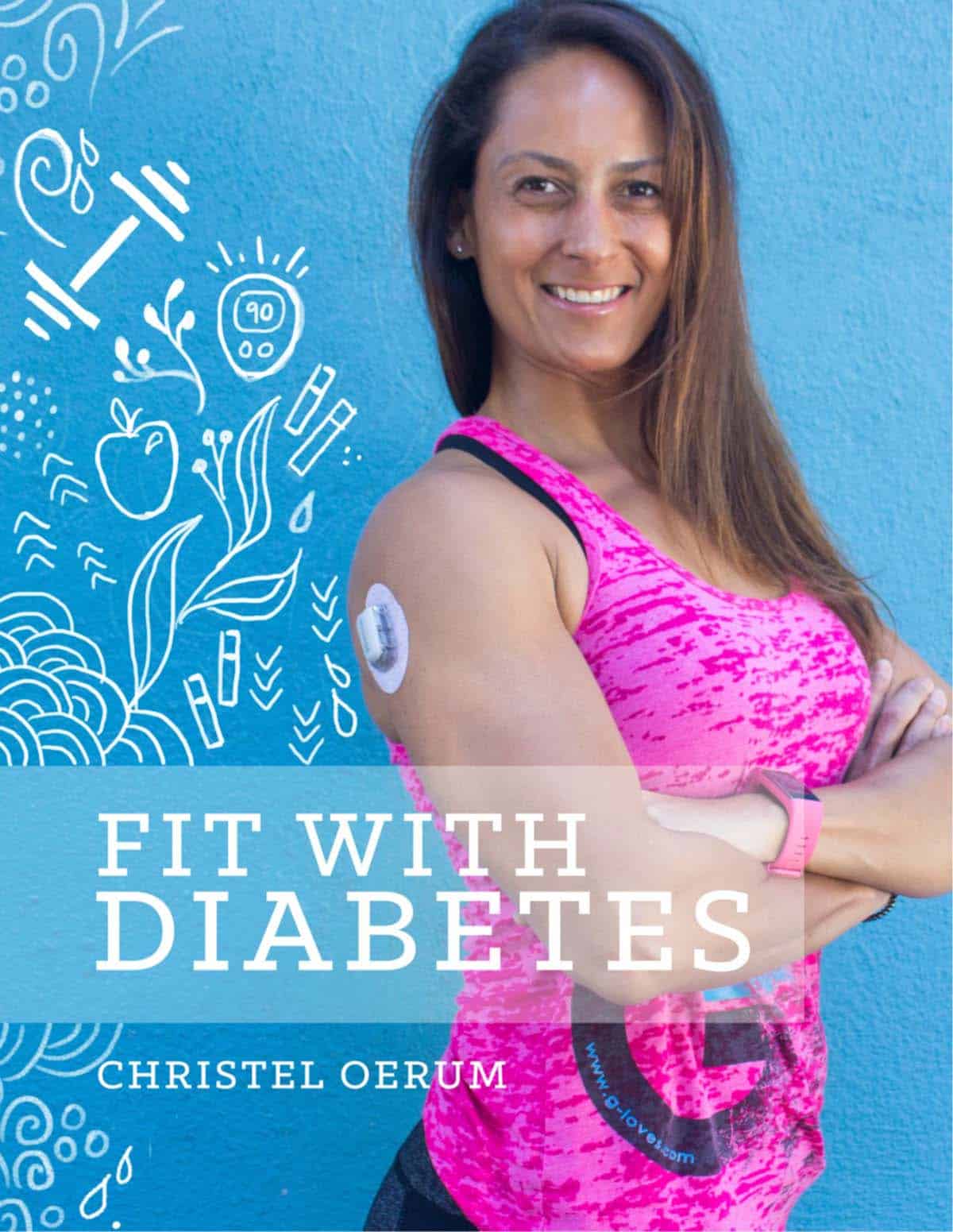 The Diabetic Muscle and Fitness Guide – Phil Graham (E)
Phil Graham is a bodybuilder, nutritionist, and lives with diabetes himself. His book is excellent for anyone living with diabetes who's focused on increasing strength and improving their health. It's a straightforward guide that gives you the steps and tools to get started and achieve results. For a full review of the book, see this post on Diabetes Strong.
Yoga for Diabetes – Rachel Zinman (E)
Yoga for Diabetes is a highly motivational and personalized guide that inspires readers to incorporate yoga into their daily diabetes management plan. It's written by yoga teacher Rachel Zinman who lives with diabetes herself. Readers are gently guided to achieve better blood glucose levels, less stress, radiant health, and well-being no matter what their age or level of yoga experience.
The Athlete's Guide to Diabetes – Dr. Sheri R. Colberg (E)
The Athlete's Guide to Diabetes can be considered the original diabetes and exercise handbook. The book presents research and basic knowledge on diabetes and exercise, fitness, and nutrition plus athlete examples from over 350 diabetic exercisers. This includes examples from type 1 and 2 diabetic athletes from a variety of athletic disciplines using different medications and regimens. It's a highly inspiring book and you'll most likely find example(s) of whatever athletic discipline you enjoy.
Diabetes & Keeping Fit for dummies – Dr. Sheri R. Colberg (E)
Dr. Sheri R. Colberg's latest book on exercise and diabetes (she also wrote the Diabetic Athlete's Handbook) is a very comprehensive beginner's guide for anyone wanting to learn more diabetes, exercise, and nutrition. Dr. Colberg lives with type 1 diabetes herself and is a professor emeritus of exercise science from Old Dominion University so she definitely knows what she's talking about.
Diabetes, mental health & self-help
Dealing with Diabetes Burnout – Ginger Vieira (E)
With compassion, knowledge, and humor, Ginger Vieira provides the tools and encouragement needed to help you work through your burnout, get back on track, and make diabetes management a rewarding priority. It's a book written by a patient, for patients. If you find yourself struggling with burnout now, or have in the past, this is a great guide on how to work through it.
Unleash Your Inner Diabetes Dominator – Daniele Hargenrader (E)
In "Unleash your Inner Diabetes Dominator" Daniele aims to change your mindset by using her own experience as a person living with diabetes. Her message is that instead of diabetes being perceived as a weakness or a curse, diabetes can actually be a great source of strength if we choose to let it. She shows how diabetes can be a catalyst for improving our lives, by paying closer attention to what matters most in life and being of service to others.
50 Diabetes Myths That Can Ruin Your Life: And the 50 Diabetes Truths That Can Save It – Riva Greenberg (E)
A diabetes diagnosis is tough and can trigger a lot of fear and potentially anger. In this book, Riva aims at removing some of that fear by deflating some of the most common diabetes myths and highlighting how to successfully move forward in order to flourish with diabetes.
The Complete Diabetes Organizer: Your Guide to a Less Stressful and More Manageable Diabetes Life – Susan Weiner & Leslie Josel (E)
Good planning and a structured mindset help a lot in managing diabetes. This book helps provide some of that structure and planning. If you tend to forget to order supplies in time, forget to track what needs to be tracked for you to be successful, or simply just need a bit of support in adding structure to your diabetes management, this book is a must-read.
Diabetes: 365 Tips for Living Well – Susan Weiner & Paula Ford-Martin (E)
In this book Susan Weiner, MS, RDN, CDE, CDN and Paula Ford-Martin arms you with easy to implement tips and tricks to living successfully with diabetes. The goal is to reduce some of the stress that comes from living with diabetes and support you with everything from managing blood sugars to diabetes burnout and dealing with holiday stress.