Now that the start of the Fit With Diabetes challenge is only three days away, I want to introduce the awesome sponsors and prizes for the challenge.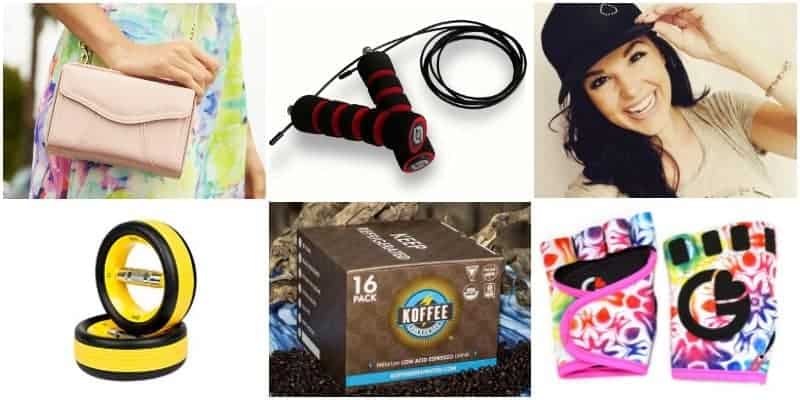 These are all brands and product that I love and use myself, so I'm super happy that they agreed to sponsor prizes for the Fit With Diabetes challenge!
Myabetic
Myabetic creates diabetes accessories with a fashionable, non-medical appearance so that you can control your diabetes with style. Shop online at www.myabetic.com
Myabetic is the absolute top end of diabetes accessories. I personally got my hands on a pink Dexcom sleeve, the Dexcom armband (of course I have to sweat in style), and a blush diabetes wallet. Since we are looking at our diabetes gear every day, all the time, why have it in ugly medical-looking cases? Nope, this girl has gone stylish and so can you.
Prize: Product of choice from Myabetic.com
NuFitCorp
NuFitCorp is a team of athletes, fitness pioneers, and physicians committed to improving the way you train. NuFit has reshaped personal fitness equipment for the 21st Century. The innovative product line was created to compliment the kinetic movement of the athlete, working naturally and more efficiently with the body to reduce common training injuries resulting from the use of more traditional equipment.
Both Tobias and I have been working with NuFitCorp for a while now and love their NuBells. NuBells are the beautiful circular dumbbell you may have seen me using in some of our videos. We even did a really cool promotional video for them last year. You can check out the video below and read the detailed review we did of the NuBells when we first started using them.
Prize: A set of 15-pound NuBells in your choice of color
G-Loves
Created by Hedda Royce, a gym enthusiast, G-Loves develops workout gloves that are utilitarian and upscale for women and men who participate in activities that require grip.  Attention to detail and quality makes them a distinctive choice for the discerning shopper. It's simple – G-Loves reach out to the community to help empower people to reach their goals with positivity while fashionably protecting one of their most important tools – the hand! The inside of the glove features the inspirational motto "Lift and Love". The workout gloves come in a range of fashionable collections and utilize a patented hi-tech grip to improve your workout.  Besides gloves, G-Loves also provide stylish wrist straps and fitness apparel to complete your workout outfit.
I've been a G-Loves lover for years and way too many pairs. No wait, I'm kidding. You can't have too many G-Loves, like you can have too many workout pants. That's just a fact so no need to argue. If you, like me, want a workout glove that can withstand the abuse of resistance training and looks great, G-Loves is the perfect choice!
Prize: 1 pair of G-Loves of your choice, 1 pair of Gelometrics (a glove with padded grip for exercises where you support your weight on your hands), 1 pair of wrist wraps, and a Wonder Woman weightlifting belt
Limm
Limm is an American family business that was founded in 2013. Since the beginning, the main motivational factor for Limm has been the idea of improving the way people exercise, both outdoors as well as indoors, and the hope of making exercise routines more fun and effective for everyone. People's wellness and health are the top priority and all the products are centered on this. In the process of designing new products, the aim is to select materials of the highest quality and choose the size and shape that provides the most comfort. Use code: LIMMFITB on www.limmgroup.com for 10% off until October 9th
I bought my set of Limm resistance bands in March when I was training for my second bikini fitness show this year and they sure did the job. Some resistance bands will feel like they are cutting into your legs and hands, but not these. They are made of soft flexible rubber but are still strong enough to get the job done. What I like about resistance bands is that you can use them to train pretty much any muscle group (which I'll demonstrate in week 4 of the challenge). They are a mini portable gym.
Prize: 1 set of resistance bands, 1 yoga stretch strap, 1 sports armband and 1 cable jump rope
Beyond Type 1
Founded in February 2015, Beyond Type 1 creates and funds a portfolio of programs, technologies, and innovations that those living with Type 1 diabetes need to manage, live and thrive. Our goal is to highlight the brilliance of those fighting this disease every day while always working toward ensuring a cure is on its way. By establishing a supportive community via powerful social media, people are connected on a global scale in a new way. Our Instagram campaign "Living Beyond," showcases the age, range and variance of those living their best life with T1D, and our website and social media platforms provide education and support.
I'm a big fan of community building efforts. Just look at the support we have built in no time in the Fit With Diabetes Challenge Facebook group and how truly empowering it is. Beyond Type 1 is helping to change the way diabetes is viewed, from people who are sick to people who are so much more, and that fits right into my way of viewing the world.
Prize: One Drop hat signed by Nick Jonas (!) and five (unsigned) Drop hats
KOFFEE
Koffee Reinvented is an 8.5 oz. low-acid espresso drink, cold-brewed with alkaline water. Its unique process creates a stomach friendly experience without the crash or jitters. It's safe to drink for people with heartburn and stomach acid reflux disease. A new company about to make a big splash in both the progressive food and beverage as well as physical fitness world!
A friend at my gym introduced me to KOFFEE and it pretty much made me turn in my Starbuck card. I have a thing for iced coffee lately and this is the perfect product. Before I discovered KOFFEE, the only iced coffees I was able to find were filled with all sorts of unnecessary fillers. The Black Coffee from KOFFEE is just that, coffee, nothing else and the Black Chocolate Coffee is sweetened with an organic dark chocolate stevia extract so it's still a zero carb product and will not impact blood sugars. What's not to love?
Prize: One cube (16 bottles) of KOFFEE
What do you think about those prizes? Do you love them as much as I do?
I will draw a winner at random each week who wins that week's prize. The only things you have to do to enter the prize draws is to sign up for the challenge and be active in the challenge Facebook group in the week of the draw (post or comment at least once).
Good luck!