Healthy Pumpkin Pancakes make for a delicious, high-protein breakfast! Each serving makes three tasty pumpkin pancakes that taste even better when topped with sugar-free syrup, chopped apples, and a sprinkle of Stevia.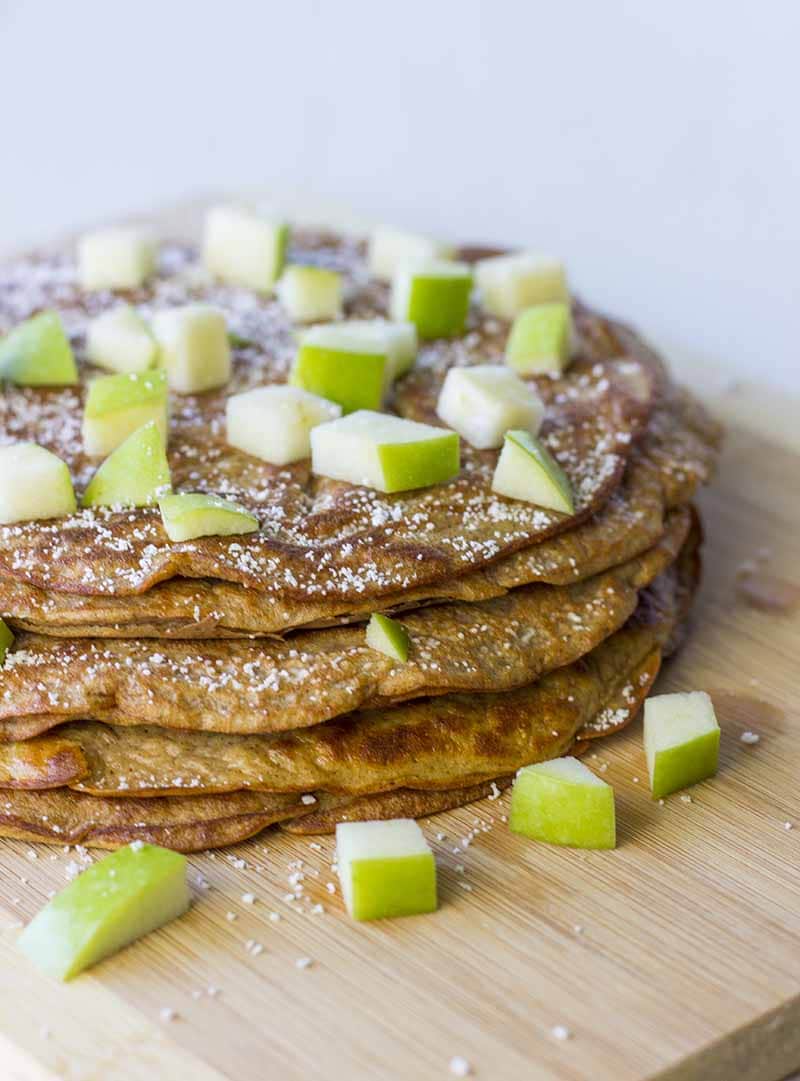 Who doesn't love a good pancake in the morning?
Better yet, who doesn't love a good pancake that is actually good for you? Instead of a pancake full of sugar topped with pancake syrup made from high-fructose corn syrup, these Healthy Pumpkin Pancakes contain zero added sugar.
They're also packed with protein (almost 23 grams), contain a moderate amount of low-glycemic carbs (16 grams), and have a small amount of healthy fat (just over one gram).
Something I've talked about on Diabetes Strong in the past is how important it is to eat a healthy breakfast. Your breakfast sets the tone for the entire day, and if you wake up and eat something that isn't good for you (like sugary pancakes or donuts), it can throw off your entire day. You probably won't feel that great after you eat it, plus you'll be more likely to make bad food choices again. (That whole I-already-messed-up-so-why-bother thing.)
It's much better to wake up in the morning and nourish and fuel your body with a healthy breakfast!
When you eat a breakfast like these Healthy Pumpkin Pancakes, not only do you feel good after eating, but you make it easier to make healthy choices throughout the day. Healthy choices beget healthy choices! (Plus these pancakes taste really good, so that makes the choice easier).
Gluten-free protein pancakes
I should mention that these Healthy Pumpkin Pancakes are gluten-free protein pancakes in case you don't eat gluten. If you're extremely sensitive to gluten, be sure to choose oats that are specifically marked gluten-free.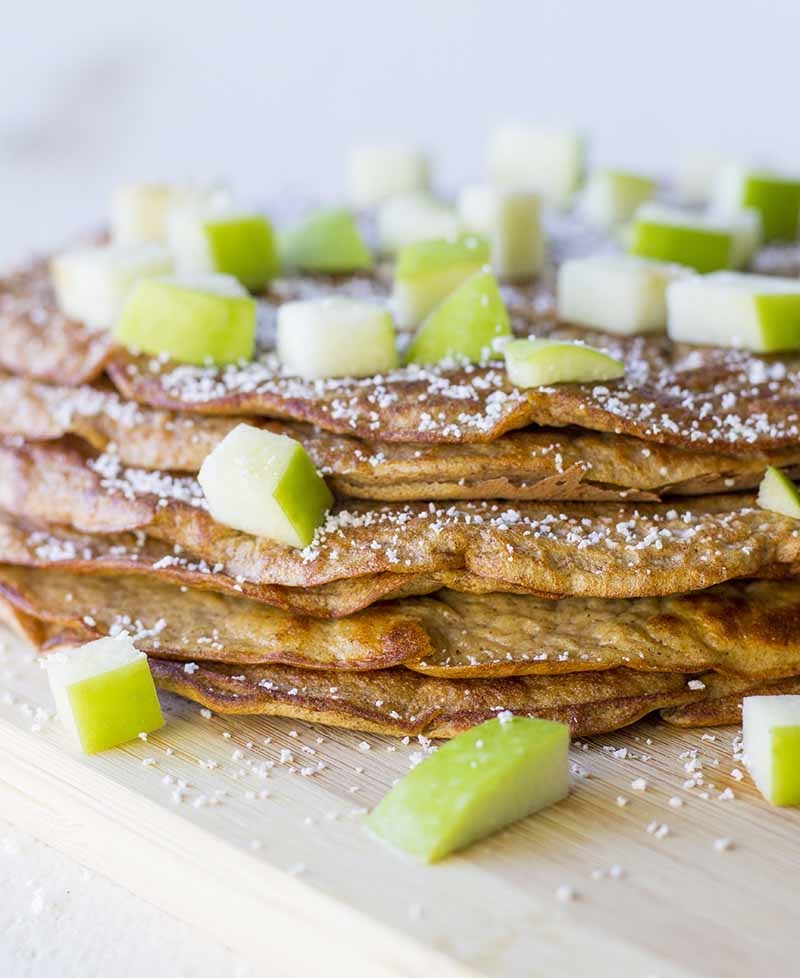 Add protein with collagen peptides
If you haven't heard of Collagen Peptides, one of the key ingredients in this recipe, you're missing out! Sourced from grass-fed, pasture-raised cattle (don't worry; the flavor doesn't reflect that fact), collagen peptides are an incredible source of protein (9 grams in a single scoop).
I use Vital Proteins Collagen Peptides to boost the protein content of recipes (like I did for this recipe), or you can stir them into beverages (such as coffee), blend them into a smoothie, or add them to just about any food (try them in oatmeal!). Because they're unflavored, they're extremely versatile and are an easy way to increase your protein intake.
More healthy breakfast choices
If you're interested in healthy breakfast choices in addition to these Healthy Pumpkin Pancakes, I have a few more recipes I think you'll like!
All of these recipes have a hefty amount of protein and contain low-glycemic carbs and healthy fats. Make sure to try them all—they're a great way to start the day!
UPDATE: I just put together a roundup of my favorite Diabetes-Friendly Pancake Recipes. Check it out!
Recipe Card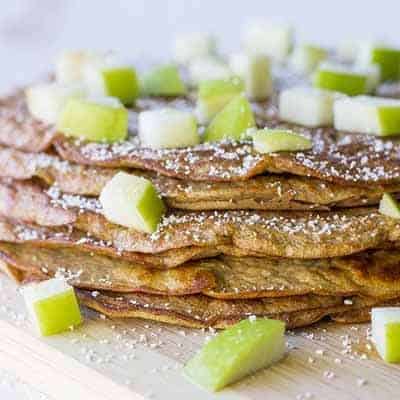 Healthy Pumpkin Pancakes
Start your day off right with these tasty high-protein Healthy Pumpkin Pancakes! They're sugar-free, gluten-free, high in protein, and fairly low carb.
Instructions
Mix all of the ingredients (except the cooking spray) in a blender or Nutribullet and blend until smooth. If you don't have a blender, use oat flour instead of oats and mix it by hand.

Coat a small pan with cooking spray and put on medium-high heat.

Pour a third of the batter into the pan, spreading it evenly. Let the pancake cook for about 2 minutes or until the edges of the pancake go light brown, before flipping it over and cooking for 2 minutes on the other side.

Cook the other two pancakes the same way.
Nutrition Info Per Serving
Nutrition Facts
Healthy Pumpkin Pancakes
Amount Per Serving (3 pancakes)
Calories 182
Calories from Fat 12
% Daily Value*
Fat 1.3g2%
Cholesterol 0mg0%
Sodium 217.9mg9%
Potassium 167mg5%
Carbohydrates 16.1g5%
Protein 22.6g45%
Vitamin A 3305IU66%
Vitamin C 1.6mg2%
Calcium 54mg5%
Iron 1.4mg8%
Net carbs 13.4g
* Percent Daily Values are based on a 2000 calorie diet.