Someone left a comment yesterday asking, "Do you have any good recipes for diabetic pancakes?"
Before I even had time to answer, another reader asked, "Can diabetics eat pancakes??"
Obviously, my answers are "Yes" and "Hell yes!!"
It's quite easy to make healthy low-carb pancakes that taste amazing and won't spike your blood sugar.
In fact, I have collected 8 Diabetes-Friendly Pancake Recipes right here.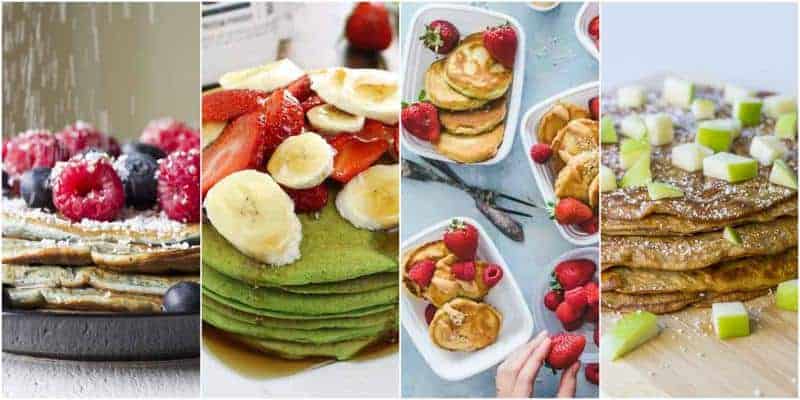 Before we get into the recipes, I have to admit that I am not quite sure what "diabetic pancakes" are (can pancakes even get diabetes?) so I will just assume that the question is about pancakes that are good for people with diabetes.
To me, that means (relatively) low-carb pancakes with a good amount of protein. And they have to taste GREAT!
The last thing we need to discuss before I let you have the pancake recipes is pancake syrup because I think we can all agree that this is an important part of the pancake experience, right?
So, can you get "diabetic pancake syrup"? Yes, absolutely.
I buy this sugar-free pancake syrup from Walden Farms and it's good. Great even. It's the sugar-free product I know of that taste the most like the real thing. Even my husband (who hates the taste of all other sugar substitutes) likes it.
Now, let's get to the fun part and look at my 8 favorite pancake recipes for people with diabetes!
These easy high-protein pancakes aren't just simple to make and super healthy, they are also some of the best-looking pancakes if I may say so myself. They are really moist and fluffy, and the blended blueberries give them a great color.
Nutrition: Calories: 182 Carbs: 17g Protein: 22g Fat: 2g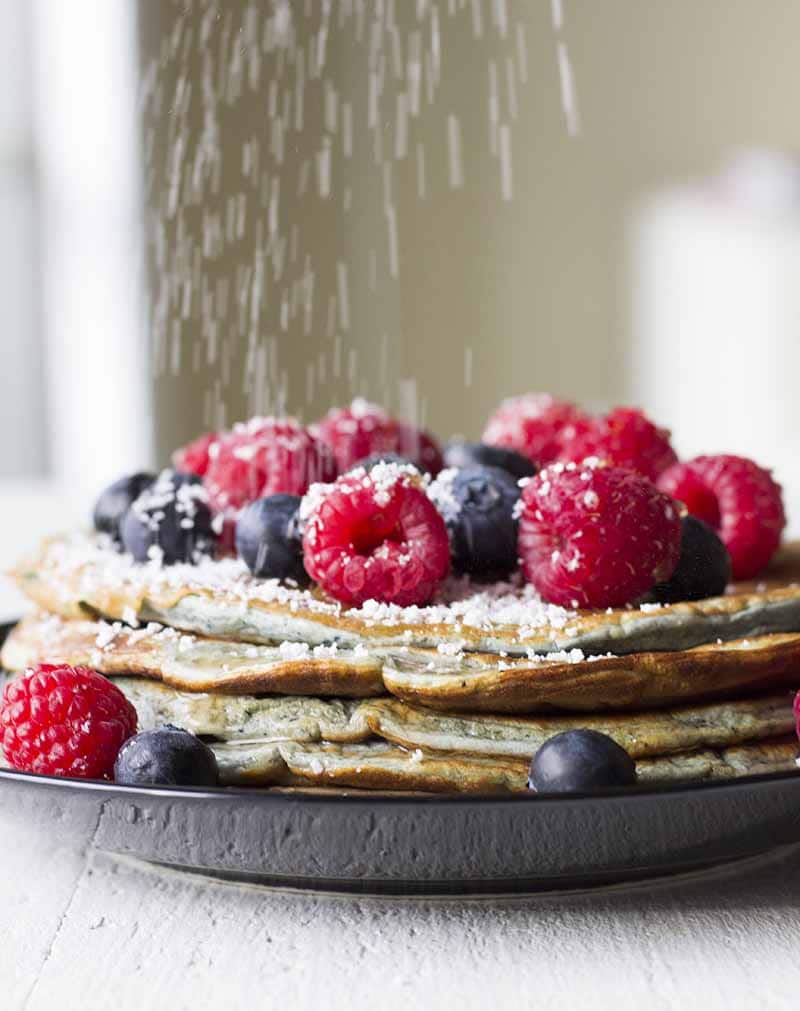 These low-carb chocolate protein pancakes are packed with protein and take only 10 minutes to get ready! With only 5 grams of carbs per serving, they're the perfect easy, healthy breakfast.
Nutrition: Calories: 379 Carbs: 5g Protein: 19g Fat: 31g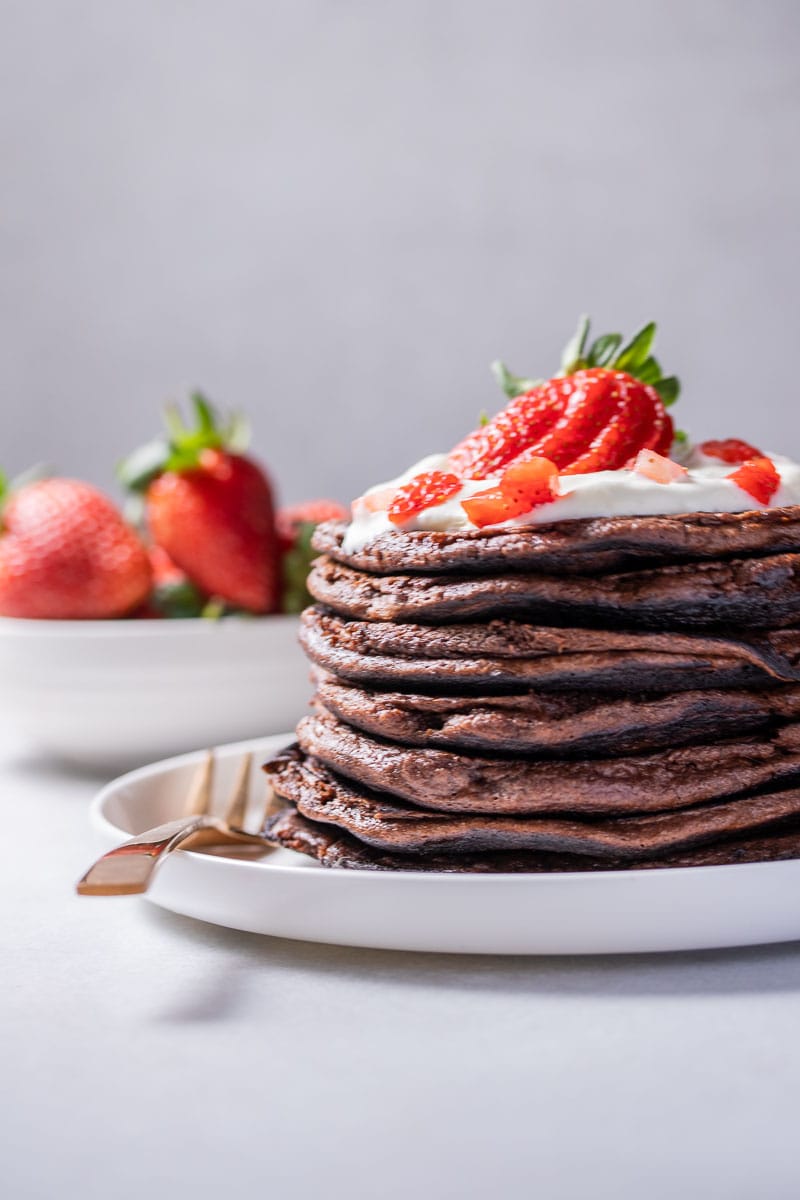 My pumpkin pancakes are packed with protein (almost 23 grams), contain a moderate amount of low-glycemic carbs (16 grams), and have a small amount of healthy fat (just over one gram). Perfect for a healthy breakfast!
Nutrition: Calories: 182 Carbs: 16g Protein: 26g Fat: 1g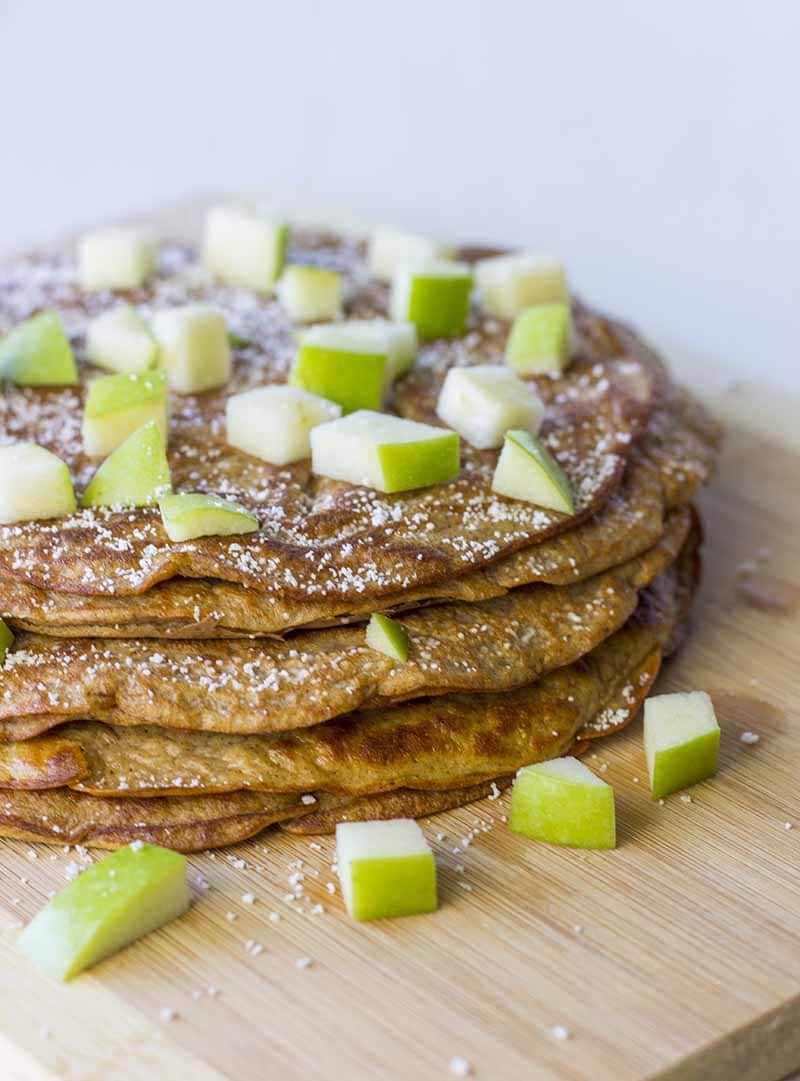 Didn't think you could meal prep pancakes? Well, these pancakes are here to show you that you can! This quick, paleo friendly meal is loaded with fiber and healthy fats to keep you going all morning long!
Nutrition: Calories: 375 Carbs: 17g Protein: 16g Fat: 27g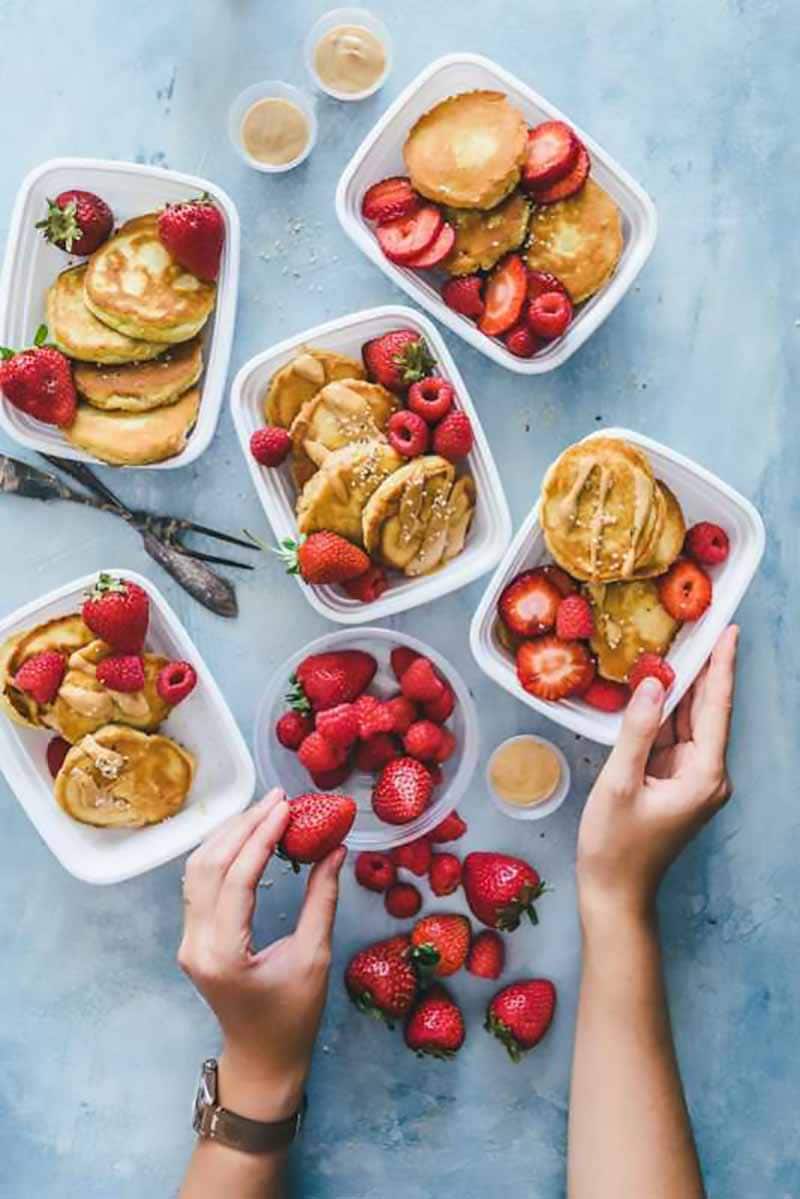 I love this idea! They have turned their favorite spinach and banana smoothie into a pancake. How cool (and cool looking) is that?
Nutrition: Not calculated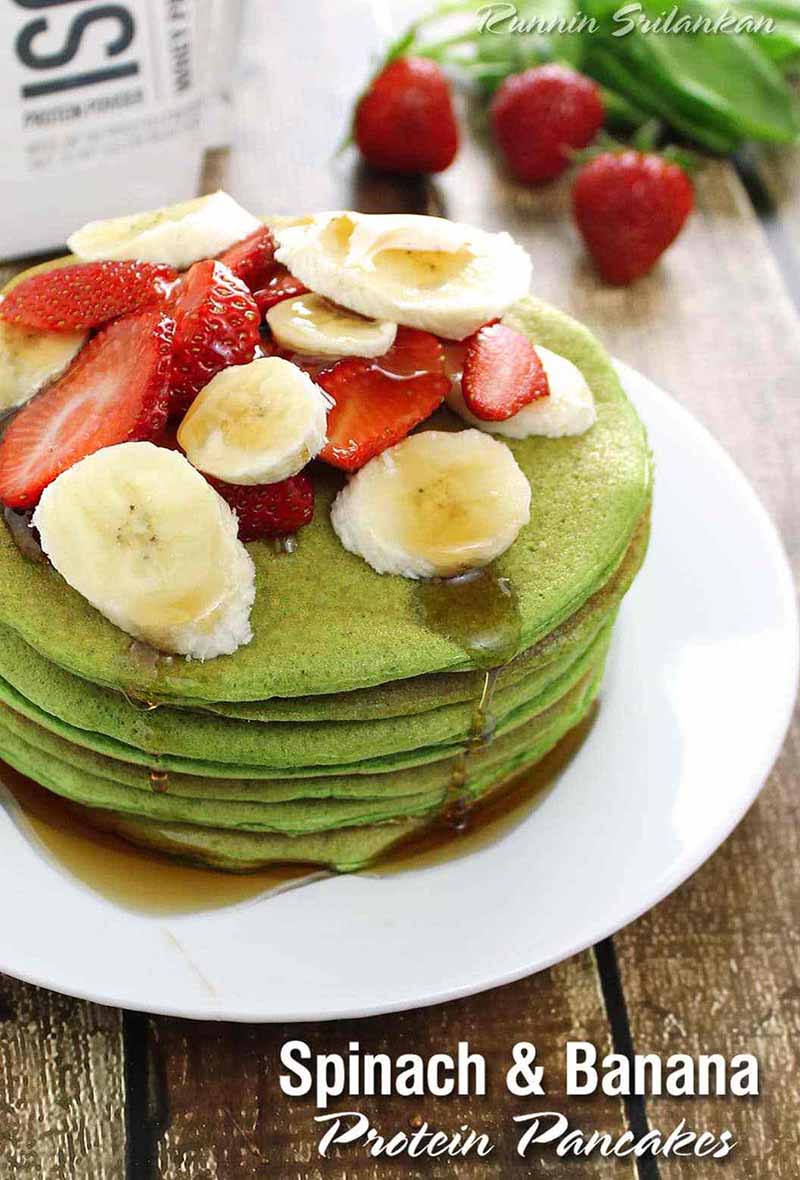 These dense, eggy pancakes get their protein from cottage cheese and their color from sweet potato. They have a different consistency than "normal" pancakes but don't let that scare you. They taste great!
Nutrition: Not calculated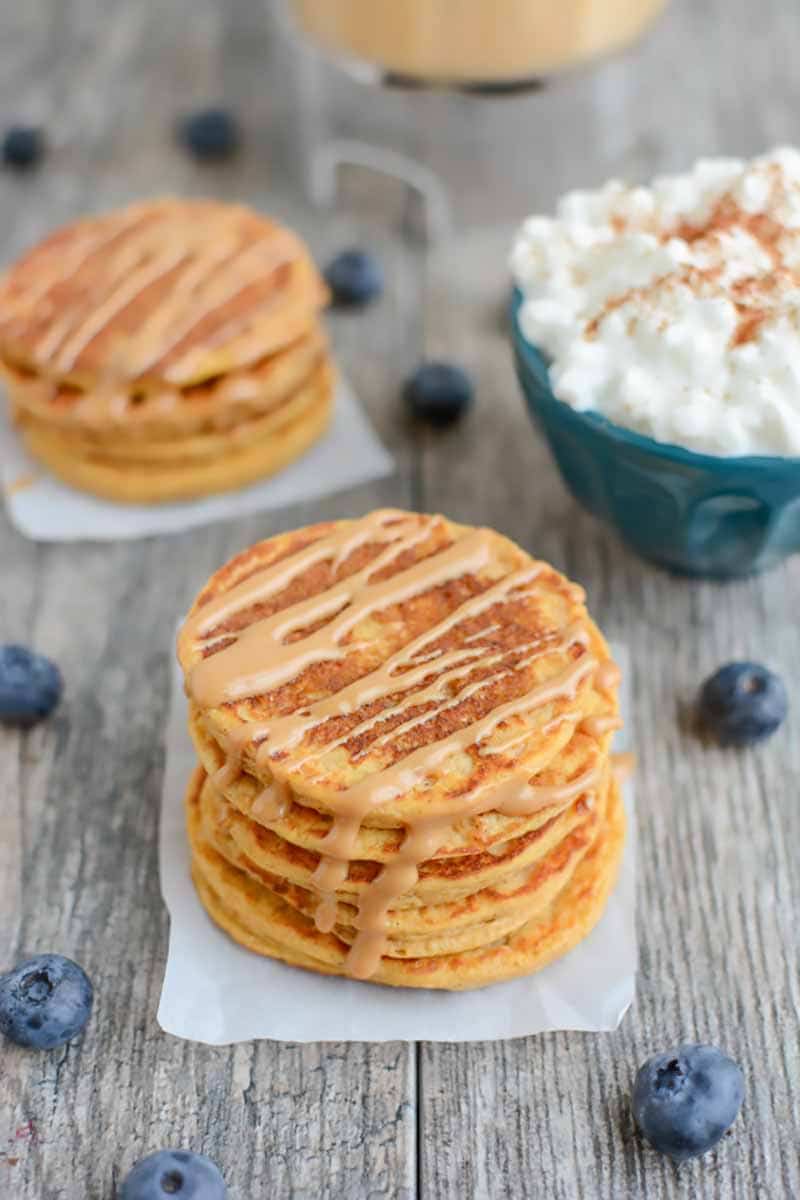 Using almond flour instead of regular flour is a great way to reduce the carbs in baking recipes, but you need to experiment a lot to get the consistency right. Luckily, the expert recipe creator on The Novice Chef Blog has done just that and created these delicious low-carb, gluten-free pancakes (she actually use cream cheese in the batter!!).
Nutrition: Calories: 391 Carbs: 8g Protein: 15g Fat: 33g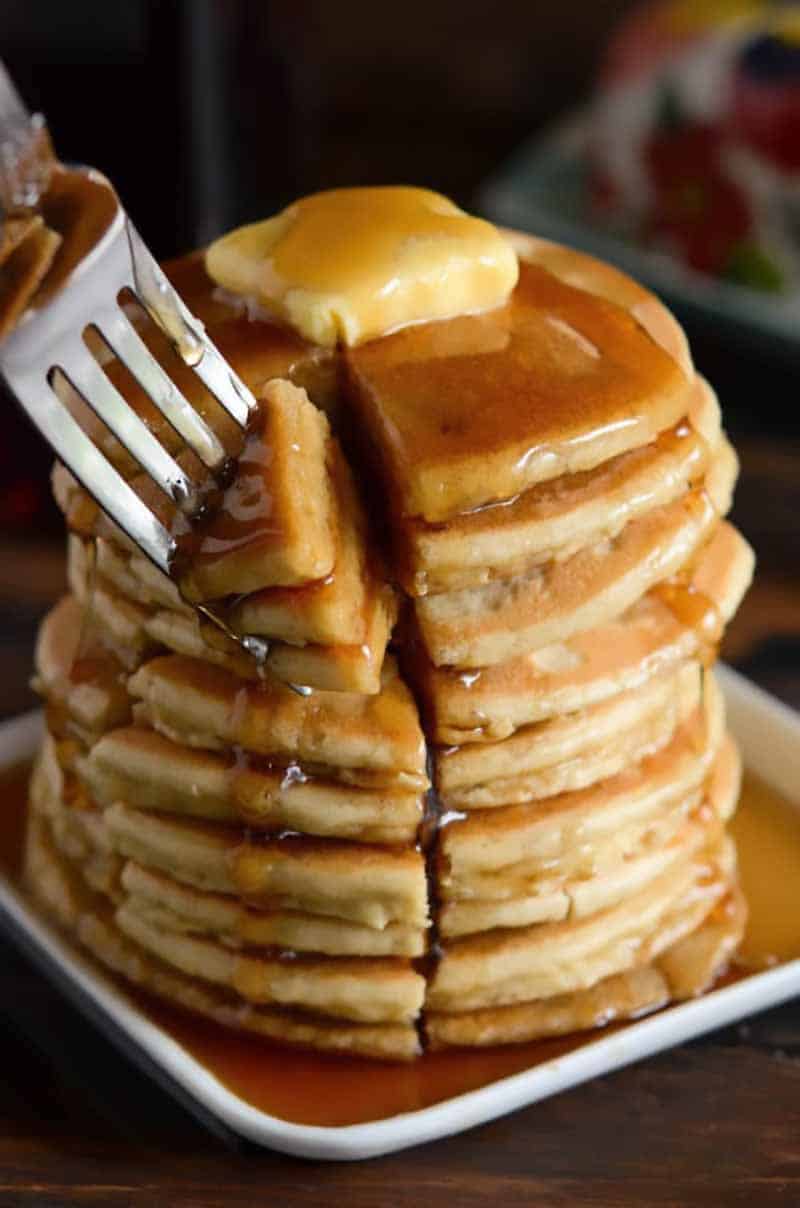 This was one of the first recipes I developed myself and it's still one of my favorites that I make all the time. The pancakes are thin (crepes, really) and have a great chewy consistency from the cottage cheese and egg whites. Super yummy!
Nutrition: Calories: 205 Carbs: 19g Protein: 25g Fat: 2g
There you have it! 8 healthy low-carb recipes for "diabetic pancakes". Or at least 7 recipes that will work as a healthy breakfast for people living with diabetes (I still don't understand why people say "diabetic pancakes" instead of "pancakes for people with diabetes".
More diabetes-friendly recipes
We have a lot more healthy and diabetes-friendly recipes here on Diabetes Strong. Here are some of my favorite recipe roundups:
Enjoy!