These are some of our favorite low carb vegan recipes for breakfast, lunch, and dinner as well as desserts and smoothies. You'll definitely find something delicious to try here!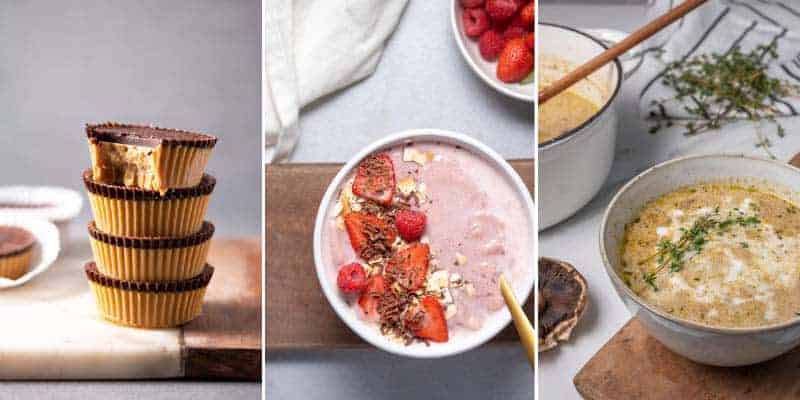 Because most low-carb and keto diets use a lot of meat and dairy, you would think that it would be difficult to be a low-carb vegan. But many vegetarian and vegan protein sources like tofu and tempeh are actually low-carb!
Even some of the vegan stables like chia seeds that technically have a lot of carbs can still be used in a low-carb diet because almost all the carbs are from undigestible fiber (if you have diabetes, you may have noticed that chia seed doesn't spike your blood sugar).
There are so many delicious low-carb vegan food options out there:
Fruits: avocados, strawberries, watermelons, peaches, oranges, and raspberries.
Vegetables: mushrooms, bell peppers, spinach, kale, broccoli, cauliflower, zucchini, etc.
Nuts: almonds, pecans, walnuts, pistachios, and peanuts are all low carb nuts that are also high in healthy fats which keep you full for longer.
Seeds: pumpkin seeds, sunflower seeds, and chia seeds are suitable for a low-carb vegan diet.
Proteins: soy products like tofu and tempeh are high in plant-based protein and low in carbs.
Dairy alternatives: vegan butter, vegan cheese, coconut milk, and almond milk are all low-carb dairy alternatives that can be included in a vegan diet.
These are just but a few of the low-carb vegan recipe ingredients you can try out!
Low-Carb Vegan Recipes
You'll find low carb vegan recipes here for your main meals of the day: breakfast, lunch, and dinner. There are also easy dessert recipes, salad recipes, and smoothies too. 


As you can see from these low carb vegan recipes, low-carb vegan eating definitely doesn't have to be boring or lacking in flavor!
More low-carb recipe roundups
I love making collections of the best recipes I try. Here are a few that I think you will love:
When you have tried any of the recipes, please leave a comment below and let me know how you liked them.
Enjoy!