Is there a better way to start the day than with a delicious and healthy breakfast? I don't think so unless it involves people giving me presents (which doesn't happen nearly often enough!).
That's why I am always looking for easy and healthy low-carb breakfast ideas suitable for people with diabetes.
All of these recipes are delicious and diabetes-friendly, so try a few and let me know which one is your favorite (of course, if you know that you just want pancakes, you can take a look at my favorite diabetes-friendly pancake recipes instead.)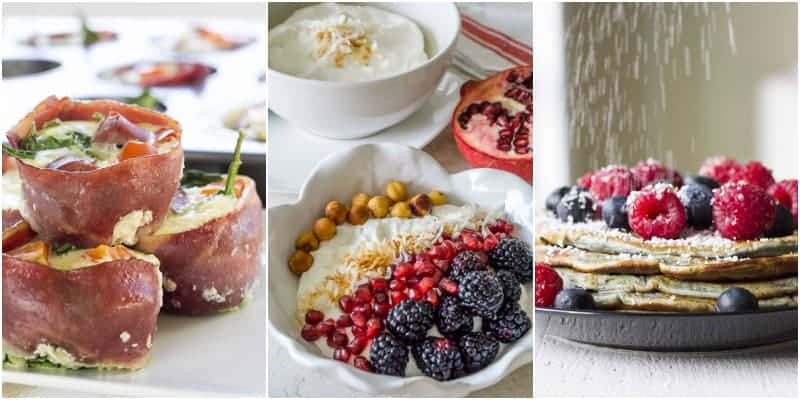 What is a good breakfast for people with diabetes?
If you search for "what is the best breakfast for diabetics?" in Google, the top 10 results will tell you at least 5 different things. Suggestions range from eating almost no carbs for breakfast to recipes with up to 40 grams of carbs per serving.
Clearly, there is no consensus on what the optimal "diabetes breakfast" is.
I personally believe in a low-carb (but not no-carb) approach to diabetes management, so in this list of diabetes-friendly breakfast recipes, I have followed the guidelines that work for me and my diabetes coaching clients:
Less than 20 grams of carbs
Mostly carbs with a low glycemic index
At least 10 grams of protein
Some healthy fat
Quick to make (or can be prepared in advance)
These recipes will give you a balanced and nutritious start to the day and will help keep your blood sugar stable and your energy high.
Low-carb breakfast ideas for diabetics
These healthy egg muffins with turkey bacon take hardly any effort to make, taste amazing, and can be stored and reheated the next day. Only 2 grams of carbs per muffin!
These pancakes have 22 grams of protein per serving and are ready in under 10 minutes. It doesn't get easier or healthier than that!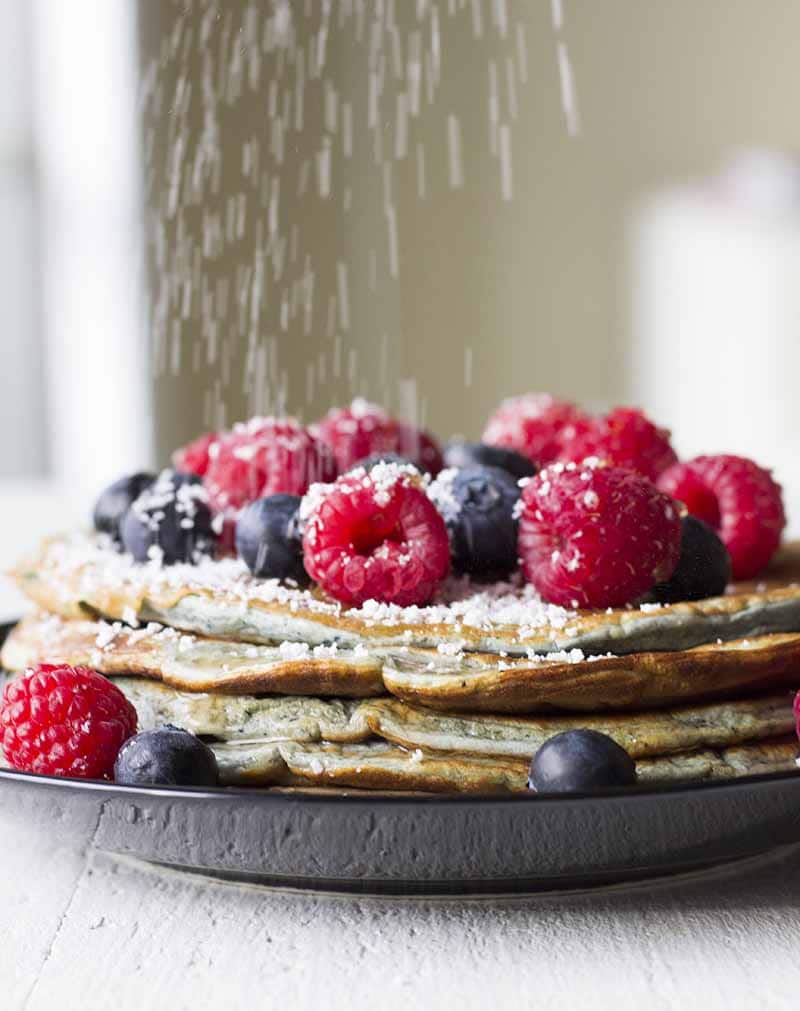 Smoked salmon and cream cheese has to be one of the most iconic breakfast/brunch combinations. This is a great make-and-go recipe (because you can eat it in the car…)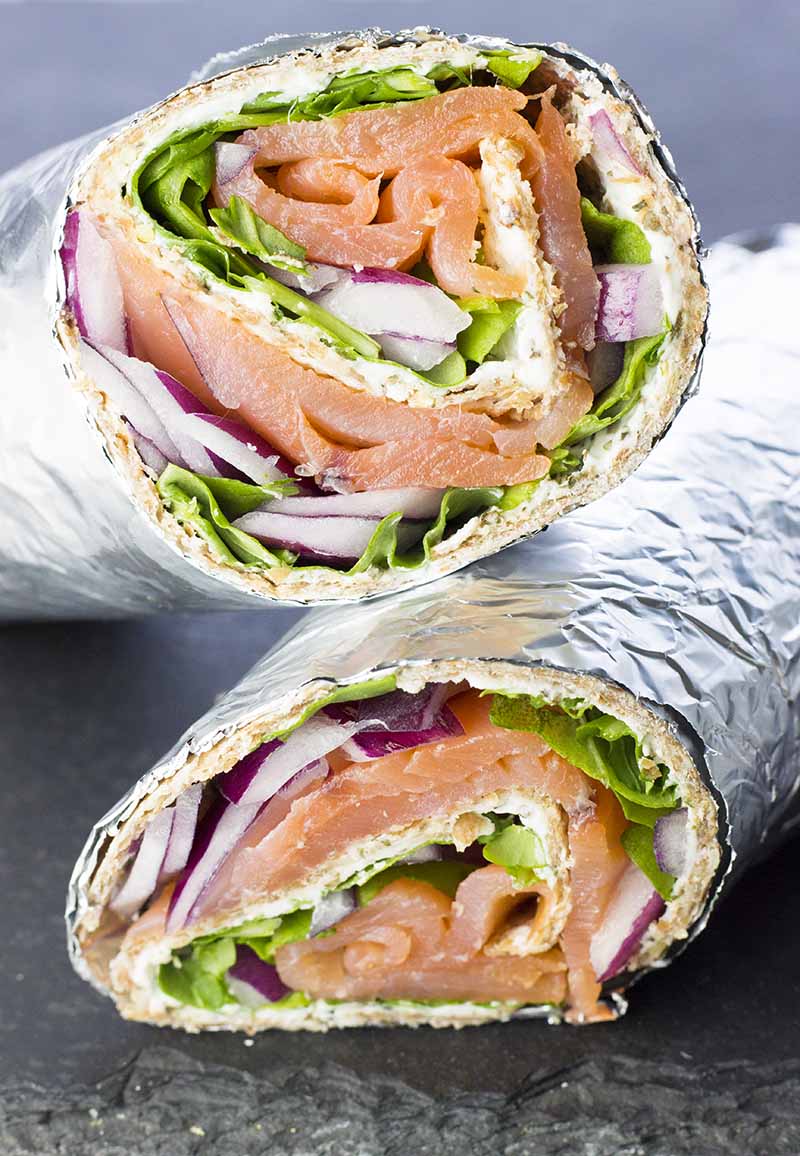 A whipped cottage cheese breakfast bowl topped with berries, coconut flakes, and hazelnut is a perfect treat that tastes indulgent but is actually very healthy!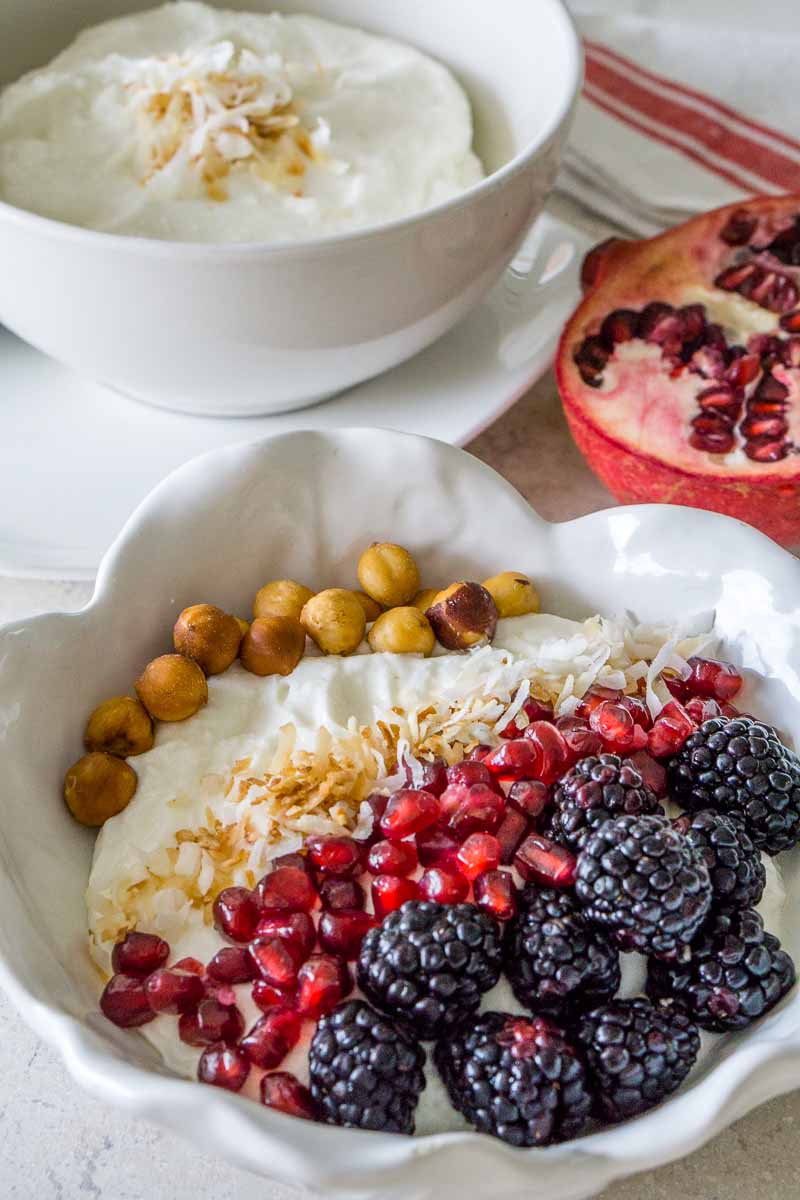 If you follow a ketogenic diet, you should try these keto egg muffins. With only 5 grams of carbs per serving, they'll fill you up without kicking you out of ketosis.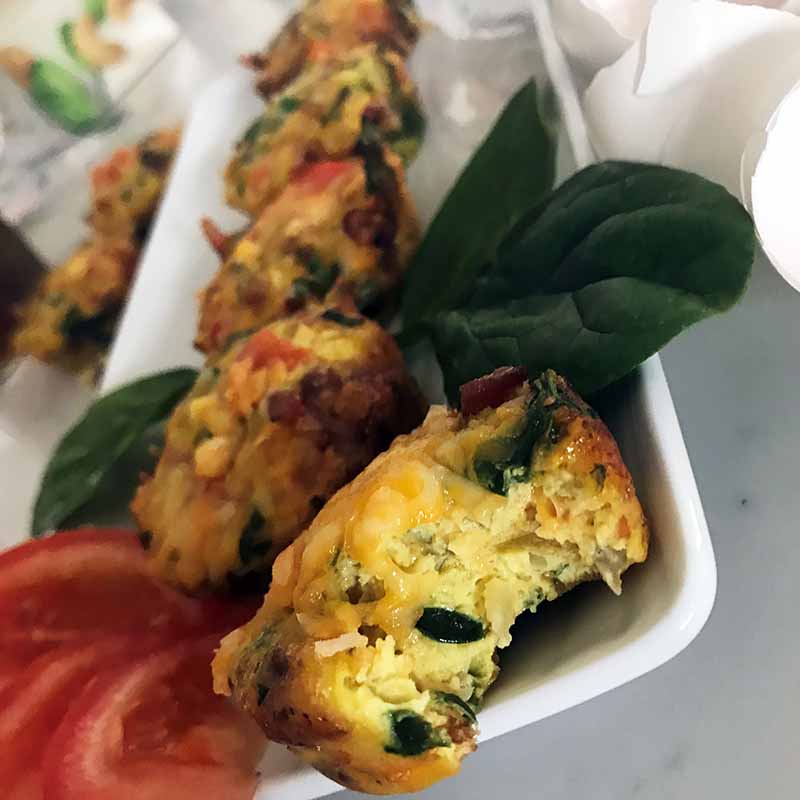 This chia seed pudding with almond milk only uses 5 ingredients, comes together in one bowl, and is low-carb and diabetes-friendly. It's also vegan and gluten-free!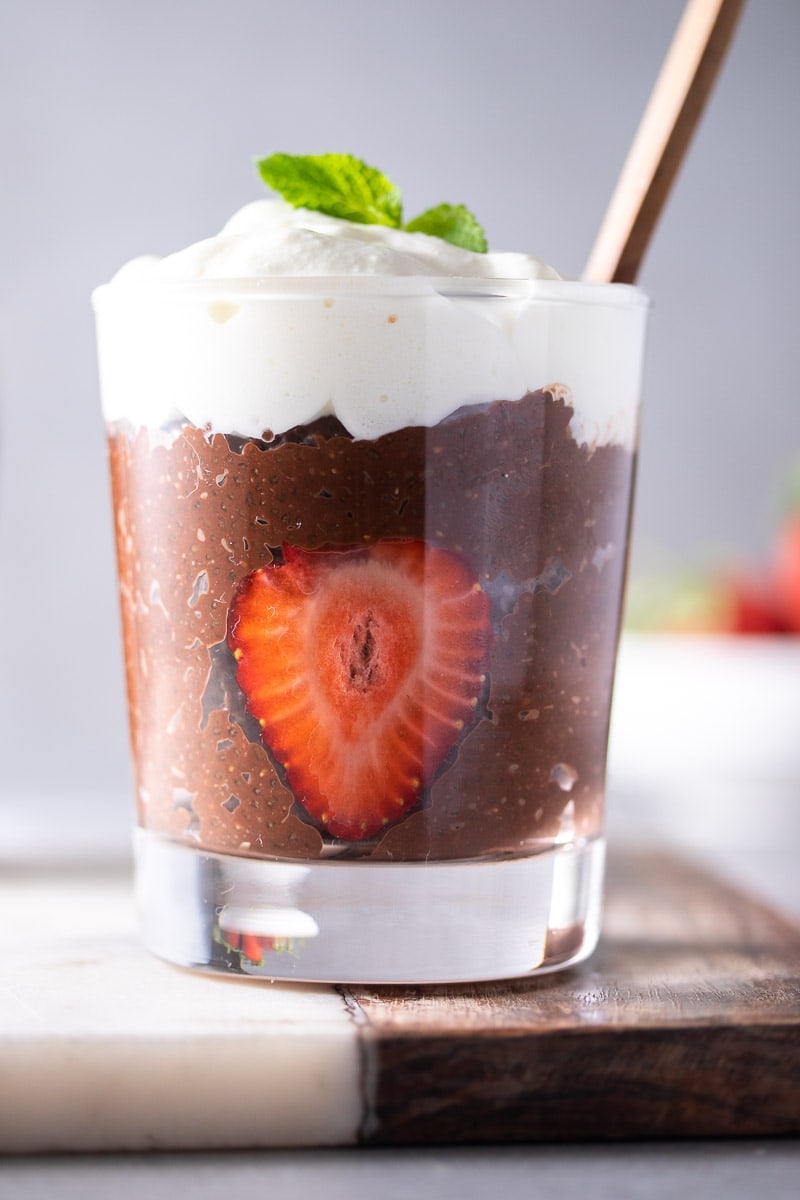 Pumpkin pancakes make for a delicious, high-protein breakfast, especially when topped with sugar-free syrup, chopped apples, and a sprinkle of Stevia.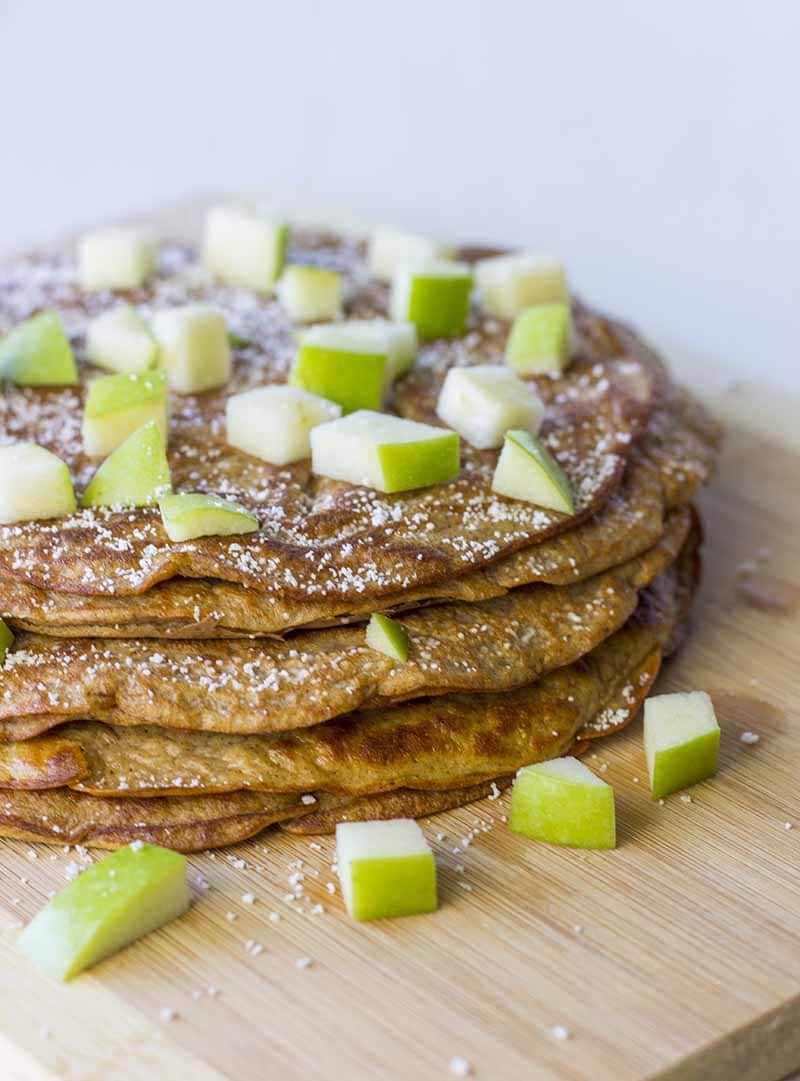 Low-carb cauliflower oatmeal is a creative, low-carb, grain-free spin on traditional oatmeal. Not only does it taste great, but it's an easy way to pack in an entire cup of vegetables before lunchtime!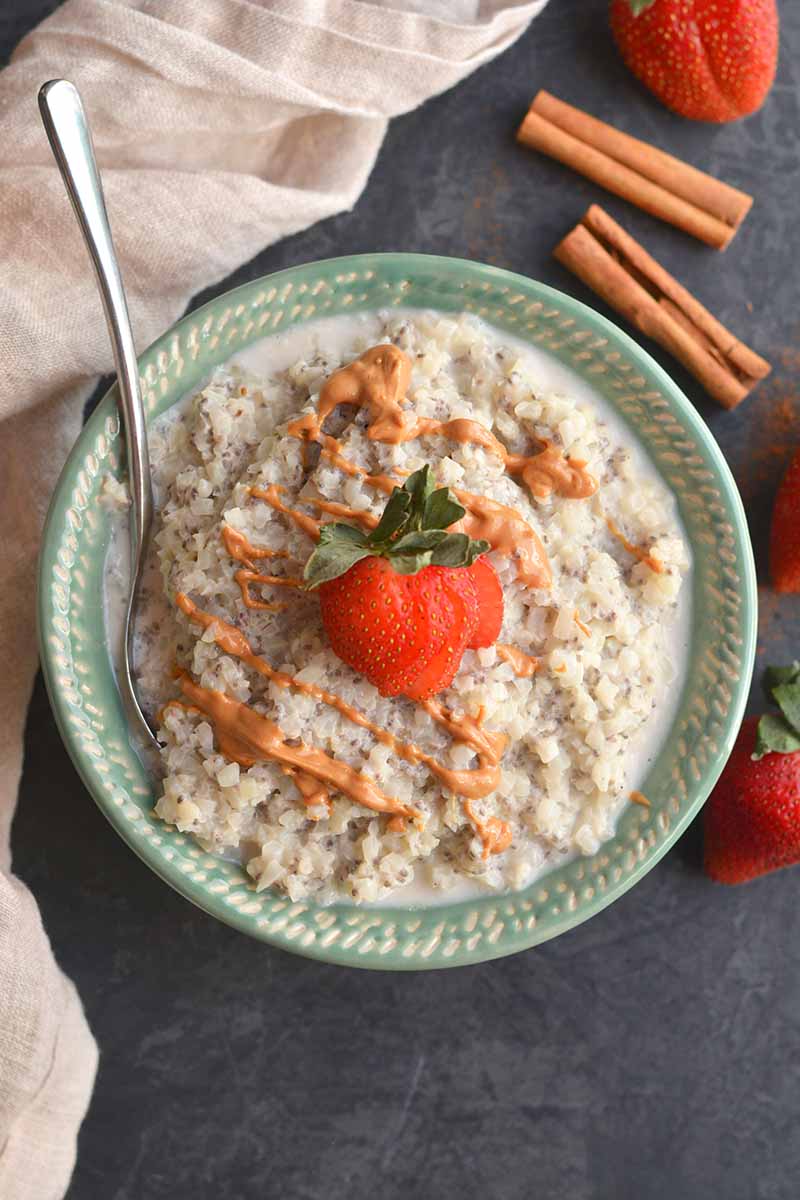 Who doesn't like pancakes for breakfast? Or at any other time of the day? With these protein-filled low-carb cottage cheese pancakes, you can enjoy America's favorite breakfast without a guilty conscience.
This recipe is packed with flavor and ready in just under an hour. Most of that time is spent baking in the oven so it is a relatively hands-off recipe too. Even better, you can make it the day before (or several days before) and just reheat it in the morning so you have breakfast ready in a few minutes.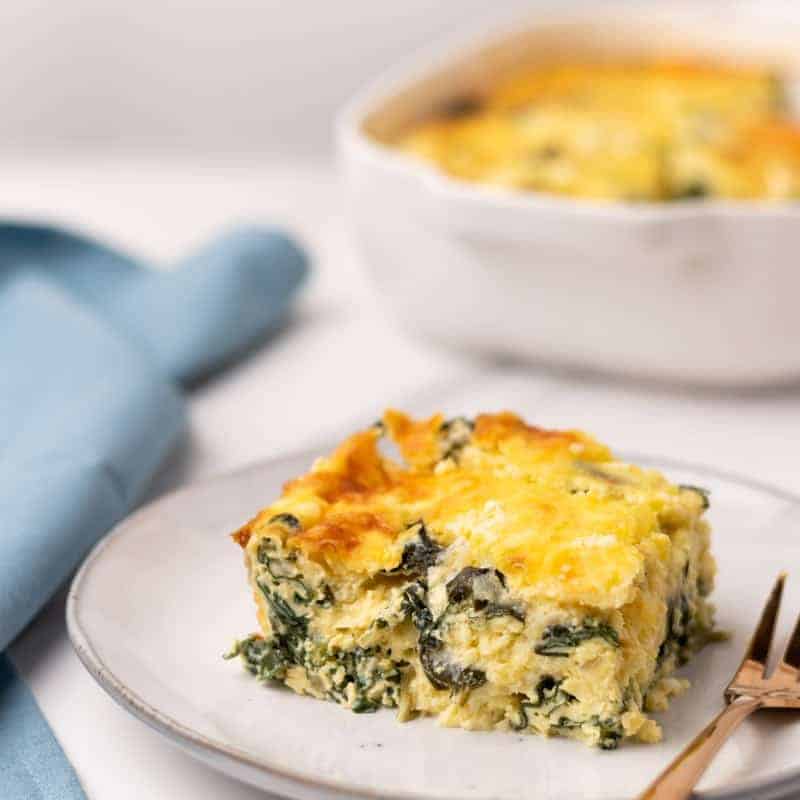 Diabetes breakfast FAQ
Q: I don't have time to cook in the morning. What can I eat that doesn't take time to prepare?
A: Many of the recipes in this list (like the egg muffins and overnight oats) can be prepared the day before so you just have to take them out of the fridge in the morning. Other good options include:
Hardboiled eggs
Instant oatmeal (just watch the serving size…)
Greek yogurt with nuts and berries
Q: Can I buy a good "diabetes breakfast" at Starbuck, McDonald's, etc.?
A: The options will never be as good as when you make breakfast yourself, but you can get a decent breakfast at both Starbucks and McDonald's:
A McDonald's Egg White McMuffin has 29 g carbs and 10 g protein
A McDonald's Sausage Burrito has 26 g carbs and 16 g protein
A Starbucks Turkey Bacon & Egg White Sandwich has 26 g carbs and 16 g protein
Q: Are protein bars a good breakfast idea for diabetics?
A: Generally no, but they are better than not eating breakfast. If you choose a protein bar for breakfast, be sure to read the nutrition label carefully. Some of them have A LOT of carbs and/or calories.
More diabetes-friendly recipes
If you want more healthy diabetic recipes, take a look at these roundups:
I hope you found these low-carb breakfast ideas for diabetics useful. Please share your own favorite "diabetes breakfast" in the comments!