Low-Carb Cauliflower Oatmeal is a creative, low-carb, grain-free spin on traditional oatmeal. Not only does it taste great, but it's an easy way to pack in an entire cup of vegetables before lunchtime!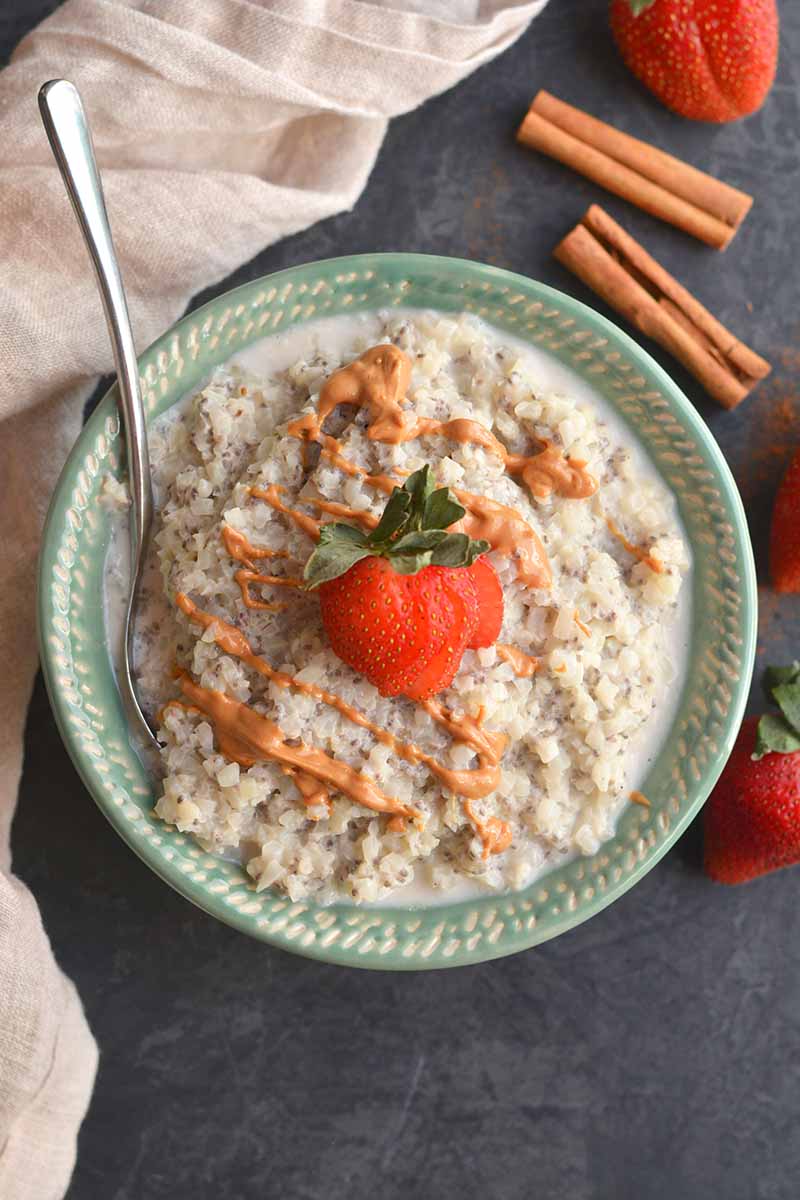 I know what you might be thinking. Cauliflower in oatmeal?! Sweet oatmeal with a savory vegetable? How could that possibly taste good?
I know it sounds a bit weird, but you're going to have to trust me on this one and make this recipe. You will not be disappointed! Once you start making Low-Carb Cauliflower Oatmeal, it will seem as normal to you as kale in a smoothie or zucchini in a sweet bread.
What's especially amazing about this low-carb oatmeal is that the cauliflower doesn't just serve as an addition to the recipe; the cauliflower is actually the star of the show. Riced cauliflower (cauliflower processed in a food processor until it resembles grains of rice) entirely replaces the usual base of oats.
How to make low-carb cauliflower oatmeal
It's just as easy as making regular oatmeal! Bring the riced cauliflower to a boil with the unsweetened milk of your choosing (I personally love coconut milk, but you can use almond milk or skim milk), cinnamon, and stevia. Once it's boiling, you reduce the heat to medium-low and let it do its thing for 8-10 minutes until it reaches your desired consistency.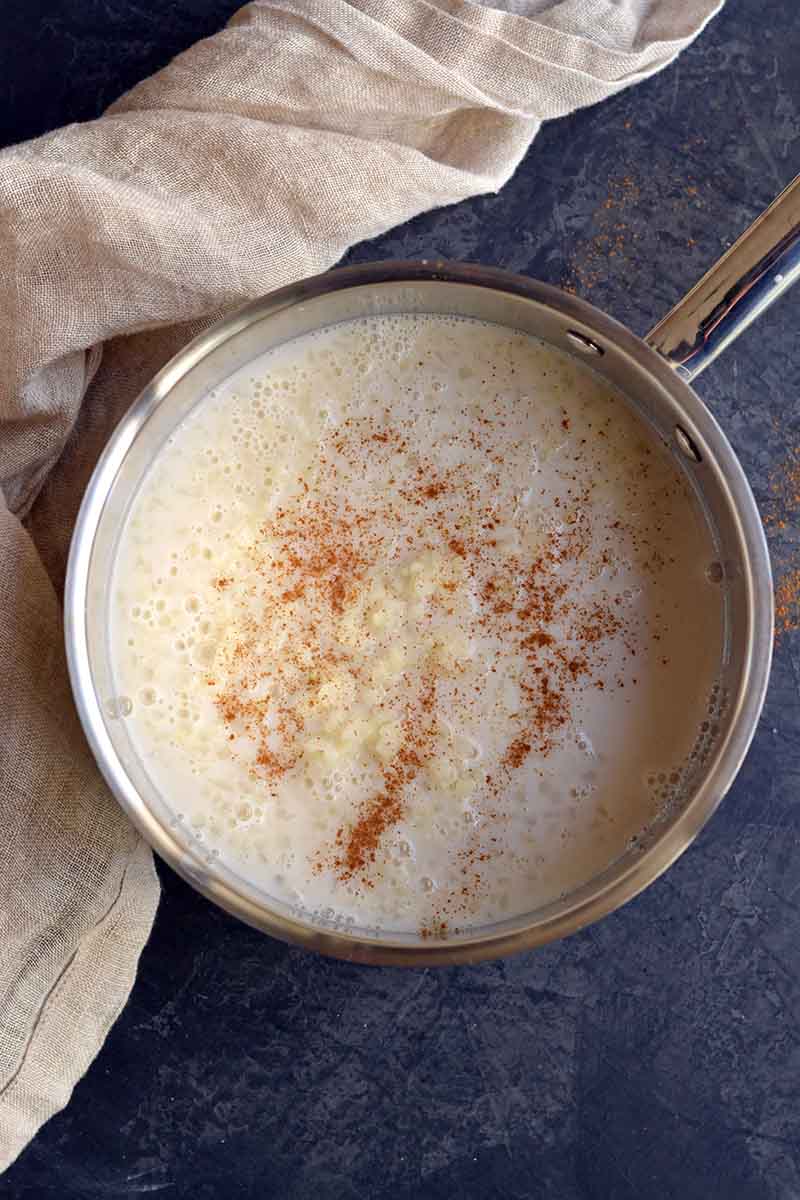 I love porridge, so I keep a bit of extra liquid in my Low-Carb Cauliflower Oatmeal, but you can reduce it to a thicker consistency. (If it gets too thick, you can always add more milk.)
Then you remove it from the heat, put it in a bowl, and top it with a drizzle of creamy peanut butter and sliced strawberries. Your low-carb oatmeal is ready!
I absolutely love digging into this in the mornings or even as an afternoon snack. It's super low in calories, low in carbs, and has a healthy balance of protein and fat. It's also a really easy way to sneak in an entire cup of veggies into your daily diet without realizing it!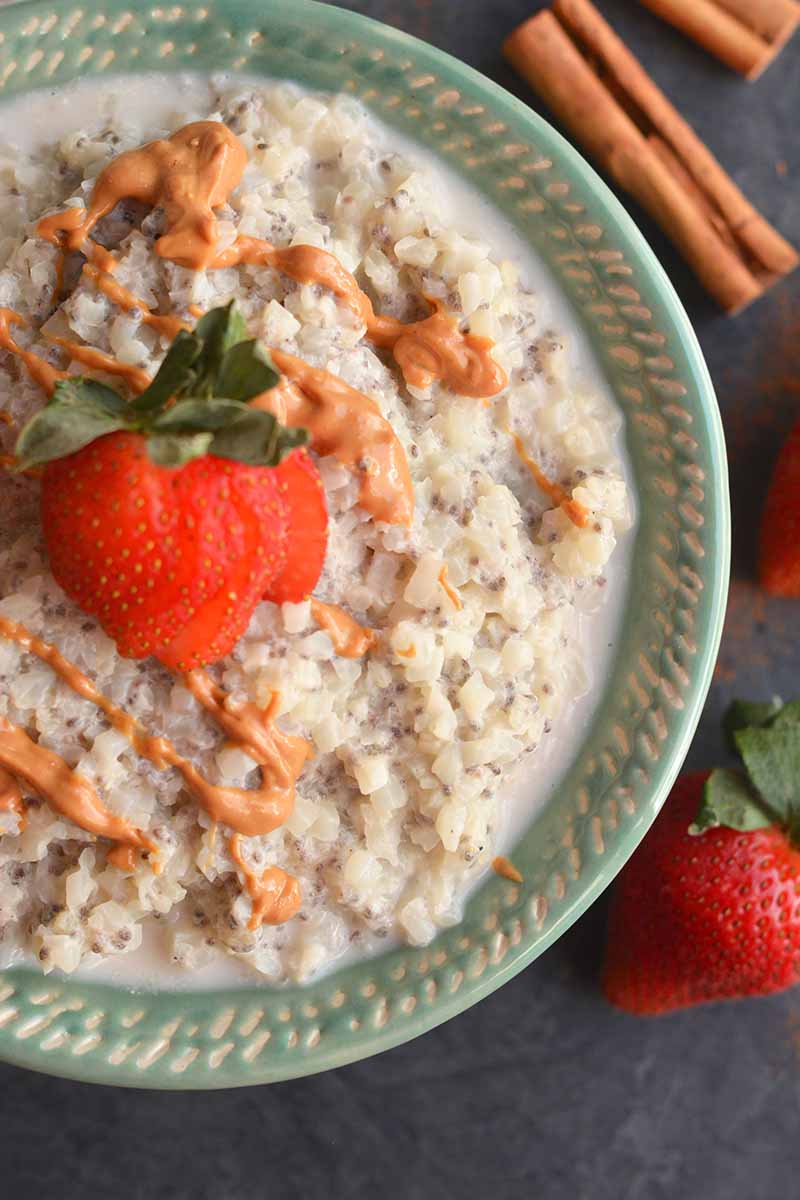 How to customize this low-carb oatmeal
The sky is the limit with cauliflower oatmeal. Make sure to always start with a base of cauliflower rice, milk, and stevia – but the rest is completely up to you.
You can add cocoa powder, protein powder, nut or seeds, fruit (fresh or dried) – there are so many ways to make low-carb cauliflower oatmeal your #1 go-to breakfast.
Does cauliflower oatmeal taste like cauliflower?
While I might have sold you on the benefits of low-carb oatmeal with cauliflower (easy to make, customizable, loaded with a full cup of vegetables, great macronutrients), you might still be wondering one thing: Does Low-Carb Cauliflower Oatmeal taste like cauliflower?
You will be happy to know that the answer is no! Cauliflower is such a mild-tasting vegetable that the flavor is masked by the other ingredients. In fact, cauliflower is also a great addition to smoothies for the same reason.
Enjoy!
I hope you enjoy this unique and flavorful low-carb oatmeal. It has quickly become one of my breakfast favorites, and I think you'll love it too!
More healthy breakfast recipes
If you liked this recipe, I am almost certain that you will love some of my other healthy breakfast recipes as well. Here are a few of my favorites:
Of course, you can also continue the cauliflower theme and make my Vegan Cauliflower Pizza with Basil Pesto for lunch or dinner or check out my roundup of the best low-carb cauliflower recipes!
When you've tried this healthy low-carb cauliflower oatmeal, please don't forget to let me know how you liked it and rate the recipe in the comments below!
Recipe Card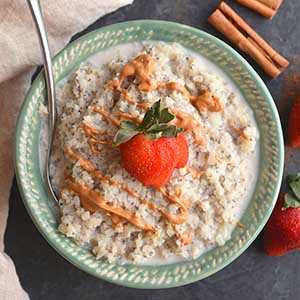 Low-Carb Cauliflower Oatmeal
Low-Carb Cauliflower Oatmeal is an amazing low-carb and grain-free alternative to normal oatmeal. It's just as tasty and easy to make but with a lot fewer carbs and calories.
Ingredients
1

cup

cauliflower rice

½

cup

unsweetened almond milk

½

tsp.

cinnamon

¼

tsp

Stevia

½

tbsp.

peanut butter

1

strawberry, sliced
Instructions
Place cauliflower rice in a pot with milk, cinnamon, and Stevia. Bring to a boil while stirring.

Optional: Add a teaspoon of flax seeds for more bite in the soft oatmeal. You can also add them after boiling to get a bit more "crunch".

Once boiling, reduce to a medium-low heat and continue stirring until desired thickness (~8-10 minutes).

If the mixture becomes too thick, stir in more milk to thin it out.

Remove from the heat and transfer cauliflower oatmeal to a bowl.

Drizzle with creamy peanut butter and top with sliced strawberries.
Nutrition Info Per Serving
Nutrition Facts
Low-Carb Cauliflower Oatmeal
Amount Per Serving
Calories 139
Calories from Fat 59
% Daily Value*
Fat 6.6g10%
Sodium 230.3mg10%
Potassium 217.3mg6%
Carbohydrates 16.3g5%
Protein 6.8g14%
Vitamin A 500IU10%
Vitamin C 145.2mg176%
Calcium 523mg52%
Iron 1.8mg10%
Net carbs 9g
* Percent Daily Values are based on a 2000 calorie diet.