Often labeled as a "low carb" food, nuts are generally considered a healthy choice for people with diabetes, but like many healthy foods, they aren't perfect.
Are nuts a good snack for people with diabetes? Absolutely, but it doesn't take much for them to quickly become a source of trouble. The old saying about "too much of a good thing" rings very true when it comes to your favorite nuts like cashews, almonds, macadamias, Brazil nuts, filberts, walnuts, and the regular old peanut (which is actually a legume!)
In this article, we'll look at both the benefits of nuts and the consequences of eating too many. But let me assure, no one is going to suggest in this article that you stop enjoying peanut butter!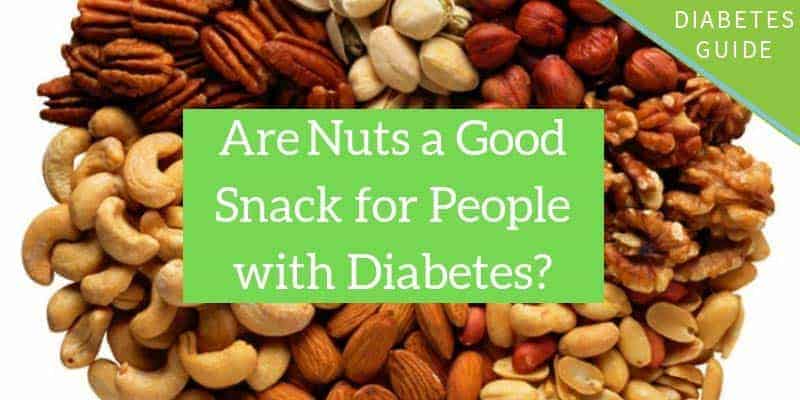 Do nuts affect blood sugar levels?
While nuts are certainly low in carbohydrates compared to fruits and grains, they are not low enough to ignore their impact on your blood sugar. After subtracting the dietary fiber (part of the carbohydrate count which is not broken down into glucose), most nuts have about 4 or 5 grams of carbohydrate per serving.
Peanuts — a legume often grouped with nuts — are seemingly low in carbohydrate but can also raise your blood sugar more than you'd expect. Peanut butter often has a small amount of sugar added to it, increasing the carb-count modestly, but it's often enough to raise your blood sugar.
That being said, even freshly ground 100 percent peanuts can raise your blood sugar, too.
For those taking insulin, you may find you need a very small bolus of insulin with a serving of peanuts, peanut butter, or other nuts.
Some studies have shown improvements in fasting blood sugar and A1c levels when consuming nuts, most likely because consuming fats with a carbohydrate-rich meal slows the absorption of carbohydrates and therefore reduces blood sugar spikes. However, this effect is very small at best and not a reason to add nuts to normal meals.
The nutrition of a nut
In general, nuts can absolutely be part of a healthy, whole-foods based diet for people with diabetes, especially for those eating a diet lower in carbohydrates. But that doesn't mean we should go hog-wild and eat nuts without restraint.
Nuts offer so many remarkably healthy benefits, but they are also very dense in calories and dietary fat.
The nutrition profile of most nuts
The recommended serving size of nuts is 1 oz or a slightly larger serving of ¼ cup. According to CalorieKing, a 1 oz serving of nuts contains an average of:
160 to 220 calories

12 to 18 grams of fat

5 to 10 grams of total carbohydrate

1 to 4 grams of dietary fiber

1 to 3 grams of naturally occurring sugar

5 to 8 grams of protein
Nuts are also high in a variety of vitamins and minerals, according to the Mayo Clinic, including:
Antioxidants

Calcium

Choline

Iron

Magnesium

Omega-3 Fatty Acids

Phosphorus

Potassium

Vitamin A, C, D, E, K

Vitamin B1, 2, 3, 5, 6, 7, 9, 12

Zinc
So while nuts are definitely high in healthy nutrients, they also pack a serious punch when it comes to calories. A single cup of nuts (which doesn't seem like much and is quickly eaten) packs around 800 calories, almost half of the recommended daily intake for most adults.
You can read this guide on how to find your daily calorie need to learn more about calories.
Understanding the fat in nuts
People with diabetes are more than twice as likely to die from heart disease than people without diabetes according to the Center for Disease Control and Prevention (CDC). This makes being aware of the fat you eat and how it affects your heart especially important when you live with diabetes.
The fat in nuts is largely monounsaturated, very good for lowering cholesterol and protecting your overall heart health, explains the Mayo Clinic. While nuts do contain some saturated fat, research on saturated fat being harmful to your health is wildly up for debate.
"One review of 72 studies comprising almost 600,000 people found no link between total or saturated fat and heart disease," explains Mark Hyman, MD in 7 ways to optimize cholesterol, "but they did find that trans-fats were clearly harmful and omega 3 fats were beneficial."
Hyman goes on to explain that high LDL cholesterol has actually not proven in research to be the cause of heart attacks. Instead, patients with low HDL levels had the highest rates of heart attack.
Other health benefits of nuts
Better for your bones than dairy
Almonds are actually a great source of calcium — better for your bones, according to Harvard research, than dairy. The Physician's Committee for Responsible Medicine explains:
"A 12-year Harvard study of 78,000 women, those who drank milk three times a day actually broke more bones than women who rarely drank milk. Similarly, a 1994 study of elderly men and women in Sydney, Australia, showed that higher dairy product consumption was associated with increased fracture risk. Those with the highest dairy product consumption had approximately double the risk of hip fracture compared to those with the lowest consumption."
This means that almond milk is actually an optimal choice for people concerned with their bone health, and for anyone looking to get enough calcium. Other ideal sources of calcium — rather than dairy — include dark leafy greens, like spinach, kale, and romaine lettuce.
Reducing inflammation
"Inflammation is one of the recognized mechanisms involved in the development of atherosclerotic plaque and insulin resistance," explained a 2008 study on nuts consumption and inflammation.
The study concluded that frequent nut consumption had a clear association with lower inflammation markers — but remember, this doesn't mean you should eat nuts by the handful. Nuts are still dense in calories, and one 1/4 cup serving per day is plenty for the average person's calorie needs.
The Harvard School of Medicine's research encourages nuts for an overall anti-inflammatory diet, too:
"To reduce levels of inflammation, aim for an overall healthy diet. If you're looking for an eating plan that closely follows the tenets of anti-inflammatory eating, consider the Mediterranean diet, which is high in fruits, vegetables, nuts, whole grains, fish, and healthy oils."
Reducing your risk of cardiovascular disease
Regular consumption of nuts has been directly linked in a reduction in cardiovascular disease and type 2 diabetes, and all-cause mortality according to a 2014 study.
Harvard's research strikes again in supporting nuts for reducing a variety of heart conditions:
"In one large study examining nuts and health, researchers analyzed data from over 210,000 health professionals followed up to 32 years. They found that, compared with those who never or almost never ate nuts, people who ate one ounce of nuts five or more times per week had a 14% lower risk of cardiovascular disease and a 20% lower risk of coronary heart disease during the study period. Both peanuts (technically a legume, but nutritionally similar to nuts) and walnuts were linked with lower disease risk."
When it comes to your bones, your inflammation levels, and your heart, it's quite clear that nuts are here to help!
Will eating nuts cause weight gain?
As mention above, nuts are very high in calories and "grazing" on nuts throughout the day can quickly lead to a calorie surplus and weight gain.
On the plus side, nuts are high in protein and will for many people create a feeling of fullness. Nuts in moderate amounts can, therefore, be a great snack to get through the afternoon and actually help weight management.
As with any other healthy but calorie-dense food, moderation is key.
How often should people with diabetes eat nuts?
When it comes to eating nuts, less is more, simply because they are nutritiously dense in calories.
A daily serving of nuts should be about ¼ cup of nuts or 2 tablespoons of nut butter. Remember that roasted nuts are often coated with additional oil before roasting which means they contain even more fat.