These diabetic cookie recipes are all super easy to make and taste delicious. They are simple recipes with all the flavor and none of the unhealthy ingredients!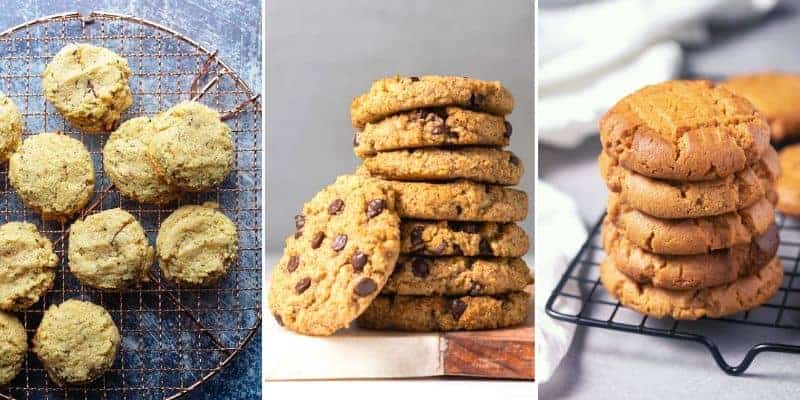 What is a "diabetic cookie"?
What qualifies as a diabetic or keto cookie recipe? Well, it has to be low in carbs while still being delicious and indulgent, and these low-carb cookie recipes are perfect for just that. They deliver on all the taste of your favorite cookies and won't cause any spikes in blood sugar.
Tips for making low-carb cookies
As low-carb cookies generally don't use wheat flours with gluten, they can tend to fall apart if not baked and handled properly.
Cookies made without gluten can be softer when they come out of the oven so always let them cool for just a bit longer. The little bit of waiting is worth it thought! Your cookies will have better texture and taste at the end of it.
All of the recipes on this list have been tested to give the best results and have tips and tricks in the recipes to help you make the perfect low-carb cookie.
Every type of diabetes-friendly cookies you could wish for
You'll find recipes for classic chocolate chip cookies, oatmeal cookies, and peanut butter cookies. There are also exciting low-carb cookie recipes like pistachio cookies and pumpkin spice snickerdoodles.
All the recipes are keto-friendly and gluten-free. Most of them are very easy, using only one bowl and ready in under an hour. Quick and simple like all good cookie recipes should be.
Give these recipes a try and serve them to family and friends for tea time. They will love how delicious they are and will be amazed that they're healthy too!
10 Diabetic Cookie Recipes (Low-Carb & Sugar-Free)
The diabetic cookie recipes below are from Diabetes Strong and some of my favorite food blogs.
As you can see from these "diabetic cookie recipes", low-carb cookies definitely don't have to be boring or lacking in flavor!
More low-carb recipe roundups
I love making collections of the best recipes I try. Here are a few that I think you will love:
When you have tried any of the recipes, please leave a comment below and let me know how you liked them.
Enjoy!