We would not be able to host this challenge without the support of our amazing sponsors. They help make it possible for us to keep it free for you to participate and they even donate prizes you can win in our weekly giveaways!
Please take a moment to read about our sponsors, check out their websites, and learn more about the prizes you can win during the Strong With Diabetes Challenge
The only thing you have to do to enter any of the weekly prize draws is to sign up for the challenge and be active in the challenge Facebook group or on our Facebook page in the week of the draw (post or comment at least once). I will draw the weekly winners each Saturday.
This post contains affiliate links.
Our primary challenge sponsor is Tandem Diabetes Care, Inc. I am a big fan of their small, sleek, touch-screen insulin pumps, so I am very excited to have them involved in this challenge!
Besides being a sponsor, Tandem Diabetes Care, Inc. will also host a Q&A session in the challenge Facebook group where you can ask questions about insulin pump features that can help you manage your diabetes.
Tandem Diabetes Care, Inc.
Tandem Diabetes Care, Inc. is a medical device company with an innovative, user-centric and integrated approach to the design, development, and commercialization of products for people with diabetes who use insulin. The Company manufactures and sells the t:slim X2™ Insulin Pump, the slimmest and smallest durable insulin pump currently on the market, the t:flex® Insulin Pump, the first pump designed for people with greater insulin requirements, and the t:slim G4™ Insulin Pump, the first continuous glucose monitoring-enabled pump with touchscreen simplicity.
On their website, you can learn more about their insulin pumps and check if they are covered by your insurance. You can also download their innovative t:slimulator Demo App (Android and iOS) that lets you experience and test many of the features of an insulin pump, right on your phone.
Lauren's Hope
Lauren's Hope creates fashionable medical ID bracelets, necklaces, anklets, charms, and more for men, women, and kids with any and every manner of medical condition. Shop online at Laurenshope.com
The medical ID bracelets from Lauren's Hope have a great story behind them. The original interchangeable medical ID bracelet was made for Lauren, a 13 year old with diabetes who refused to wear medical ID jewelry because, as she said, 'It's ugly and draws attention to my illness'. So Lauren's Hope set out to design a medical alert bracelet that Lauren, and the millions of people like her who avoided medical IDs when they really needed them, would actually enjoy wearing. It was a great idea, and, with more than 400,000 people wearing the bracelets today, they have definitely succeeded!
Lauren's Hope is sponsoring the first week of the challenge and the prize is two $25 gift certificates for Laurenshope.com (I will draw 2 winners)

Real Good Pizza
Real Good Pizza's have only 4g of Carbs and 25g of protein per pizza. Instead of offering a crust made from enriched grains, we use two simple and clean ingredients; all natural chicken breast and all natural parmesan cheese – the chickens are also raised without antibiotics or hormones.
Pizza with only 4 g of carbs and 25 g protein almost sounds too good to be true, but Real Good Pizza's really taste like pizza is supposed to. They are not only the best frozen pizzas I have tasted, they are also the healthiest. You can buy the pizzas online and use the code "thefitblog" to get 10% off your order.
Real Good Pizza is sponsoring the second week of the challenge and the prize is a case of 6 frozen pizzas.
Beyond Type 1
Founded in February 2015, Beyond Type 1 creates and funds a portfolio of programs, technologies, and innovations that those living with Type 1 diabetes need to manage, live and thrive. Our goal is to highlight the brilliance of those fighting this disease every day while always working toward ensuring a cure is on its way. By establishing a supportive community via powerful social media, people are connected on a global scale in a new way. Our Instagram campaign "Living Beyond," showcases the age, range and variance of those living their best life with T1D, and our website and social media platforms provide education and support.
I'm a big fan of community building efforts. Just look at the support we have built in no time in the Fit With Diabetes Challenge group and how truly empowering it is. Beyond Type 1 is helping to change the way diabetes is viewed, from people who are sick to people who are so much more, and that fits right into my way of viewing the world.
Beyond Type 1 is sponsoring the second week of the challenge and the prize is a goodie bag with one drop hats and other cool diabetes accessories.
Myabetic
Myabetic creates diabetes accessories with a fashionable, non-medical appearance so that you can control your diabetes with style. Shop online at http://www.myabetic.com/diabetesstrong (you can use the code DIABETESSTRONG to get 15% off your purchase)
Myabetic is the absolute top end of diabetes accessories. I personally got my hands on a pink Dexcom sleeve, the Dexcom armband (of course I have to sweat in style), and a blush diabetes wallet. Since we look at our diabetes gear pretty much all day, every day, why have it in ugly medical-looking cases? You don't have to – this girl has gone stylish and so can you.
Myabetic is sponsoring the third week of the challenge and their prize is a product of your choice from Myabetic

One Drop
One Drop is a diabetes management platform that aims to revolutionize blood glucose meters with gorgeous hardware, award winning mobile software, powerful data analytics, and a unique subscription model for test strips. You can learn more on OneDrop.Today
I have tested the One Drop meter and mobile software myself and was very impressed (you can read my One Drop review to learn more).
The meter is both gorgeous and accurate and automatically connects to the One Drop app via Bluetooth, which is super useful. You also get access to 24/7 support from a team of Certified Diabetes Educators so you can ask questions about your diabetes management at any time. Best of all, you get unlimited test strips sent directly to your door at a fixed monthly rate!
One Drop is sponsoring the fourth week of the challenge and has generously donated two prizes:
One Drop | Chrome meter, lancing device, lancets (10 ct), test strips (100 ct), and carry case
3 months subscription to the One Drop | Premium plan, which includes unlimited test strips delivered direct to your door and 24/7 on-demand CDE support.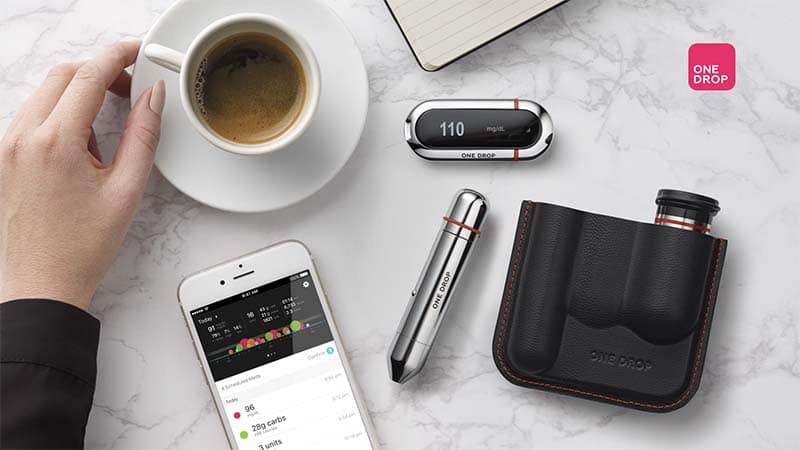 I hope you are as excited about these prizes from our sponsors as I am. I almost wish I could enter the challenge to win them myself 😀
I really look forward to starting the challenge on May 3 and connecting with you in our challenge Facebook group!
See you in the Strong With Diabetes Challenge and good luck with the sponsor giveaways!