People living with insulin-dependent diabetes know that their insulin needs to be kept cool all the time, but this isn't always easily done.
It can be difficult keeping cold insulin close by when you are traveling, hiking, or even just enjoying life outside in the summertime.
This presents an issue, if you aren't at home, how can you keep your insulin cool? Fortunately, portable insulin fridges solve this problem!
These insulin fridges are small enough to travel with and will keep your insulin at the right temperature.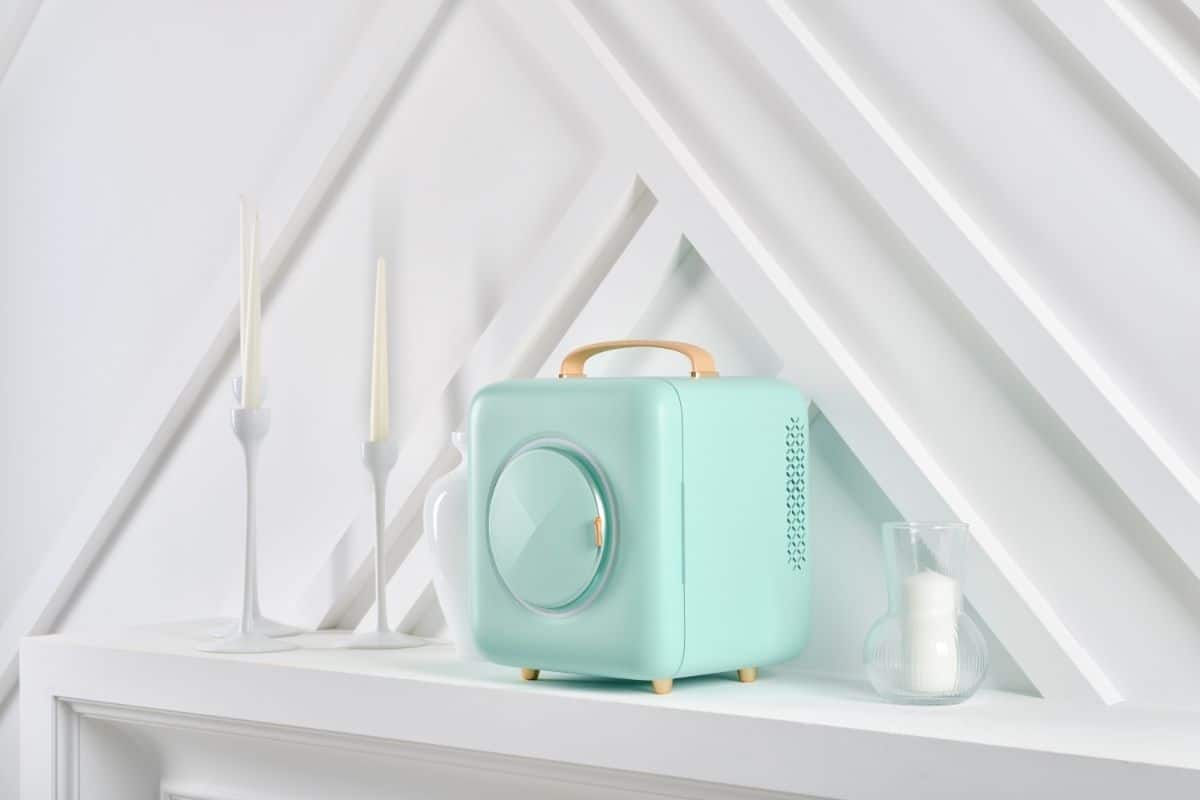 However, as there are many portable insulin fridges on the market, it can be hard to understand which one you should go for.
To make your choice a little easier, we've done the research for you and listed the best portable insulin fridges for people with diabetes below.
You'll also find our buying guide that's full of advice on what to look for when choosing one of these fridges, as well as answers to the most common questions surrounding portable insulin fridges.
The best portable insulin fridges review
I also shot a YouTube video about my experiences with the 4AllFamily insulin cooler and the pros and cons:
LifeinaBox Portable Insulin and Medication Fridge
The mini-fridge will keep up to eight regular insulin pens or vials inside it.
It's equipped with a universal power cord and a DC adapter to use inside the car.
You can connect the fridge to a smartphone app that will constantly monitor the fridge's temperature, so you can be sure that your insulin is safe from spoiling.
The app will also monitor the fridge's battery life so you'll know when it's time to recharge.
It includes an emergency battery that will keep the fridge working for up to six hours, which is ideal for small trips or power outages.
You can also purchase individual plug-in packs that will deliver 40 hours of power, which is great for people with diabetes that travel frequently.
Pros:
Sleek design - Fits in many small places

Connects to an app - The user can monitor the fridge's efficiency

Equipped with emergency battery back - Will keep insulin safe for extra six hours in an emergency
Cons:
The small design doesn't hold a lot of insulin
Buy on Amazon
QIRDLP Mini Drug Refrigerator
The container has enough space to keep 9 insulin pens, 25 bottles, or 60 refills but is small enough for carrying around when traveling.
The cooler case comes with an LCD that displays its current temperature, as well as when it needs charging.
You can also manage the fridge's internal temperature through the screen, raising or lowering it to your specification.
There is an intelligent lock system that prevents children from accessing your medicines. Simply press the open button for a few seconds and the fridge will open.
The cooler won't emit loud noises, which is ideal for use at night. It also comes with a carrying bag, maximizing its portability factor.
Pros:
Large LCD - Easy for older people to read

Lots of room - Can fit lots of insulin vials inside the space

Equipped with carrying handle and bag - Very portable design
Cons:
Medicines are stored on top of each other which limits the amount of air circulation around the vials.
Buy on Amazon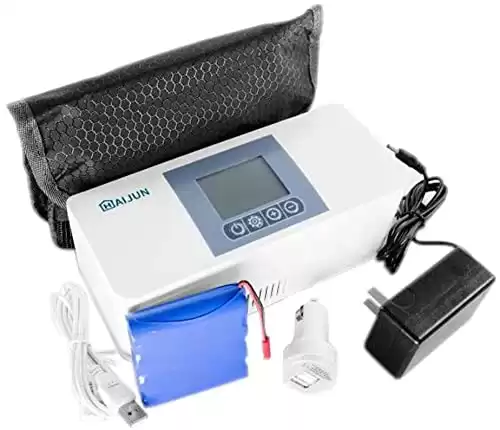 AIJUN Portable Insulin Refrigerator
This cooler is strong enough to keep insulin cool for ten hours. It's on the smaller side, able to hold two insulin pens, or one pen and 4-6 vials.
You can choose between Farenheight or Celsius with the display on the container.
Its rechargeable battery is powered by a charging cable, but it becomes portable when you connect it to a power bank during traveling.
The refrigerator comes with a carrying bag that holds the device and a car charger.
It also has a wide temperature adjustment range, allowing you to change the internal temperature to your needs.
Pros:
Sleek design - Won't take up too much room

Large display - Easy to read and manage

Comes with power bank and car charger - Maximizes portability
Cons:
Doesn't hold that much insulin
Buy on Amazon
Cooluli Mini Fridge
This design looks like a classic mini-fridge, but it is perfect for storing lots of insulin!
At just 4lbs, the mini-fridge is light and easy to travel with. It has an advanced semiconductor that keeps the fridge quiet and environmentally friendly
As it's so energy efficient, you'll save a little on your bills too! The fridge comes with AC, DC, and USB cords, suitable for a whole range of households.
It has a carry handle on top that's perfect for carrying around with you.
You can choose to store your insulin in the front door or on the shelves within the larger compartment.
It can be connected to a wall, car charger, or a power bank when you're on the go.
It's also available in many fun colors and prints that will keep a range of people satisfied!
Pros:
Carry handle - Easy to carry around

4-liter fridge - Stores enough insulin for a single person

Works with AC, DC, & USB - Suitable for a range of power supplies
Cons:
Some may find fan's sound too noisy
Buy on Amazon
Portable insulin fridge buying guide
Insulin is life-critical (and expensive), which is why it's important to have a reliable method of storing your insulin.
We'll cover some of the things you should look for in a portable insulin fridge below, including advice on storing insulin and tips on prolonging the life of your insulin fridge.
Do you need to refrigerate insulin?
Absolutely, yes! You will need to refrigerate insulin.
Insulin is full of proteins that can go bad if they become too hot or cold or are exposed to too much sunlight. Storing insulin incorrectly can lead to it spoiling, just like food does, albeit at a slower pace.
Insulin that is not being used should be stored in the refrigerator at 36°F to 46°F (2°C to 8°C), a safe distance away from the back and top of the refrigerator where cooling elements may cause the temperature to approach freezing.
Insulin pens and vials that are "in use' can be kept at room temperatures at a maximum of 80°F (30 °C). People do this because injecting cold insulin can sometimes be slightly painful.
How long will insulin last unrefrigerated?
As a general rule, insulin that isn't refrigerated will last up to a maximum of 28 days at room temperature.
However, this depends on the exact type of insulin and how it's stored, so always check with the manufacturer and try to minimize the time when your insulin is outside the fridge.
It's better to be safe than sorry. Warm environments will make the proteins in insulin break down, so always be cautious.
Should you store insulin in a mini fridge or a standard refrigerator?
It's best to keep your vials in a designated place instead of keeping them alongside food and drinks.
Opting for storing your insulin in a specific mini fridge has several advantages:
Managing temperature control
Compressors inside mini-fridges are smaller than ones in regular refrigerators, but they still work just as efficiently.
A mini-fridge compressor doesn't need to handle all of the stress and foot traffic that a standard fridge does, so managing its interior temperature is a lot easier to do.
A dedicated insulin fridge will typically be better at maintaining a constant temperature than a regular fridge, which often has near-freezing temperatures at the back of the fridge where the cooling elements are.
Fewer spills
Only those with diabetes will be opening and closing the insulin fridge, which means that there are fewer chances of spills occurring.
If you store your insulin in the kitchen fridge, there's always a risk of someone reaching for something on a high shelf, then knocking over your insulin.
Using a mini-fridge is a good way to avoid spills occurring, especially if you have younger children.
Traveling with an insulin fridge
Because of the unpredictable temperature conditions in the hold of the plane and during baggage handling, you shouldn't pack your insulin and diabetic supplies in your checked luggage. Always pack your medical supplies in your carry-on.
This means that you should try to fit your insulin fridge in your carry-on as well, if you are keeping your insulin in the fridge during the flight.
All the insulin fridges in this review, except the Cooluli mini-fridge, are TSA-approved, so you can go through airport security checks with them.
Tips on prolonging your insulin fridge's lifespan
If you have decided to purchase a dedicated insulin fridge, you may be worried about the device breaking down and damaging your insulin.
Here are a few tips you can do to keep your mini-fridge in good condition and lower the chance of it failing later on.
Tend to the compressor
The majority of mini-fridges are equipped with a compressor, though you may find some that are thermoelectric.
If your insulin fridge uses a compressor, this component is responsible for producing cold air. If dust builds up on the compressor, this can lead to overheating.
Overheating means the fridge needs more power to run, which costs more money and will struggle to deliver the previous temperatures that you set your mini-fridge to.
To avoid this occurring, all you need to do is clean the compressor frequently.
Regular cleaning will avoid the machine undergoing mechanical stress, keeping your insulin cool and safe from pathogens.
Air circulation
Keep your mini-fridge in a location that has lots of air circulating behind it. You can place the model near a wall, but make sure that there are at least six inches of space between it.
Your fridge's compressor is likely to be located inside the back of the fridge near the base, though some models may have a detachable vent that covers it.
Six inches of space will avoid the compressor building up stress and overheating.
Use a fan
If it's very hot, you can help to cool down your compressor by aiming a little desk fan in the direction of the fridge.
Position it so that the air flows behind the cooler.
Examine the gasket
Your fridge's gasket will look like a rubber seal that is fixed inside the door. It will lie against the opening frame located on the cover.
If your gasket is broken or torn, this can lead to cool air leaking from your mini-fridge.
If this occurs, the machine will waste more energy attempting to fix the internal temperature.
Gaskets are affordable and aren't that complicated to install. You can do this yourself by removing the old gasket from the crevice, then popping the newer one in place.
Frequently Asked Questions
Should insulin pens go in the fridge?
Yes, unopened insulin pens should be stored in the fridge.
Pens that are in use can be stored outside the fridge (you usually bring them along with you wherever you go), as long as you are careful to not get them too hot or cold.
How can I tell if my insulin has gone bad?
Good insulin will look like water, as it will be clear and color-free. If you notice that your insulin looks murky, has strands within, or develops lumps, it will have spoiled.
You should be able to notice spoiled insulin with your naked eye. If you're doubtful, never use suspicious-looking insulin, as this can be dangerous. Throw it away and obtain a new vial/pen from your fridge.
You can learn more in our guide: Does Insulin Expire? Storage, Safety, and How to Tell If Your Insulin Has Gone Bad