It's no secret that I LOVE the sweet stuff, so I am always testing new recipes that can satisfy that craving and still be somewhat diabetes friendly. That's why I like this Coconut Chia Pudding so much.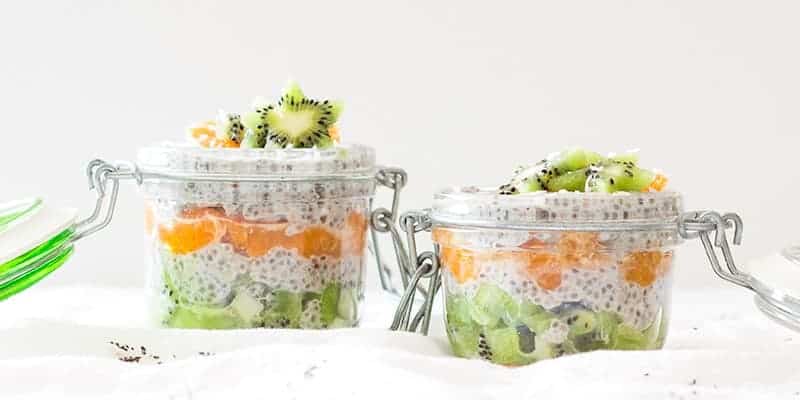 Our friends here are coconut milk, chia seeds, and stevia, which make a wonderful pudding. Combined with fresh fruit, it makes a healthy dessert or post-workout snack (if you add a little protein on the side).
If you don't like the gel-like consistency of hydrated chia seeds, you can simply grind the seeds and then blend the coconut milk and ground chia seeds and you'll get a super smooth pudding. I absolutely love the whole seeds and crunch of this pudding so I left them whole.

How to make Coconut Chia Pudding
The pudding itself is as easy and quick to make as can be, but the clementines need a little special attention. They have to be peeled (obviously) and have the skin that covers each wedge removed because the skin gets a little bitter when in contact with other liquids.
To keep the pudding dessert-like and sweet, make that little extra effort and peel the wedges out of their skins. It's really easy. Just cut off the top edge with a sharp knife and then peel down the sides with your fingers. It doesn't have to be perfect and the bottom will still have bits and pieces of skin, but as long as you get most of the skin off you'll be good.
Cutting the kiwi into stars like I did is obviously totally optional. I love how it looks but in terms of taste, it doesn't make a difference. Feel free to cut ugly fruit pieces to save on time. I promise to only judge you a little 😀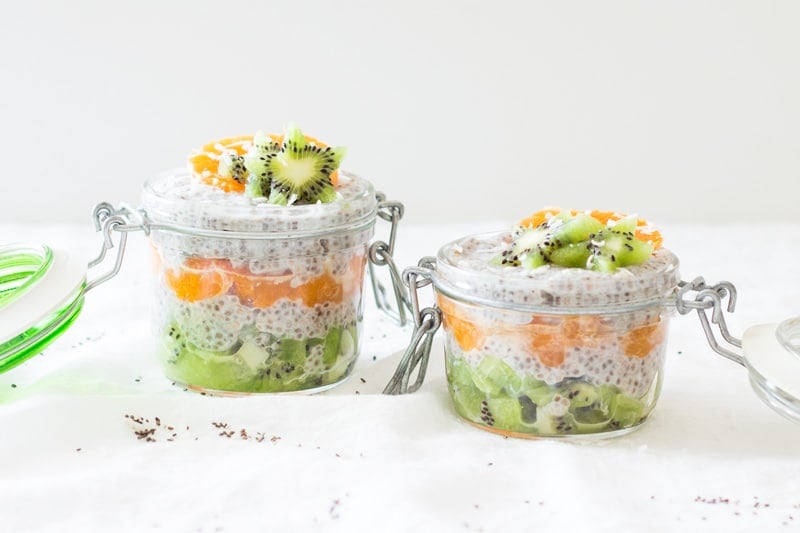 This Coconut Chia Pudding is super rich in vitamin C thanks to the fruits and high in magnesium, calcium, and iron thanks to my all time favorite little chia seeds. Put the dessert in the fridge for a couple of hours before serving and it will be an excellent refreshment for hot summer evenings.
If you really want to give yourself a delicious and healthy treat, make a few of my Cottage Cheese Pancakes as well and eat them with the pudding. I sometimes use strawberries instead of fruit in the Coconut Chia Pudding, put it on my pancakes, and eat them as if they were pancakes with ice cream. Yummy!!
This recipe makes three snack-sized servings for me. I usually eat them after a high-protein meal, so that's perfect for me. If you want to serve them as a stand-alone snack, you can easily call it two servings instead. They can keep for a little while in the fridge but don't let them sit for too long or they will become runny.
Healthy Coconut Chia Pudding
This easy, healthy and delicious Coconut Chia Pudding satisfies my cravings for a sweet dessert while still being diabetes friendly.
Ingredients
½

can

light coconut milk

¼

cup

(40 g) chia seeds

Liquid stevia to taste

(I used 3 drops)

2

Clementines

2

Kiwis

Sprinkle of unsweetened shredded coconut
Instructions
Pour coconut milk into a bowl and sweeten with stevia to taste. Whisk well

Add chia seeds and give it another quick whisk. Set aside

Peel the clementines and remove the skin covering each wedge

Peel kiwi and dice

Layer some fruit, chia pudding, then fruit again, then chia pudding, then decorate with remaining fruit and finish by sprinkling some unsweetened coconut on top
Nutrition Facts
Healthy Coconut Chia Pudding
Amount Per Serving
Calories 174
Calories from Fat 77
% Daily Value*
Total Fat 8.5g 13%
Sodium 22.8mg 1%
Potassium 173.2mg 5%
Total Carbohydrates 24.2g 8%
Protein 3.2g 6%
* Percent Daily Values are based on a 2000 calorie diet.