These Pumpkin Overnight Oats are a serving of yummy pumpkin and cinnamon goodness with enough protein to qualify as a healthy fitness breakfast or snack.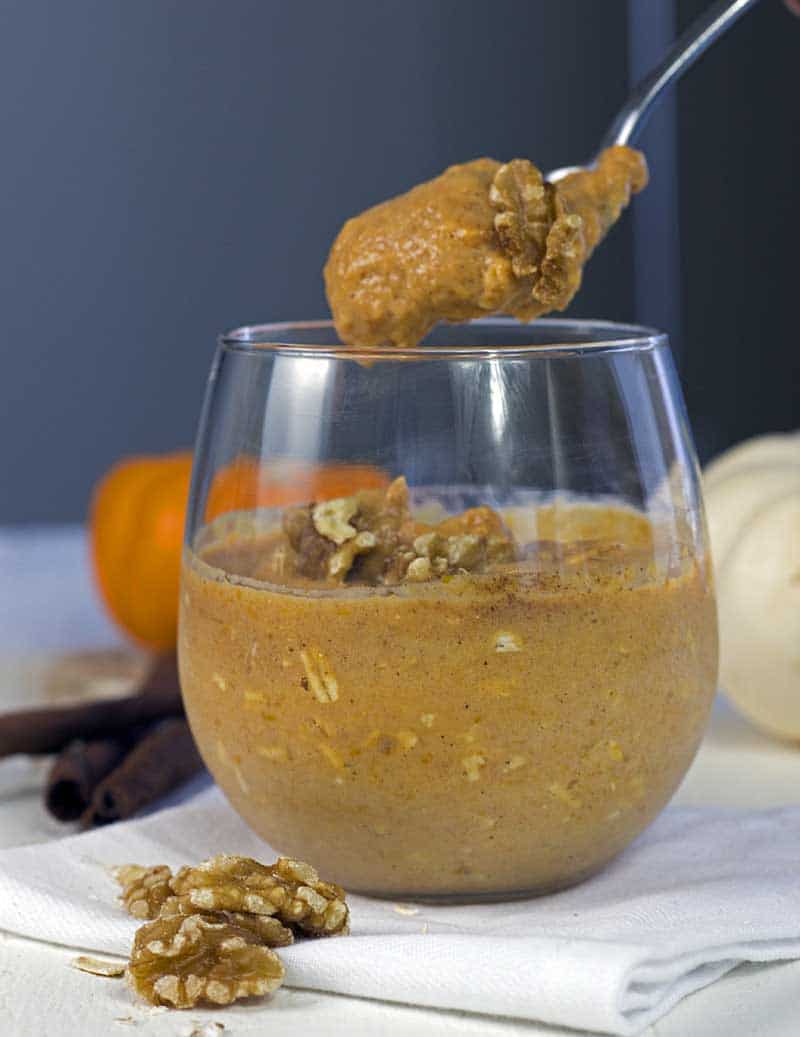 Fall is here! It's the season of pumpkins, cinnamon spice, and all things nice. Which pretty much sums up this High Protein Pumpkin Overnight Oats recipe.
Pumpkin overnight oats are the perfect breakfast for a chilly autumn morning. Even though it's eaten cold, you still get that warm cozy feeling from the spice blend. It's like a big comforting breakfast hug 😀
Make breakfast in under a minute
Because you prepare everything the night before, you literally just have to open your fridge and get the overnight oats in the morning, making this the quickest breakfast ever. If you are really hungry, you may find that you have finished eating your breakfast before your morning coffee is ready!
You don't even have to spend a lot of time the night before preparing. You just need to mix all of the ingredients, which should take you less than 5 minutes, especially if you have a good blender.
I stacked all the ingredients before combining them so you can see how pretty it looks, but since you don't have to worry about pretty pictures for your blog, you don't have to do that.

Yogurt and protein powder
If you have tried some of my other recipes, you know that I like my meals high in protein and low to medium in carbs. This isn't a low-carb recipe, but with 34 grams of protein and 26 grams of carbs, it has the perfect macronutrients for a healthy breakfast that will give you enough energy to last until lunch or get you through a hard resistance workout.
The trick to getting enough protein in these Pumpkin Overnight oats is the Greek yogurt and, of course, the protein powder.
The yogurt not only adds protein, it also gives the Pumpkin Overnight Oats a nice smooth consistency. The protein powder I use (Met-Rx) has a great vanilla flavor, which is why I use it in so many of my recipes.
More high protein overnight oats
For me, pumpkin is a seasonal autumn thing. I love pumpkin, but I couldn't eat Pumpkin Overnight Oats for breakfast every day. That's why I have more than one overnight oats recipe on Diabetes Strong!
If it's not pumpkin season (or if you just don't feel like pumpkin today), try my High Protein Chocolate Overnight Oats with Almond Milk instead. It's just as healthy and tastes like chocolate pudding. How can you go wrong with that?
If you are looking for more healthy breakfast options, check out my roundup of the best low-carb breakfast ideas for diabetics.
When you've tried this high protein pumpkin overnight oats recipe, please don't forget to let me know how you liked it and rate the recipe in the comments below!
Recipe Card
High Protein Pumpkin Overnight Oats
This Pumpkin Overnight Oats recipe is a serving of yummy pumpkin and cinnamon goodness with enough protein to qualify as a healthy fitness breakfast or snack.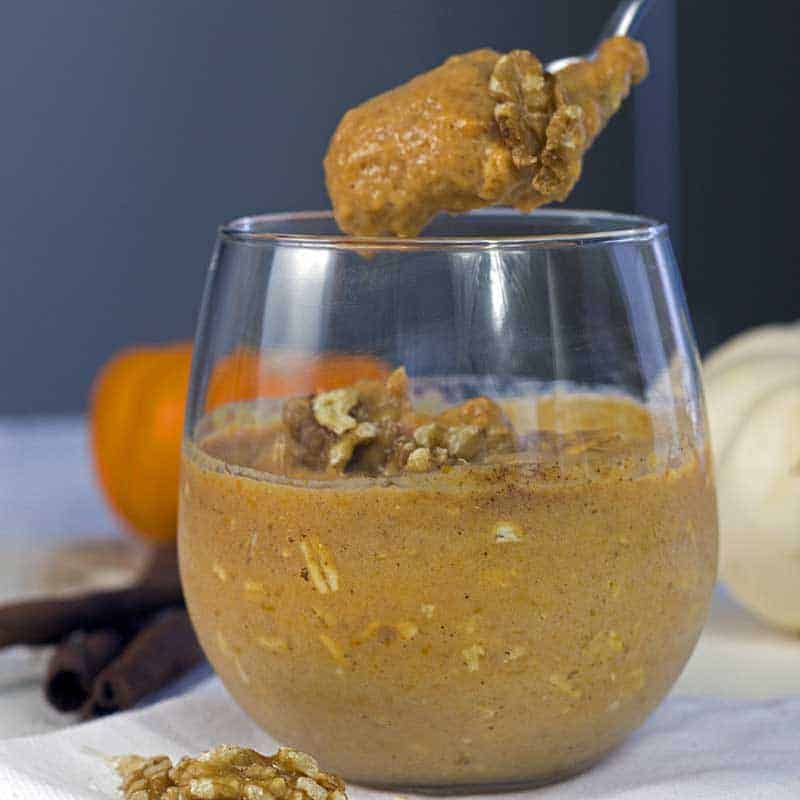 Instructions
Add oats, pumpkin, Stevia, and spices to the wet ingredients.

Mix thoroughly and place in the fridge overnight.

Take out of the fridge and stir with a spoon to an even consistency.

Sprinkle walnuts on top before serving.
Nutrition Info Per Serving
Nutrition Facts
High Protein Pumpkin Overnight Oats
Amount Per Serving
Calories 308
Calories from Fat 76
% Daily Value*
Fat 8.4g13%
Cholesterol 10mg3%
Sodium 176mg7%
Potassium 206mg6%
Carbohydrates 26.1g9%
Protein 34.2g68%
Vitamin A 7750IU155%
Net carbs 20.9g
* Percent Daily Values are based on a 2000 calorie diet.