If you want a healthy high-protein breakfast or snack, you'll love this High Protein Chocolate Overnight Oats with Almond Milk recipe! It has 20 grams of protein and is full of flavor.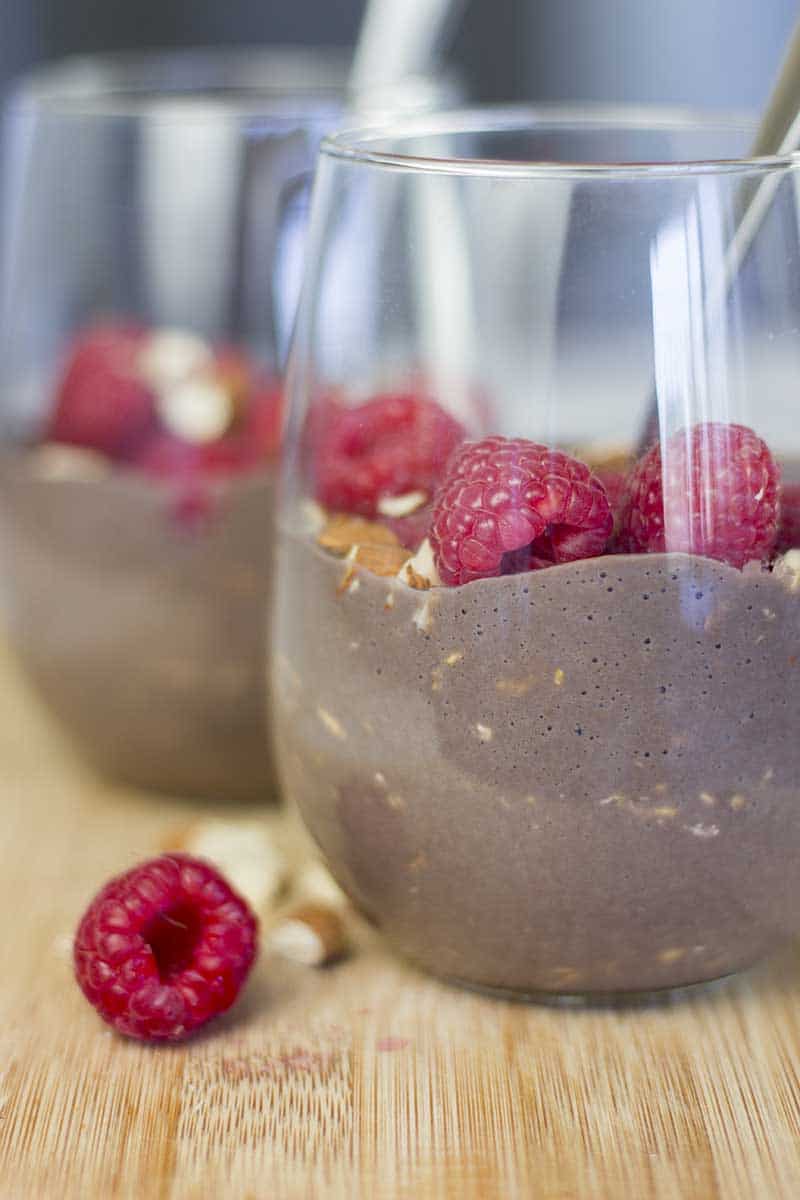 Take a look at that beauty! Doesn't it remind you of chocolate pudding?
It might look like chocolate pudding (and taste kind of like it, too), but this recipe is much healthier than your regular sugar-loaded chocolate pudding. It's completely free of sugar and, thanks to the addition of Greek yogurt and protein powder, has plenty of protein (20 grams!).
This recipe is a great high-protein breakfast or snack that will keep you full for hours. Plus, it only takes a minute to make (and a night in the fridge to let it work its magic).
I should tell you that the chocolate flavor in High Protein Chocolate Overnight Oats with Almond Milk (say that three times fast!) isn't super intense. The recipe is chocolatey, but not overwhelmingly so. I actually prefer it that way because the flavor pairs well with the suggested toppings of berries and sliced almonds.
New to overnight oats?
In case you've landed on this recipe and haven't heard of overnight oats (with almond milk or any other variation), I'll fill you in. Instead of cooking your oats in milk and stirring in flavorings, you eat overnight oats with uncooked oats.
I know that sounds a little weird, but trust me! They taste amazing. The best overnight oats recipes typically combine a liquid, such as almond milk, with yogurt, uncooked oats, flavorings, and a sweetener. (This recipe is sugar-free, so I sweeten it with stevia, a natural sweetener made from the leaf of the stevia plant.)
When you first put uncooked oats in with the other ingredients, the whole mixture will be pretty watery. Not surprising since you just dumped oats in with liquid!
However, when you place this mixture in the fridge overnight and let it do its thing, you'll wake up in the morning to a thick, delicious mixture that's ready to eat. The oats absorb the liquid, and the whole thing becomes pudding-like.
Just a warning: once you start eating overnight oats, you'll probably find yourself scouring the internet for some of the best overnight oats recipes so you can have it every morning!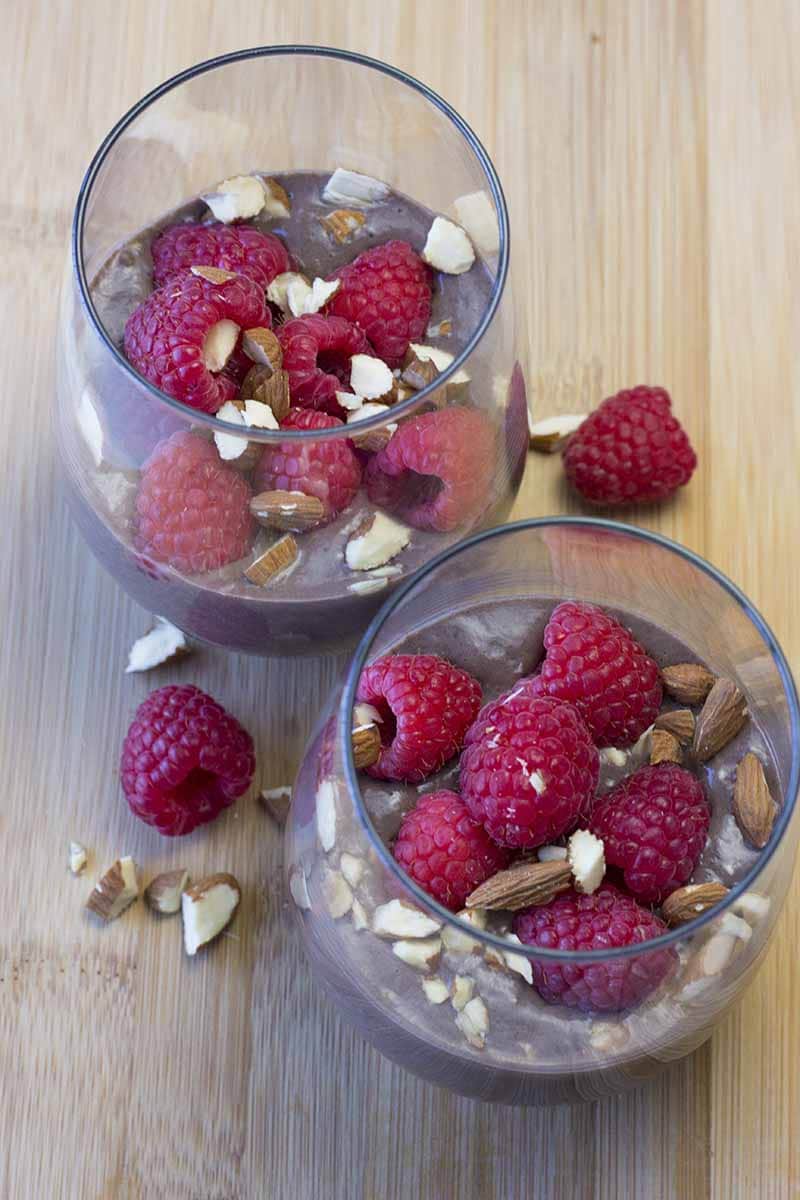 Overnight oats with almond milk
You might be wondering why I use almond milk in this overnight oats recipe or in other overnight oats recipes like my High Protein Pumpkin Overnight Oats.
Mainly, I use almond milk so people who can't eat lactose can still enjoy the recipe. In addition to that, I love the taste of almond milk. It's a little sweeter than regular milk, and a little extra sweetness never hurts, right?
However, if you want to use regular milk (or another type of milk, like cashew or coconut) in this recipe, feel free to do so. It will still taste great!
More high-protein breakfast recipes
I am a huge fan of high protein breakfasts. Here are some of my favorite recipes:
For more recipe inspiration, you can also check out my list of the best diabetic breakfast recipes. It's full of healthy low-carb breakfast ideas.
When you've tried this high protein chocolate overnight oats recipe, please don't forget to let me know how you liked it and rate the recipe in the comments below!
Recipe Card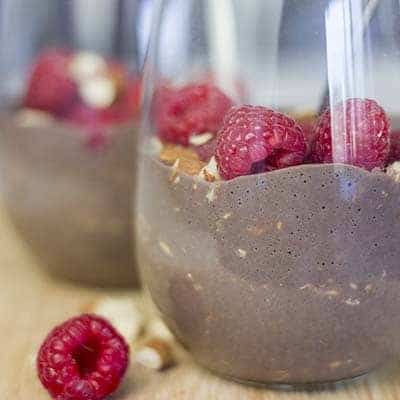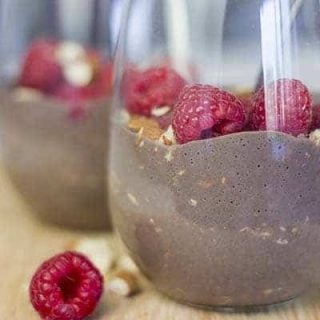 High Protein Chocolate Overnight Oats with Almond Milk
If you're looking for a healthy breakfast or snack, you'll love this High Protein Chocolate Overnight Oats with Almond Milk recipe. It has 20g protein!
Ingredients
2

oz.

low-fat Greek yogurt

0.7

oz.

oats

½

scoop

vanilla protein powder

1

tsp.

unsweetened cocoa powder

½

cup

almond milk

Almonds & berries

(optional but recommended)

1

tsp.

Stevia
Instructions
Blend Greek yogurt, protein powder, cocoa powder, Stevia, and almond milk thoroughly (I use a Nutribullet).

Place in a glass or bowl and fold in the oats. Cover and place in the fridge overnight.

3. Take out of the fridge and stir with a spoon to an even consistency.

4. Sprinkle almonds and berries on top before enjoying (optional).
Nutrition Info Per Serving
Nutrition Facts
High Protein Chocolate Overnight Oats with Almond Milk
Amount Per Serving
Calories 183
Calories from Fat 29
% Daily Value*
Fat 3.2g5%
Cholesterol 8.1mg3%
Sodium 210.2mg9%
Potassium 214.5mg6%
Carbohydrates 20g7%
Protein 21.2g42%
Vitamin A 250IU5%
Vitamin C 0mg0%
Calcium 552mg55%
Iron 3.1mg17%
Net carbs 16.5g
* Percent Daily Values are based on a 2000 calorie diet.