The holiday season often involves a lot of going out, meeting, eating and drinking with friends and family. As you've heard me say before – I think that there should be room for that once in a while if you are living a healthy lifestyle, just not every day.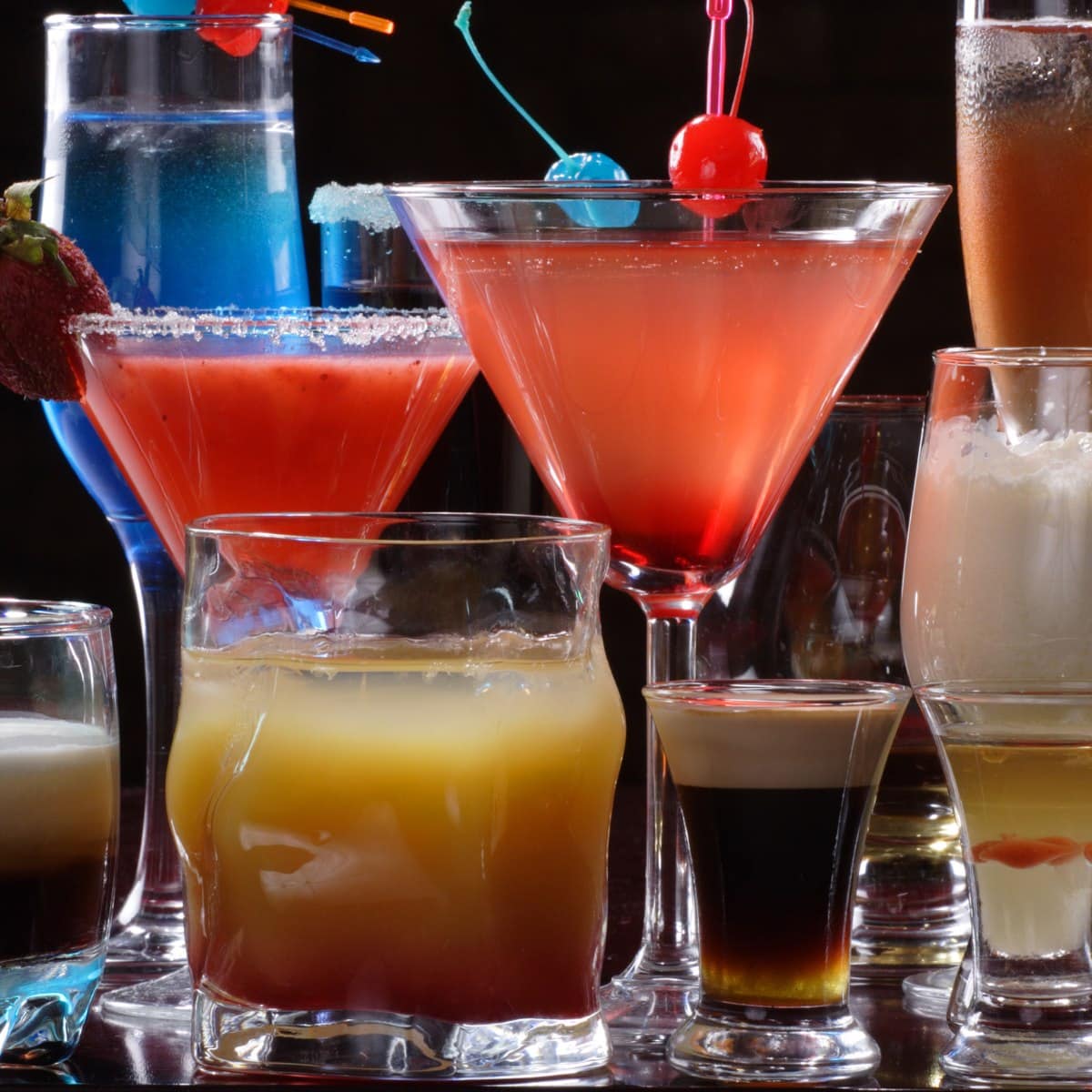 The majority of the personal training clients I work with come to me for help with slimming down. My philosophy when starting anybody on a new nutrition program is balance. They need a path to a healthier lifestyle rather than a diet. If I just give them a strict diet, everybody is going to be miserable and, for the majority of people, it will not be sustainable. So we make dietary changes and incorporate exercise, but I also allow for treats.
Because a treat is included in most of my meal plans and this is the holiday season, some clients choose to get their treat in the bar, and that's OK. I do get a lot or nervous emails though, asking for advice about what the best options are for holiday drinks when you don't want to drink a lot of calories. So in this post, let's dive into the bar scene and have a look at some of the usual alcoholic staples, plus a few holidays-specific ones.
To learn more about drinking when you live with diabetes, please read our comprehensive guide: Diabetes & Alcohol: How Does Alcohol Affect Blood Sugar?
Eggnog
Eggnog might not be served in most bars, but you will most likely come across it at a family gathering or a friend's house.
I'm going to go out on a limb here and assume that the eggnog is spiced. Basically, it's eggs (yummy protein, lol), milk, and some sort of booze. An average eggnog does give you upwards of 12 g of protein, which is more than you can say about pretty much any other option in the liquor cabinet, but it also has about the same amount of fat and about 20 g of sugar carbohydrates too, so it's a bit of a mixed bag.
Mulled wine
Mulled wine is served at almost every gathering during the holidays in Europe, and I have seen it at some parties here in the US too. It's a red wine base with some extra liquor and spices added plus rum-soaked raisins and almonds if you go all out, so basically red wine on steroids.
The calories and carbs depend on how much stuff you put in your red wine base, but it's probably safe to assume that the calories and carbs are closer to what you would expect from a desert than from a typical drink. It's REALLY delicious though…
Red and white wine
A glass (5 oz.) of red wine will give you 125 calories and 4 grams of carbs, while white wine will hit you with 128 calories and 4 g carbs. Not too bad at all. The quick conclusion here is that a glass of wine won't wreck your weight management progress, but a whole bottle could, as well as giving you a bad headache. Wine has also been said to have several good health benefits, so if you like the taste then it's a good option.
Champagne
Champagne has a smaller serving size than wine (who made that stupid rule??) but also slightly fewer calories and carbs per oz. A 4 oz. glass of champagne has 80 calories and 1.6 g carbs, making it one of the best options for a light drink.
Regular or light beer
Usually, beer is served in a can or a bottle, so the serving size for beer is a 12 oz. That's about 150 calories and 13 g carbs in a regular beer, and 100 calories and 6 g of carbs in a light beer. So if you are like me and actually like light beer, then that is the clear winner out of the two choices. A single regular beer is not going to make a huge difference to the overall calorie and carb budget though, so if you are a beer connoisseur, go for a regular one.
Cocktails or virgin drinks
The easy answer is that if they have the exact same content, and one is just missing the alcohol, I'd say go for the virgin. However, a pina colada, even without the alcohol, can easily hit you with a heavy punch in the form of upwards of 300 calories. That one, I would say, is not worth it.
If you dig cocktails and can stick with one, go for a less sugary cocktail like a cosmopolitan (230 calories and 13 g carbs) or a martini (135 calories and 0.3 g carbs). The downside is that the serving size for cocktails is 3.5 oz., so you'll have to take very small sips to make it last all night
Spirits or mixed drinks
The age-old question: do you drink your liquor straight up or mix it with soda? From a calorie standpoint, it's a no-brainer to go for the straight option. However, booze straight up is not really for everybody, myself included. In general, a 1.5 oz. straight drink (vodka, gin, tequila, scotch, rum, and whiskey) will only set you back about 100 calories and basically no carbs. Anything you mix the alcohol with is usually a sugar drink, like OJ or coke, and that's where all the bonus calories and carbs come in. So go for the booze straight up or add a club soda or diet soda.
Conclusion
If you are deciding what to drink purely based on the calories and carbs, the overall winner is champagne (this makes me happy!). A straight-up shot of booze also won't ruin your diet; if you can make it last all night, that is.
A close second is to grab a light beer or a glass of wine – you just get more volume for your money and calories with these options.
Ultimately, the most important thing is to just have fun, be safe, and drink responsibly. And remember to test your blood sugar often!
Suggested next post: Guide to diabetes and alcohol