Insulin is temperature sensitive and can break down quickly under heat, so it's important always to keep your insulin cool, especially if you are traveling in hot climates.
I have tested a lot of different products and found the 7 best insulin coolers and travel cases that can help keep your insulin cool.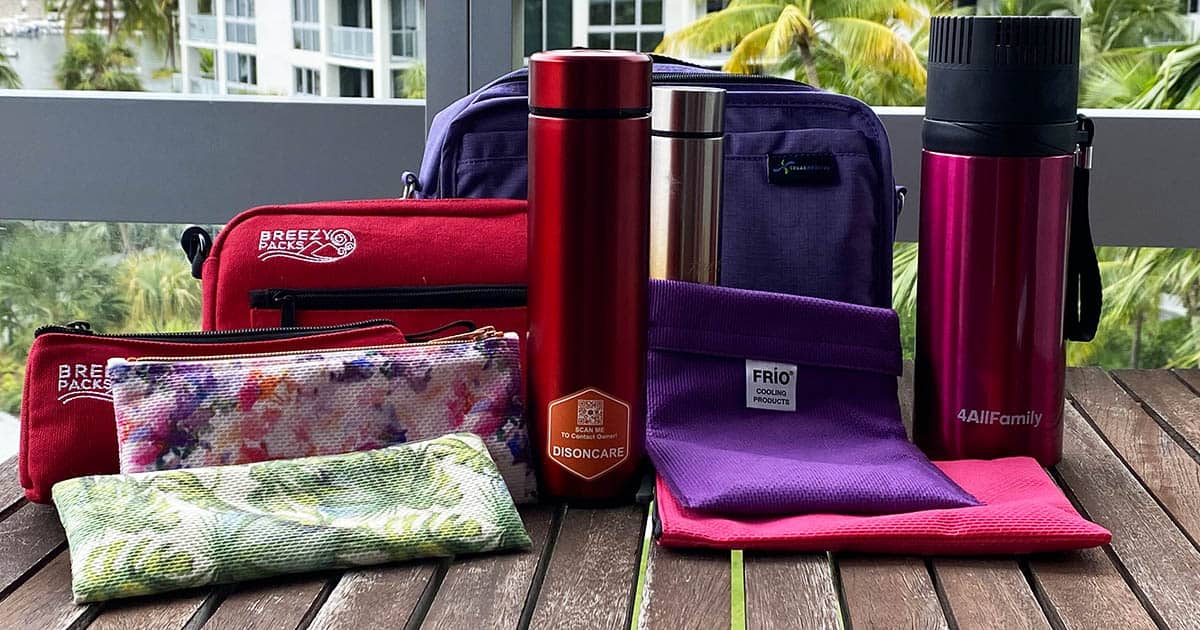 Insulin coolers and travel cases review
Insulin travel cases and coolers come in many different varieties, but to make your choice easier, we've listed the top best insulin coolers and travel cases below. Read on for an in-depth review of each product.
You'll also find a buying guide with everything you need to know about these coolers and cases, including the features you should look out for when making your choice.
Best Looking
FRIO Insulin Cooling Case Wallets
FRIO's insulin cooling bags use clever technology that involves water evaporation to keep its contents cool.
Though they are activated by water, they remain dry to the touch, so you can keep them in your pocket or bag without worrying about leaks.
When the outside temperature reaches 100°F, the bags manage to keep insulin under 77°F for 48 hours.
They are lightweight, portable, and can be reused repeatedly, working well to keep your insulin supplies protected during hot summer months.
The bags are available in many different sizes and colors, but we'd recommend the larger size that can store six 10ml insulin vials or five insulin pens.
Pros:
Lightweight and easy to transport

Provides 48 hours of cooling

Comes in different many colors and designs
Cons:
Need water to reactivate the cooling feature
Buy on FRIO
Best Self-Cooling
Breezy Packs
These compact and portable cooling devices are easy to use and need no upkeep.
These are great for people who are traveling, as they don't require any batteries, ice packs, or power to work.
You just need to store your insulin supplies inside the pouches and zip them shut.
Each Breezy Pack will keep your medication at room temperature during the day, then recharges automatically at night when temperatures dip under 75°F.
The cooling packs are made with PCMs (Phase Change Materials) that release and absorb energy in response to exterior temperatures.
This energy cycle can repeat a large number of times, so you'll know that these packs are built to last a while!
Pros:
Very easy to use, you just need to zip the supplies inside the case

Nightly recharge feature means your insulin is safe at all times
Cons:
Cannot handle sustained high temperatures
Buy on BreezyPacks
Best Single-Pen Cooler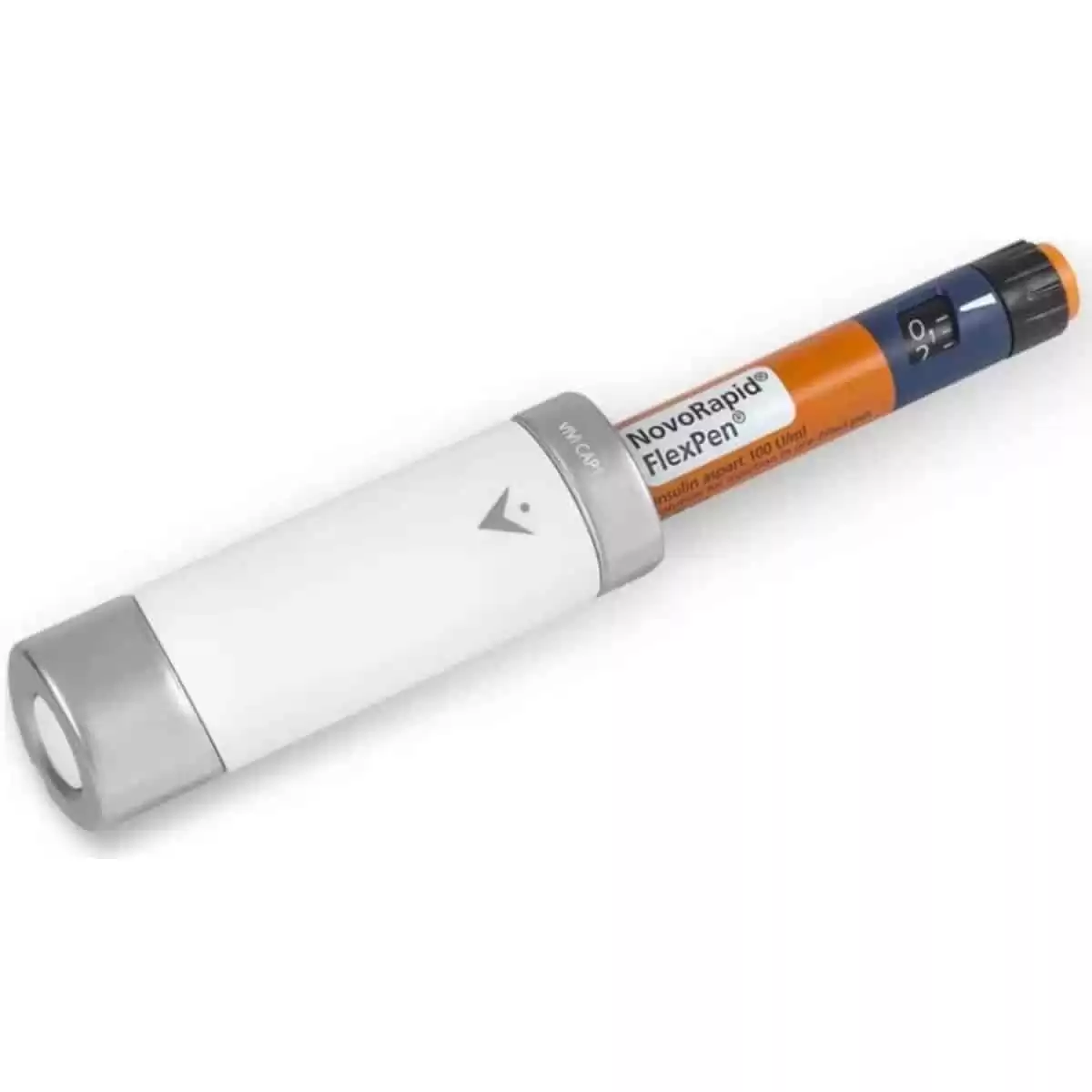 VIVI Cap Thermal Insulin Pen Cooler
The VIVI Cap is a thermal carrying case designed to prevent insulin pens from overheating or freezing. The latest version also works with durable pens and smart-pens.
It is very easy to use, as you just swap your insulin pen cap with the VIVI cap, then wait for the light to turn green.
If it turns red, the pen needs to be refrigerated for an hour until it turns green, or kept in an environment under 26°C for a minimum of 5 hours.
The best part of this product is that you don't need any battery packs, water, or ice.
The VIVI Cap can keep insulin pens cool at temperatures under 84.2°F.
Overall, it's one of the most fuss-free ways of keeping your insulin pen safe while traveling.
Pros:
Compact and lightweight design that can fit in bags, pockets, and backpacks easily.

Very easy to use 'Click and go' style product takes the hassle out of keeping insulin safe on the go.

Three-year warranty.
Cons:
Can only handle one pen at a time.
Buy on TempraMed
Best Cooling Backpack
Sugar Medical Insulated Sling Backpack
These sling-style backpacks from Sugar Medical are lightweight and compact but can store a lot of medical necessities.
The main compartment is fully insulated and has an area for you to keep an ice pack. This allows you to keep your medication cool alongside other supplies.
The front compartment is easily accessible and has many pockets and loops to store your insulin, test strips, and glucose meter.
There are also specific pockets designed to store your keys and phone, along with side areas to store water bottles.
The backpack's padded strap is convertible, so you can adjust it to be worn on either shoulder.
Available in three colors, the backpack is ideal for people who need their important supplies stored in one cool and easy-to-access place.
Pros:
Insulated compartment with ice pack pocket to keep insulin supplies safe from heat

Can store several diabetes supplies and other personal items
Buy on Sugar Medical
Best With Cooling Packs
DISONCARE 7 Pen 74H Insulin Cooler Travel Case
This stainless steel insulin cooling container can hold 7 standard-size insulin pens and can remain cold between 36°F and 46°F for 35 hours.
It keeps cold by using natural bio-gel freezing packs that become frozen at 36°F and will not freeze the insulin or other medications you keep inside the case.
An important feature of the bottle is the QR medical tag. The code can be scanned to display your important medical information, along with any necessary diabetes or medical travel documents.
Pros:
Holds up to 7 insulin pens

Strong stainless steel build that resists damage

Gel freezing packs that can't freeze insulin

QR code to display medical information
Cons:
Bulkier design compared to other versions
Buy on DISONCARE
Most Affordable
Apollo Walker Insulin Cooler Travel Case
This travel case from Apollo Walker has a padded lining that efficiently insulates its contents and can keep insulin supplies protected from exterior heat for up to twelve hours, as long as the ice packs stay frozen.
The case comes with 2 ice gel packs which are latex-free and non-toxic. These need to be frozen for 14 hours before using them in the case.
They are reusable and work well to keep the case's contents safe and cool, but you need to take care to avoid touching the medication directly with the ice pack.
The case also comes with a buffer pack that prevents the contents from over-cooling.
The outer lining is water-repellent, so any dirt or spills can be wiped away easily.
Other than insulin supplies, the case has areas to store extra lancet needles, several needle caps, and alcohol pads.
Pros:
Padded insulation lining keeps medication supplies cool and safe from the heat

Water-resistant material is durable and easy to clean

Available in many different colors
Cons:
Less high-tech than other options

Not great for longer trips
Buy on Amazon
Buying guide
Insulin that isn't stored correctly can deteriorate and lose its effectiveness. Injecting spoiled insulin can negatively affect your blood sugar levels and may lead to hyperglycemia.
Here are the things you should be aware of when buying an insulin cooler or case.
The best temperature to store insulin
Unopened insulin supplies should be stored in the fridge between 36°F and 46°F (2°C to 8°C). These supplies will be safe until the expiry date is labeled on the container.
Open insulin supplies need to be used within 30 days after they have been removed from the refrigerator.
These need to be stored at room temperatures under 86°F (30°C) during this period. Any temperatures higher than this can spoil the insulin and make it unsuitable for use.
Insulin should never be stored in the freezer or right opposite a refrigerator's cooling component. Freezing immediately makes the insulin ineffective.
What does spoiled insulin look like?
Insulin is a liquid medicine that is colorless and transparent. If there is insulin inside vials, pens, or cartridges that appears cloudy or clumpy, it will be spoiled. In most cases, you'll be able to spot spoiled insulin with your naked eye.
If you do suspect that your insulin has gone bad, dispose of the item and get a new supply from your refrigerator.
You can learn more about how to spot if your insulin has spoiled or expired in our guide Does Insulin Expire?
Choosing the best insulin cooler
Every insulin cooler is different, so the best one for you will depend on your circumstances.
You need to consider:
Cooling power (fridge temperature vs. room temperature)
Cooling duration
Cooling method (insulation vs. electric vs. water, etc.)
Weight and capacity (size)
TSA approval if traveling
Looks
We'll cover some of the most common features in insulin coolers below, so you know what to look for when shopping for these accessories.
Cooling power
All of the insulin coolers in this review are designed to keep your insulin at room temperature or lower, but not to actively cool it down further, as they don't have an external power source for cooling.
The only exception is the 4AllFamily cooler which can be turned into a small insulin fridge by using its USB-powered refrigerator cap.
Cooling method and duration
If you are traveling for longer periods of time, in very hot climates, or in places without access to refrigeration or air-conditioning, it's important to choose a cooler that works with what you have available.
The 4AllFamily, DisonCare, Sugar Medical, and Apollo coolers use ice packs, so they are best suited for trips where you have access to a refrigerator at night. On the plus side, they can keep your insulin cool all day.
FRIO coolers use water evaporation to keep their contents cool for up to 48 hours at 100°F. This makes them very versatile.
Breezypacks use a high-tech insulation material that recharges automatically at night when temperatures dip under 75°F. This makes them easy to bring anywhere, but also impractical in very hot climates.
The VIVi CAP uses simple insulation to keep your insulin pens cool. It also warns you when your insulin is getting too hot and you need to find refrigeration. It's great for everyday use but not for travel in hot climates. It also only works for insulin pens.
Portable travel fridges
If you are traveling for more than a few weeks and need to bring a lot of insulin, a real travel fridge may be a necessity.
Electricity and/or battery-powered insulin fridges can keep your insulin cool indefinitely, as long as you have regular access to electricity.
We have a full review of the best portable insulin fridges.
Case capacity
Always make sure that your cooler's capacity is large enough to hold the amount of insulin you'll require on your journey.
Some pen cap coolers can only store a single insulin pen out of the heat. This is good for everyday purposes, but not for trips where you need to cool many insulin pens.
If you need to keep several insulin pens or vials cool, the highest capacity insulin coolers are 4AllFamily and DisonCare which can both hold up to 7 pens.
TSA approved cases
If you live with diabetes and plan on flying, you need to make sure that your travel case is TSA-approved.
Due to the temperature settings and dangerous atmosphere conditions in the plane hold, diabetes supplies and insulin should never be stored in checked luggage. Medical supplies should only be carried in your carry-on.
Check that your insulin cooler is TSA approved before you purchase it, as this can affect whether you will be allowed through security.
All of the coolers in this review are TSA approved or should need no approval.
You can read more about flying with insulin in our guide to traveling with diabetes.
Frequently asked questions
Do I need a doctor's note to fly with insulin?
The TSA does not currently need any medical documents that cover diabetes medicine and supplies.
Despite this, owning a medical certificate may help prevent misconceptions and make the screening process faster, especially if you are traveling internationally.
Ask your doctor for a note saying that you live with diabetes and what medications and supplies you need to fly with.
How do I keep my insulin cold while traveling for over a month?
The rule is that insulin shouldn't be kept at room temperature out of the fridge for over 28 days.
If you are spending time in a hotel, a lot of hotels and hostels have fridges that you can use, but check beforehand to avoid any issues.
You can also invest in a travel cooler with ice, a mini fridge, or travel coolers that can keep your medication safe.
Can insulin go in checked luggage?
No, insulin should never be stored in checked luggage as the hold temperatures can freeze insulin, rendering it useless.
Always store insulin in your hand luggage, keeping lancets, test strips, needles, and pens in a transparent plastic bag for security checks.
You should also keep a travel letter with these supplies in case more checks are required.