This recipe for easy baked salmon is just that; easy! It takes just 5 minutes to prepare everything for baking and then 15 minutes until you can eat perfectly cooked and tender salmon.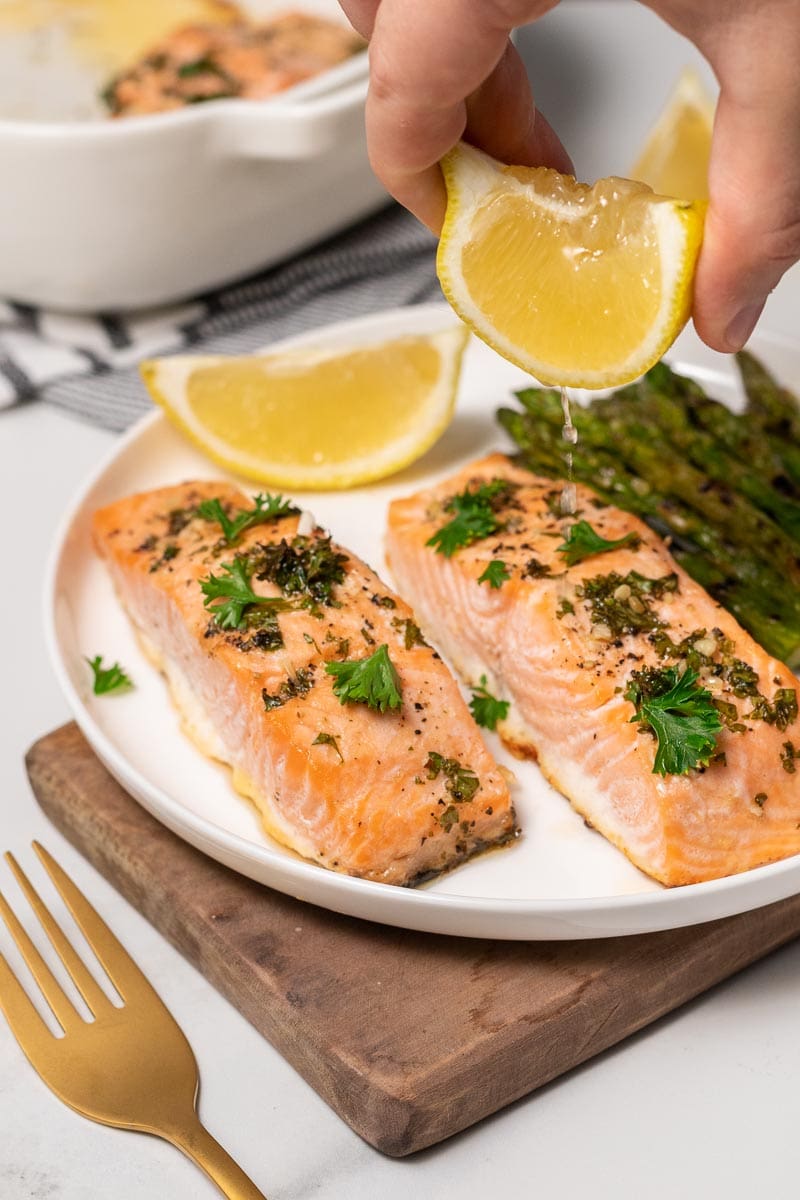 Salmon is a great dish to make for any occasion. It's super easy to prepare and get on the table while also being a deliciously light and flavourful meal anyone can enjoy.
It also helps that salmon is really good for you too. It has a high amount of Omega-3 fatty acids which are good for you and your heart.
This recipe for easy baked salmon gives you all the tips and tricks you need to perfectly oven bake your salmon every time. You can easily make this recipe your own by substituting your favorite herbs and flavorings or just using what you have in your pantry!
How to make easy baked salmon
Step 1: Clean the salmon and remove any visible bones (salmon fillets really shouldn't have any bones when you buy them).
Tip: If the fillets have skin on, leave it until after you bake them. It's much easier to get off after the salmon is cooked.
Step 2: Prepare all of the ingredients for the recipe beforehand to make the preparation of the salmon quick and effortless.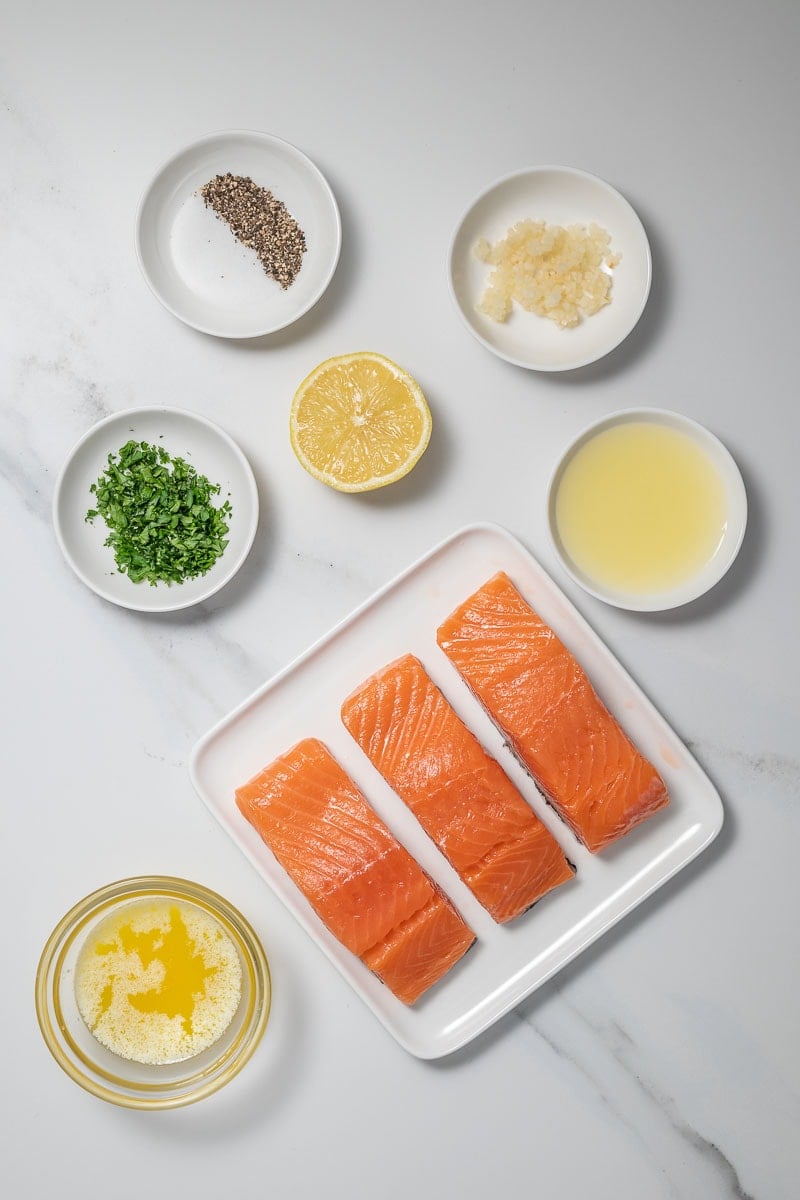 Step 3: Mix together the melted butter, garlic, parsley, salt, and pepper into a smooth sauce. Then use a brush to coat the salmon steaks with the garlic butter. Drizzle with freshly squeezed lemon juice before baking.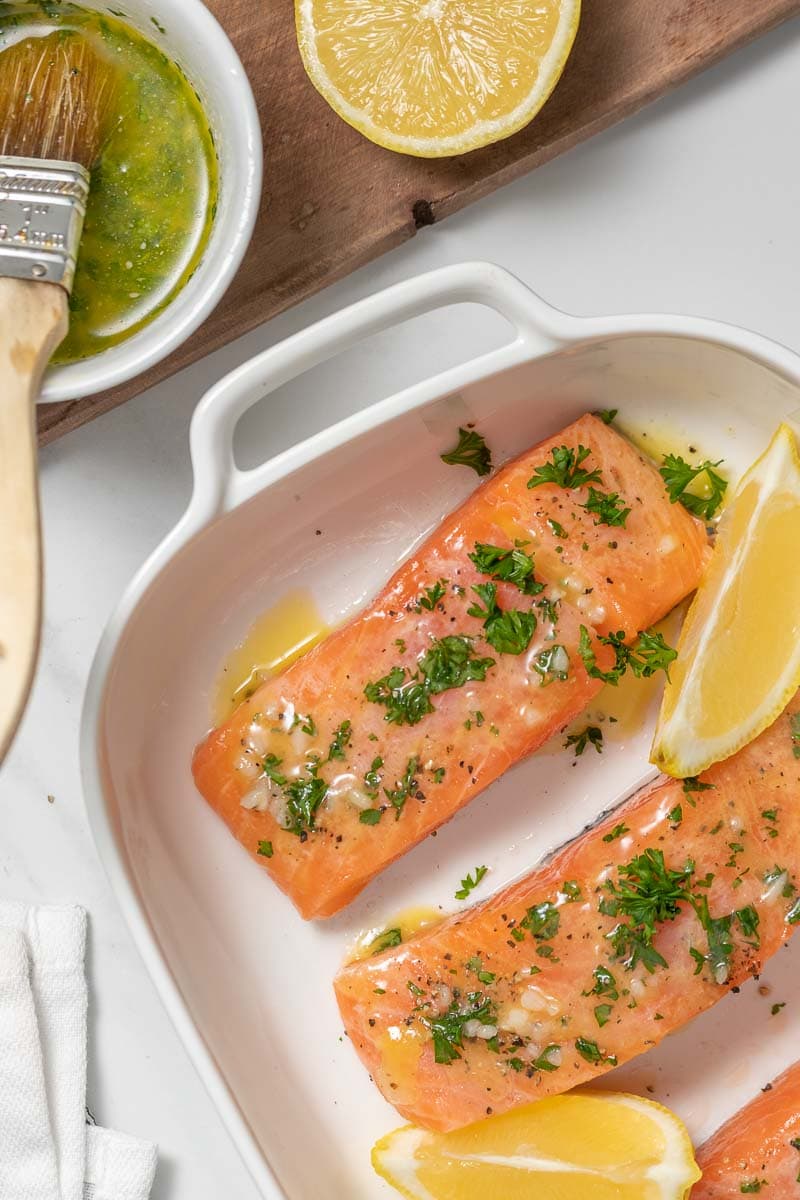 Step 4: Bake the seasoned salmon steaks on 400F (200°C) until tender and cooked through. A good rule of thumb is to cook it for 4 – 6 minutes per 1/2 inch of salmon thickness. So if you're salmon is 1 1/2 inches thick at the thickest point, you will cook it for 12 – 18 minutes, depending on how well done you like your salmon.
Tip: To check if your salmon is done cooking, use a knife to open up the salmon fillet and check the color. If the fish has turned from red to a lighter pink all the way through, it is done.
Step 5: If you cooked the salmon with skin on, now remove the skin and any grey fat from the underside of the salmon.
Step 6: Once you have removed them from the oven, coat the salmon fillets with another layer of the garlic butter and squeeze over some more fresh lemon juice. Serve immediately with some grilled vegetables or a side salad.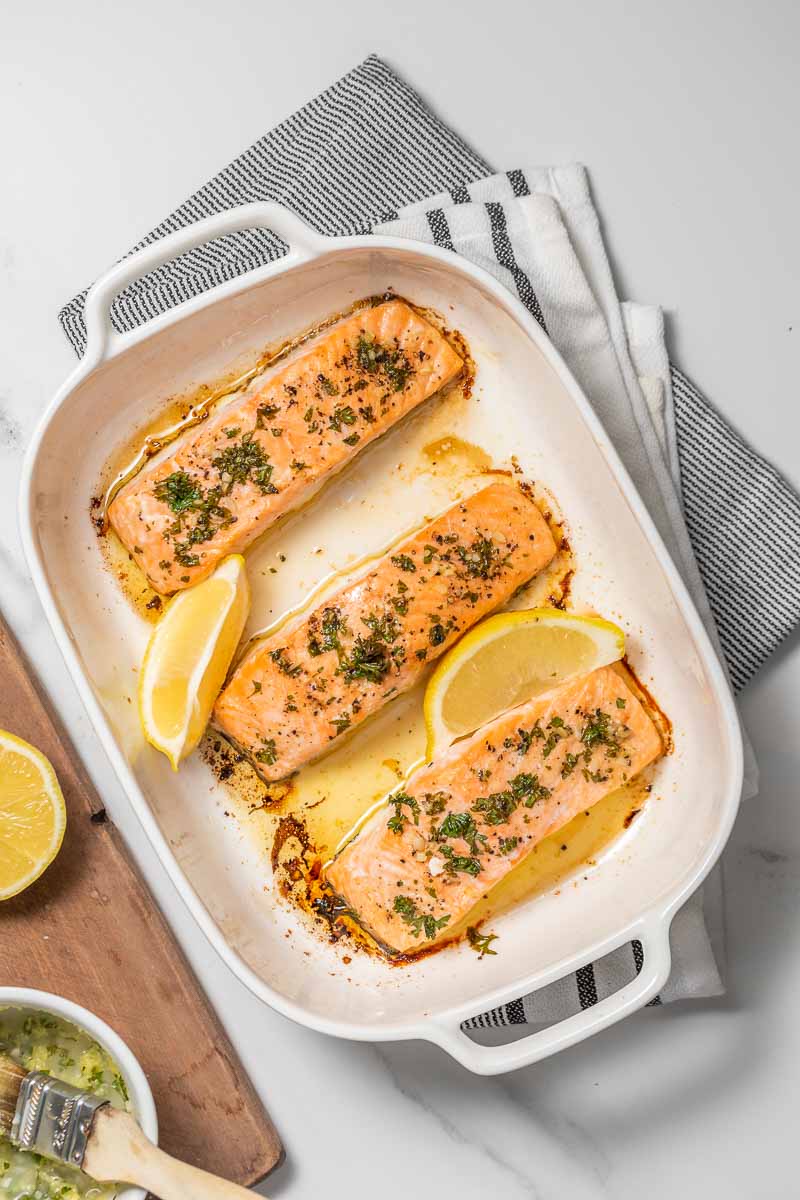 Tips for cooking the perfect salmon fillet
Even if you're not a fan of the skin, always buy salmon with the skin on if possible. It helps during the cooking to keep the fish moist and also keeps the fish sticking to the cooking surface. Before placing the fish on the cooking surface, wipe down the skin with some kitchen towel to get rid of excess moisture. It will now crisp up and prevent the fish from sticking while also trapping moisture to keep the baked salmon tender and properly cooked.
If you don't have all of the exact ingredients for this recipe, don't fret! This recipe is easy to find substitutions for. You can use olive oil instead of butter, dried herbs instead of fresh, and the list goes on. Salmon is a very versatile fish with a light flavor that will work with almost any flavor you like.
You can cook and store this dish for up to 3 days in the refrigerator. Just cover it well to make sure the smell doesn't completely invade your refrigerator and serve when needed.
Using aluminum foil to cook the salmon on is a great way to make clean up a breeze! After the salmon is done cooking, clean up is as simple as balling up the foil and chucking it out. Done!
You can serve this easy baked salmon as is or with some low carb side dishes like cauliflower mash, cauliflower risotto, roasted asparagus or even a simple side salad.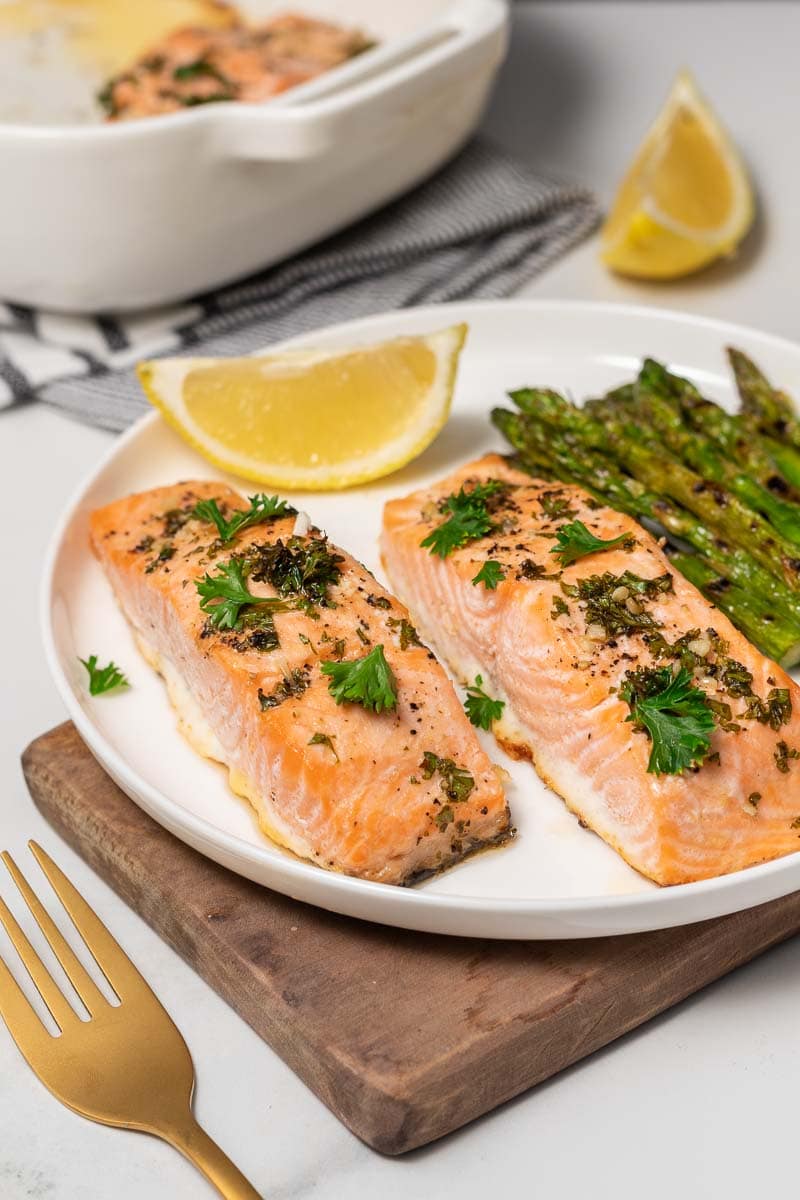 Other low-carb seafood recipes
Low-carb seafood recipes are always super easy and taste delicious. Here are a few other low-carb seafood recipes you might enjoy:
You can also read this roundup created of 10 low-carb seafood recipes for even more food inspiration!
When you've tried this recipe for an easy baked salmon with lemon garlic butter, please don't forget to let me know how you liked it and rate the recipe in the comments below!
Recipe Card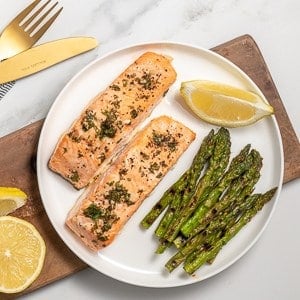 Easy Baked Salmon with Garlic Butter
This recipe for easy baked salmon is just that; easy! It takes just 5 minutes to prepare everything for baking and then 15 minutes until you can eat perfectly cooked and tender salmon.
Ingredients
4

tbsp.

unsalted butter

(melted)

2

cloves

fresh garlic

(minced)

Handful of fresh parsley

(finely chopped)

Salt and pepper to taste

3

tbsp.

freshly squeezed lemon juice

4

salmon fillets

(any size or weight will work for this recipe)
Instructions
Preheat your oven to 400F (200°C) and line a baking tray with tin foil.

Clean the salmon and remove any visible bones.

In a small bowl, mix the melted butter, garlic, lemon juice, salt and pepper until well mixed.

Add the salmon fillets to the baking tray, skin down, and then brush with the garlic butter mixture until completely covered.

Bake for 12 - 18 minutes depending on the thickness of the salmon fillets (15 minutes will be a good guess 95% of the time). There is no need to flip the fish over during the baking.

Remove from the oven, brush with another layer of garlic butter and drizzle over some fresh lemon juice. Serve with some fresh parsley and your choice of a side dish.
Nutrition Info Per Serving
Nutrition Facts
Easy Baked Salmon with Garlic Butter
Amount Per Serving (4 oz)
Calories 350
Calories from Fat 226
% Daily Value*
Fat 25.1g39%
Cholesterol 109.5mg37%
Sodium 68.4mg3%
Potassium 757mg22%
Carbohydrates 1.8g1%
Protein 28.6g57%
Vitamin A 1035IU21%
Vitamin C 20.6mg25%
Calcium 31mg3%
Iron 1.6mg9%
Net carbs 1.5g
* Percent Daily Values are based on a 2000 calorie diet.