This high fat, low carb Keto Cobb Salad is an easy-to-make keto salad recipe that is full of flavor. Each serving contains only 6 grams of net carbs!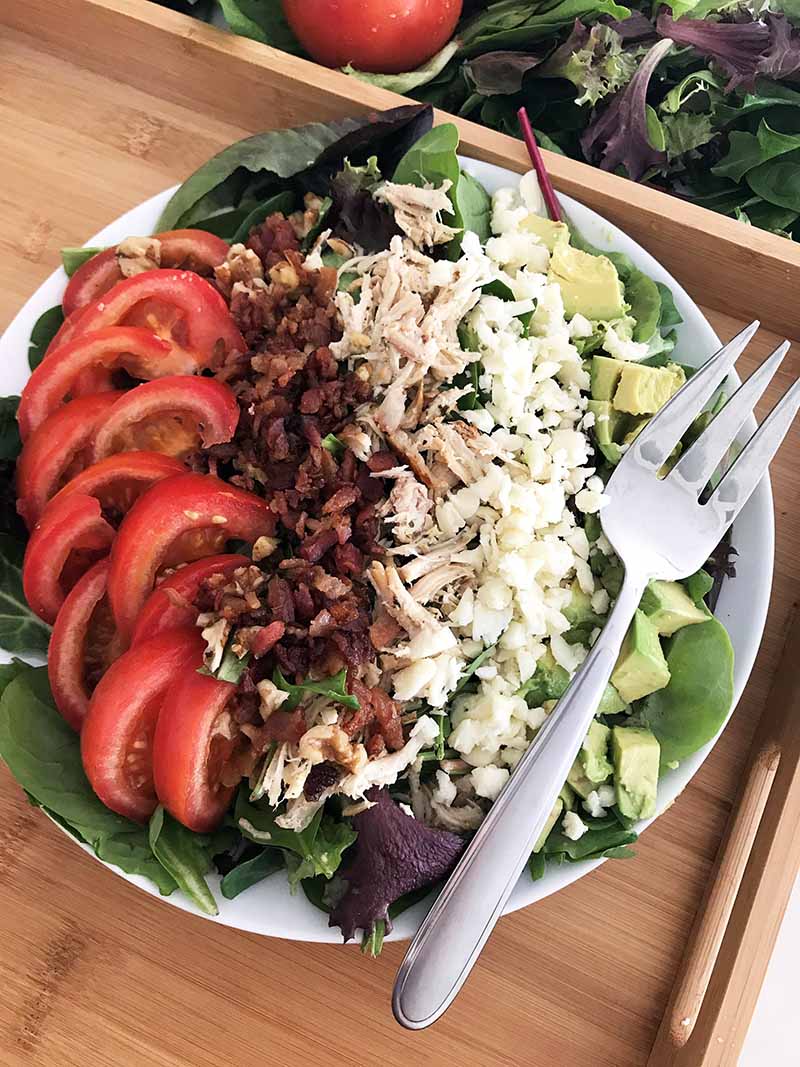 There is a common misconception that the keto diet consists mainly of meat and fats with few (if any) vegetables. That couldn't be further from the truth! While high-carb vegetables like sweet potatoes and corn don't make an appearance in keto recipes, you can still enjoy a hefty serving of vegetables with your keto meals.
This keto salad recipe takes full advantage of that fact. With each serving of keto salad, you'll indulge in:
4 cherry tomatoes
½ small avocado
2 cups mixed greens
That's about two-and-a-half cups of veggie goodness right there!
Cobb salad – The perfect keto salad
The nice thing about Cobb salad is that the traditional recipe is naturally low in carbs. You don't have to come up with keto-friendly substitutes – you just have to make a few small tweaks to the ingredient quantity and it's good to go as a keto salad.
Here are the main changes:
You'll reduce the amount of tomato. Traditional Cobb salad recipes usually call for one to one-and-a-half medium-sized tomatoes per serving. In this keto salad recipe, you'll use four small cherry tomatoes instead.
You'll increase the amount of avocado. Instead of one avocado spread across four or five servings, you get half of an avocado to yourself!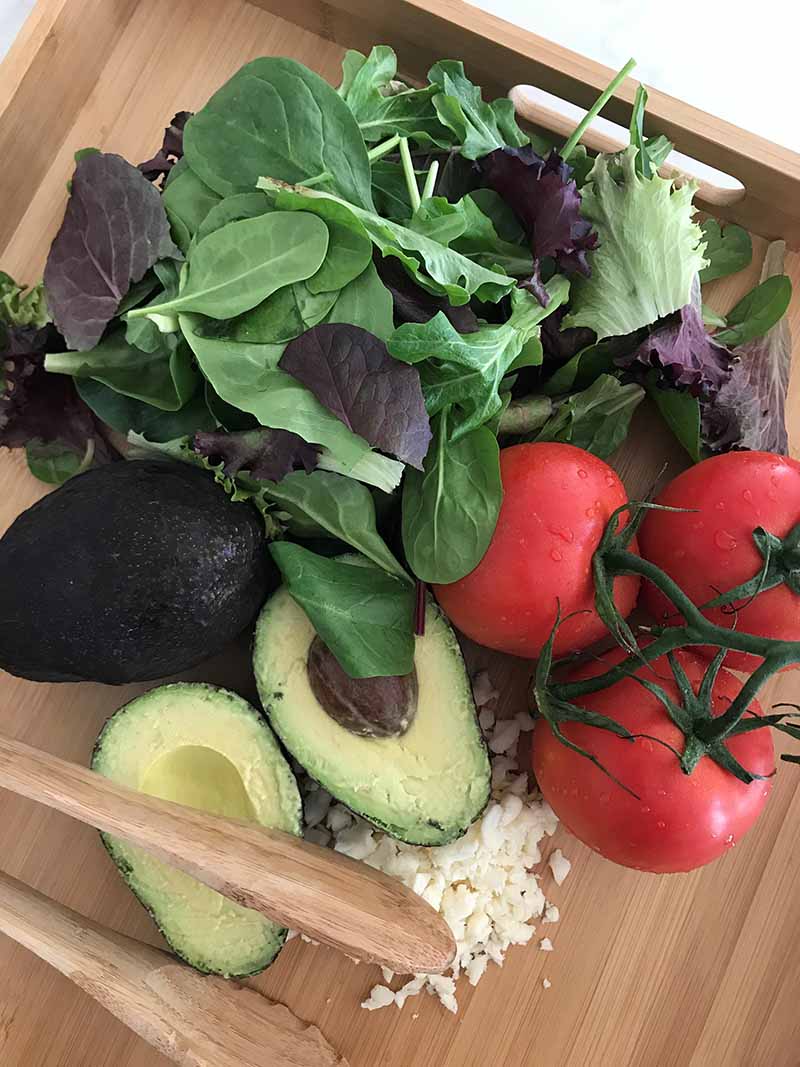 Feta cheese vs. blue cheese
There is something else that is a little different about this Cobb salad, but it doesn't have anything to do with it being keto. What is it? The kind of cheese that's used. Traditional Cobb salads use blue cheese or Roquefort cheese, but Keto Cobb Salad recipe uses feta cheese.
The reason for this is that blue cheese is a bit of a "love it or hate it" kind of cheese. Feta has a much milder flavor and tastes just as good in Cobb salad. However, if you love blue cheese or Roquefort cheese, feel free to use it instead of feta cheese. It's actually a bit lower in carbs than feta cheese, so it won't make this keto salad recipe any less keto.
How many carbs are in a serving of Keto Cobb Salad?
Each serving contains 12 grams of carbs and 6 grams of fiber, leaving you with 6 grams of net carbs per serving of salad. This recipe makes one individual serving. Enjoy it all for yourself!
Keto salad dressing
If you want to top your Cobb salad with a dressing, here are two keto salad dressing options:
Both of these contain only 1 gram of net carbs per tablespoon (not included in the nutrition facts for this recipe) so there is really no reason not to add a dressing
TIP: if you want bread with your salad, you can still make it keto with this keto cloud bread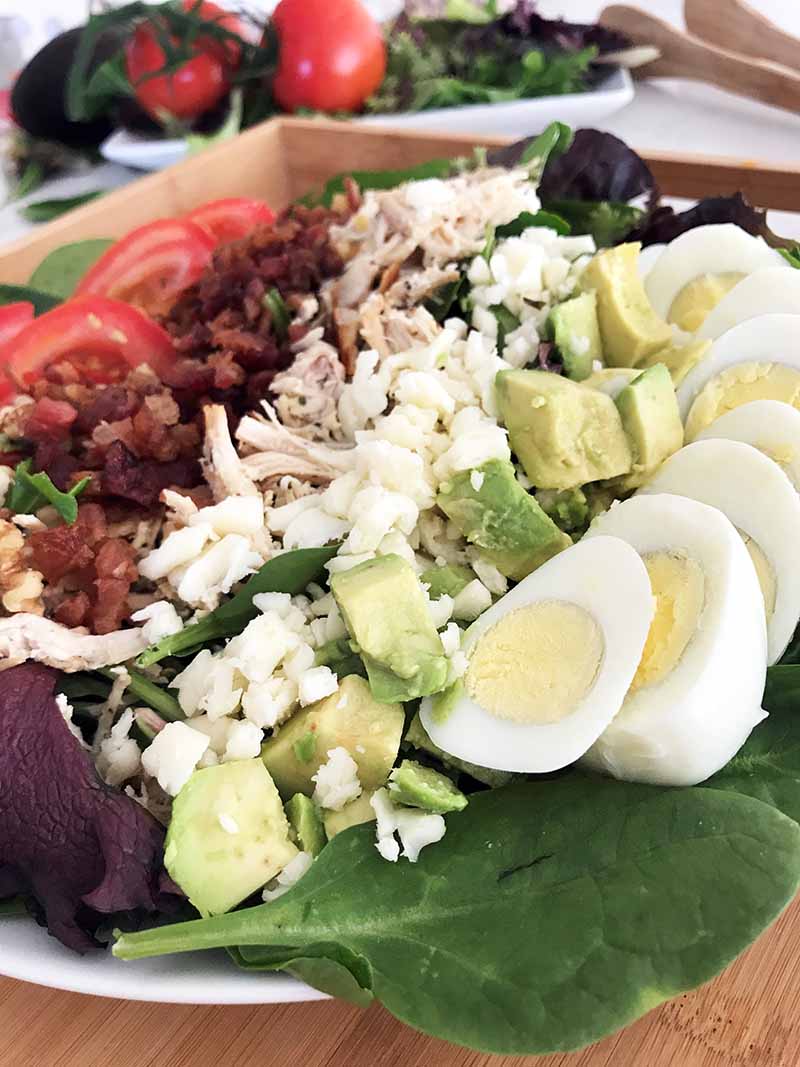 I hope this tasty Keto Salad recipe has shown you that you can enjoy vegetables on the keto diet – plenty of them! For more keto goodness, check out my ketogenic meal plan or these delicious keto recipes:
When you've tried this keto salad, please don't forget to let me know how you liked it and rate the recipe in the comments below!
Recipe Card
Keto Cobb Salad
Keto Cobb Salad is an easy-to-make keto salad recipe that is low in carbs and full of flavor. Each serving contains only 6 grams of net carbs!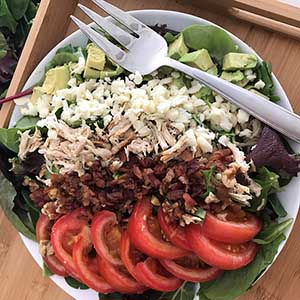 Ingredients
4

cherry tomatoes

½

avocado

1

hardboiled egg

2

cups

mixed green salad

2

oz.

chicken breast, shredded

1

oz.

feta cheese, crumbled

¼

cup

cooked bacon, crumbled
Instructions
Dice the tomatoes and avocado, and slice the hardboiled egg.

Place the mixed green salad into a large salad bowl or plate.

Measure out the shredded chicken breast, feta cheese, and crumbled bacon.

Place tomatoes, avocado, egg, chicken, feta, and bacon in horizontal rows on top of the greens.

OPTIONAL: You can add 1 tbsp. of Ranch dressing for 73 calories and about 8 grams of fat (NOT included in nutrition facts below).
Nutrition Info Per Serving
Nutrition Facts
Keto Cobb Salad
Amount Per Serving
Calories 412
Calories from Fat 212
% Daily Value*
Fat 23.6g36%
Cholesterol 264.3mg88%
Sodium 914mg38%
Potassium 543mg16%
Carbohydrates 11.9g4%
Protein 38.4g77%
Vitamin A 7520IU150%
Vitamin C 62.1mg75%
Calcium 216mg22%
Iron 4.4mg24%
Net carbs 5.9g
* Percent Daily Values are based on a 2000 calorie diet.