This easy homemade low-sodium salsa is packed with all the fresh ingredients and vibrant flavors you love without the extra sodium or fillers you find in the store-bought versions!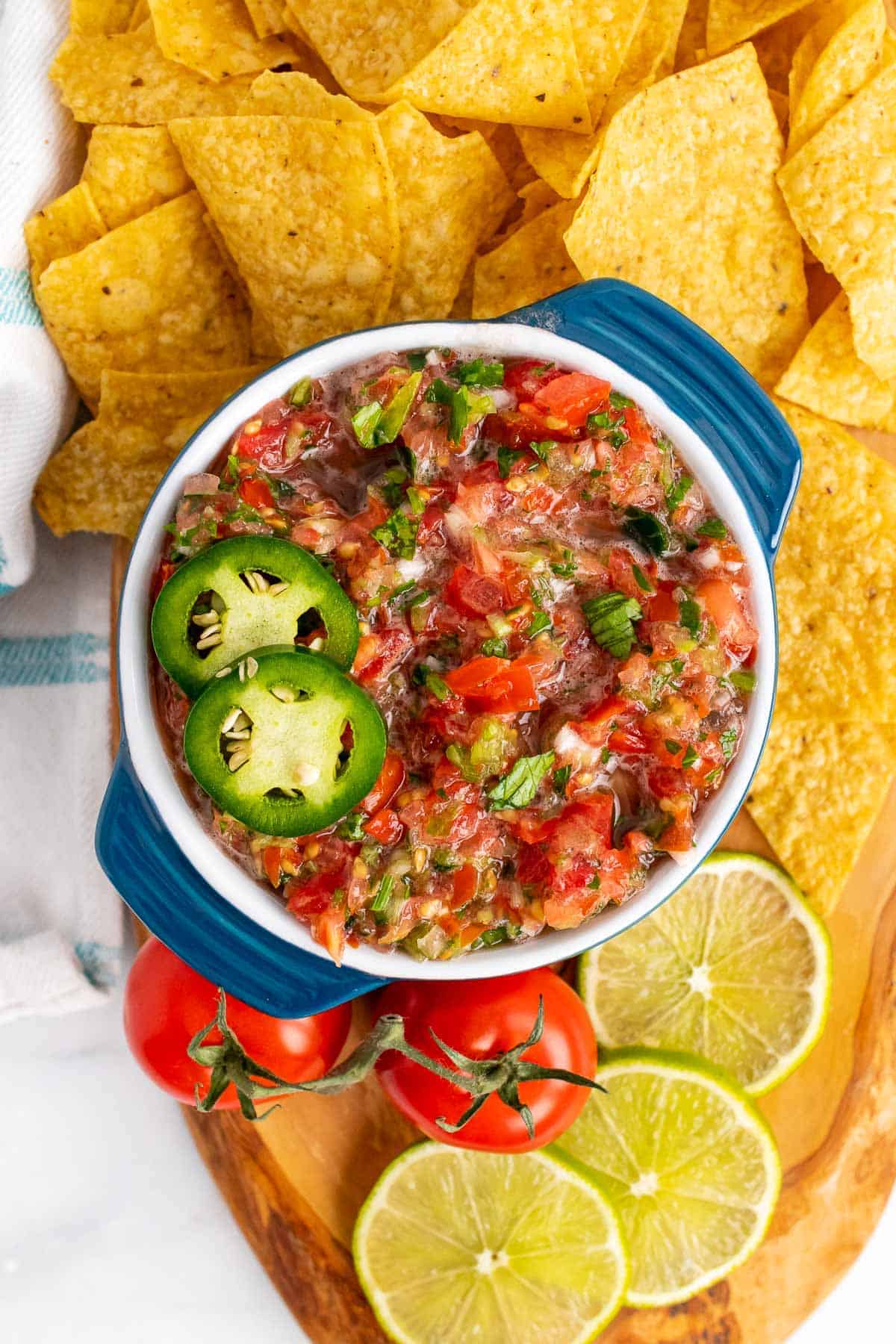 When you start cutting salt out of your diet, you might be surprised to see how much sodium is in certain foods.
Some of the biggest culprits are processed foods like salty snacks, canned soup, or cured meats. But I was surprised to find that two tablespoons of Tostitos Chunky Salsa – Medium has 250mg of sodium!
Many brands have added sugar and fillers as well.
That's why I love making this easy low-sodium salsa right at home! By comparison, it only has 4mg of sodium per two tablespoons. And of course, there's no added sugar.
Salsa is so delicious to enjoy as a dip or in recipes like my Mexican Microwave Egg Scramble. Plus, it whips up in just minutes. I can have salsa ready to go any time!
If you've been watching your sodium intake or just want an easy, fresh salsa without unnecessary fillers or sugar, you'll love this recipe.
How to make low-sodium salsa
Homemade salsa is so delicious and simple to make, you'll never want to buy it from the store ever again! Plus, this recipe has way less sodium, contains no artificial ingredients, and is very affordable!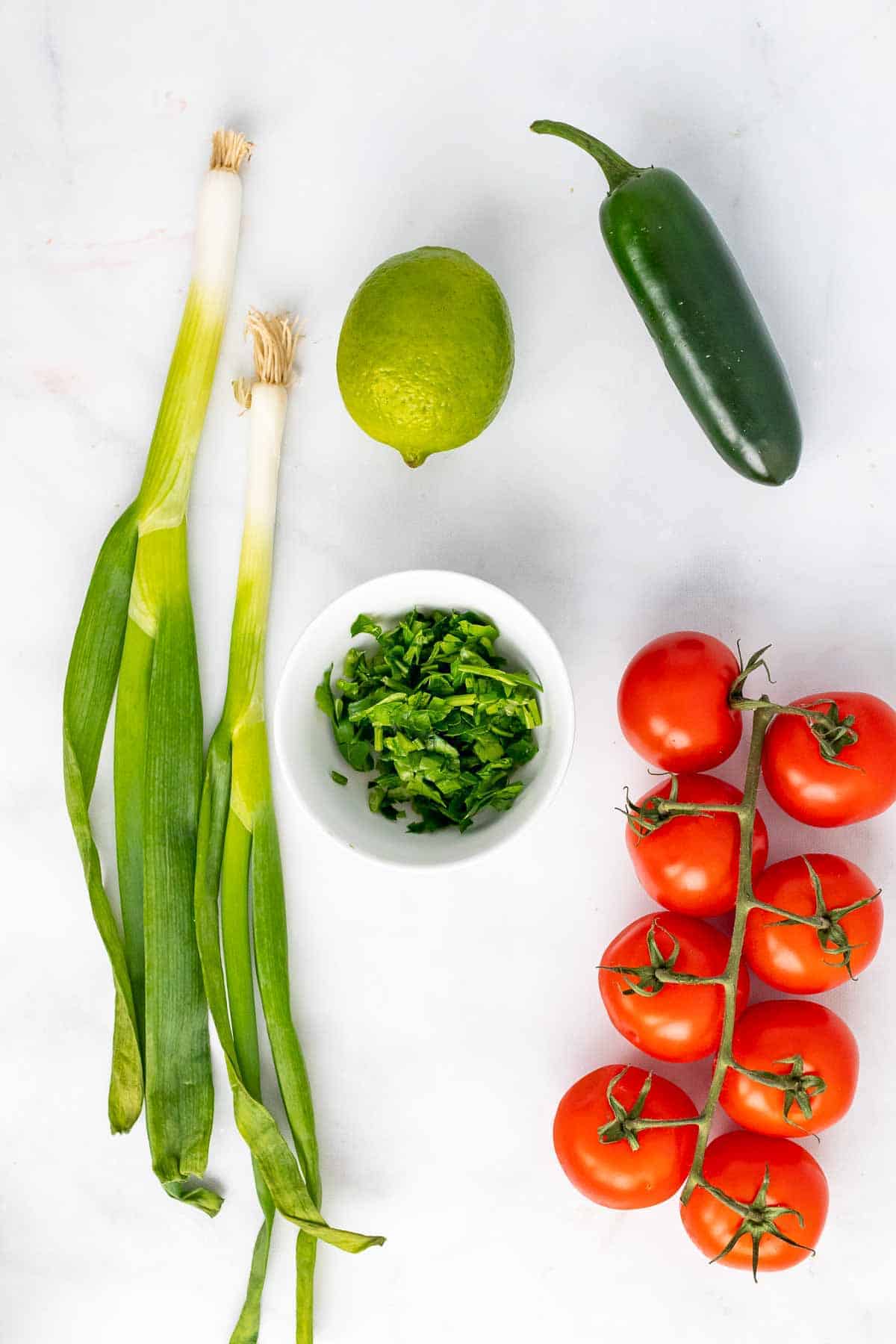 Step 1: Add the cleaned and roughly chopped tomatoes, onions, jalapeño, cilantro, and lime juice to your food processor.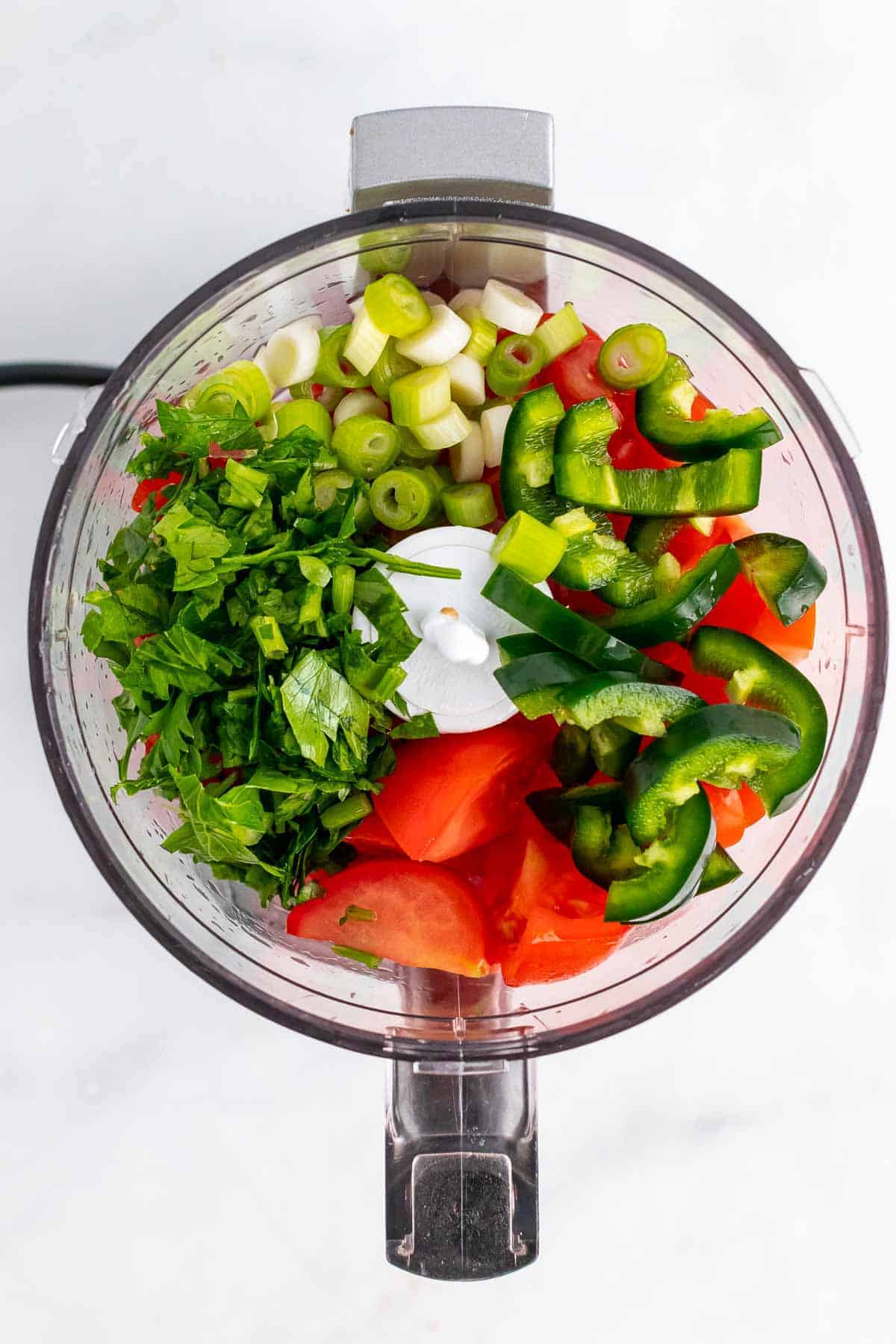 Step 2: Pulse until the salsa reaches your desired consistency. I like it to still be a little bit chunky.
Step 3: Garnish with cilantro if desired and serve!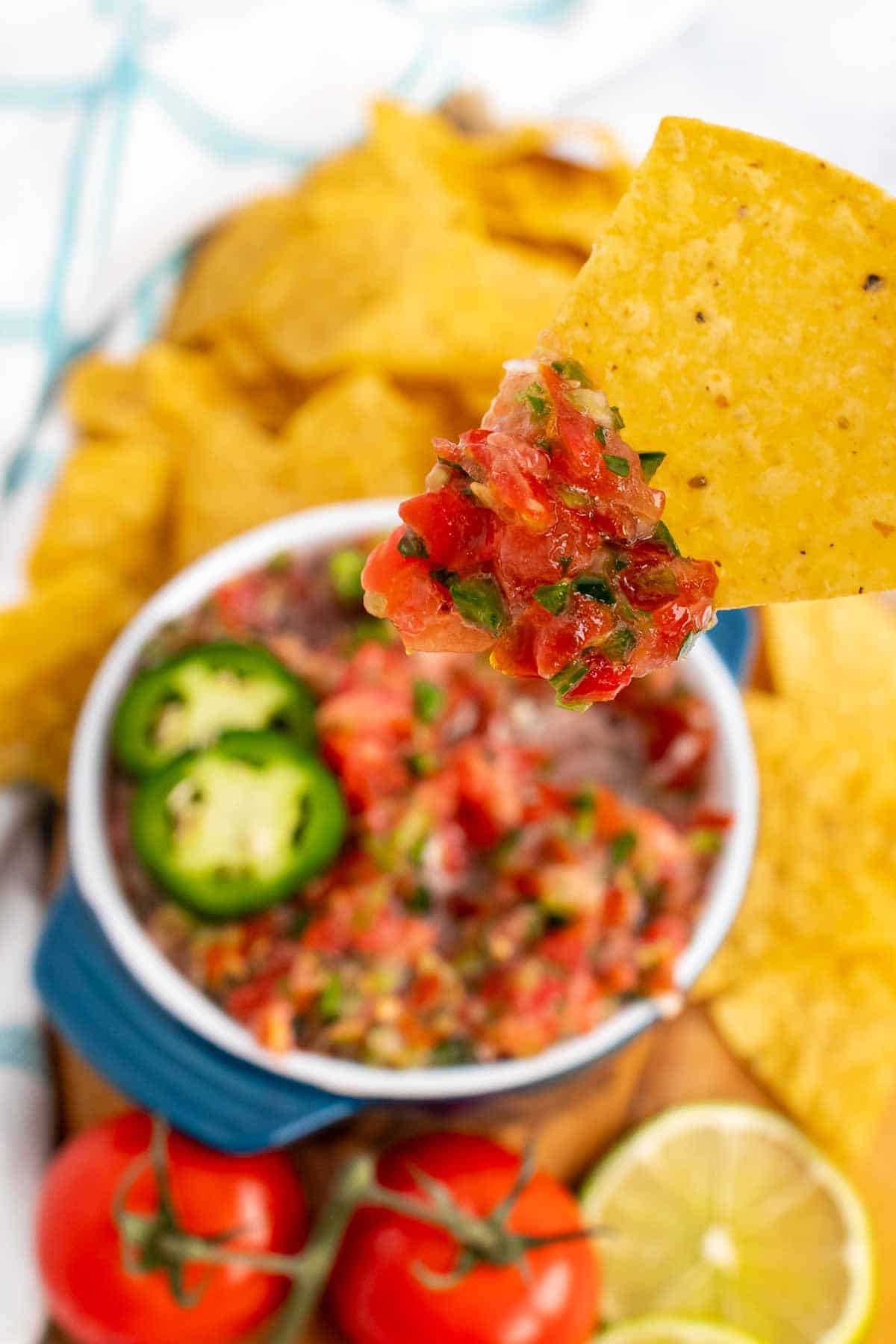 Playing with the flavor of your salsa
One of my favorite things about salsa is how many different variations you can make. You can customize it to your tastes and have some fun!
If you prefer a less spicy salsa, swap out the jalapeño for a milder pepper or bell pepper. On the other hand, if you love spice, you could use something hotter like serrano peppers instead!
You can also use a variety of onions. I really like green onions, so that's what I use here, but red onions are also very popular in salsa recipes. Feel free to use whatever you have on hand.
When picking out tomatoes at the store or farmers' market, you can choose whichever variety looks the best! Tomatoes make up the bulk of salsa, so the better the tomato tastes, the better your salsa will be. If you can find them, I especially love heirloom tomatoes.
And finally, if you belong to the part of the population that thinks cilantro tastes like soap, you're welcome to swap it out for parsley instead!
Getting the right texture
Just like the flavors, you can also customize the texture of the salsa to your preference.
If you like it super smooth, simply pulse for longer in the food processor. On the other hand, if you prefer really chunky salsa, you can skip the food processor and chop everything by hand!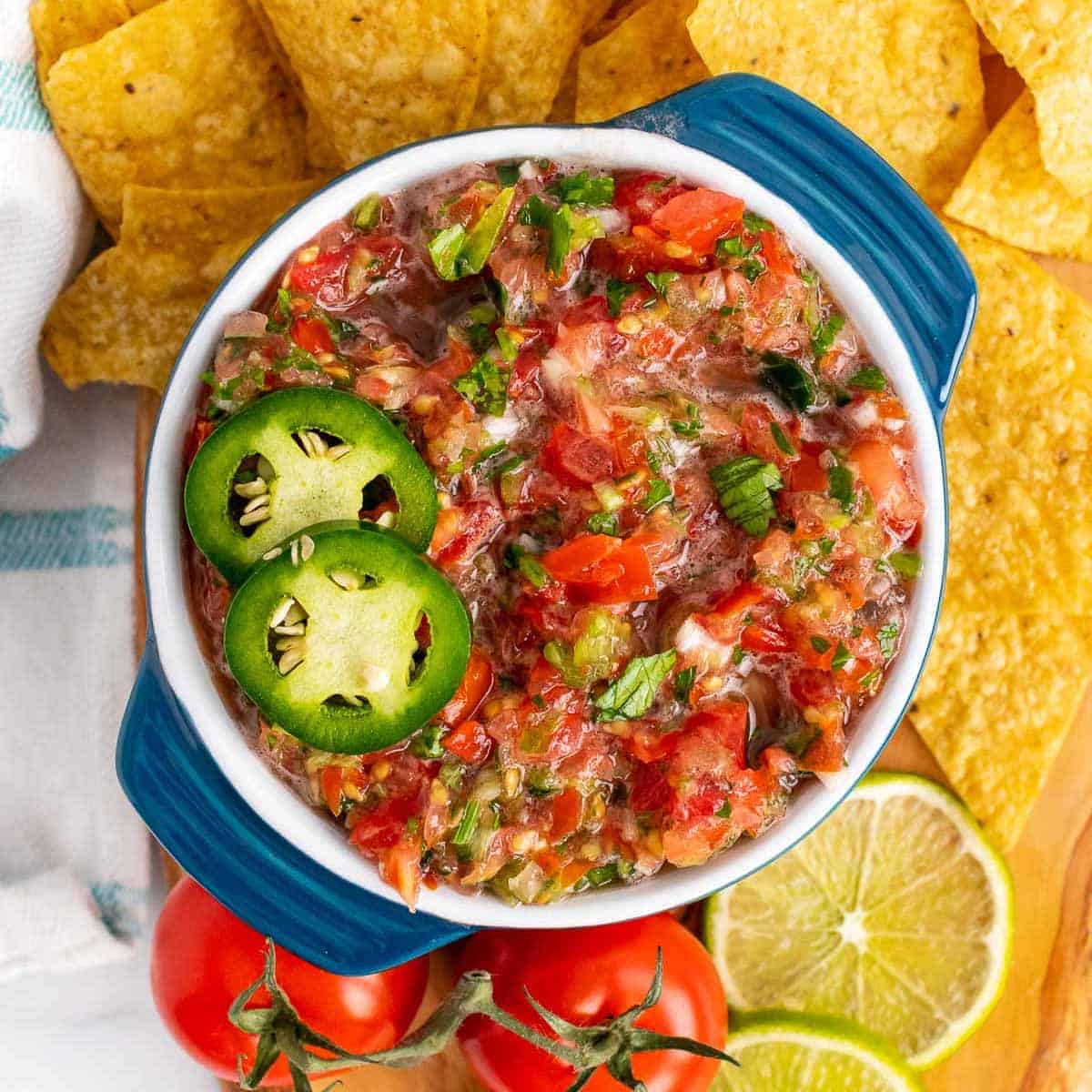 Storage
Your homemade salsa can be stored in an airtight container in the refrigerator. For the best flavor, I recommend eating it within 3 days.
The cilantro will wilt the fastest, so if you leave it out, you could store the salsa for up to 5 days in the refrigerator and simply add the cilantro right before serving.
More healthy recipes to try
Looking for more delicious salsa recipes or dip recipes to spice up Taco Tuesday? Here are a few more dishes I know you'll love:
You can also take a look at my roundup of low-carb vegan recipes for more inspiration.
When you've tried this salsa please don't forget to let me know how you liked it and rate the recipe in the comments below!
Recipe Card
Low-Sodium Easy Homemade Salsa
Easy-to-make salsa with much less sodium than store-bought
Ingredients
8

cocktail tomatoes

(about 8 ounces, quartered)

2

green onions

(white and light green parts only, chopped)

1

jalapeño pepper

(seeded and chopped)

2

tablespoons

chopped fresh cilantro

1

tablespoon

fresh lime juice
Instructions
Add the tomatoes, onions, jalapeño, cilantro, and lime juice to your food processor.

Pulse until the salsa reaches your desired consistency.

Garnish with cilantro if desired and serve!
Recipe Notes
This recipe is for 8 servings of salsa. Each serving will be about 2 tablespoons.
1 tablespoon of yellow or red onion can be used in place of the green onions.
For a milder salsa, replace the jalapeño with about 1 tablespoon banana pepper or green bell pepper. For a hotter salsa, use a spicier pepper like a serrano.
For a really chunky salsa, dice everything by hand and skip the food processor.
Salsa can be stored in an airtight container in the refrigerator. Consume within 3 days for the best flavor.
Nutrition Info Per Serving
Nutrition Facts
Low-Sodium Easy Homemade Salsa
Amount Per Serving (2 tablespoons)
Calories 10
% Daily Value*
Fat 0g0%
Cholesterol 0mg0%
Sodium 6.8mg0%
Potassium 65.3mg2%
Carbohydrates 2g1%
Protein 0.3g1%
Vitamin A 550IU11%
Vitamin C 9.9mg12%
Calcium 10mg1%
Iron 0.2mg1%
Net carbs 1.7g
* Percent Daily Values are based on a 2000 calorie diet.