Is a no carb, low carb or moderate carb diet the best choice for someone living with diabetes? This is a question I'm asked almost daily, and today I will try to answer it by sharing my experiences with all three diet types.
Before I jump into the different diets, let's get the obvious answer out of the way which is "it depends". The diet that is best for you will always depend on your goals and activity level – the diet that works for you might not work for me, and vice versa.
If you are trying to build strength and muscles, you shouldn't follow the same diet as when you are trying to lose weight.
In the same way, someone who runs every day has different dietary requirements to someone who sits in an office all day and doesn't exercise.
Now that we have that out of the way, let's get into the details of the different diets!
The moderate carb diet
The general recommendation for a non-diabetic person is to get 40-60% of their daily calories from carbs. If you eat 2,000 calories a day, that's between 200 and 300 grams of carbs a day.
For people with diabetes, this is generally too many carbs, but I do get pretty close to this when I exercise a lot and am trying to build muscle mass.
During my last building phase, I averaged about 200-250 grams of carbs a day, but I was also lifting heavy weights 5-6 days a week. As long as I stick to low glycemic carbs (except right after my workout), I can eat that many carbs and still have very good blood sugar control.
The great thing about the moderate carb diet (aside from eating lots of tasty carbs) was that I managed to lean out slightly while adding some nice muscle mass. However, I wouldn't consider this a weight loss diet by any means.
Most people, myself included, won't be able to "keep it clean" all of the time, and there's really no room for error on this diet, as you can easily start putting on some fat as well.
My "standard" diet when I am not trying to gain muscle or lose weight is around 100-120 grams of carbs a day for a 2000-calorie diet. You can see exactly what my typical diet is like in this post.
The low carb diet
There is no clear definition of exactly what a "low carb diet" means, but when I talk about low carb diets, I refer to a diet consisting of approximately 50-75 grams of complex carbs a day (not including low-carb vegetables).
I've found this to be the sweet spot for most type 1 diabetic women (myself included) when dieting. I only go this low when I want to slim down, like when I want to drop the last few pounds for a photo shoot or fitness competition.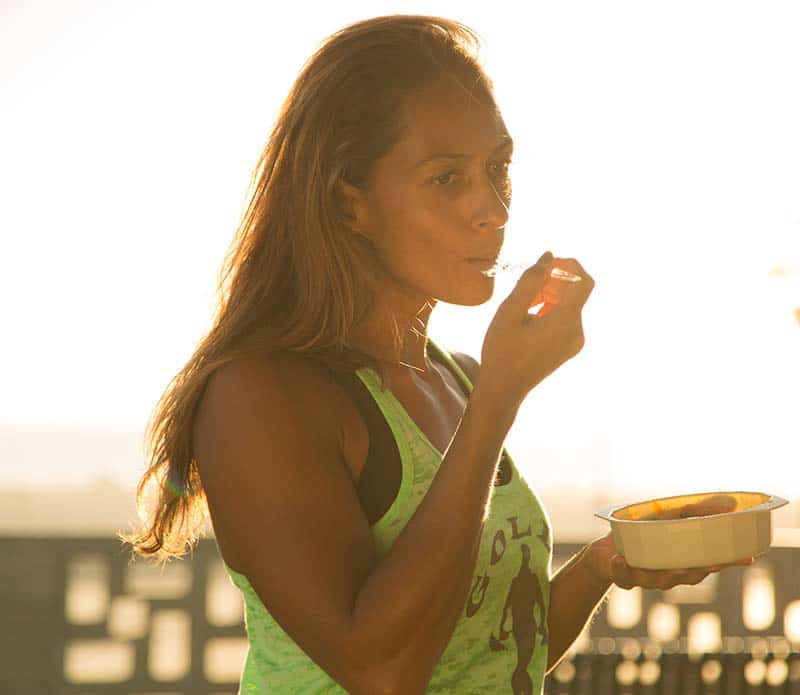 An added benefit of a low carb diet is that it makes good blood sugar control easier. I divide my daily carbs between several meals and combine them with lean protein and good fats, so I hardly see any blood sugar fluctuations after meals.
I know that this will be controversial to a lot of people in the diabetes community, but, in general, I don't recommend a low carb diet as an optimal every-day maintenance diet. It's great for weight loss and can help with blood sugar control, but it also decreases your metabolism and energy levels.
If you live an active lifestyle (and especially if you do resistance training), the moderate carb diet provides you with the energy you need to fuel your workouts, while still allowing for great blood sugar control.
The no-carb (ketogenic) diet
The theory behind the ketogenic diet is that by consuming almost no carbs (less than 5% of your total calories), your body will start converting fat into fatty acids and ketones.
Ketones can replace glucose as your body's main energy source, meaning that your body mainly relies on fat for energy. In theory, this should make it very easy to lose excess body fat if you limit your calorie intake at the same time.
Because you eat almost no carbs, you also, in theory, need very little insulin, making blood sugar control easier.
I tried the ketogenic diet and it did not work for me AT ALL! I only had 20 grams of carbs per day and my insulin sensitivity went bonkers. Since fat is released more slowly into the bloodstream than complex or refined carbs, I didn't see any crazy blood sugar fluctuations, but my insulin needs increased by 100% compared to when I was eating a low carb or moderate carb diet.
Needless to say, my experience with the ketogenic diet was that I gained weight FAST. Not really what I was going for. My blood sugars were nice and stable although often trending high but since gaining fat isn't part of my goal, I can honestly say that I will most likely never try a ketogenic diet again.
I know that some people successfully follow a ketogenic diet for diabetes management, so my experience may not be typical, but I cannot recommend a ketogenic diet at this point. You don't need it for good blood sugar control, and the downsides can be serious.
Conclusion
As I wrote in the beginning, what the optimal diet is for you depends on your goals. Personally, I find a low carb diet optimal for weight loss and a moderate carb diet optimal for maintaining and building muscle mass.
As a final note, some people with diabetes also follow an all-carb all-fruit diet in which they eat over 600 grams of carbs a day and get great results. This is not something I would ever try, but it clearly shows that there are many different diets that can work well for diabetes management.
The best thing for you to do is to experiment, take notes, learn from your mistakes, and find the diet that works for you and your body!
Recommended next post: How to Lose Weight When You Live with Diabetes