This healthy diabetic meal plan is a real-life example of what my daily diet typically looks like.
Have you ever searched for "healthy diabetic meal plan" in Google or on some of the large diabetes website? I have, and I quickly became frustrated by articles that were too general to be useful and meal plans with boring food (or a ton of carbs).
That's why I wanted to share EXACTLY what my meal plan is like, how to cook the meals I eat, and how you can adjust my meal plan to your personal calorie needs.
I want this to be a meal plan you can start following yourself tomorrow if you like!
There is a link at the end of this post where you can download the diabetic meal plan as a PDF. The download also contains a table where you can see how much to make of each recipe based on your daily calorie need. Plus, it includes metric measurements for our international readers. 
How the plan works
I prefer to eat six smaller meals throughout the day rather than the classic three big meals of breakfast, lunch, and dinner. Eating smaller meals allows me to spread out my carbs between the meals, making blood sugar control easier. I also rarely feel hungry between meals because I eat every 3-4 hours.
Each meal has less than 30 grams of carbs, a good amount of protein, and some healthy fat. Because the meals are very similar in size and macronutrients, you can really eat them in the order you like. If you prefer chicken for breakfast and pancakes for dinner, I won't hold you back (but I may give you a strange look…)
If eating six daily meals doesn't work for you because of your schedule (work, family, etc.), please don't stress about it. You can just combine some of the meals and have four meals instead. It's better to have a routine that works than trying to force yourself to eat six daily meals.
A note about veggies: The recipes below includes everything I eat except the leafy and fibrous veggies (salad, broccoli, etc.). I don't count those in my daily calories and you can eat as many as you like. Filling up on salad (without a high-calorie dressing) is a great way to add more "food volume" and make sure you don't feel hungry between meals.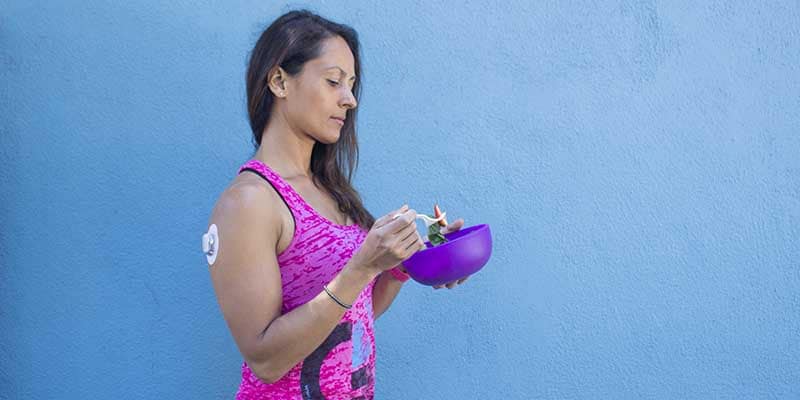 How to adjust my healthy diabetic meal plan to your calorie needs
We all have different calorie needs. Your daily calorie need depends on your size, fitness level, daily activity, gender, etc. When you are creating a healthy diabetic meal plan, your first step should therefore always be to calculate your "calorie equilibrium", or how many calories you need each day to maintain your current weight.
You can learn exactly how to find you calorie equilibrium with 5 easy steps in this post: "How to Find Your Daily Calorie Need".
Once you know your calorie equilibrium, you can adjust your daily calories up or down to meet your goals. If your goal is to lose weight, I recommend that you eat 300- 500 calories less than your equilibrium each day (but no less than 1,200 per day). This should lead to a steady and healthy weight loss.
If you want to gain muscle, start out by adding in 300-500 calories more than your equilibrium each day and see what happens. If you find that you are also putting on a little too much fat, decrease your calories slightly.
Disclaimer: I know that healthy nutrition (and especially how many carbs to eat) is a topic that causes a great deal of discussion in the diabetes community. I make no claim that my approach is the best or only way to do it, but it's what works for me and the clients I work with. If you are doing something different that works for you, then definitely keep doing it!
I am not a medical professional! Please discuss any diet changes with your medical team.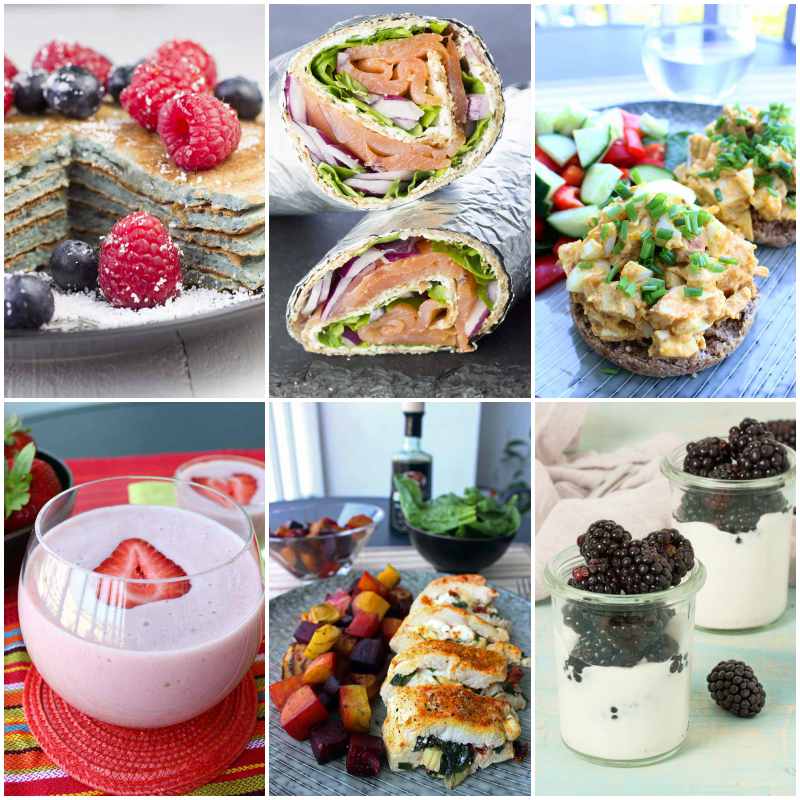 My Healthy Diabetic Meal Plan
Let's look at my actual meal plan!
This is a 1,600-calorie meal plan with 170 grams of protein, 110 grams of carbs, and 50 grams of healthy fats. As I said above, this doesn't include leafy and fibrous veggies.
I consider this a "medium-carb" plan. I rarely eat fewer carbs than this unless I am dieting for a photo shoot, but feel free to remove some carbs if you prefer a very low-carb plan.
Meal 1 – Protein pancakes with nut butter
I love seeing people's faces when I say that my healthy diabetic meal plan includes pancakes for breakfast. But if you have the right recipe, pancakes can be a great high-protein start to the day.
0.7 oz. (20 g) oats
½ oz. (15 g) vanilla protein powder (I use Met-Rx Vanilla)
2.4 oz. (65 g) liquid egg whites
½ oz. (15 g) blueberries
½ tsp. baking powder
½ tbsp. Stevia in the raw
⅛ cup water
Cooking spray
Sugar-free syrup (optional)
½ oz. (15 g) nut butter
Instructions: See how to make the pancakes here: Protein Pancakes
Eat the pancakes with nut butter on top
Nutrients: 271 calories, 26 g protein, 19 g carbs, 9 g fat
Meal 2 – Smoked salmon and cream cheese wrap
This is a great meal to bring to work or school. You can make the entire wrap at home or just bring the ingredients and assemble it at work.
1 8-inch low carb flour tortilla
2 oz. (55g) smoked salmon
2 tsp. low-fat cream cheese
1¼ oz. (35g) red onion
Handful arugula
½ tsp. fresh or dried basil
Pinch of pepper
Instructions: See how to make this recipe here: Smoked Salmon & Cream Cheese Wrap
Nutrients: 291 calories, 24 g protein, 18 g carbs, 15 g fat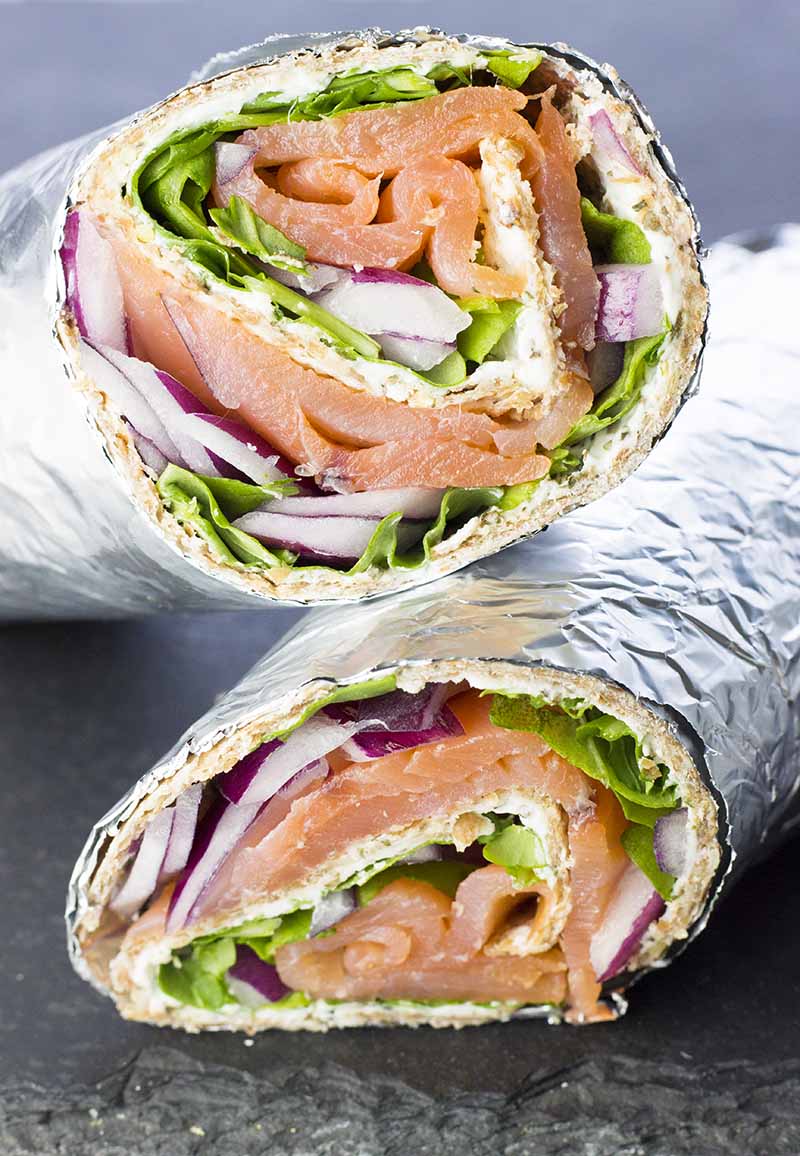 Meal 3 – Chicken & egg salad sandwich
This is one of my absolute favorites. I often make a big bowl of chicken and egg salad to have in the fridge. Then I just need to toast a muffin when it's time for lunch.
½ cooked chicken breast
1 hard-boiled egg
¼ tbsp. fat-free mayo
¼ tbsp. curry powder
½ Ezekiel muffin (or other high-protein bread)
Basil or chives (optional)
Dash salt
Instructions: See how to make this recipe here: Chicken & Egg Salad Sandwich
Nutrients: 269 calories, 32 g protein, 17 g carbs, 7 g fat
Meal 4 – Strawberry banana protein smoothie
This is my pre-workout shake. It has a lot of protein for muscle building and enough carbs to keep my blood sugar up during the workout.
4 oz. (110 g) strawberries
1 oz. (28 g) banana
1 scoop vanilla protein powder (1 oz. / 28 g)
1 tsp. flaxseed
Water
Instructions: See how to make this recipe here: Strawberry Banana Protein Smoothie
Nutrients: 195 calories, 25 g protein, 18 g carbs, 4 g fat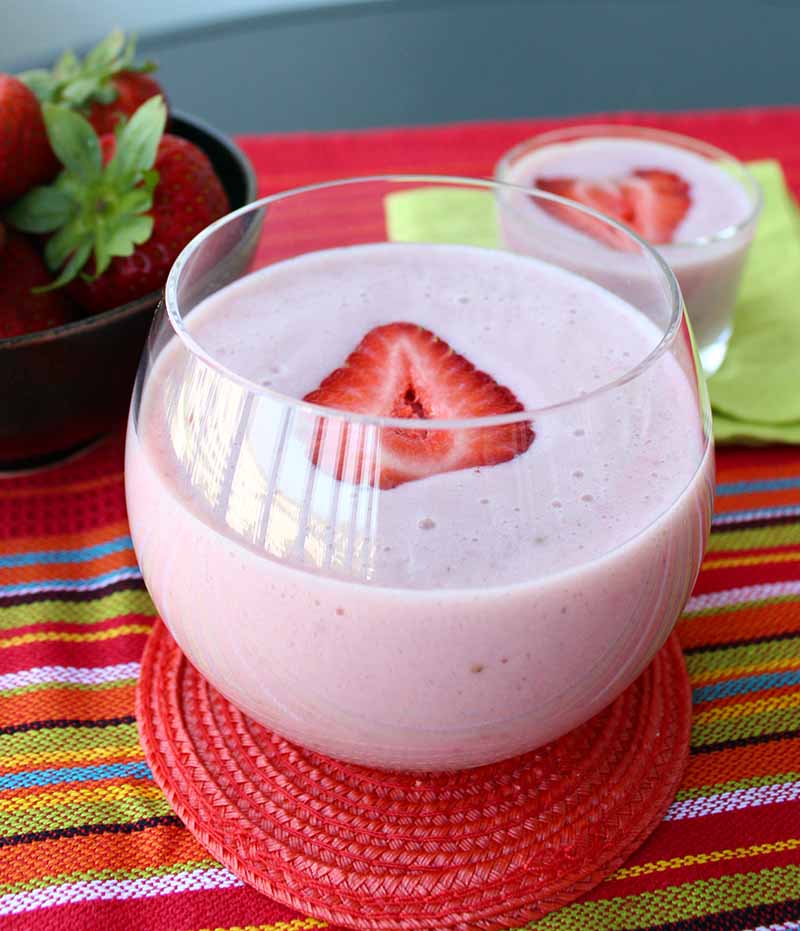 Meal 5 – Healthy stuffed chicken breast & sweet potato
It sounds complicated but it's a super easy recipe. Your dinner can't get much healthier (and tastier) than this!
1 chicken breast
1 oz. (28 g) low-fat mozzarella
1 artichoke heart (from a can)
1 tsp. sundried tomato, chopped
5 large basil leaves
1 clove garlic
¼ tsp. curry powder
¼ tsp. paprika
Pinch of pepper
Toothpicks
2 oz. (57 g) sweet potato
Instructions: See how to make the stuffed chicken recipe here: Healthy Stuffed Chicken Breast
Eat with boiled or roasted sweet potatoes
Nutrients: 310 calories, 47 g protein, 20 g carbs, 4 g fat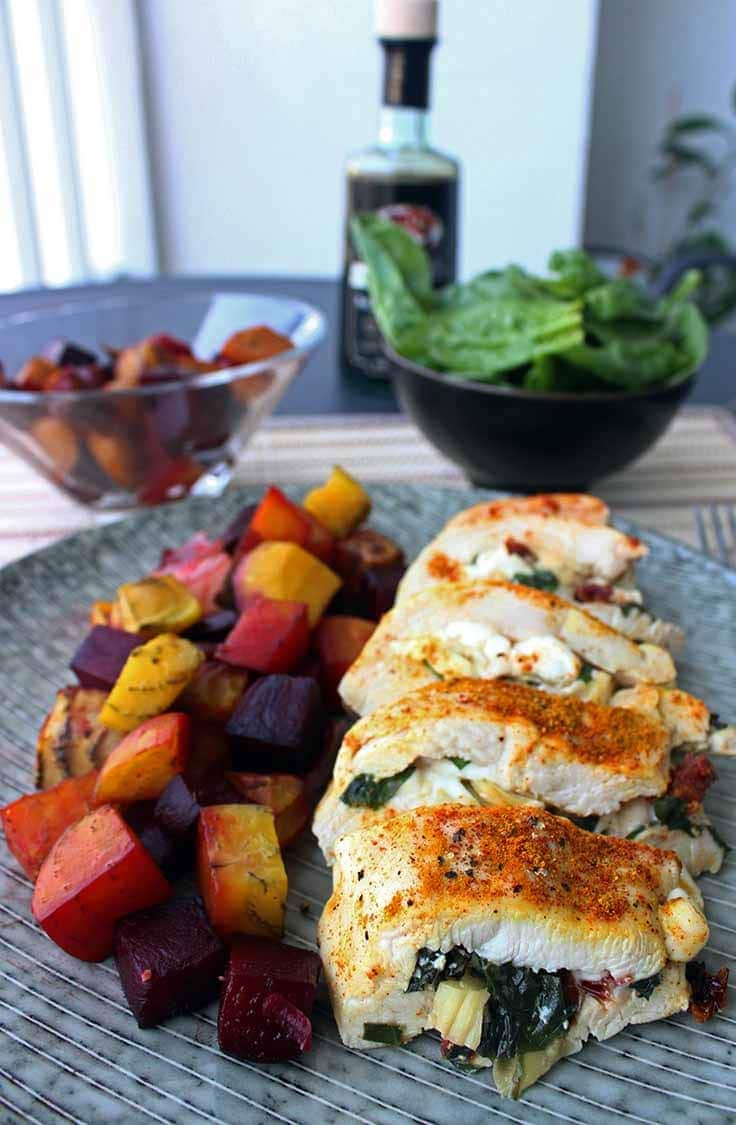 Meal 6 – Sugar-free cottage cheese parfait with berries and almonds
A great bedtime snack! If you don't like cottage cheese, simply use Greek yogurt instead.
4 oz. (112 g) low fat cottage cheese (about 1/2 cup)
⅛ tsp. vanilla extract
Dash of cinnamon
4 drops liquid stevia
2.6 oz. (75 g) blackberries
0.8 oz. (23 g) almonds
Instructions: See how to make the recipe here: Cottage Cheese Parfait
Serve with the almonds on top.
Nutrients: 261 calories, 20 g protein, 18 g carbs, 13 g fat
Daily totals:  1,597 calories, 173 g protein, 110 g carbs, and 52 g fat
There you have it! This is a good example of what a healthy diabetic meal plan looks like for me. You can find a lot more plans like this one in my meal plan library or just go straight to my next meal plan example.
What makes this plan even better is, of course, to combine it with a good exercise routine. Exercise, and especially resistance training, is one of the most effective tools for good blood sugar and weight management.
Because I know that many people struggle with managing their blood sugar during exercise, I will end this post with a few links to some of my favorite resources on exercise and diabetes:
How to Prevent Low Blood Sugar during Cardio Workouts
How Resistance Training Affects Your Blood Sugar
How to Find Your Formula for Insulin and Food Around Workouts
If you have any questions about my Healthy Diabetic Meal Plan, please leave a comment below. I always answer questions and would love to hear from you!
CLICK HERE TO DOWNLOAD THE MEAL PLAN AS A PDF DOCUMENT