This healthy Mustard Baked Chicken Tenders recipe is super simple and deliciously spicy. The mustard sauce is perfect over rice or a salad.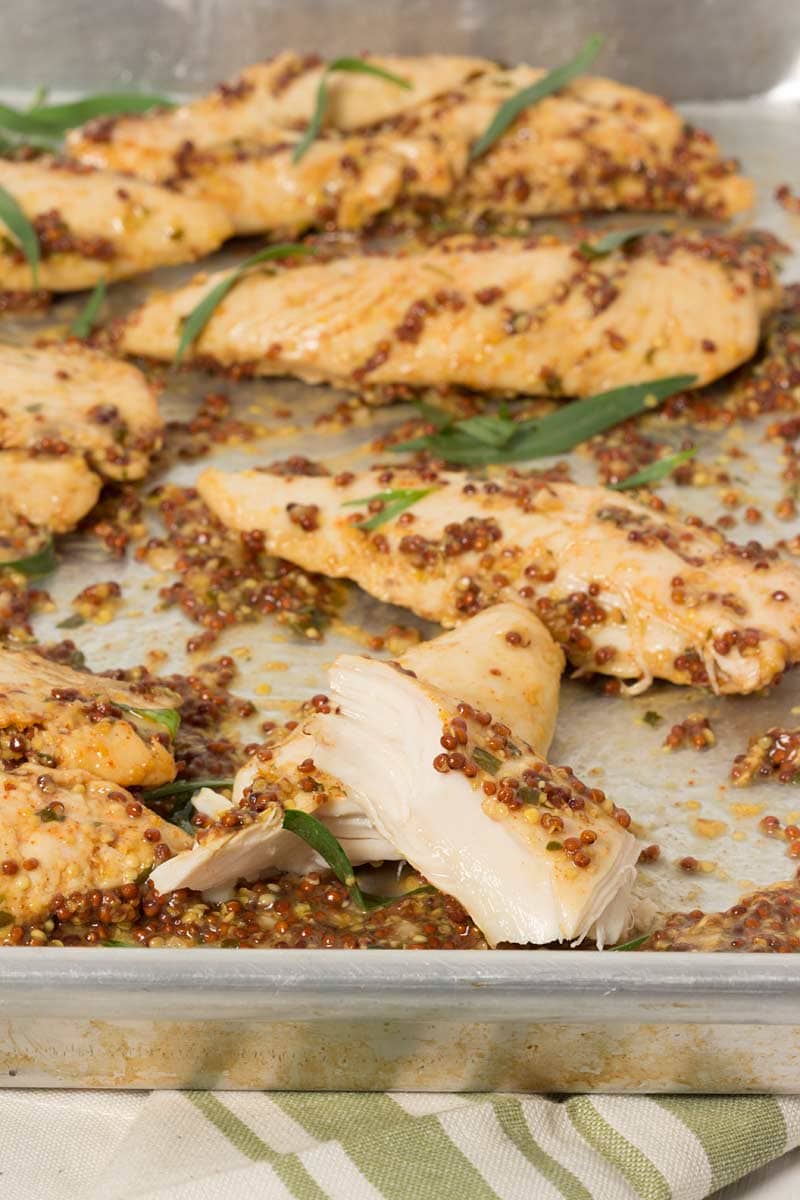 Boneless skinless chicken breasts (or chicken tenderloins) are a fantastic protein option for anyone focused on eating a healthy diet. They are lean, delicious, easy to cook, and full of protein.
For this recipe, you can use either whole chicken breast that you cut into tenders or the smaller chicken tenderloins (often just called chicken tenders on the packaging). Chicken tenderloin is just as lean and nutritious as chicken breast, so it's a great option if you can get it.
Chicken tenderloins need minimal prep before cooking since they have little to no fat to trim off. Just toss them in an easy and healthy sauce or marinade and bake! That's why they work so well for this Mustard Baked Chicken Tenders recipe.
How to bake chicken tenders
Chicken tenders are very easy to bake as long as you keep an eye on them. You should never eat undercooked chicken and the tenders get dry if you overcook them.
The exact baking time depends on the size of your chicken tenders so you should check a few times to see if they are fully cooked. If you cut one halfway through and the juice is clear, your Mustard Baked Chicken Tenders are ready.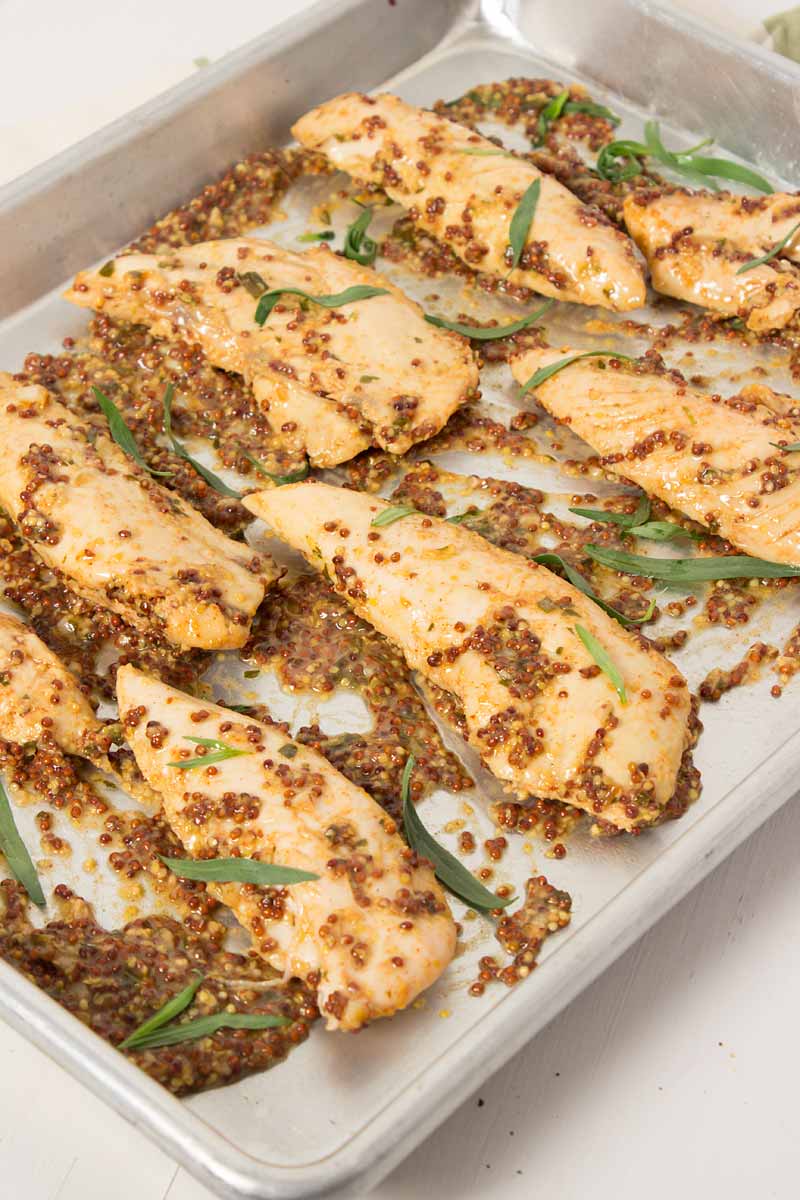 Making the mustard sauce
The sauce is super simple. Whole grain mustard, tarragon, lemon juice, garlic, and paprika (sweet smoked paprika if have it!) are mixed together with a little salt and pepper to taste. Toss the chicken in the mustard sauce, cover, and bake for 15-20 min! There is no added oil or sugar and the flavors are full and complex.
Mustard Baked Chicken Tenders are fantastic over a bed of steamed spinach and brown rice or as leftovers tossed in some leafy greens for a healthy lunch. I especially like them in a salad, because the mustard sauce that the tenders are baked in makes for a great salad dressing!
I know some of you are probably thinking, "That's a lot of mustard. Isn't this super spicy?" Well, it definitely has a little kick, but it's not that strong. I have served it to many different people (kids included) and it has always been popular.
Of course, if you really don't like mustard, I have a lot of other healthy chicken recipes to choose from here on Diabetes Strong:
You can also check out our always updated list of the best diabetic chicken recipes.
I hope you love this Mustard Baked Chicken Tenders recipe as much as I do. It's a recipe I come back to again and again when I want something easy, healthy, and delicious!
Recipe Card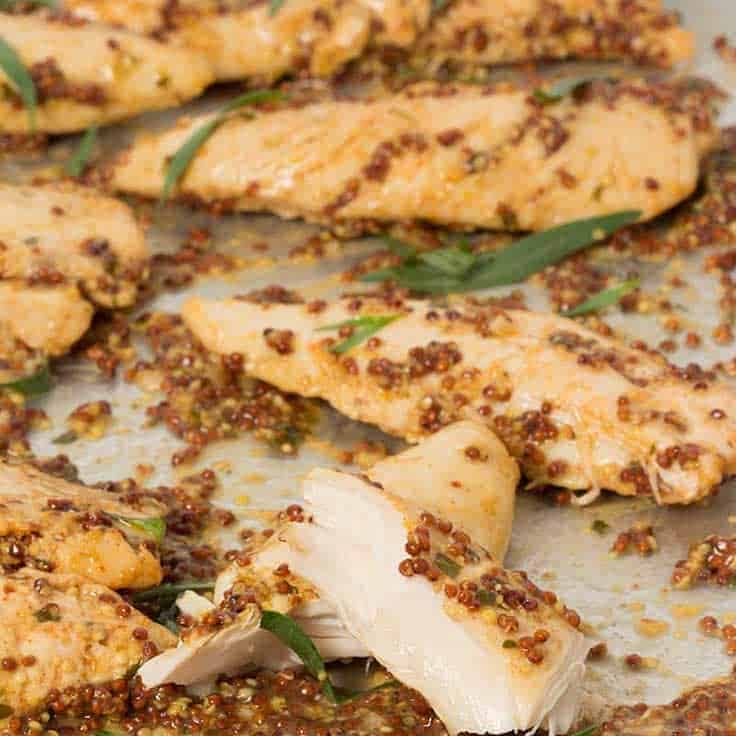 Mustard Baked Chicken Tenders
This Mustard Baked Chicken Tenders recipe is super simple and deliciously spicy. The mustard sauce is perfect over rice or a salad.
Ingredients
1

lbs.

chicken tenders

½

cup

whole grain mustard

2

tbsp.

chopped fresh tarragon

½

oz.

lemon juice

1

clove

garlic,

minced

½

tsp.

paprika,

sweet smoked if you have it

½

tsp.

pepper

¼

tsp.

kosher salt

Extra tarragon to garnish (optional)
Instructions
Preheat oven to 425F (220C)

Combine all ingredients, except chicken tenders, in a large bowl and mix well.

Add chicken and mix to coat with the mustard sauce.

Place chicken and sauce into a large baking dish and cover.

Bake until chicken has cooked through, 15 to 20 minutes. To check the doneness of the chicken tenders, cut one halfway through. If the juices are clear and the meat looks done, it's ready.
Nutrition Info Per Serving
Nutrition Facts
Mustard Baked Chicken Tenders
Amount Per Serving
Calories 195
Calories from Fat 41
% Daily Value*
Fat 4.6g7%
Cholesterol 65.8mg22%
Sodium 808mg34%
Potassium 289mg8%
Carbohydrates 3.5g1%
Protein 28.5g57%
Vitamin C 1.9mg2%
Calcium 11mg1%
Iron 0.8mg4%
Net carbs 2.1g
* Percent Daily Values are based on a 2000 calorie diet.