I could eat this Stuffed Chicken Breast every single day! It's super tender, tastes fantastic, and is a healthy meal all by itself. It's my favorite healthy chicken breast recipe!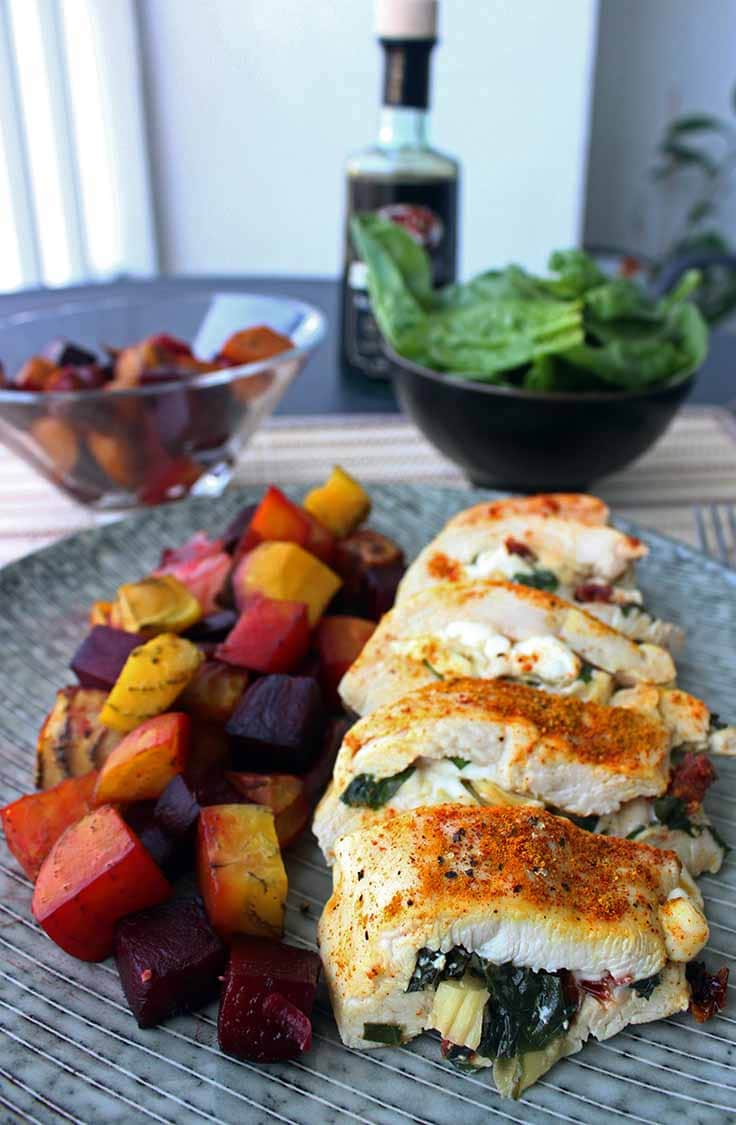 If you follow this blog, you will know that chicken breast is a central part of my healthy fitness cooking and that I am always searching for delicious, easy and healthy chicken breast recipes.
Normally, I would browse Pinterest for recipe ideas, but this one was based entirely on what I had left in the fridge after making a huge salad for lunch.
I am sure that there are a thousand very similar recipes out there, but for me, it's always a pleasure to feel like I am creating something new, not just following someone else's recipe. Especially when it turns out to be one of the best recipes I have ever cooked!
The easiest stuffing recipe ever
Usually, the word "stuffing" in a recipe makes me run away screaming because it means doing fiddly and complicated stuff for ages. Not what I want when I am tired and just need a quick healthy dinner.
Well, this recipe is different!
The entire meal can be ready in less than 30 minutes if you don't mess around. You can chop the vegetables for the stuffing while the oven heats up, and getting the stuffing into the chicken breasts is done in a heartbeat.
How can a healthy dinner recipe get much easier than that?
This also means that it's a great dish to make when you have guests. It's one of my favorite recipes when I want to serve a casual but impressive dinner for my friends and I ALWAYS get asked for the recipe (which just shows that my friends don't read this website, the lazy oafs…).
Healthy Stuffed Chicken Breast made even easier
Guess what? It can get even easier! If you want to cheat a little, you can pre-cook a few chicken breasts, put the stuffing in the cooked chicken, and just microwave everything for about a minute before serving. It won't be quite as good as when you cook everything together from scratch, but it's still delicious. I do this a lot when I don't have time (or am too lazy) to cook.
No matter how you make it, this Healthy Stuffed Chicken Breast is a winner!
You can see exactly how I stuff the chicken breast in this short video:
If you liked this Healthy Stuffed Chicken Breast recipe, you should give my Prosciutto Wrapped Chicken Breast with Cream Cheese a try as well. It's a super simple 4-ingredient recipe and I am sure you will love it.
Or if you want something REALLY easy, go for my Mustard Baked Chicken Tenders. That's a recipe I often make if I am cooking for a lot of people and want a tasty dish I can I can throw together in 5 minutes and just pop in the oven.
Finally, you can always take a look at my roundup of the best low-carb chicken recipes for people with diabetes. You can never have too many healthy chicken breast recipes, right?
When you've tried this healthy stuffed chicken breast recipe, please don't forget to let me know how you liked it and rate the recipe in the comments below!
Recipe Card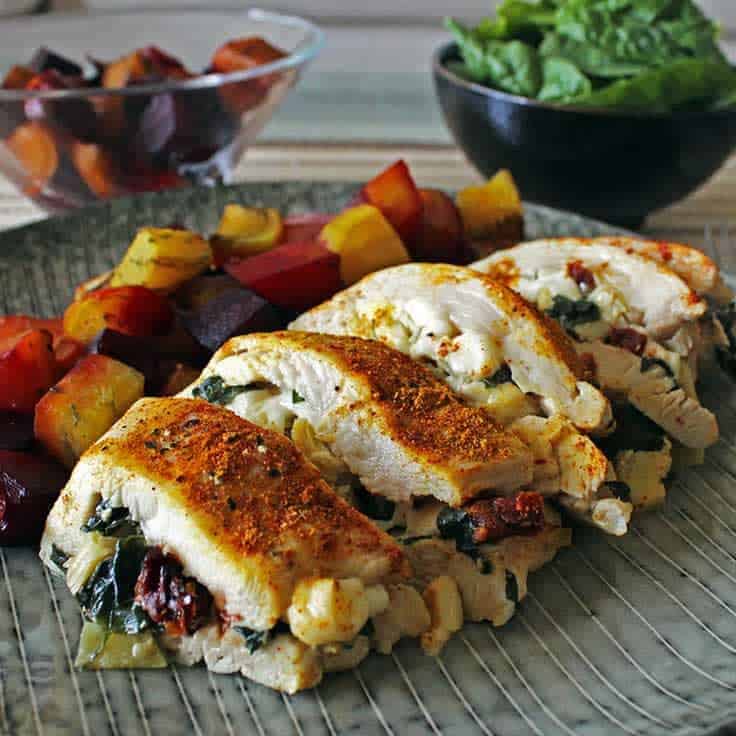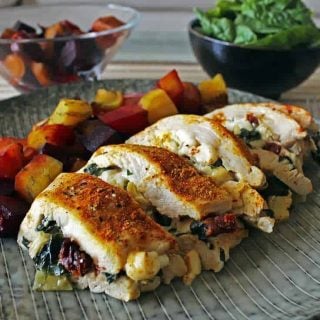 Healthy Stuffed Chicken Breast
I could eat this stuffed chicken breast every single day. It's super tender, tastes fantastic, and is a healthy meal all by itself – no sides required!
Ingredients
1

chicken breast

1

oz.

low-fat mozzarella

1

artichoke heart

(from a can)

1

tsp.

sundried tomato,

chopped

5

large basil leaves

1

clove

garlic

¼

tsp.

curry powder

¼

tsp.

paprika

Pinch of pepper

Toothpicks
Instructions
Preheat the oven to 365 F (185 C).

Cut the chicken breast almost halfway through with a sharp knife.

Chop up the mozzarella, artichoke, basil, tomato, and garlic. Mix to combine and stuff it into the cut chicken breast.

Use a few toothpicks to close the chicken breast around the stuffing (you can see how in the video above).

Place the chicken breast on a baking sheet or aluminum foil, and season it with pepper, curry powder, and paprika.

Bake for around 20 minutes (depending on the size of the chicken breast).

Remember to remove the toothpicks before serving, and you're done!
Nutrition Info Per Serving
Nutrition Facts
Healthy Stuffed Chicken Breast
Amount Per Serving
Calories 262
Calories from Fat 37
% Daily Value*
Fat 4.1g6%
Cholesterol 109mg36%
Sodium 338.9mg14%
Potassium 560.8mg16%
Carbohydrates 8.5g3%
Protein 46.1g92%
Vitamin A 910IU18%
Vitamin C 8.7mg11%
Calcium 154mg15%
Iron 3mg17%
Net carbs 6.1g
* Percent Daily Values are based on a 2000 calorie diet.