If "superfoods" really exist, chicken breast has to be number one on the list. If you remove the skin and trim away any visible fat, chicken breast is 98% lean. It's basically the ultimate low-fat, no-carb protein source. This is why knowing how to bake chicken breast in the oven is so useful.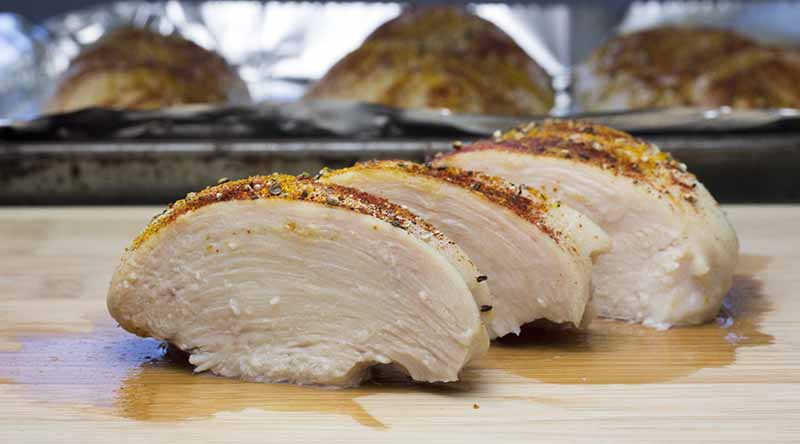 It also doesn't hurt that chicken breast is the least expensive animal protein in most grocery stores. Just be aware that the really cheap chicken breasts are from caged chickens, so spend a little more and get good organic free-range chicken if you can.
I eat A LOT of chicken breast. To be able to eat chicken this often, I have come up with a lot of different tasty chicken recipes. I have already shared a few chicken recipes on the blog, but today I wanted to show you how to bake chicken breast in the oven.
I usually cook 4-5 breasts at a time and store them in zip-lock bags in the fridge until I need them. They will keep fresh for about three days.
You can see how i bake the perfect chicken breast in this short video or read the step-by-step description below:
How to bake chicken breast in the oven
If you follow these 3 easy steps, you will end up with a perfectly baked chicken breast every time:
1. Clean the chicken breast
Cut away any visible fat and bones. I always use a pair of scissors for this as it's much easier than using a knife.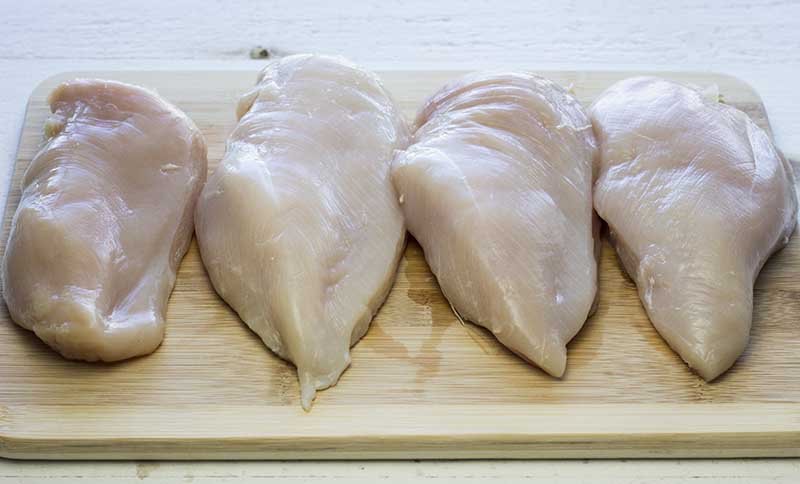 2. Brine the chicken breasts 
Fill a large bowl with just enough water to cover the chicken breasts and add ½ tbsp. of salt for each chicken breast. Let the salt dissolve before adding the chicken breasts.
Leave the chicken breasts to marinate in the salt water for 1-3 hours in the fridge. This will draw water into the chicken and make it super moist when you cook it (this process is called "brining").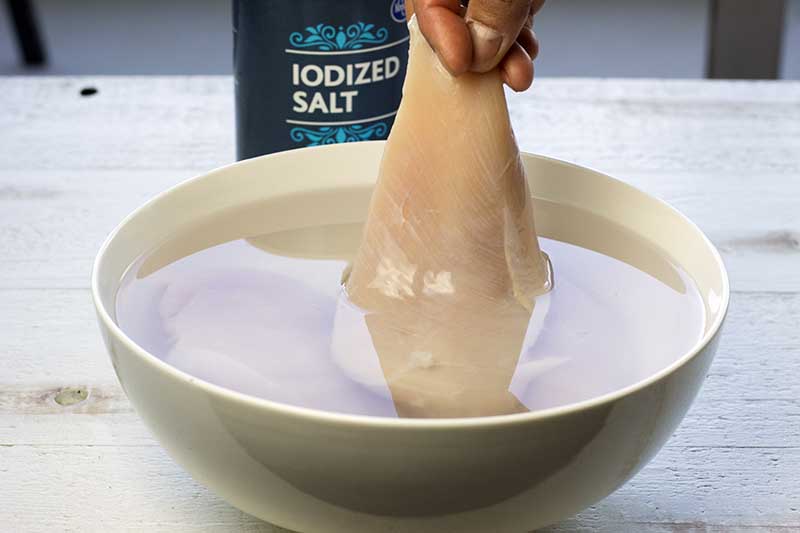 3. Season and cook the chicken breasts
Rinse the chicken breasts thoroughly in cold water. Dry them with a paper towel and put them on a baking pan.
Add your favorite seasoning. I usually use pepper, curry powder, paprika and garlic powder, but you can use a wide variety of spices.
Cook the chicken breasts in the oven for about 18-20 minutes at a 365 F (185 C), depending on the size of the chicken breasts (the ones I cooked today were large, so they needed 21 minutes). Cut into one with a knife to see if they are done before taking them out of the oven.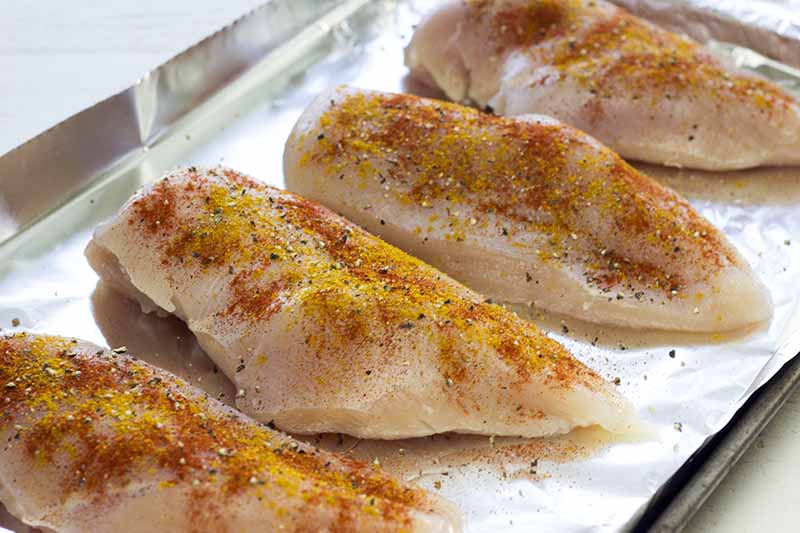 Let the chicken breasts rest for 2-3 minutes after you take them out of the oven to lock in all the juices.
That's it! This is how to bake the perfect chicken breast in the oven. By cooking the chicken breast like this, you will get perfectly tender and moist chicken breast every time!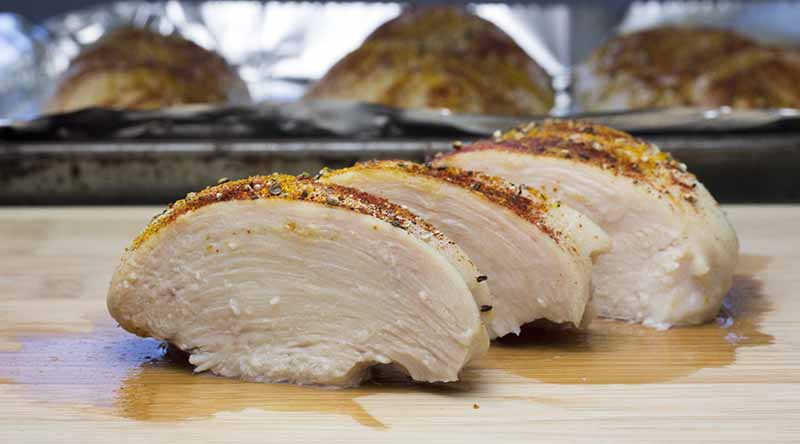 Now, let me tell you a little more about brining and share a few delicious chicken breast recipes.
The benefits of brining
If you are worried about adding too much salt to the chicken, don't be. Brining doesn't actually add a lot of sodium to the chicken, as long as you only leave the chicken in the brine for a few hours and rinse it well afterwards. Also, you won't have to salt the chicken later for flavor.
You can use the brined chicken breasts as the base for a lot of fantastic chicken recipes. Here are some of my favorites:
The possibility for healthy and yummy chicken recipes are endless, so there is absolutely no reason to settle for dry chicken. Not when you know how to bake the perfect chicken breast in the oven!
When you've tried baking chicken breasts in the oven like this, please don't forget to let me know how you liked them in the comments below!
You can also sign up for my diabetes newsletter (and get a sign-up bonus) in the form below. I send out a weekly newsletter with the latest posts and recipes from Diabetes Strong.