I am so happy to have the pleasure of sharing this mouth-watering high-protein, low-carb Smothered Creamy Skillet Chicken recipe with you today. I don't use the term mouth-watering very often, so you know this is going to be good!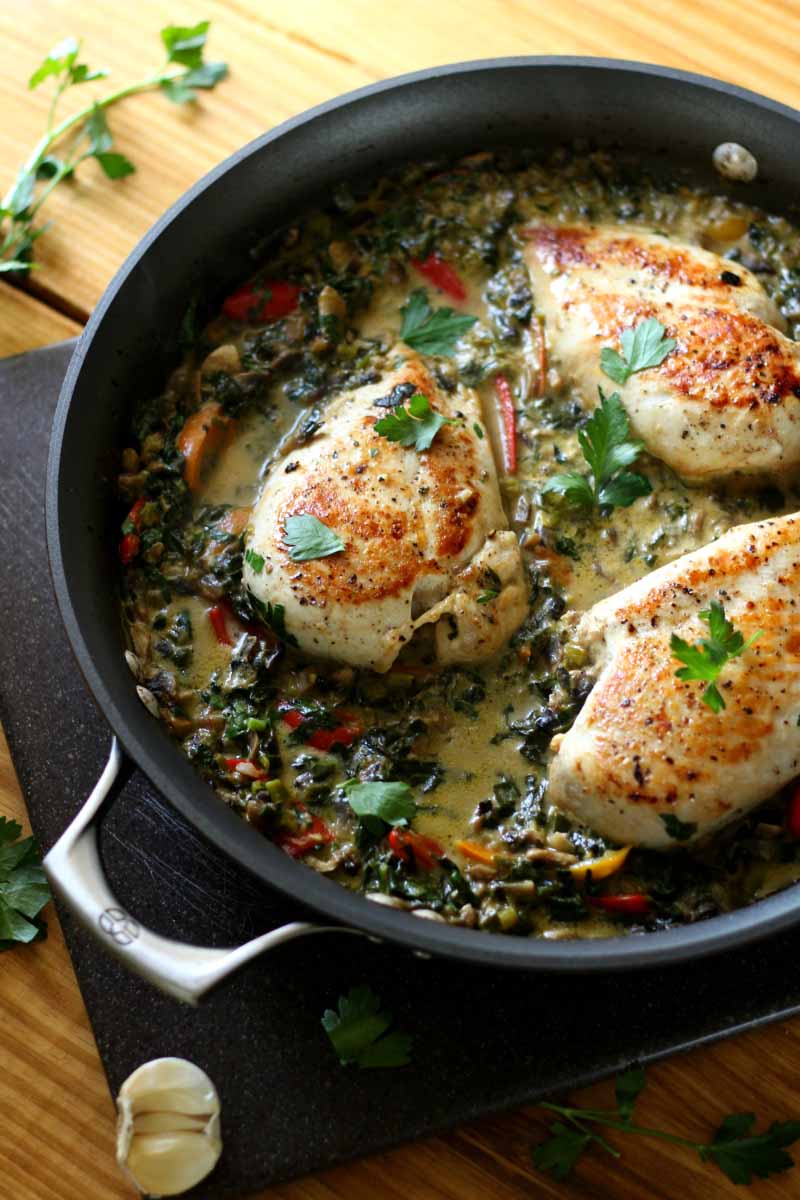 I think we can all agree that healthy recipes can and should taste delicious. By the looks of the delicious low-carb, high-protein recipes you can find on Diabetes Strong, you are well aware that this is possible. So, without further ado, I present your new chicken favorite – Smothered Creamy Skillet Chicken.
Yes, you heard that right.
Smothered with delicious creamy flavors and thickened with our low-calorie friend, cashew milk (hi, 25 calories per serving, nice to meet you). I don't know about you, but skillet meals have got to be my favorite. All that sizzle, smelling each flavor developing into one incredible sauce, and the gently glazed sear that each ingredient acquires in that skillet bath… Aren't those magic words for any busy person looking for a delicious, quick meal?
So what's in a Smothered Creamy Skillet Chicken?
Let's break down the basics of this recipe because it could easily be adapted to include your favorite veggies or herbs or even a different type of protein. Most of the best recipes are like that.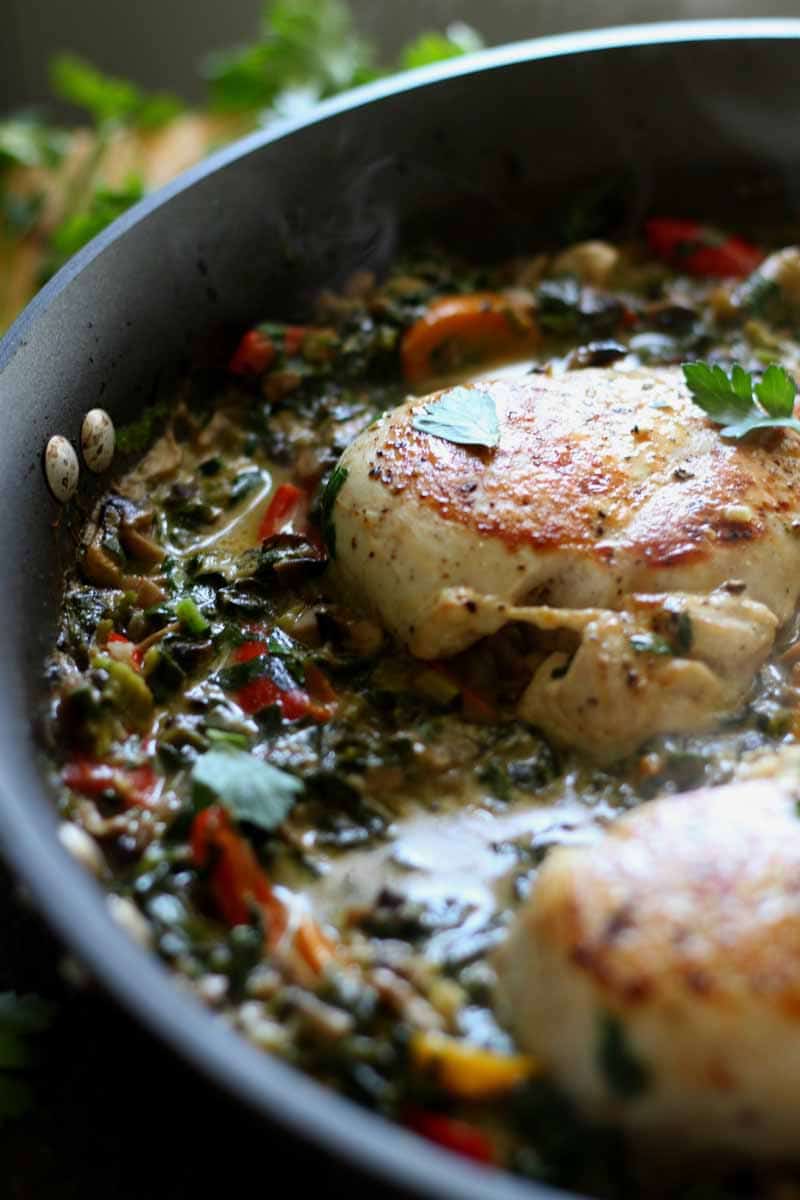 Ze' Meat: I am one of those people that have chicken most nights of the week. It can be added to ANYTHING, and has the staying power that this hungry girl needs. But don't feel like chicken breast is the only option here. Fish would pair wonderfully with these flavors as well as even tofu!
Veggies: We always have bell peppers or sweet baby peppers on hand these days, but feel free to double up on the spinach and mushrooms to keep things simpler if you prefer! I love the color and flavor of the green onions, but red onions make a great caramelized addition as well.
Sauceaaay: You guys. I sort of have a new beverage love, and it is unsweetened cashew milk. I mean 25 calories per serving, and it makes everything creamy to the max… Hello?! What more could you ask for? However, any milk will work if you are in a pinch! I've also tried it with both Greek and regular plain yogurt, and both were fine. Greek definitely bumps up the protein levels, though!
No matter which way you toss it, this combo is delightful, and perfect for cleaning-out-the-fridge nights. I hope you love this Smothered Creamy Skillet Chicken as much as I do!
More low-carb, high-protein recipes
I love the healthy low-carb, high-protein recipes here on Diabetes Strong. I haven't tried them all yet, but some of my favorites are the Stuffed Chicken Breast and the Prosciutto Wrapped Chicken Breast with Cream Cheese.
You can also browse my roundup of healthy diabetic chicken recipes to find your next favorite recipe!
When you've tried my smothered creamy skillet chicken, please don't forget to let me know how you liked it and rate the recipe in the comments below!
Recipe Card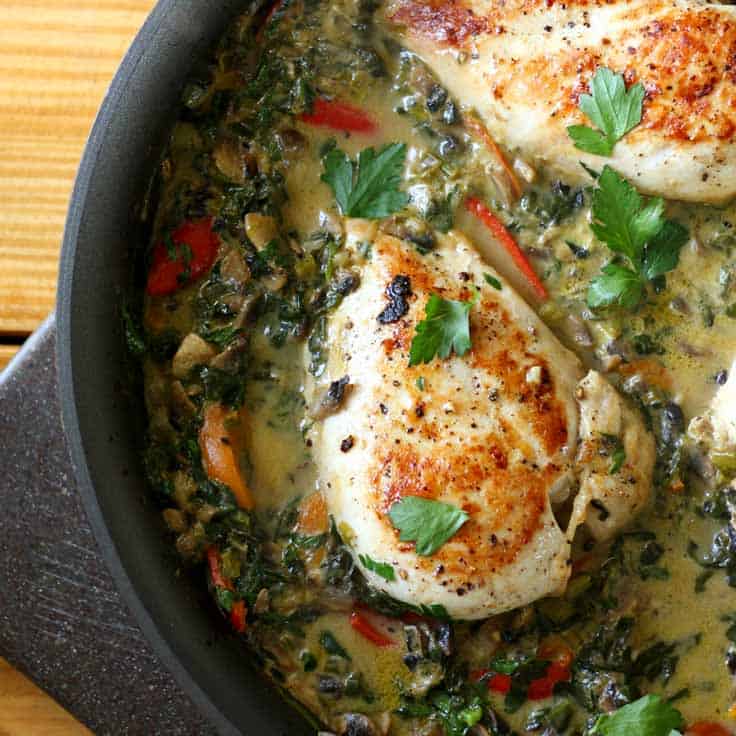 Smothered Creamy Skillet Chicken
This low-carb, high-protein Creamy Skillet Chicken is the perfect mix of healthy and delicious! It's creamy and flavorful while still being healthy and super easy to make.
Ingredients
1

lbs.

chicken breast

8

oz.

mushrooms,

chopped

4

cups

fresh spinach

4

cloves

large garlic,

minced

6

green onions (also known as scallions),

chopped

7-8

mini sweet bell peppers,

sliced

2

tsp.

parsley,

chopped

1

cup

chicken or vegetable broth

1

cup

unsweetened cashew milk

2

tbsp.

Greek yogurt

1

tbsp.

mascarpone or cream cheese

2

tsp.

extra virgin olive oil

Salt & pepper

to taste
Instructions
Add 1 tsp. olive oil to a large skillet over medium heat.

Season chicken breasts with salt and pepper. Add to skillet and sauté for 3 minutes on each side or until golden brown and almost cooked through. Set aside.

In the same hot skillet, add remaining tsp. olive oil and lower heat.

Add garlic and allow to cook for about 30 seconds.

Add green onion and half of the broth and raise heat to medium.

Add mushrooms & peppers and bring to a medium simmer. Cook for 5 minutes

In a separate bowl, whisk yogurt, cashew milk, and 1 tsp. parsley, then pour into skillet.

Add spinach and stir until combined.

Allow sauce to bubble lightly with vegetables, lowering heat if needed and stirring occasionally, for 5 more minutes.

Nestle chicken breasts into the skillet. Add remaining broth and mascarpone or cream cheese, and cook for 5-10 minutes until chicken is cooked through and the sauce has thickened.

Season with salt and pepper, top with remaining parsley, and serve.
Nutrition Info Per Serving
Nutrition Facts
Smothered Creamy Skillet Chicken
Amount Per Serving
Calories 321
Calories from Fat 96
% Daily Value*
Fat 10.7g16%
Cholesterol 5.5mg2%
Sodium 213mg9%
Potassium 399mg11%
Carbohydrates 7.5g3%
Protein 36.9g74%
Vitamin A 3750IU75%
Net carbs 5.4g
* Percent Daily Values are based on a 2000 calorie diet.