This Simple Turkey Chili is loaded with protein (25 grams per serving!) and a satisfying spice thanks to ingredients like jalapeño and red chili. If you're short on time, don't worry—you'll be able to make this healthy turkey chili recipe in about 30 minutes.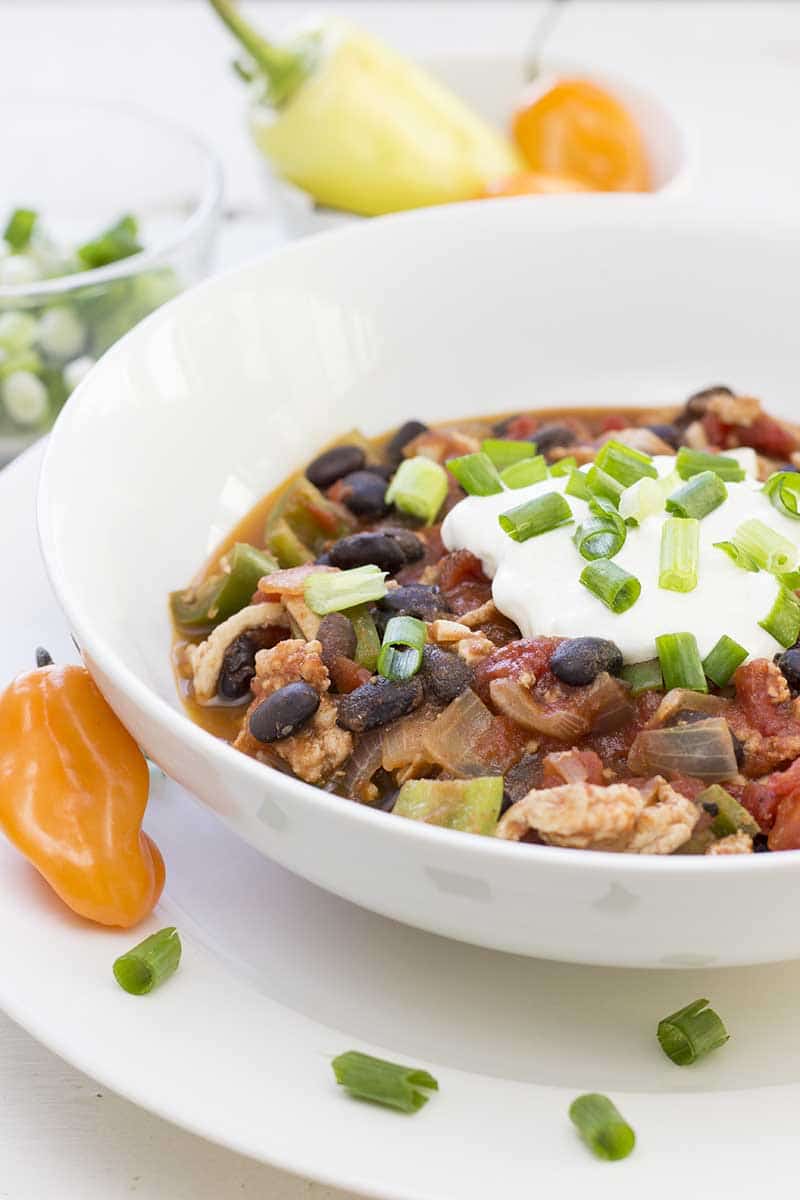 I like to call this recipe "Simple Turkey Chili" because it's easy to make and comes together in no time (around 30 minutes), but when you taste it, you'll realize the word "simple" doesn't do the flavor justice!
With ingredients like jalapeño, red chili, and garlic, this healthy turkey chili recipe has some heat to it without being completely overwhelming. (But if you're the type who likes recipes so spicy they make your eyes water, don't let me hold you back! Increase the spicy ingredients to your heart's content.)
The rest of the ingredients come together in an oh-so-delicious way that will leave you wondering if you really just ate a healthy recipe (The answer: yes!)
How to make Simple Turkey Chili
You can make this recipe in 4 easy steps and less than 30 minutes:
Step 1 – Chop Jalapeño, red chili, onion and garlic and sauté on a hot pan for 3-4 minutes until the onions become translucent.
Step 2 – Add ground turkey to the pan and cook it for another 5 minutes.
I like to use 93% lean ground turkey to keep the calories down, but the less lean ground turkey actually has even more flavor so you can go for that if you like.
Step 3 – Add tomatoes, black beans, chicken stock (or just a bouillon cube), and spices and let it simmer for 10-15 minutes.
I typically just use paprika and black pepper for spices, but you can also add more chili powder to adjust the hotness. Ground cumin is also a classic chili spice but I personally don't like it that much.
Step 4 – Serve with chopped green onion and sour cream on top. The green onions are optional but you really need the sour cream. It adds a freshness that really elevates that taste of the turkey chili.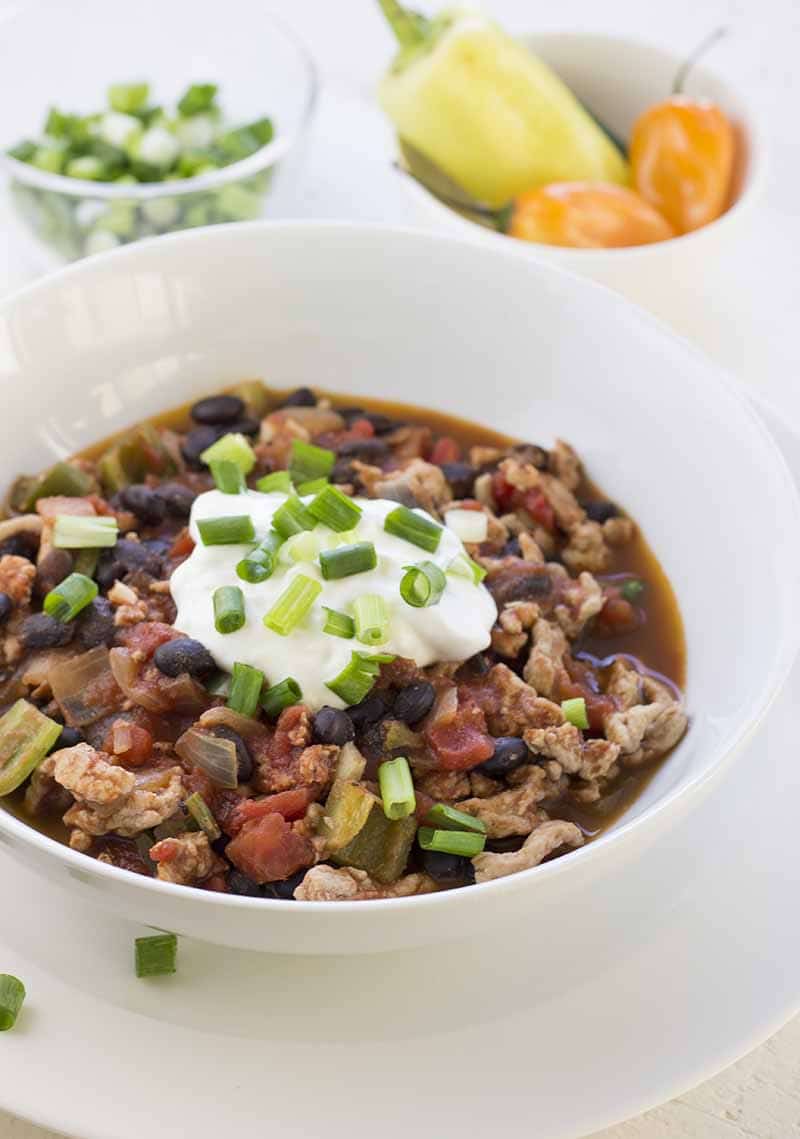 Turkey chili nutrition
How healthy is this chili? Each serving contains only 232 calories and packs 25 grams of protein and 17 grams of mostly low-glycemic carbs. All of it from healthy, minimally processed ingredients. I don't like the term "diabetic chili", but this recipe has the perfect nutrients for a healthy and diabetes-friendly recipe. You can even take out most of the carbs by limiting the beans if you follow a very low-carb diet.
Most importantly, this chili tastes great—and one of the keys to consistently eating healthy is to find foods that support your nutrition goals that don't taste like cardboard. (Even the fittest people on the planet don't want to eat food that tastes like cardboard, trust me.)
One of the things I always tell my diabetes coaching clients is the best diet for them is one that they will stick to consistently, and that includes having great go-to recipes like this Simple Turkey Chili. It will only take about 30 minutes of your time to make, so there is no excuse to call the pizza delivery guy after a long day of work.
Save time by making Simple Turkey Chili before you need it!
If anything, making this recipe ahead of time makes it taste even better. By making it ahead of time, the flavor "matures" a little, and you'll have it ready when you need it. A win-win!
It stores great in the fridge for at least three days, or you can choose to freeze it for a later date.
Instead of dumping it all in a random container, I suggest freezing it in individual servings so you can take out what you need, heat to your desired temperature, and add the sour cream and green onion toppings. (Plus you won't be tempted to go overboard with your serving size!)
By the way, Simple Turkey Chili tastes great cold! Although it gives you that comforting and cozy feeling when served warm, I also really like how it tastes when it's served straight out of the fridge. Try it!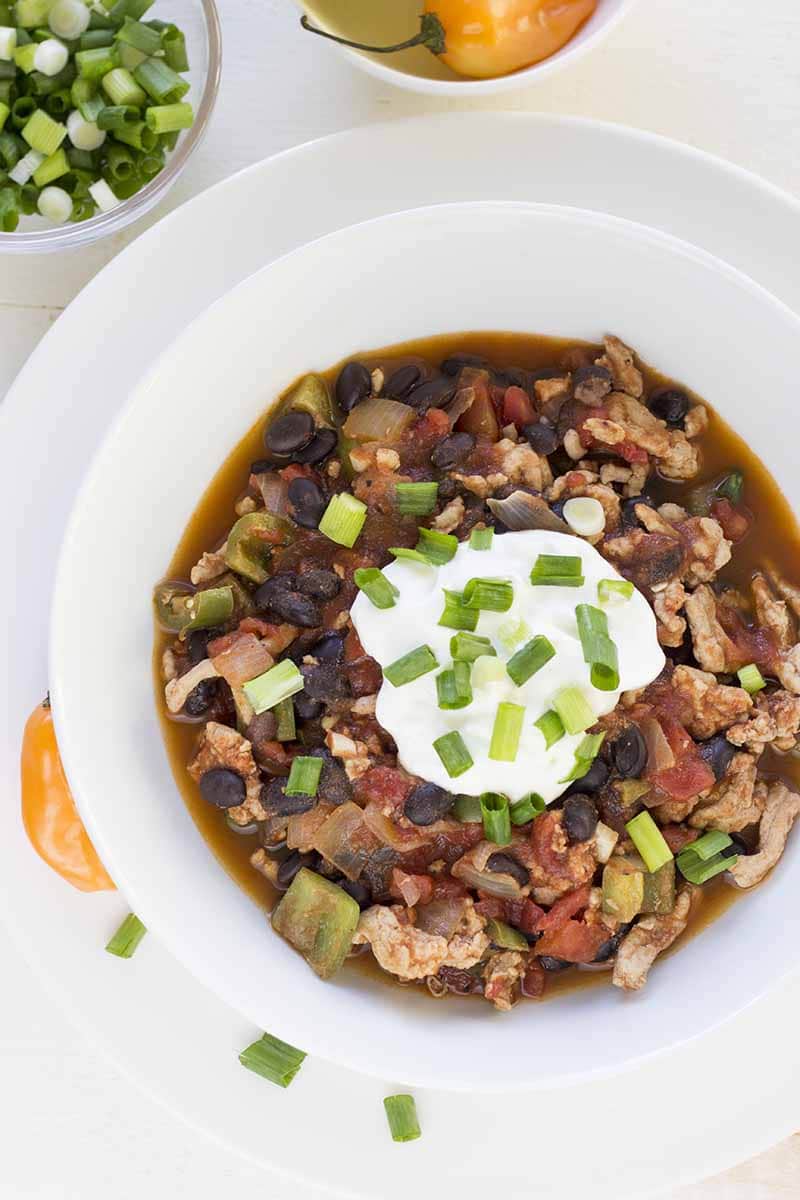 Frequently asked questions
Q: Why turkey chili? Is turkey better for you than beef?
A: Not necessarily, but ground turkey has two advantages over ground beef:
It's naturally a lot leaner. You can get ground beef that's almost as lean as ground turkey, but it doesn't taste that great. Ground beef gets a lot of its flavor from the fat. At low fat percentages, turkey simply tastes better than beef.
It's less expensive, especially if you are buying organic.
Q: Can I cook the brown beans myself? How do I do that?
A: Absolutely! And I highly recommend it. It just takes a little more time and effort. You can see how to do it both the traditional way (where you soak the beans overnight before cooking) and in a much quicker way here.
Q: I prefer a very low-carb diet. Can I reduce the carbs in this recipe?
A: Yes, just take out all or most of the beans. That's where most of the carbs are.
More healthy chili recipes
I love my chili recipes, so I have made sure to post several healthy and easy chili recipes here on Diabetes Strong:
Both of these recipes are amazing, so please check them out as well!
When you've tried this Simple Turkey Chili, please don't forget to let me know how you liked it and rate the recipe in the comments below!
Recipe Card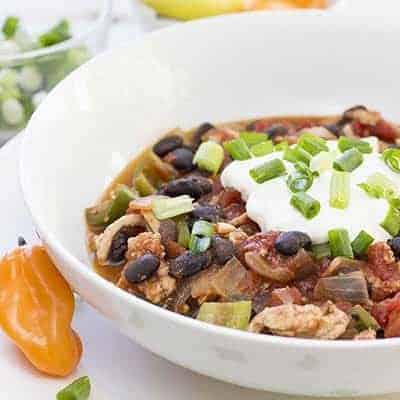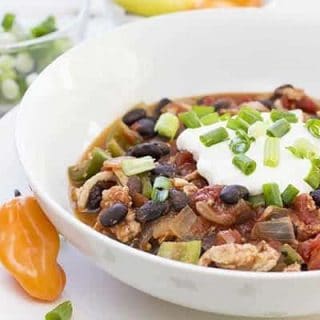 Simple Turkey Chili
This Simple Turkey Chili is packed with protein and is one of my favorite go-to healthy chili recipes. Best of all, it's super easy to make!
Ingredients
16

oz.

(450 g) ground turkey

(93%)

1

jalapeño

1

red chili

1

can of chopped tomatoes

3

oz.

(80 g) cooked black beans

(can be from a can)

2

cloves

of garlic

3.5

oz.

(100 g) onion

½

cup

chicken stock

(or just use ½ Knorr bouillon cube)

1

tsp.

paprika

1

tsp.

salt and pepper

1

tbsp.

chopped green onion

4

tbsp.

fat-free sour cream
Instructions
Chop Jalapeño, red chili, onion and garlic and sauté on a hot pan until the onions become translucent (about 3-4 minutes). If you want to reduce the heat of the chilies a little, you can remove the seeds.

Add turkey to the pan, mix everything together and let it all cook for another 5 minutes.

Add tomatoes, black beans, chicken stock and spices and let it simmer for 10-15 minutes.

Serve with chopped green onion and sour cream on top.
Nutrition Info Per Serving
Nutrition Facts
Simple Turkey Chili
Amount Per Serving
Calories 232
Calories from Fat 68
% Daily Value*
Fat 7.6g12%
Cholesterol 91.3mg30%
Sodium 728.2mg30%
Potassium 163.5mg5%
Carbohydrates 17.3g6%
Protein 25.2g50%
Vitamin A 435IU9%
Vitamin C 31.1mg38%
Calcium 59mg6%
Iron 1.1mg6%
Net carbs 14.9g
* Percent Daily Values are based on a 2000 calorie diet.