These Healthy Turkey Meatballs Without Breadcrumbs are juicy little protein bombs packed with flavor. They're super easy to make and ready in just 40 min. Add a little tomato sauce, crumble them in a salad, or just wrap them up and bring them on a hike or picnic. However you decide to eat them, they taste great!

How to make healthy turkey meatballs without breadcrumbs
Most turkey meatball recipes call for breadcrumbs, but I don't have the patience to make breadcrumbs from scratch and it's almost impossible to buy any that don't have a lot of unnecessary ingredients (like sugar! Why would you put that in your breadcrumbs??).
Instead of breadcrumbs, I simply use good old-fashioned oats in my turkey meatballs. You don't have to do anything to the oats except fold them into the ground turkey meat, and they do the job perfectly. And these are the juiciest turkey meatballs I've ever had!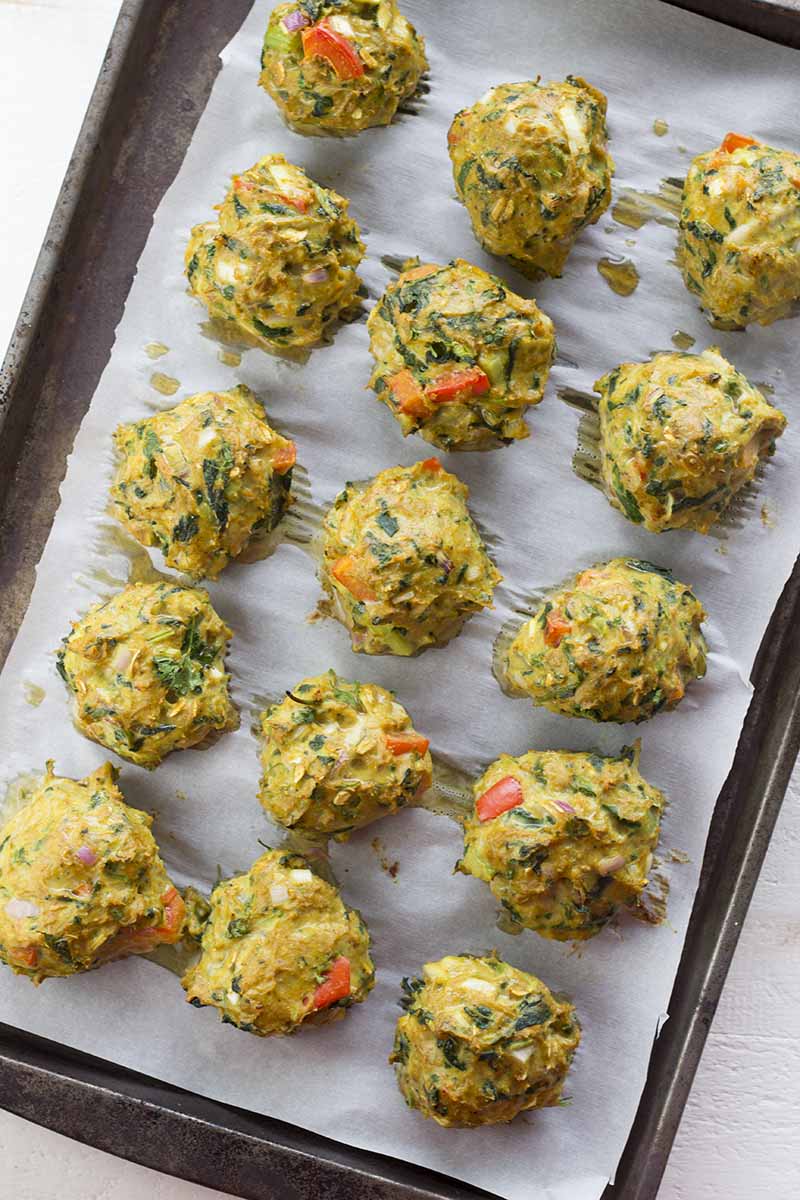 Spice it up!  
You can use this recipe as a template for all kinds of different-tasting meatballs. The spice combination I used was really delicious, l but you can add just about any spices you like and still get a good result (well, if you really go crazy with the spices, the result may be more "interesting" than good 😀 ).
A classic taste combination for turkey meatballs is just paprika, oregano, pepper, and garlic powder, so if you want something really simple, that's a good place to start.
Add a little sauce
I often just eat the turkey meatballs as-is for a quick snack, but it definitely doesn't hurt to cook up a little whole-wheat pasta and put some tomato sauce and perhaps even a little parmesan cheese on top.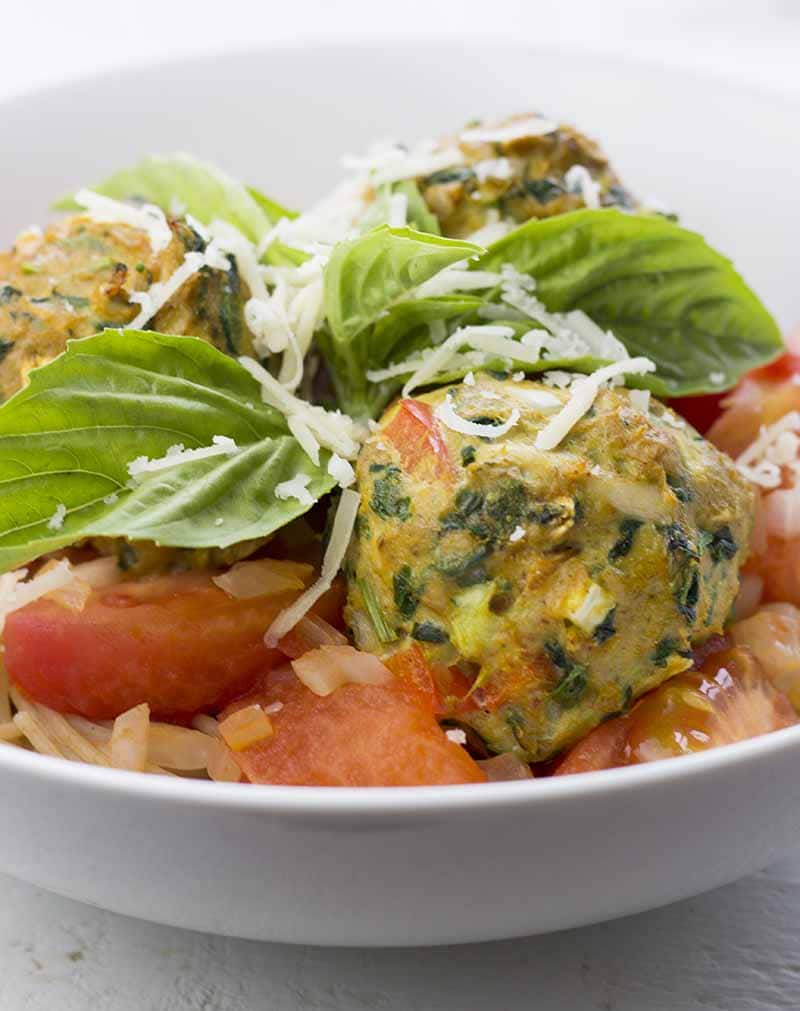 Because these baked turkey meatballs are almost pure protein, adding a few carbs and a little fat just turns them into a perfectly balanced meal that your whole family will love (or you can be like me and eat them all yourself…).
The meatballs can be stored in the fridge for several days. They taste great both cold and reheated.
More healthy turkey recipes
I LOVE turkey! It's such a tasty lean protein and I use it in a lot of different recipes. The turkey patties with avocado are one of my all-time favorite recipes, while the turkey chili is the perfect easy meal for a cold winter night. The marinated turkey breast is really easy to prepare ahead, so it's perfect for a mid-week meal.
When you've tried these healthy turkey meatballs without breadcrumbs, please don't forget to let me know how you liked them and rate the recipe in the comments below!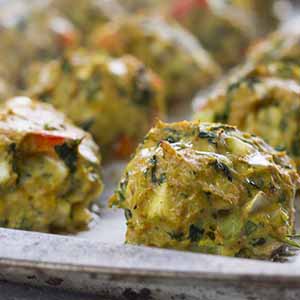 Healthy Turkey Meatballs (Without Breadcrumbs)
These Healthy Turkey Meatballs Without Breadcrumbs are juicy little protein bombs packed with flavor. Super easy to make and ready in 40 min.
Keyword:
low-carb turkey meatballs
Ingredients
20

oz.

ground turkey

3.5

oz.

fresh or frozen spinach

¼

cup

oats

2

egg whites

2

celery sticks

3

cloves

garlic

½

green bell pepper

½

red onion

½

cup

parsley

½

tsp.

cumin

1

tsp.

mustard powder

1

tsp.

thyme

½

tsp.

turmeric

½

tsp.

chipotle pepper

1

tsp.

salt

Pinch of

pepper
Instructions
Preheat the oven to 350 F (175 C)

Chop onion, garlic, and celery very finely (or use a food processor) and put it in a large mixing bowl

Add turkey, egg whites, oats, and spices to the bowl and mix thoroughly. Make sure there are no pockets of spices or oats in the mix

Chop spinach, green peppers (clean out the stem and seeds first) and parsley. The pieces should be the size of a dime

Add the vegetables to the bowl and mix it all together

Line a baking sheet with parchment paper

Roll the turkey mixture into 15 balls (about the size of golf balls) and place them on the baking sheet

Bake for 25 minutes, until cooked through
Nutrition Facts
Healthy Turkey Meatballs (Without Breadcrumbs)
Amount Per Serving (3 Meatballs)
Calories 183
Calories from Fat 23
% Daily Value*
Total Fat 2.5g 4%
Cholesterol 55.3mg 18%
Sodium 582.9mg 24%
Potassium 262mg 7%
Total Carbohydrates 12g 4%
Protein 30.7g 61%
* Percent Daily Values are based on a 2000 calorie diet.