This Marinated Turkey Breast has to be one of my favorite recipes for a quick, healthy meal. It combines maximum flavor with minimum work in the kitchen.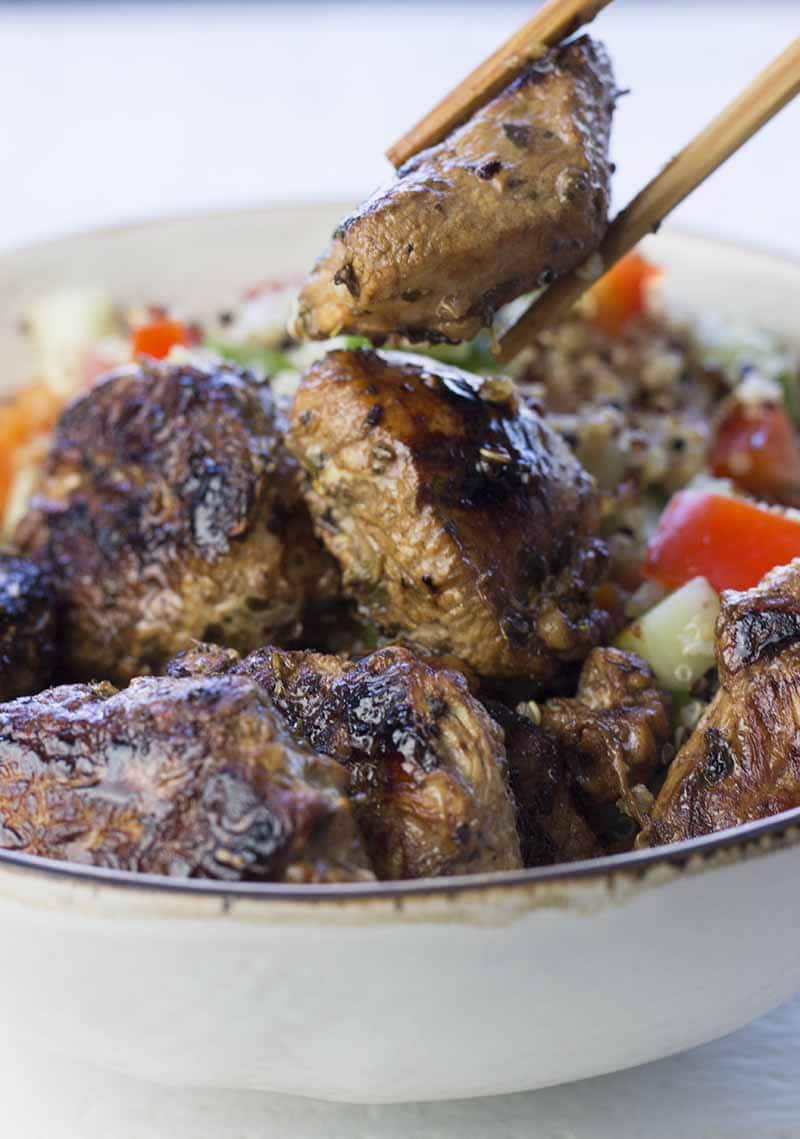 I am a huge fan of marinating almost any kind of meat, and marinated turkey breast is especially tasty. To me, a good marinade is what takes turkey breast from being slightly boring to being absolutely delicious.
A great plus is that the strong flavors from the marinade mean that you don't need any added sauces or condiments, so this is a very healthy turkey breast recipe as well!
How to make the turkey breast marinade
The most important ingredient in the marinade is the balsamic vinegar. The acid in the balsamic vinegar tenderizes the turkey breast and gives it a lot of flavor.
To add even more flavor, I like to use Mediterranean herbs like basil, thyme, and garlic, but you can just as easily create a spicy marinade with chili powder or paprika. The possibilities are endless, so feel free to experiment, but the version in this recipe is my favorite.
Step 1: Mix balsamic vinegar, olive oil (or another oil you like), and herbs in a bowl or Ziploc bag.
Step 2: Cut the turkey breast into strips or bite-sized pieces and add it to the marinade. Mix everything until the turkey breast is fully coated with marinade.
That's it! You can leave the turkey breast in the marinade for up to two days in the fridge, so I suggest marinating enough for several meals. But if you are in a hurry, just 20-30 minutes in the marinade will infuse the turkey breast with plenty of flavor. I often just throw the marinade together when I come home from work or a workout. After I have showered, the turkey breast will be ready to cook.
It takes less than 10 minutes to cook the marinated turkey breast, so it's great for days where you want something quick, tasty, and healthy.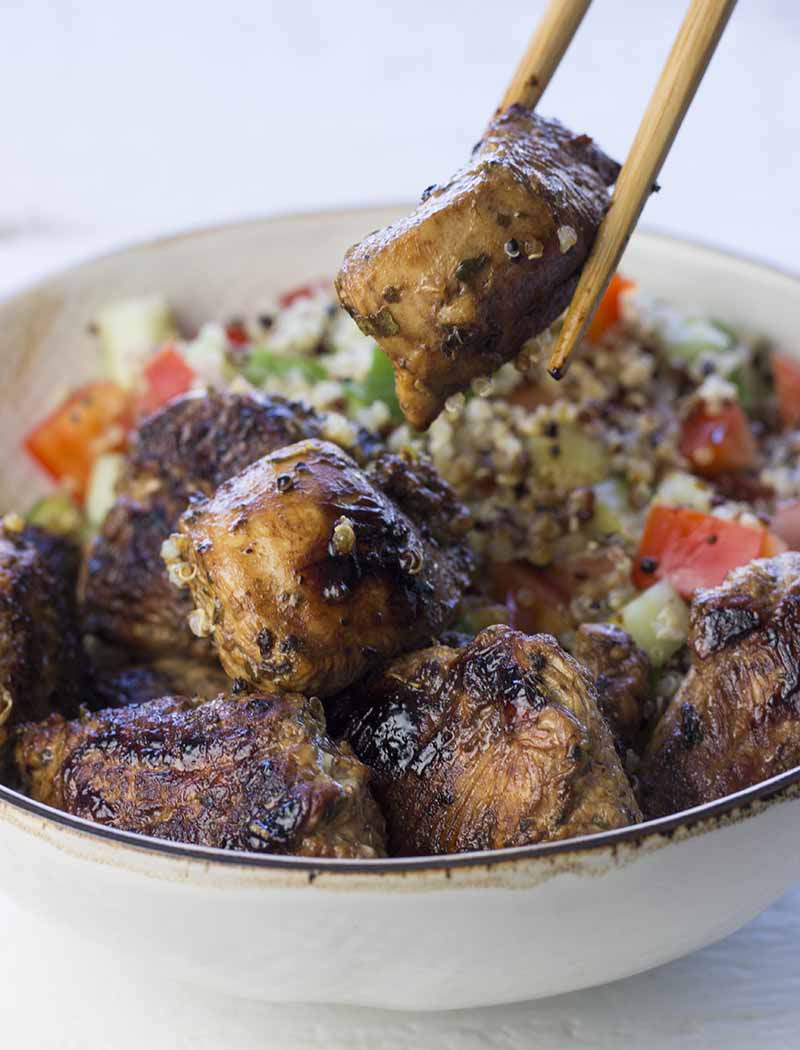 What to eat with your marinated turkey breast
You can have almost any side with this marinated turkey breast, but my favorite is quinoa with bell pepper and coconut oil.
If you've never tried adding a little bit of coconut oil to your quinoa or rice, I can highly recommend it. It makes the grains super moist and flavorful. Coconut oil is a very healthy fat source, so adding a little to a very lean dish like this makes it even healthier.
Just cook the quinoa, mix it with finely chopped bell peppers, and add a little coconut oil. When you put the marinated turkey breast on top (or mix it all together), the flavors combine beautifully.
More healthy high-protein recipes
If you like this recipe, you should really try my Marinated Steak and Broccoli as well. It uses almost the same marinade and the broccoli soaks up the flavors wonderfully.
You can also check out my Healthy Stuffed Chicken Breast. It's based on the same idea — getting maximum flavor into a healthy meal with a minimum of work in the kitchen. I love recipes like that 😀
When you've tried this healthy marinated turkey breast, please don't forget to let me know how you liked it and rate the recipe in the comments below!
Recipe Card
Marinated Turkey Breast
This marinated turkey breast has to be one of my favorite recipes for a quick, healthy meal. It combines maximum flavor with minimum work in the kitchen.
Ingredients
4

oz.

turkey breast

1

tsp.

olive oil

1½

tsp.

balsamic vinegar

¼

tsp.

garlic powder

¼

tsp.

dried basil

¼

tsp.

thyme

¼

tsp.

pepper
Instructions
Mix basil, thyme, garlic powder, and pepper with balsamic vinegar and olive oil in a bowl or large Ziploc.

Cut the turkey breast into thumb-sized pieces or strips and place in the marinade for at least 20-30 minutes.

Take the turkey out of the marinade and fry in a skillet for 5-8 minutes at medium heat (depending on the size of the turkey strips. Turkey HAS to be fully cooked).
Nutrition Info Per Serving
Nutrition Facts
Marinated Turkey Breast
Amount Per Serving
Calories 268
Calories from Fat 122
% Daily Value*
Fat 13.5g21%
Cholesterol 68mg23%
Sodium 136mg6%
Potassium 1119mg32%
Carbohydrates 4.6g2%
Protein 25.6g51%
Vitamin A 10IU0%
Vitamin C 1.9mg2%
Calcium 14mg1%
Iron 2.5mg14%
Net carbs 3.9g
* Percent Daily Values are based on a 2000 calorie diet.