This Salmon & Shrimp Pasta recipe is my favorites for an easy and healthy weeknight meal. It takes less than 20 minutes to make and is full of delicious protein and healthy fats.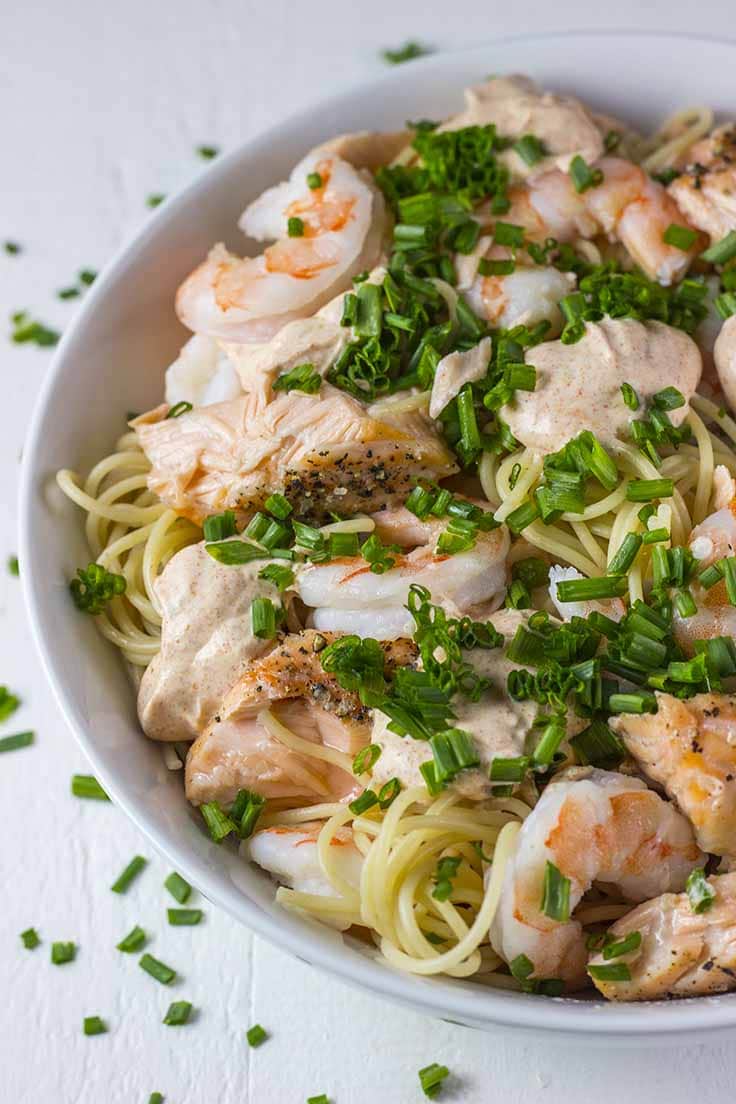 Shrimp are almost pure protein, so by combining them with the healthy fat from the salmon and the carbs from the whole-wheat pasta, you get a very balanced and nutritious meal (adding shrimp to any dish in which you want to increase the protein content is a great fitness cooking trick).
Spicing up your Salmon & Shrimp Pasta
The key to making this Salmon & Shrimp Pasta taste great is the dressing. You need a strong flavor to spice up the mild seafood. I usually make a light sour cream dressing with curry powder, paprika, and pepper, but you can use whatever spices you like.
It's a really simple dish to make, but you have to time the salmon and shrimp so that they are ready just as the pasta is cooked. If you spend too much time putting everything together, the pasta will become dry or the seafood will overcook, so you have to be a little quick and ready to eat it immediately while it's hot.
If you want a shrimp recipe that is just as easy, healthy, and tasty but without the carbs, try my Grilled Shrimp Skewers with Chili Sauce. They are delicious too!
Or you can check out my Smoked Salmon & Cream Cheese Wraps for a healthy salmon recipe that doesn't even require cooking!
Recipe Card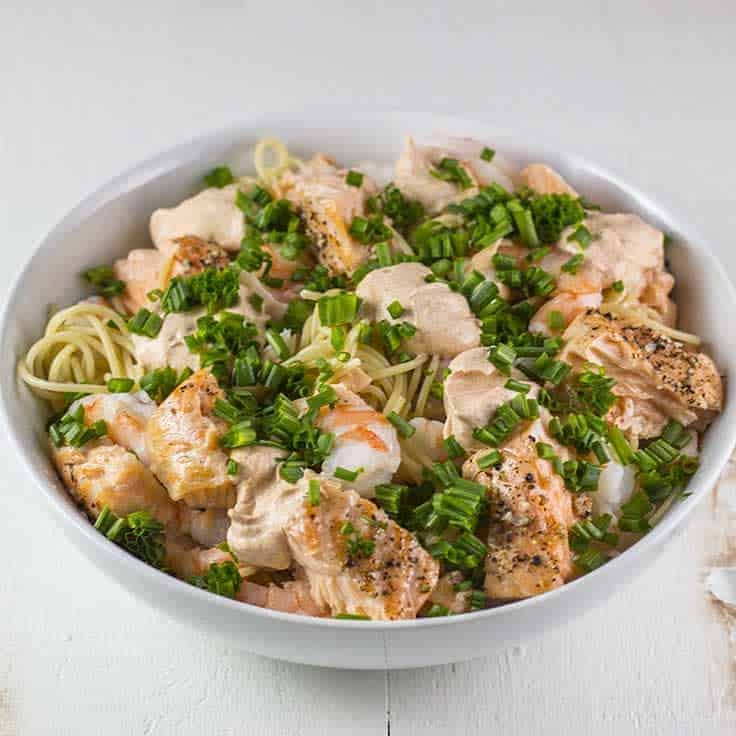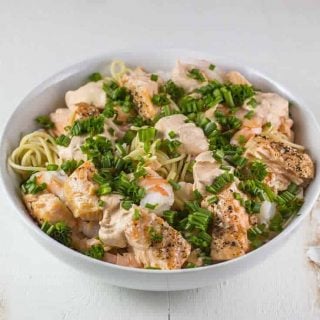 Salmon & Shrimp Pasta
This Salmon & Shrimp Pasta is my favorite easy and healthy pasta recipe. It takes less than 20 min to make and is full of delicious protein
Ingredients
2½

oz.

salmon

2½

oz.

shrimp

1½

oz.

whole wheat pasta

2

tbsp.

light sour cream

¼

tsp.

curry powder

¼

tsp.

paprika

¼

tsp.

black pepper

Chives

(optional)
Instructions
Cook the salmon in the oven at 400 F (200 C) for about 15 min. (depending on how large the piece is). Remove the skin and any brown fat after cooking.

Cook the shrimp for 2-3 minutes in lightly salted water until they just start turning pink (or buy pre-cooked).

Cook the pasta according to the instructions on the package.

Flake the salmon into small pieces and mix with the shrimp and pasta.

Mix sour cream and spices in a bowl and drizzle over the pasta.

Garnish with chives to taste.
Nutrition Info Per Serving
Nutrition Facts
Salmon & Shrimp Pasta
Amount Per Serving
Calories 349
Calories from Fat 91
% Daily Value*
Fat 10.1g16%
Cholesterol 154.7mg52%
Sodium 330.9mg14%
Potassium 44.3mg1%
Carbohydrates 32.1g11%
Protein 39g78%
Vitamin A 640IU13%
Vitamin C 8.7mg11%
Calcium 73mg7%
Iron 2.1mg12%
Net carbs 26.9g
* Percent Daily Values are based on a 2000 calorie diet.