This Ketogenic Meal Plan is simple, quick to prepare, and optimized with the right macro ratios already calculated for you so that all you need to do is make your meals. Each of the 4 meals in this meal plan take a total of 25 minutes or less, require minimal (if any) cooking, and taste amazing!
If you don't want to read about how the meal plan works, CLICK HERE to jump straight to the ketogenic recipes.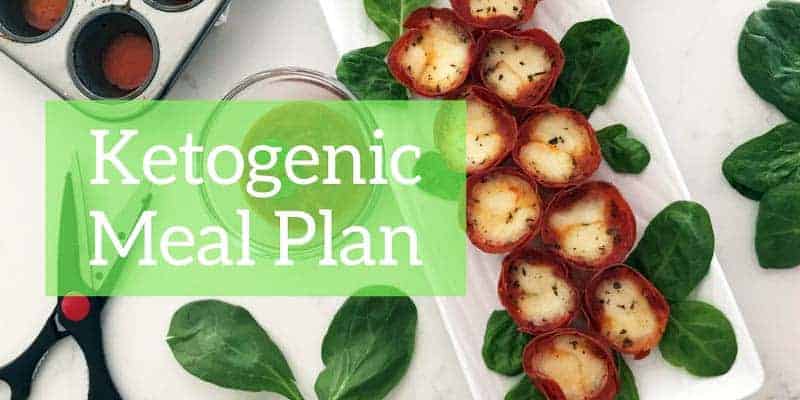 If you have diabetes and don't know if a Ketogenic Meal Plan is right for you, start by reading this comprehensive guide to The Ketogenic Diet and Diabetes.
How the Ketogenic Meal Plan works
The meal plan has 4 daily meals with recipes that are exceptionally filling, and each meal is distributed equally in calories for maximum satisfaction. The reasoning for 4 meals rather than the usual 6 meals you find in other Diabetes Strong meal plans is due to the common appetite suppression brought on by a ketogenic lifestyle (1).
When you eat a ketogenic diet, you switch your body's fuel source to fat rather than the body's usual source, glucose (1). From this fuel source switch, the hunger hormone, Ghrelin, is reduced which causes your appetite to decrease (1). Because of the reduction in appetite, it is easier to adopt an intermittent fasting approach or an approach that lessons unwanted eating behavior outside your desired hours (AKA curbs the late night munchies). Therefore, I recommend eating 4 bigger meals rather than 6 small meals on a Ketogenic Meal Plan.
To make up for the 2 fewer meals, the 4 meals equally split the total calories (i.e. 400 calories +/- for each meal for a 1600 calorie meal plan). Therefore each meal is more fulfilling and eating 4 meals is far less time-consuming (think about it, you prepare 2 fewer meals each day).
In this entire Ketogenic Meal Plan, only 5% of the calories are from carbohydrates, 20% comes from protein, and the rest of the calories come from healthy fats, which makes the ketogenic adaptation a smooth transition from your current eating lifestyle.
Each meal is 5 net grams of carbs or less (for the 1600 calorie plan), and there is nothing "diet" about this meal plan because every bite feels like an indulgence (you even get a chocolate dessert!)
How to find your daily calorie need
We all have different calorie needs. Your daily calorie need depends on your size, fitness level, daily activity, gender, etc. When you are creating a healthy ketogenic meal plan, your first step should therefore always be to calculate your "calorie equilibrium", or how many calories you need each day to maintain your current weight.
You can learn exactly how to find you calorie equilibrium with 5 easy steps in this post: "How to Find Your Daily Calorie Need".
Once you know your calorie equilibrium, you can adjust your daily calories up or down to meet your goals. If your goal is to lose weight, I recommend that you eat 300- 500 calories less than your equilibrium each day (but no less than 1,200 per day). This should lead to a steady and healthy weight loss.

If you want to gain muscle, start out by adding in 300-500 calories more than your equilibrium each day and see what happens. If you find that you are also putting on a little too much fat, decrease your calories slightly.
Ketogenic Meal Plan recipes
The recipes in this Ketogenic Meal Plan has the following calories and macronutrients.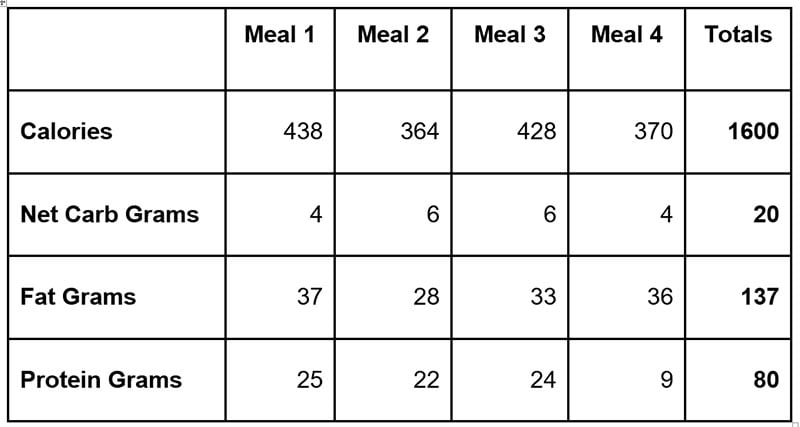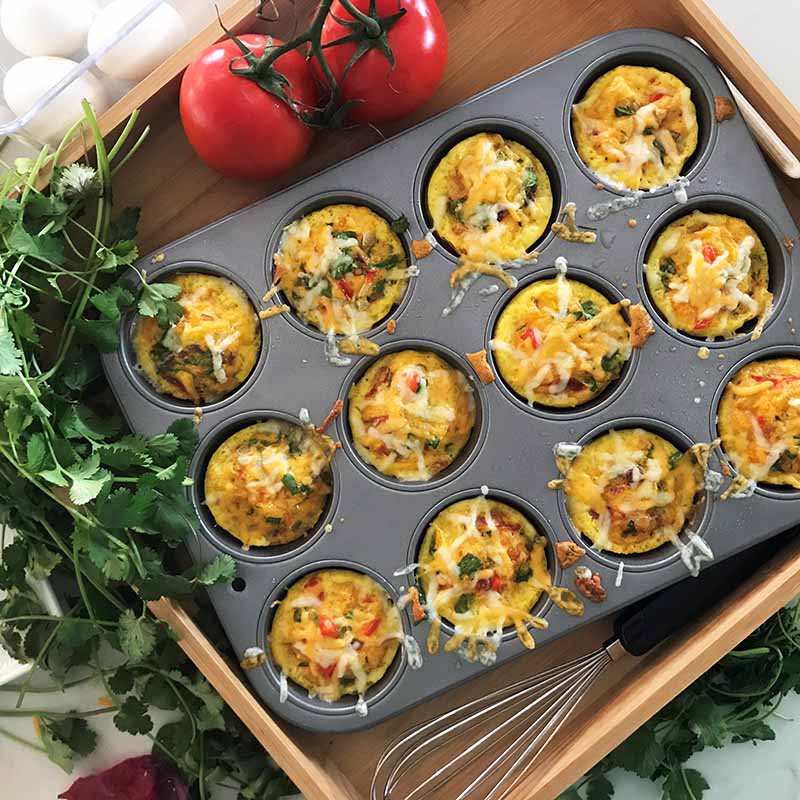 Servings: 3
Serving size: 2 egg muffins
Ingredients:
4 cherry tomatoes
¼ cup red onion, chopped
1 cup mixed greens (Spinach is great too!)
8 egg yolks
⅓ cup bacon, crumbled
1 ⅕ cup cheddar cheese, shredded
3 tbsp. unsweetened almond milk (optional)
½ tsp garlic salt
Instructions:
Preheat the oven to 400°F (200°C).
Separate the egg yolks from the whites into a large mixing bowl. Discard or save the egg whites for another occasion.
Wash and finely chop the mixed greens, tomatoes, and onion. Add to the egg yolk mixture.
Add bacon, cheese, unsweetened almond milk, and garlic salt to the large mixing bowl with the veggies (personal recommendation: Keep out about 3 tbsps. of cheese to sprinkle on top once muffins have baked). Mix well.
Grease the muffin tin with oil and pour a ¼ cup + 1 tbsp. of the egg mixture evenly into the muffin slots, which should yield 6 muffins. NOTE: You can use muffin cups to line the muffins to save time during clean up.
Pop the muffin tray into the oven for about 12 minutes or until the edges are slightly a toasty brown.
Immediately after taking the egg muffins out of the muffin tin, sprinkle tops of muffins with remaining cheese.
Let cool for 2 minutes before serving.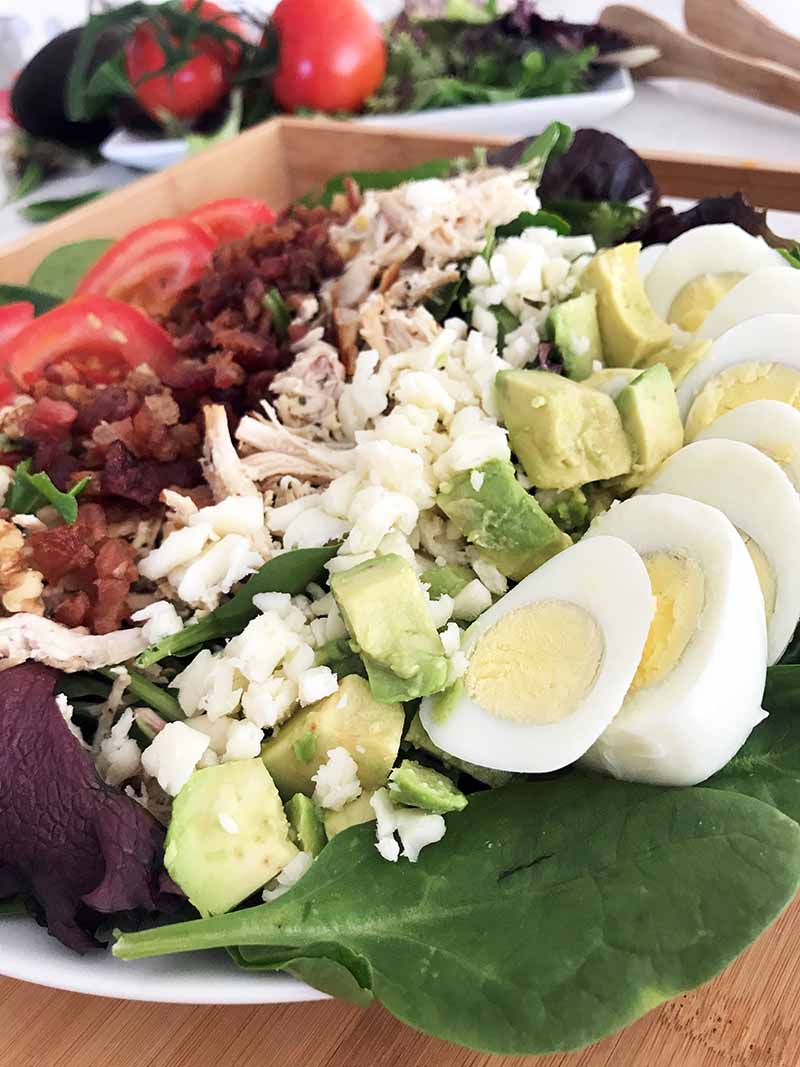 Servings: 1
Ingredients:
4 cherry tomatoes
½ avocado
1 hardboiled egg
2 cups mixed green salad
2 oz. chicken, shredded
1 oz. feta cheese, crumbled,
¼ cup bacon, crumbled
Instructions:
Dice the tomatoes and avocado, and slice the hardboiled egg.
Place 2 cups of mixed green salad into a large salad bowl or plate.
Measure out 2 oz. chicken, 1 oz. feta cheese, and ¼ cup bacon.
Place tomatoes, avocado, egg, chicken, feta, and bacon in horizontal rows on top of the mixed greens.
OPTIONAL: You can add 1 tbsp. of Ranch dressing for 73 calories and about 8 grams of fat (NOT included in the nutrition facts).
Enjoy the whole serving.
Meal 3 – Pepperoni Pizza Bites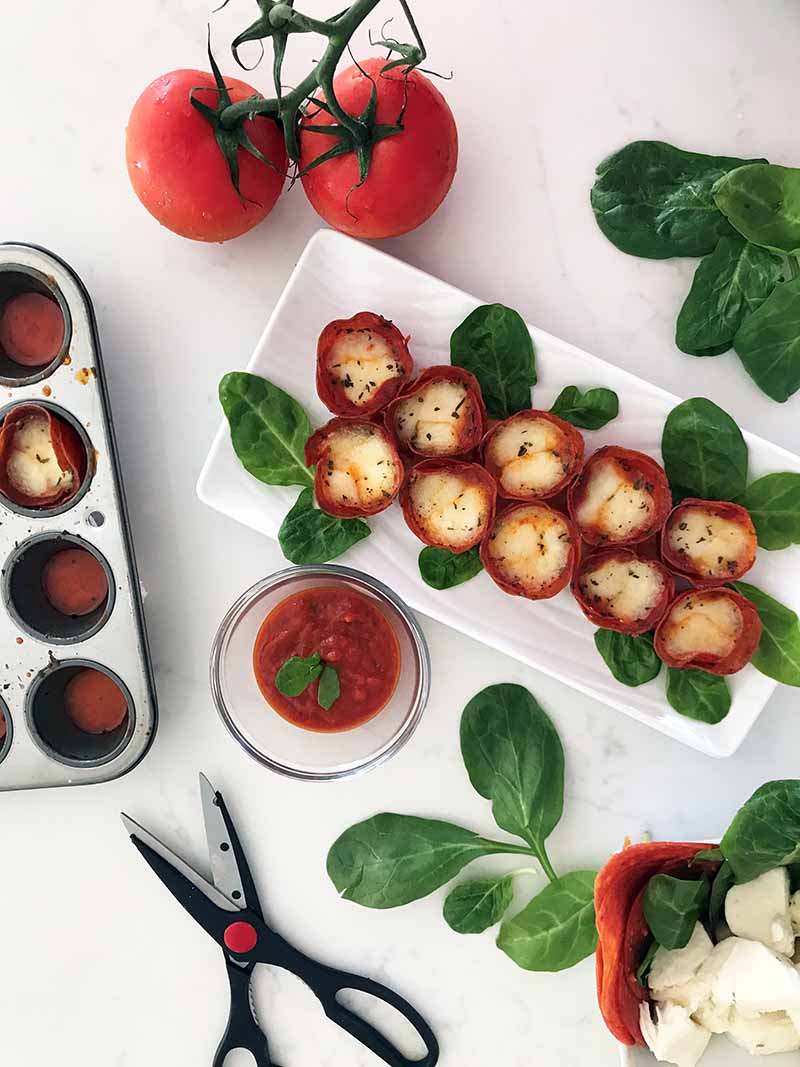 Servings: 1
Serving Size: 6 pepperoni pizza bites
Ingredients:
6 Slices (34 g), sandwich sliced pepperoni
2 tbsp. pizza sauce
3 oz. fresh mozzarella
1 tbsp. fresh oregano
Instructions:
Preheat the oven to 400 F (200 C). Using kitchen scissors, snip three ½-inch cuts around the edges of each pepperoni slice, leaving the center uncut (like a 3-leaf clover).
Press each pepperoni slice down into a regular sized muffin pant. Bake slices for 5 minutes, until edges are slightly crispy, but still bright red. Remove from oven, and let the slices cool in pans to harden (this helps the bites hold their shape).
As pepperoni cups are cooking, finely dice fresh oregano.
To remove excess oil, after the bites have cooked, place them on a paper towel for about 10 seconds.
Wipe the grease out of the muffin pan with a paper towel, then return the cups to the pan. Place ½ tsp. of pizza sauce then ½ of an oz. of mozzarella in each cup. Sprinkle with fresh oregano.
Place bites back in the oven for 3 minutes, or just until the cheese melts.
Allow pepperoni bites to cool for about 3-5 minutes.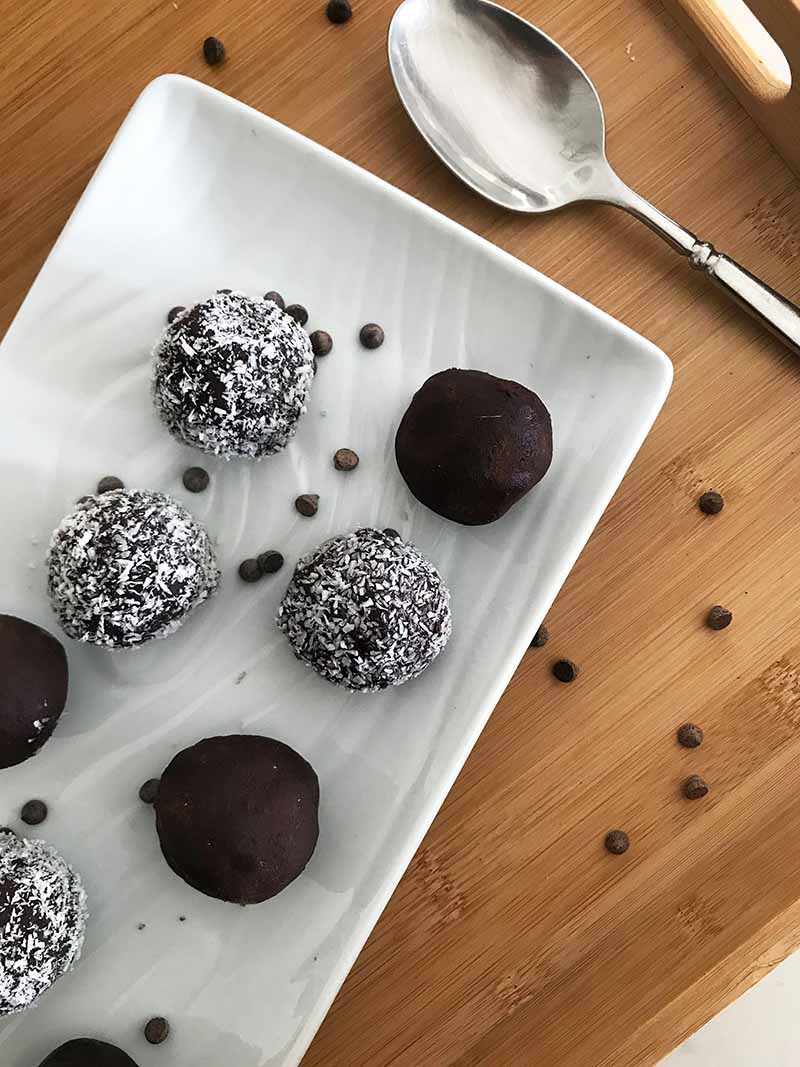 Servings: 6
Serving Size: 2 balls
Ingredients:
¼ cup unsweetened cocoa powder (or cacao powder)
5 tbsp. natural chunky peanut butter
6 tbsp. shelled hemp seeds
½ cup, coconut oil
2 tbsp. 10% heavy cream
1 tsp. vanilla extract
2 tbsp. Stevia
4 tbsp. unsweetened coconut flakes
Instructions:
Mix together cocoa powder, peanut butter, and hemp seeds in a large bowl.
Add room temp coconut oil and mix until it becomes a paste.
Add cream, vanilla, and stevia and mix until it becomes a paste again.
Roll into balls. You should be able to make about 12 balls total, which equals 6 servings (2 balls = 1 serving).
Roll into shredded coconut (coconut included in nutrition facts, but optional if you are not a fan).
Place balls on parchment paper on a baking tray.
Freeze for 10 minutes.
Ketogenic Meal Plan grocery list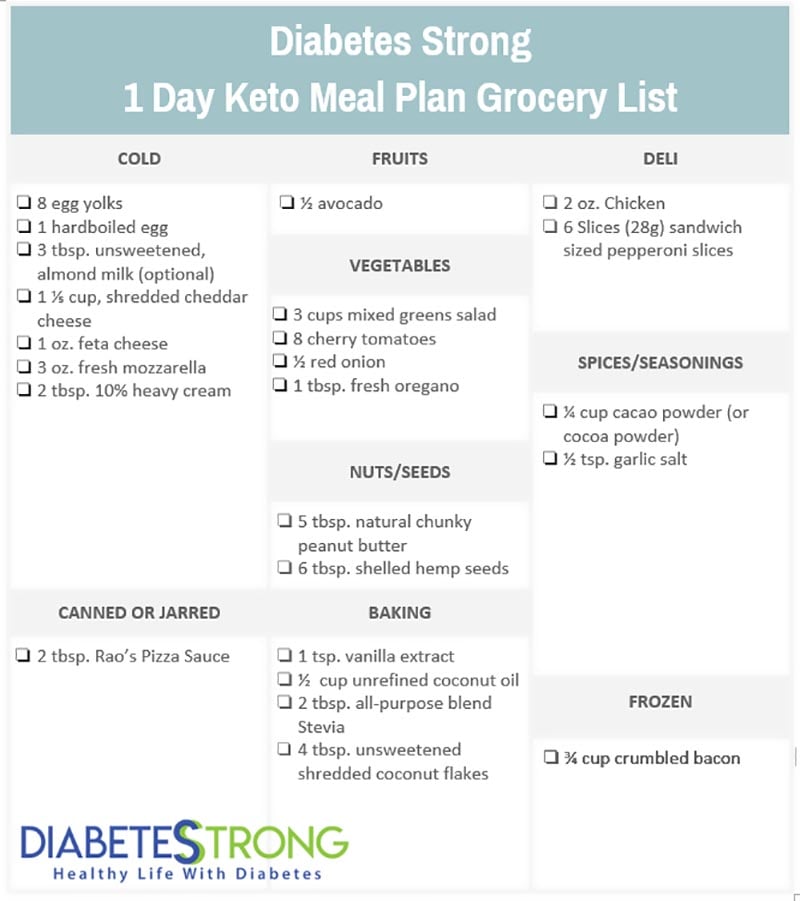 References
(1) Ketosis and appetite-mediating nutrients and hormones after weight loss: Sumithran, L. A. Prendergast, E. Delbridge, K. Purcell, A. Shulkes, A. Kriketos, J. Proietto. Eur J Clin Nutr. 2013 Jul; 67(7): 759–764. Published online 2013 May 1. doi: 10.1038/ejcn.2013.90
If you liked this Ketogenic Meal Plan, please sign up for our newsletter (and get a sign-up bonus) using the form below. We send out a weekly newsletter with the latest posts and recipes from Diabetes Strong.